I had 3 boys in 3.5 years, so for quite awhile, survival was the name of the game. I am practical and not at all extravagant, and I didn't have the money, time or energy for extra traditions that would waste funds and stress me out, especially if my boys didn't really care about them anyway.
So, for each holiday, except Christmas and birthdays, I would just do whatever I felt like, which worked fine. But, as I was reading Live Free Miranda, I was inspired. She has a very simple plan for each holiday, so the kids have an easy tradition to remember and look forward to. Plus, she can plan and shop in advance each year, which helps with planning and budget. I also like how her ideas can continue as kids get older or you have adult kids or grandchildren in your family, and there is still a little room for variety and change each  year.
I told my sister that I wish I had started with something like that! She reminded me that IT ISN'T TOO LATE! Most of us only remember life after about 12 years old anyway, so I shouldn't write any good intention off. She is so right! Now I do have the energy to create something simple, useful, and memorable in our lives, so I am going to.
I asked for suggestions from friends and readers and got so many simple but awesome ideas, I wanted to put them all together. One thing everyone enjoys doing is dollar store paper goods for each holiday. Cheap and feels special! Add your ideas in the comments…this has been so much fun to explore all kinds of ideas and decide on our own!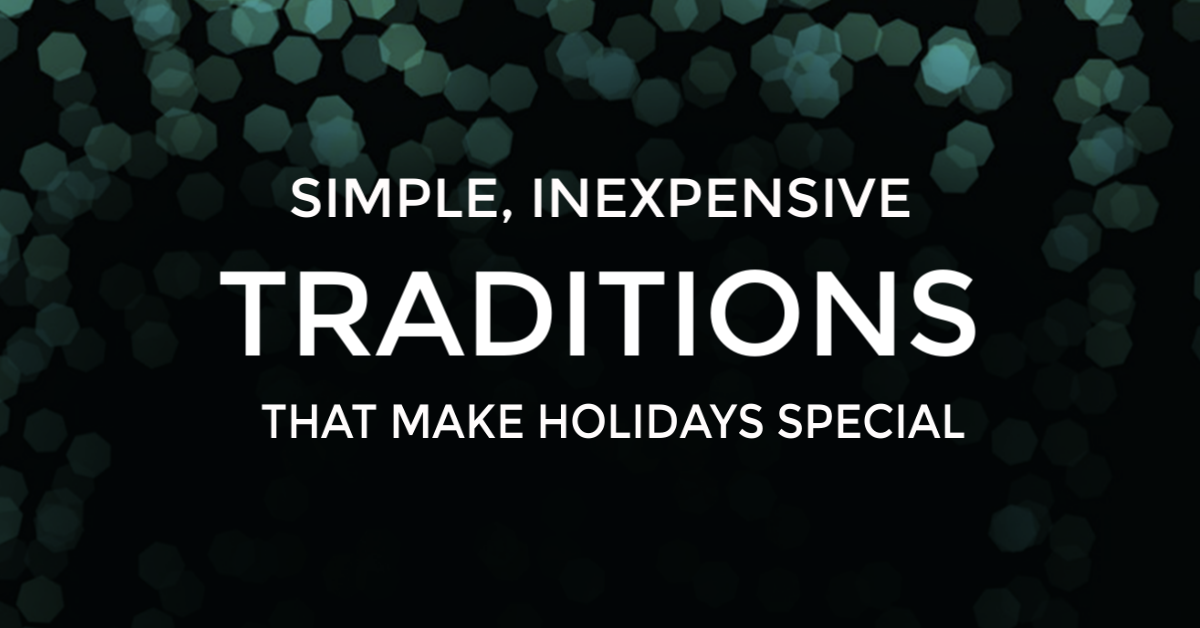 BIRTHDAYS
a decorated room
a birthday sign with the # of things we love about them equal to their birthday year
birthday breakfast out with dad before school
birthday lunch with mom
king or queen for a day
a "favorites" questionnaire (linked HERE)
one on one dinner with mom and dad and then shopping for a birthday present (makes gift giving so easy!)
cake for breakfast
a printed Chatbook for each birthday
old photos on the table of the birthday girl or boy to bring back memories
birthday person chooses a family activity for the day
ANNIVERSARY
a family celebration day
watch mom and dad's wedding video or look at the wedding album
NEW YEAR'S DAY
a picture slideshow of all the year's fun (super easy from iphoto)
vision boards
goal setting
select a family theme (more info here)
MARTIN LUTHER KING DAY
fried chicken, pecan pie and a service activity
PRESIDENT'S DAY
make a cake for the Presidents
share cool facts about your favorite president
GROUNDHOG DAY
watch the movie, "Groundhog Day"
do a "white groundhog" gift exchange like a white elephant
do the exact same thing every year on February 2…make it your own family Groundhog Day
If the groundhog sees his shadow, do something to celebrate winter, and if he doesn't do something to celebrate spring!
VALENTINE'S DAY
love note on a heart
heart attack on door
love mail for 14 days before
box of chocolates on pillows
family Valentine dinner
new book with a note inscribed from mom and dad
candy tackle box on the dinner table
family fondue dinner with candles and sparkling cider
Papa Murphy heart shaped pizza
giant heart shaped sugar cookies
heart attack for a neighbor
waffle bar dinner
red dinner
red velvet pancakes
Valentine's shirt
flowers for the girls in the family
secret flowers for a single woman in your neighborhood
watch Enchanted
chocolate covered strawberries
secret cupid (idea via the 3 in 30 podcast)
LEAP DAY
everyone takes the day off, no school or work
PI DAY
chicken pot pie for dinner
a variety of pies for dessert
see who can memorize the most numbers of PI and give them a prize
out to dinner for a pizza (pi)
stop at a bakery for pie for dessert
make a pie for a neighbor
MARCH MADNESS
Create a family or friend bracket (details HERE)
ST. PATRICK'S DAY
lucky charms for breakfast
green dinner or green lunch
leprechaun footprints to new, colorful socks
rainbow themed dinner
gold coins
turn toilets and milk green
make a leprechaun trap
APRIL FOOL'S DAY
practical jokes
a dinner with only crazy utensils
a small gift hidden somewhere unexpected that they have to find
jokes in lunch boxes
a practical joke
PASSOVER
EASTER
new swimsuit
flip flops, sunglasses, bubbles, sidewalk chalk in the baskets
resurrection rolls
good Friday sunset hike
new church clothes
a religious gift
kites
MOTHER'S DAY
spa day provided by the kids
a one-on-one walk with each child
girl's day out the Saturday before
new flowers for the garden
fill out the birthday questionnaire all on Mother's Day…one on one time as a gift
FATHER'S DAY
a candy bar poster
massage from the whole family
photos of dad with all the kids from the year in a frame or Chatbook
MEMORIAL DAY
tell stories of family members who have passed on
visit the cemetery and place flowers on graves that look lonely
mail a letter or care package to a soldier
read a story about someone who has lost their life fighting for our country
bring a gift or treat to someone who has lost a family member in the military
send flowers to a family who has lost a son/daughter/mother/father in the service of our country
FLAG DAY
place dollar store flags in neighborhood yards
4TH OF JULY
water fight, shaving cream fight, or silly string fight
new, patriotic shirts
crepes with strawberries, blueberries, and whipped cream (red, white and blue)
a day on the lake or at the pool
small town parade
fireworks
BBQ or In-N-Out burgers
24TH OF JULY
sparklers
red, white and blue rice krispies
pioneer stories
pioneer games
BACK TO SCHOOL
back to school feast fancy-style
a favorites dinner…every child chooses one food that they love and you eat them all together
blessings from dad
theme for the year
LABOR DAY
HALLOWEEN
ghost pancakes
white chocolate ghost suckers (linked HERE)
mummy dogs for dinner
family Halloween party the Monday before the holiday, make sure all costumes are ready, get photos, play games so Halloween night is smooth
the day of the dead to celebrate ancestors
chili and cornbread
VETERAN'S DAY
Write a letter or send a package to someone serving in the military
Ask a Veteran to tell you a story about their life
Visit a VA and bring treats or gifts
Take a treat or a gift to a Veteran in your neighborhood
Donate to a Veteran's cause with your own money
Take a family movie night package to a family who has someone serving in the military
THANKSGIVING
grateful pig (linked here)
thankful leaf tree
turkey trot
CHRISTMAS
marshmallow snowball fight (linked here)
give a Christmas themed gift on December 1
12 days of Christmas
shepherds dinner
holiday books wrapped for 12 days
sending Christmas cards and then mailing prizes for favorites
awards for the best lights in our neighborhood
the giving manger
secret pals
adventure/outing/travel gifts instead of presents
Luminaries in your neighborhood (linked here)
give gifts to the Amazon delivery people, police and firefighters
CHRISTMAS EVE
new ornament
new pajamas
sibling dollar store gift exchange (idea linked here)
sleep in a fort or next to the Christmas tree
CHRISTMAS DAY
pizza for dinner (easy and everyone loves it!)
open one gift every 20 minutes, unwrap, take it out and play with it first
jammies all day
special Christmas breakfast
NEW YEAR'S EVE
a toast at midnight
fondue
sparkling cider
game night
karaoke