With a lot more home time lately, teens might have a chance to do a little reading for fun and pleasure, so I thought we would put together a list of "can't put down" books for teens. These are the types of books that will keep them reading into the night, the kind you will have to ask them to put down, which is always a win! I know everyone has different standards for what is "okay" for your kids to read and what works for a 12 year old is different than what works for a 17 year old, so do a little of your own research before you hand each book over. Common Sense media is helpful for the more popular books, and you can check it out HERE.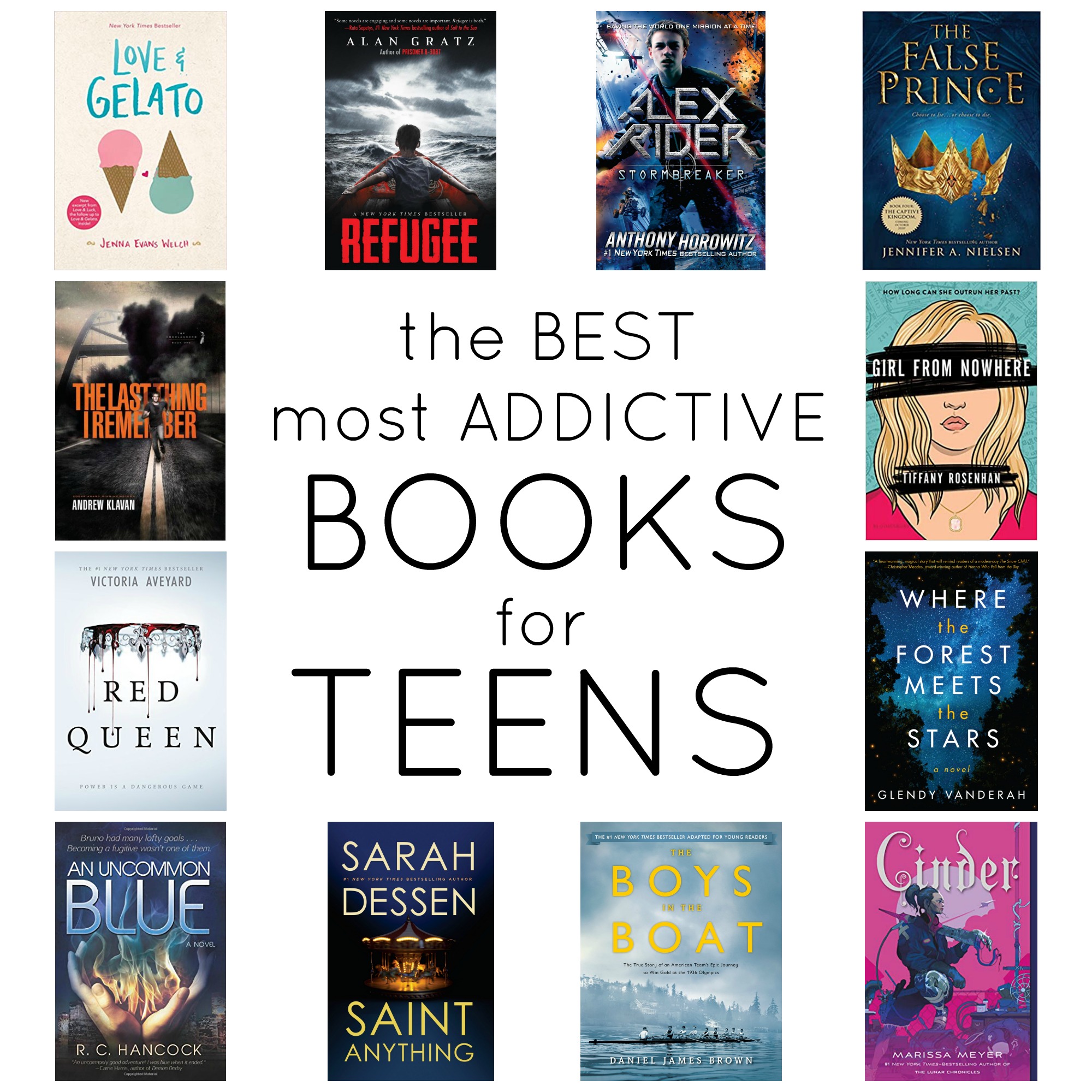 I love getting books from the library, but if your library is closed, you can purchase them online (maybe share with family and friends to defray the cost, though many are really inexpensive:) or purchase an e-reader and continue to check books out from the library. GET ON THE LISTS NOW!!
My favorite e-reader, BY FAR is the Kindle Paperwhite. I love how it is easy on the eyes, no glare outside, and I don't get distracted by online offerings. You can order one HERE. If you want a less expensive option, the Kindle Fire works…you just might have to regulate screen time with it, which I don't love, but you can order it HERE. Another option that comes with lots of book options already loaded and better parental controls, is the Fire Kid Edition. You can order it HERE. You can use all of them with your library app! Also, Audible is offering free books for teens, just head to their site to start listening!
Here is the list that will get even your most reluctant readers reading! Each book is linked so you can learn more about it and see if it will be a fit for reading level and interest. Most of these books are good enough to cross genres and genders, so give them a try. Many would also make great read alouds! Let me know if you have any questions!
(this is for pre-order, but I promise your teens, and YOU will love it. I could not put it down! Comes out in July.)
Where the Forest Meets the Stars
The Boys in the Boat (young reader edition)
Unbroken (young reader edition)
The Secret Journal of Brett Colton
Cinder (and the rest of the Lunar Chronicles)
Brotherband Chronicles (series)
Escape from Mr. Lemoncello's Library (series)
The Mysterious Benedict Society
Hotel on the Corner of Bitter and Sweet
I got a lot of suggestions from readers! Here are what they recommend! Keep them coming! (as my boys or I read them, I will add them to the list above). All titles are linked! If you like your book lists split by genre, check out this POST or if you need ideas for younger readers, this POST has you covered! Looking for books you will love? This POST has them all!
How to Speak Boy (Tiana Smith)
The Sisterhood of the Traveling Pants
**Links in this post are affiliate links, and I get a small percentage of each purchase. I can't thank you enough for support my research and writing in this way!