One of the birthday traditions I have kept up and absolutely adore is asking my boys about all their favorite things on their birthday through a little quiz….same questions year after year.
It is so much fun to look back on their answers and see how things have changed and how they stay the same. I think they will absolutely love seeing who they were as a 6 or 10 or 15 year old as they get older…plus I love the one on one time to converse with them and get to know who they are and who and what is important to them at that moment in time. Things I wish I could remember about my own childhood!
I attach my favorite photo of them from the previous year and a little note about who they are through my eyes…how they have grown, what they have struggled with, how they have triumphed. It is a sweet moment for me to reflect.
As a mom, I will love looking back on those little boys and the memories their words hold, and it will be so fun to gift them their own copy to read and laugh about when they start their own family.
Preserving memories is always worth the work, and this little tradition is an absolute pleasure!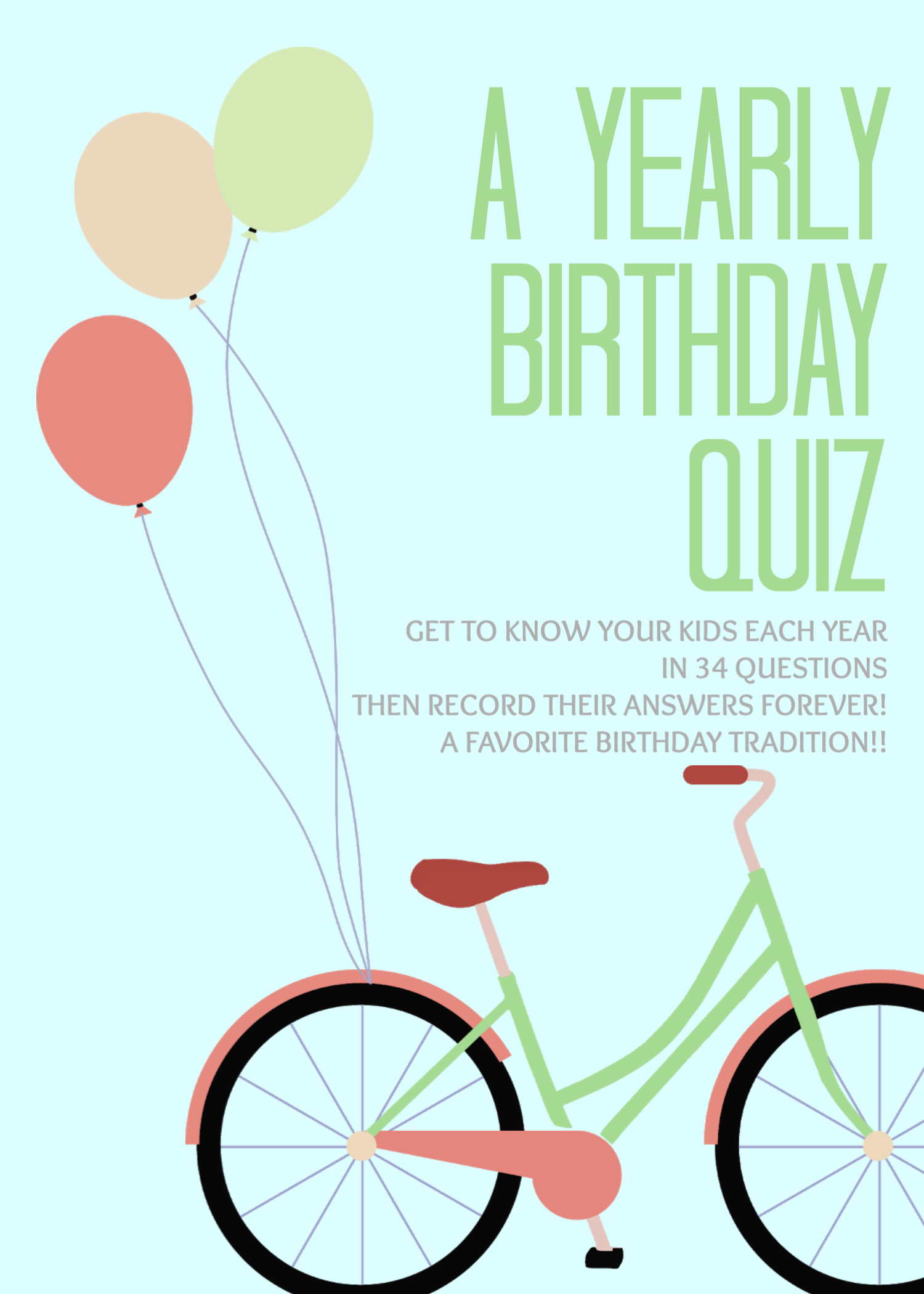 Here are questions you can copy and paste electronically or click on the link to get the cute file right to your inbox!
My favorite food is: 
My favorite sport is:
The best show on TV is:
The coolest person in the world is:
My best subject in school is: 
I'm really awesome at:
If I could change my name, it would be: 
My favorite color is:
When I grow up I want to be: 
My parents are too strict about:
My favorite song is:
My favorite book is:
When we stop for a treat, I get this:
4 words that describe me are: 
When I was little, I used to:
My favorite scripture story is:
My favorite primary/church song is:
My favorite game is:
My favorite season is: 
The best snack ever is:
My favorite superhero is:
The food that makes me want to barf is: 
The car I would love to drive when I turn 16 is:  
My best friends are: 
The cutest girl/boy I know is: 
The most memorable day this year was:
If I had one wish it would be: 
The best thing that has happened to me this year is:
One thing I want to learn to do this year is:
The thing that scares me the most is:
One thing I need to work on is:
If I could go anywhere it would be:
The most important lesson I've learned this year is:  
If I could meet one person from history it would be: 
To get this cute, FREE PDF to your inbox with all the questions and space to write, watermark free, click
HERE
! You can print and use it over and over again! And remember, you can do it any time of year, not just birthdays!