When we moved into our neighborhood 7 years ago, we knew it was a great spot, and then Christmas Eve came and we were totally sold. A few days earlier, we had gotten a garbage sack of sand, bags and candles on our doorstep as a "neighbor gift" from a few families. I almost threw it away, thinking my kids had started another strange collection. Then I read the note and instructions and was a bit curious about a luminary tradition but a little skeptical. That night, before we headed to a family Christmas Eve, we set out our bags as instructed and asked the neighbors to light the candles at the right time since we would be gone.
As we drove into our community after an evening away, I had to catch my breathe. It was so beautiful! Over 100 houses and all the sidewalks were lit with the paper luminaries, making our homecoming on Christmas Eve quiet and magical. We drove around the whole neighborhood, listening to soft Christmas music and just taking it all in. My eyes brimmed with tears of gratitude for my little family and the great community we are a part of. It is now one of my favorite favorite Christmas traditions.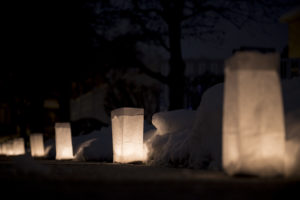 I can't wait for that same moment this year!
My neighbors were kind enough to give me all the instructions if you want to start this tradition in your own neck of the woods!
Our neighborhood uses the following numbers, for 97 homes, but it all depends on how big your lots are, etc. This is just to give you a good estimate.
We need 1170 bags: 10 for 77 non-corner homes and 20 for for the 20 corner homes. 

We get the white bags #8 size from Carpenter Paper and the candles are 10 hour votive candles from quickcandle.com. the sand is from Staker Parson on Beck Street. We buy 1/4 of a cubic yard.
For those who are not in Utah or have sketchy weather, here are some other options from Amazon:
White Paper Bags Heavy Duty ($23 for 125 bags)
10 Hour Votive Candles ($35 for 144 candles)
Electric Tea Lights ($27 for 100 if you prefer to not have a flame or if you are in a wet climate)
Sand or gravel is best purchased locally….anything to keep the bag from flying away works.