The Best Gifts for College Kids and Newlyweds
This was a new gift list for me, but it was a fun one to put together! The best gifts for college kids and newlyweds. The great thing about kids this age is that they are usually poor and paying for a lot of things on their own, so they are especially grateful for anything and everything! If you don't find something to love, check out the other lists HERE! So many great ideas. And if we are missing something, please let us know!
More Gift Guides to Love
If you're looking for more gift ideas make sure to check out my other lists including the best gifts for teen boys, the best gifts and stocking stuffers for men,  the best stocking stuffers for boys, the best gifts for teen girls, the best gifts and stocking stuffers for women, the best gifts for college kids and newlyweds, and the best gifts for missionaries.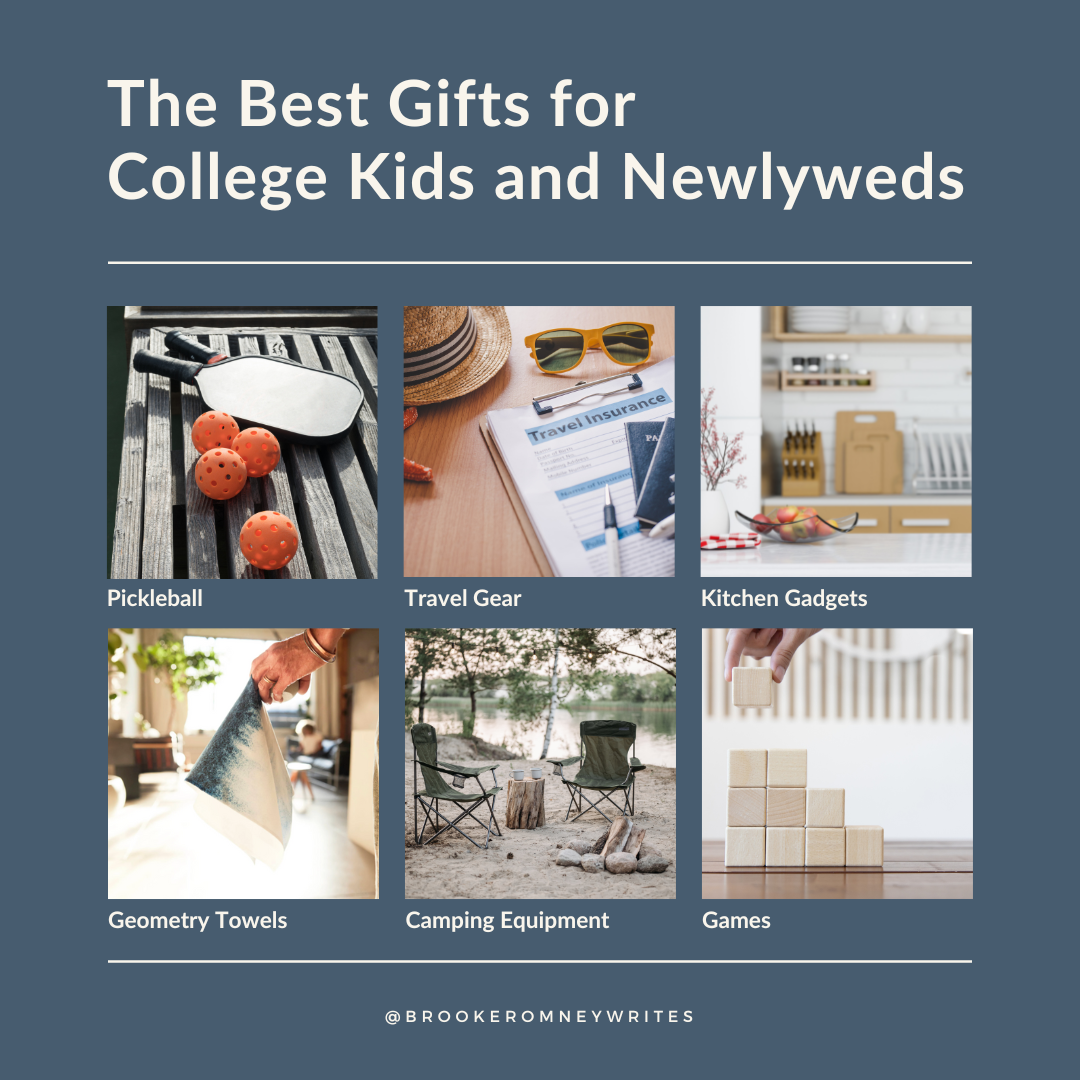 I must start off with what is generally true….kids in this stage mostly want:
MONEY
If you don't want to do money or want it to go to a specific purpose, think about gifting one of the following:
Netflix subscription, Spotify subscription, gym membership, date night gift cards, restaurant gift cards, gas gift cards, or grocery store gift cards. When you are on a tight budget, there is nothing better than not having to spend your own money on necessities or fun.
Another cool idea is a subscription box with either something they need or something they want each month or tickets to an event they can't afford but would love!
You could also buy one of the less expensive gifts on the list and add a gift card or money that would go with it!
Now that that is out of the way, here are some other ideas they might love!
The Best Gifts for College Kids and Newlyweds:
Under $20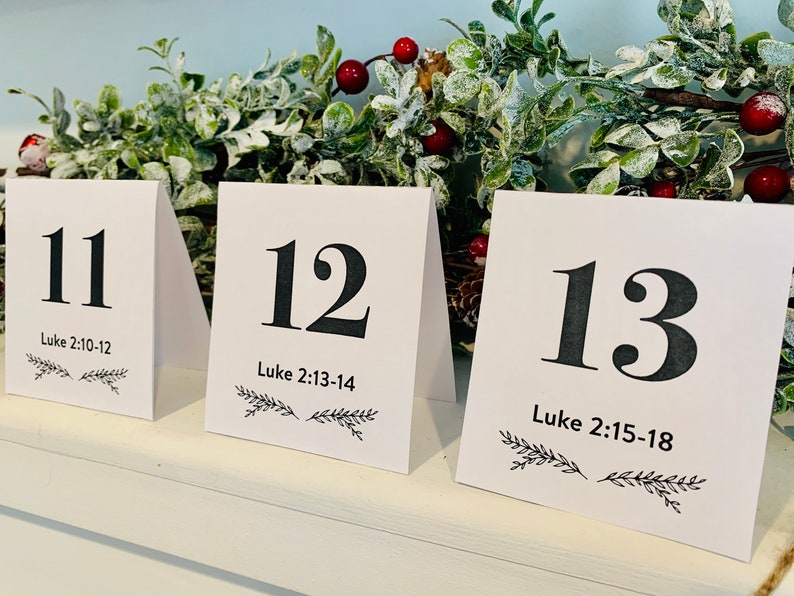 This is fun for a couple just starting their holidays together. This gives them an excuse to connect over something spiritual daily and provides a cute Christmas decoration.  ($5)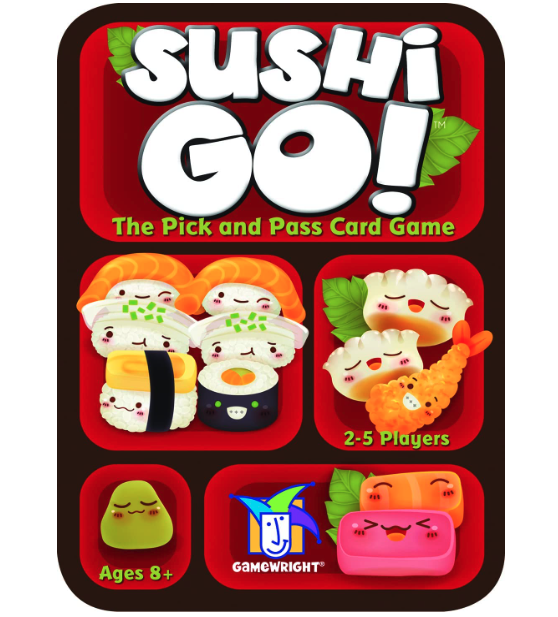 This is a fun game for 2-5 players, so it makes a lot of sense for a couple. ($6)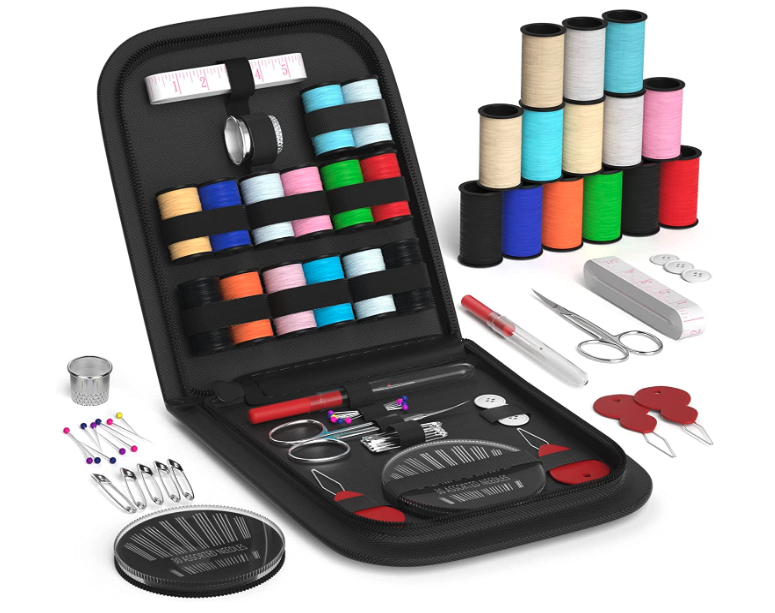 The kit contains all the necessary tools that are required for performing basic repairs when your mom is no longer around. A great gift for college kids! ($7)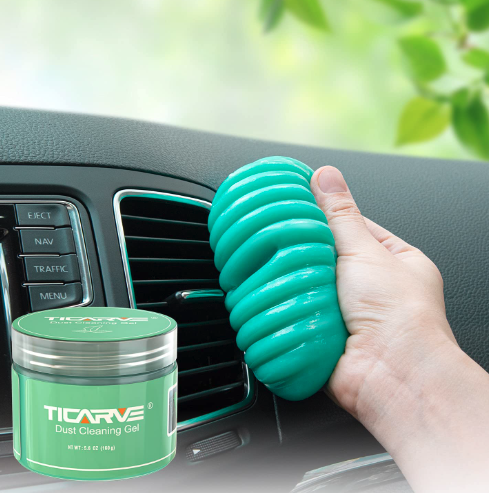 Car putty is super great to get into the gaps and little crevices on the car to pick up the dust, debris, crumbs and pet hair. Makes a great stocking stuffer! ($7)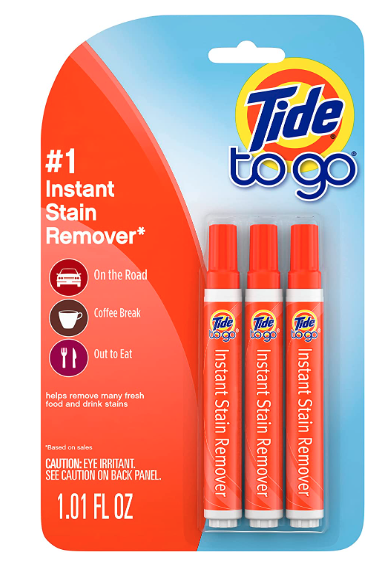 These are amazing for the kid who won't get right to his wash but doesn't have the money to replace every article of clothing that gets spilled on. A great stocking stuffer!  ($8 for 3)
I saw this idea from Everyday Reading and loved it so much! What a perfect little gift for just about anyone! The little garbage can sits in your cupholder to collect all those gum wrappers and receipts. What an awesome invention and perfect gift for a neighbor, friend or co-worker! ($8)
Save relationships with this microwave cover. No more disgusting microwaves or fights over whose turn it is to clean it! ($9)
I have loved these in my own house and they would make an awesome item for a dorm or apartment since no one likes washing the dishrag. They are reusable dish cloths, that are heavy duty enough for about a week of use, but then you can toss them when you are done…no smelly dish rags hanging around. They are my favorite. You can get 10 for less than $10 when you use my code BrookeR15. ($10)
Ideal for lighting candles, fire pits, or grills!  A great stocking stuffer! ($10)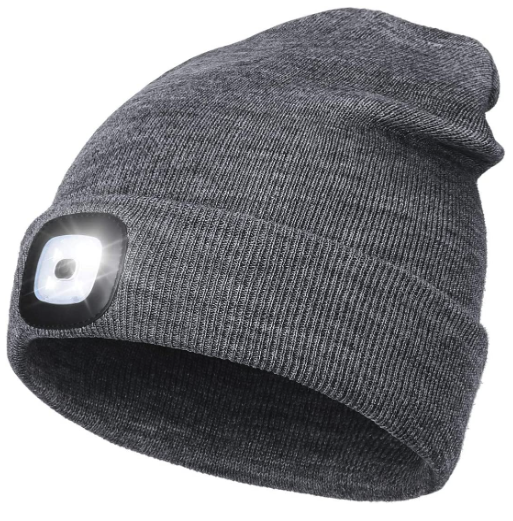 This is not only a warm Winter beanie hat, but also a hands free LED flashlight to make you warm and light up your way at night. The battery is rechargeable, so it's a favorite for all runners, hikers, and campers.  ($11)
This small kitchen tool is awesome for waffles, eggs, paninis and just about anything else you need to cook quickly. Also small and perfect for a shared kitchen! ($13)

We love this clip on book light! If you have a reader or studier, this is the perfect extra gift!  ($12)
If you have a kiddo who is using their phone a lot for watching movies or even doing online school, this is an awesome option to enlarge the screen and allow them to be hands free! ($12)
The easiest way to keep the sun from baking your car. It goes up and down just like an umbrella!  ($13+)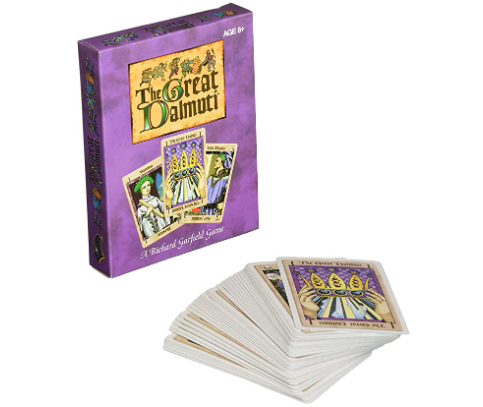 This is such a fun group game. A light card game where players gain status by going out first. Seat positions change and the cards are re-dealt. It's always nice to have something fun to play with roommates or new friends. ($14)
One of my favorite, useful stocking stuffers! ($14)
This is a great gift for the book lover who is often commuting! Also great gift for a couple who wants to read together. ($15 and up)
These are the best! They make a darling gift for any new couple or single who has ventured out on their own. I also LOVE the "not paper towels." They are the perfect alternative for dishcloths that are always smelling up the sink. Use code BrookeR15 for an awesome discount!
Another good group game that might turn into a favorite.  ($16)
This is such a useful gift for a movie or popcorn lover. Pop the kernels right in your microwave for a healthy and delicious snack! ($16)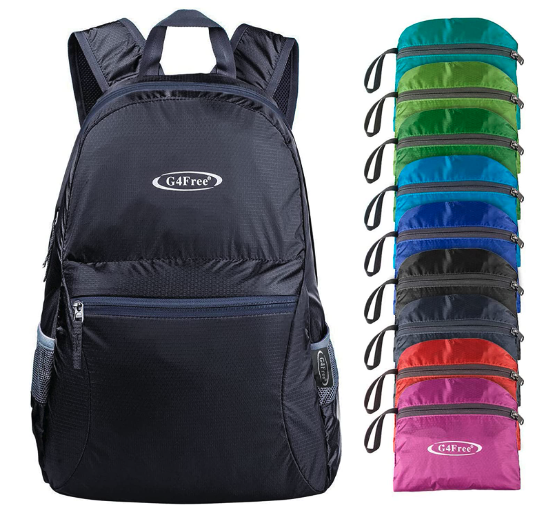 The ultra-lightweight shoulder bag. Save your space to fold into its built-in pouch as a Sandwich size.  One of the best gifts for college kids because it's easy to pack into a suitcase for those trips home. ($19)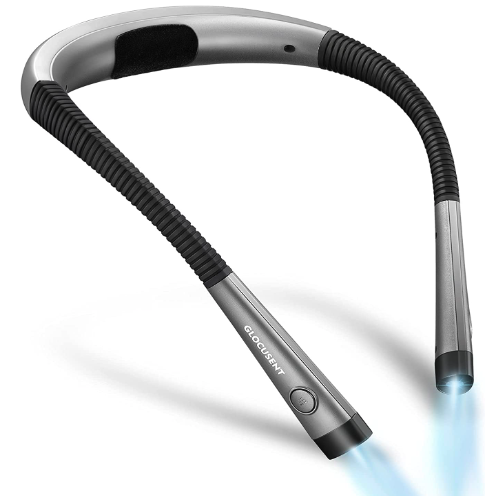 The perfect reading light! Rechargeable and long lasting! Great if you share a room and need the light longer than your roommate! ($20)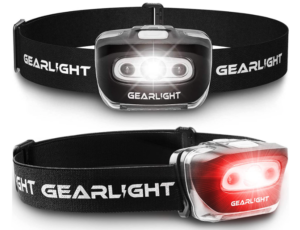 This would make an awesome stocking stuffer. Perfect for dark tag, camping, or even reading at night. Super useful. ($20)
It is nice to interrupt Netflix with a little game every once in awhile! This is a great game that can work with two people. ($20)
The Best Gifts for College Kids and Newlyweds:
$20-$40
This is the gift that keeps on giving! 52 ALL NEW modern manners to help your young adults learn the physical, social, and technology skills that can help them be successful in our modern world. It stands up as a display so kids can learn on their own or through discussion. Makes a great family gift for any woman in your life! ($21)
Every young adult, married or single, needs this book! So many great tips to start a successful adult life! ($21)
Everyone needs a basic tool set when they move out. All the necessary items to get you started! We have used our simple one for 20 years! A great gift for college kids and newlyweds. ($21)
Not all that exciting, but certainly necessary when you venture out on your own! Peace of mind can be the best gift for college kids. ($21)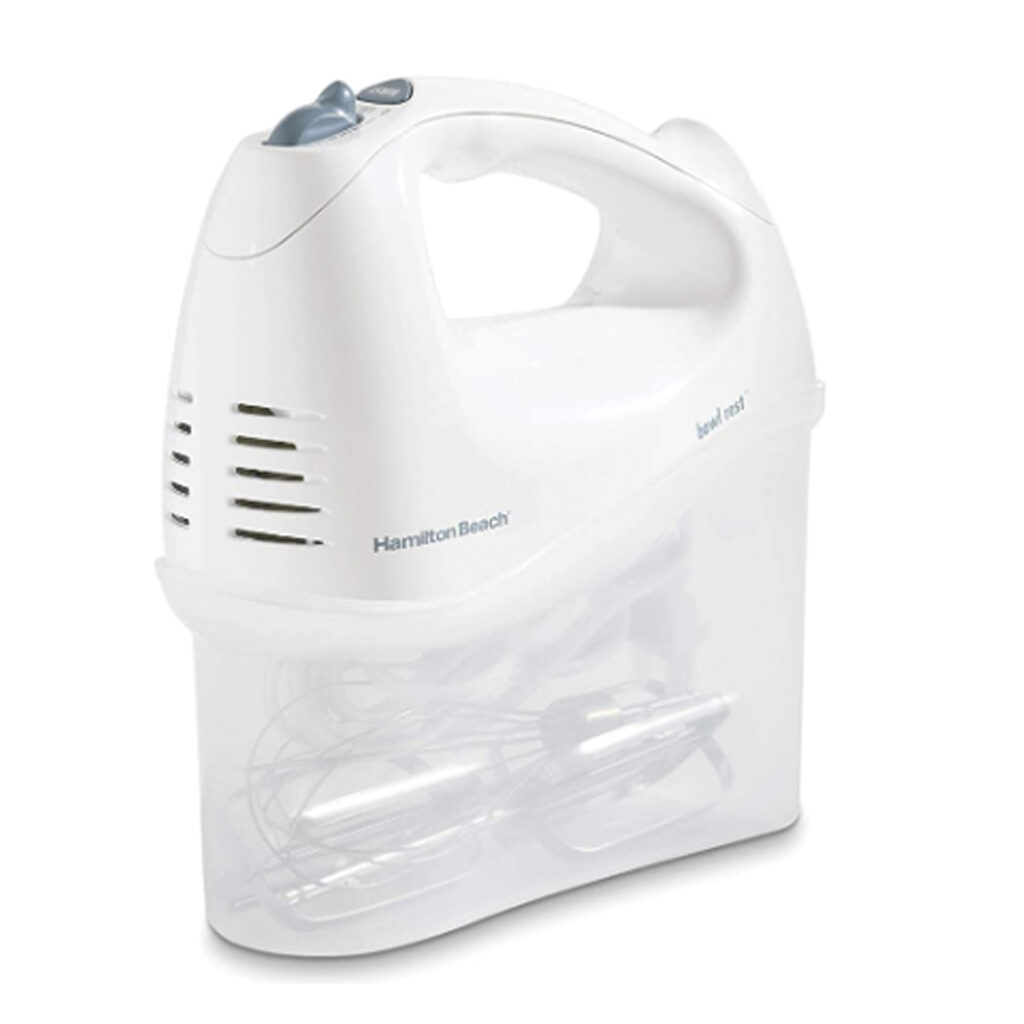 Another useful kitchen item that they will be glad they have! My friend has had this model for over 10 years and it still works great. Include a few cake or brownie mixes or a recipe for a go to dessert! ($21)
Be a great roommate and let the honeymoon phase linger by using this in the bathroom. ($21 for 2)
Great idea for anyone who is often on the go! ($24)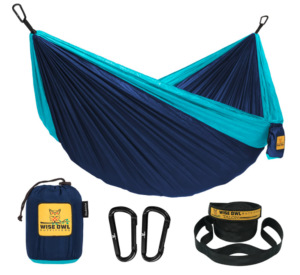 Tried and true gift for anyone who loves the outdoors! this one has room for two!  ($25)
This would be such a great gift for a young adult, especially if you filled it with batteries…they are pricey when you are on a tight budget! The battery tester in the center makes this even cooler! ($25)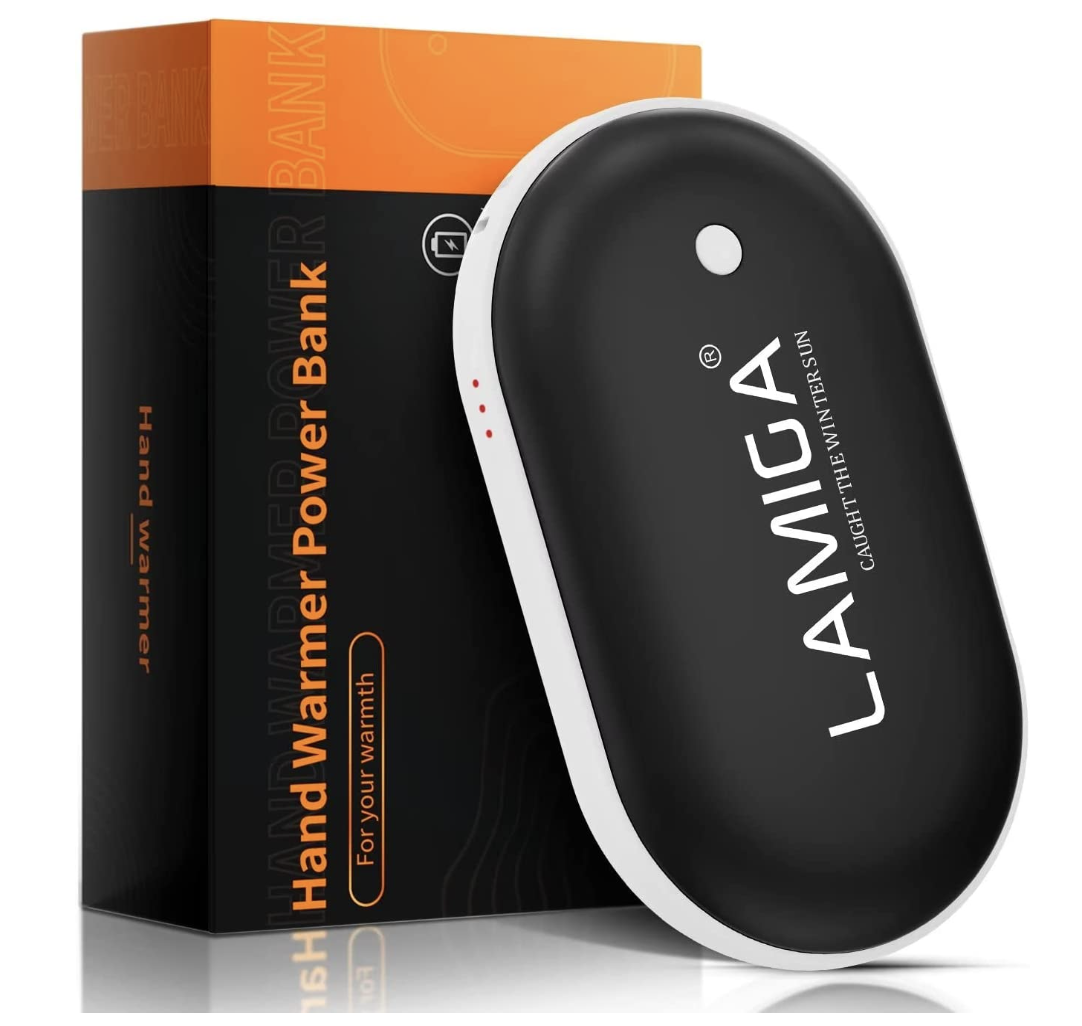 This is the best! A hand warmer and charger in one. It is easy to throw in your pocket when your hands are cold. Awesome for a kid who loves winter sports.  ($25)
This is such a cool option if they need an alarm clock! It doubles as an oil diffuser and humidifier and has such a sleek design. What a cool bedside option! ($27) Sold Out!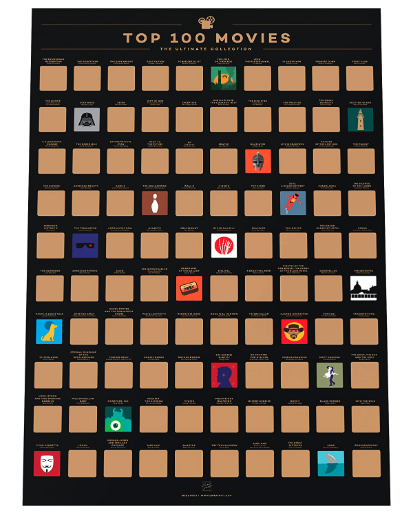 This scratch off poster is filled with films loved by both fans and critics worldwide – from influential classics to modern blockbusters and award-winning animation. Your movie loving kid will love finding a new one to watch each weekend! ($28)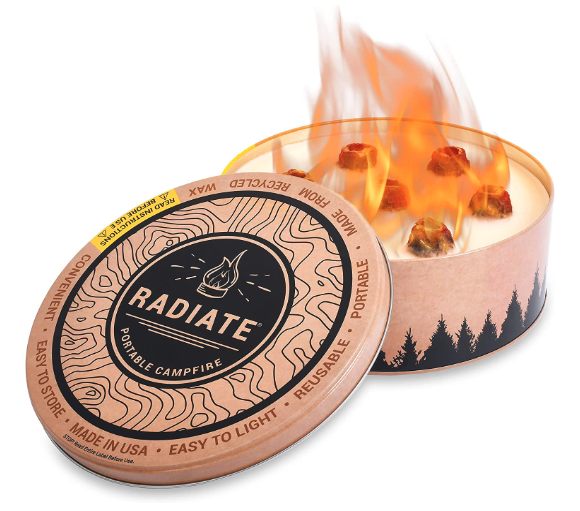 Bring the campfire with you anywhere! The Radiate Portable Campfire weighs only 4lbs and is 8″ wide, making it the hassle-free outdoor fire pit you can use wherever life takes you. Also awesome for emergency preparedness. ($28)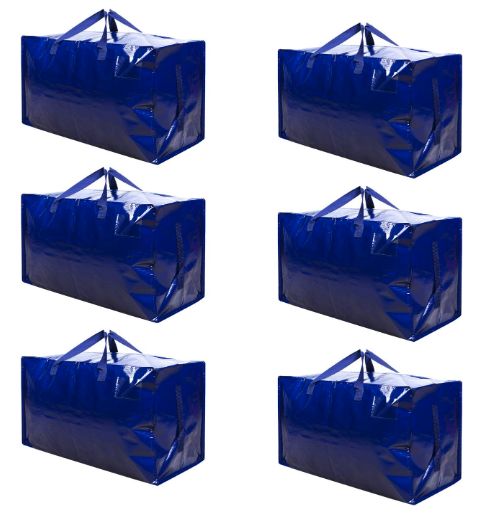 A lightweight, economical, and convenient alternative to traditional cardboard moving boxes or clear plastic storage bin containers. No need to buy boxes or look for packing supplies. Just unfold, unzip, and begin packing and loading. Oversize and super large capacity to fit many items. ($30)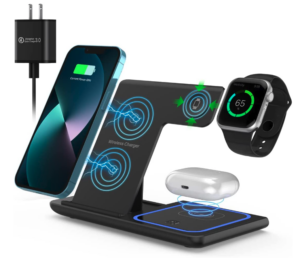 I love this handy charging station. No more looking for cords and places to plug things in. This is perfect for your techy, apple loving girl! ($30)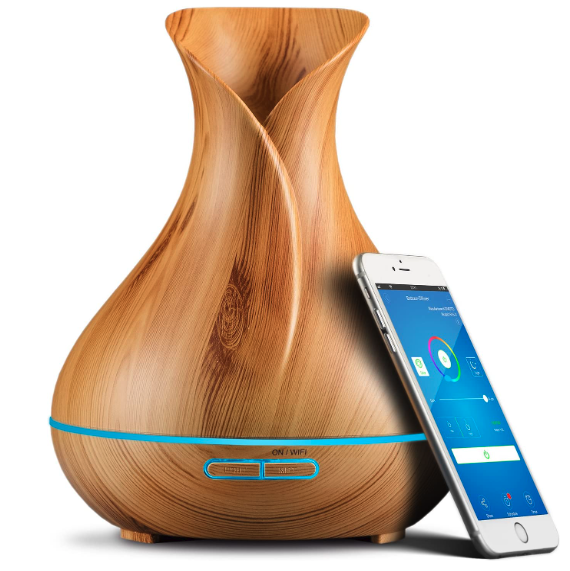 If your kids want their room to feel like an oasis, this is awesome. Use it like a normal diffuser or download the companion app to control features like LED color, mist intensity, timer settings, scheduling and more directly from your phone. ($30)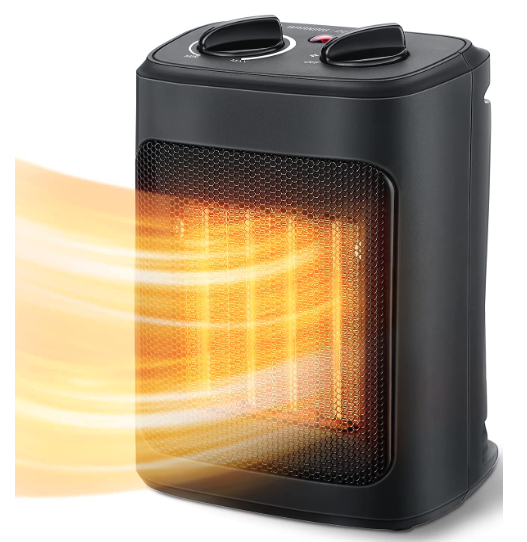 The compact and portable design will allow you to easily move your space heater to any room you want. Make sure that chilly room is nice and warm. ($30)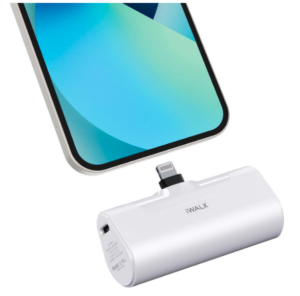 Every young adult wants an extra charger so this one  would be a very welcome stocking stuffer! Help them get a little more use out of their old phone. ($30)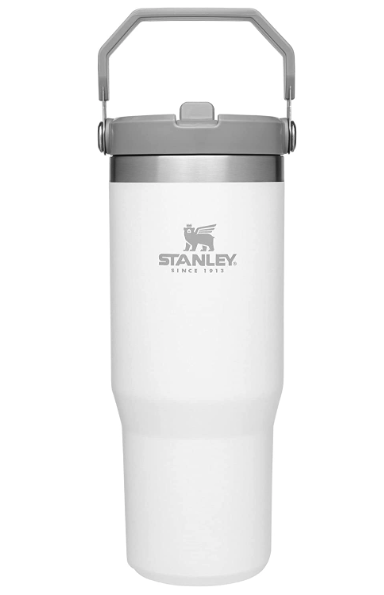 Our favorite tumbler! It keeps water cold for such a long time, plus it can take a beating. Everyone in our family has one. It comes it so many colors too. ($31)
If your kids are having their own Christmas, this is an awesome gift to help them focus their season on Christ! Such a fun gift for college kids or newlyweds. ($34) Use my code BROOKEROMNEY for 20% off.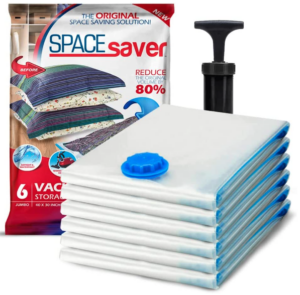 A great way to save space. These can  be used for a range of items! Store away your clothes, coats, duvet, bed sheets, towels, blankets, and more! 80% more space than other bags on the market! Great for the missionary trying to save space too. ($35)
The perfect addition to any outdoor lover's trunk…a comfortable, useful camping chair. ($35)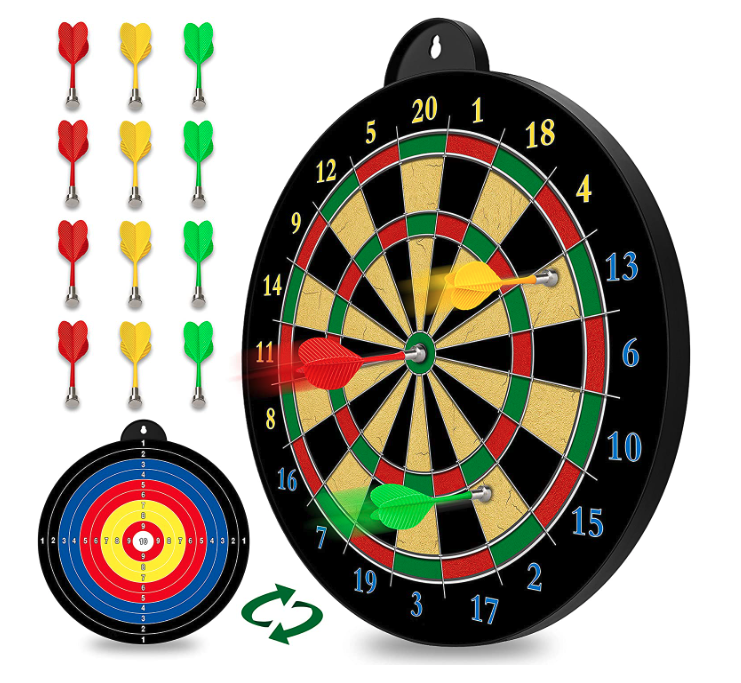 This dart board won't hurt your walls with sharp pointed darts. It is so fun for a college room! ($25)

This is such a great gift for any person with sore muscles! We got one for Christmas and it has been in constant use around here. Affordable and super useful! ($36)
Need something fun to add to a dorm space? This ring toss game can add hours of entertainment. ($36)
I really love purposeful gifts, so this one isn't glamorous, but it is awesome. An emergency kit for the car that includes jumper cables, first aid, raid jacket, tools, tire gauge, flashlight and more. A great gift for any driver! ($39)
This is the survival kit we have and it is AMAZING. Northstar thought of everything! After last year, I felt a push to be more prepared and having these 72 hour kits gives me a little peace of mind. This is a gift I felt great about gifting from a company that guarantees quality. ($39+) Code Brooke15 gives you 15% off everything on their site!
This is a fun, more indulgent gift, but who doesn't love weekend crepes? ($39)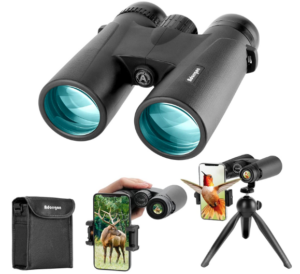 Capable of delivering a clear face from more than 650 feet away. Perfect for bird watching, hunting, sports events. Your detail oriented son will love it.  ($39)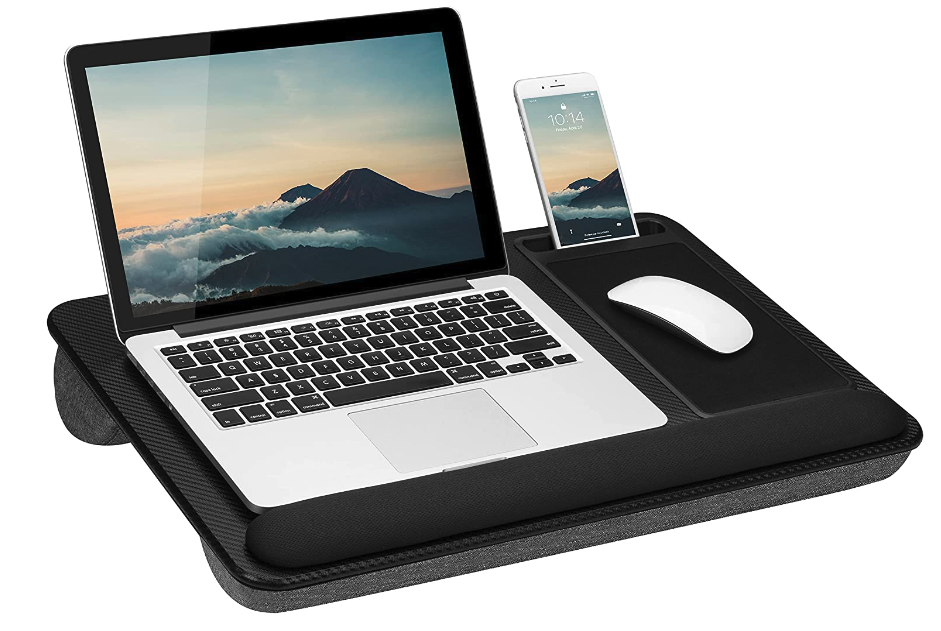 This lap desk is packed with work-friendly features. Easy and convenient to use anywhere. ($39)
The Best Gifts for College Kids and Newlyweds:
$40-$100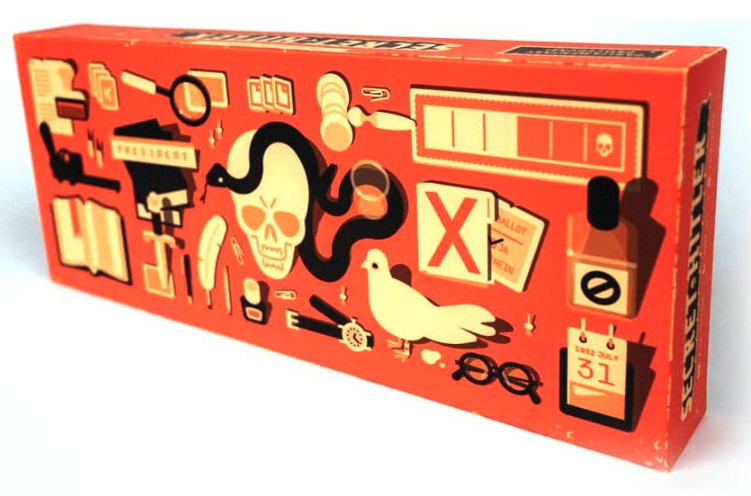 A fast-paced game of deception and betrayal. Beautiful wooden components and solid game boards with foil inlay. It has hidden roles and secret envelopes for five to ten players. A great group game that teens love. So fun! ($40)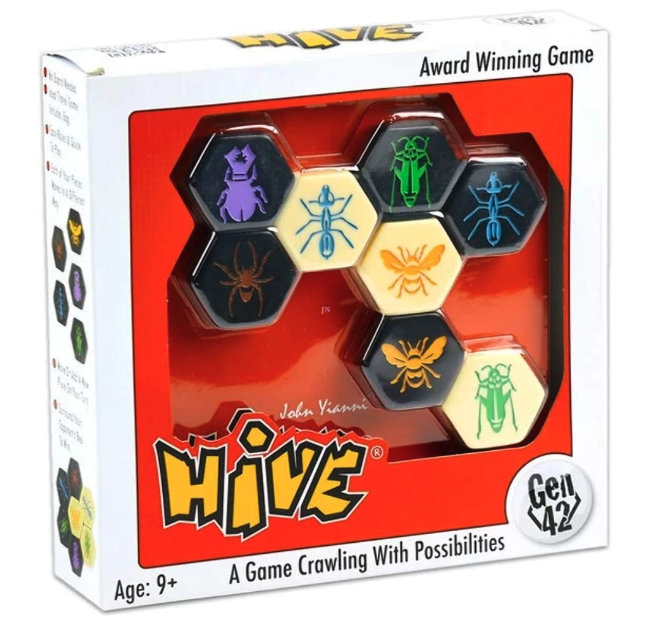 Another fun game that can work with two people. ($40)
Who can't use a fresh set of towels when they venture out on their own? This set has everything you need! ($40)

There is nothing better than a personalized gift just for you! These are the best and well made. You can do pets, people or anything your child loves! Get 25% off with my link. ($40+)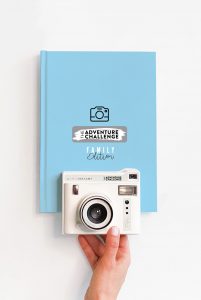 If you are really needing to add variety to your life or just looking for some great, screen free ways your family can bond together, the Adventure Challenge family edition would make an awesome family gift! You scratch off the family challenge, complete it and take a photo to remember the fun you had. So great for a family looking for more screen free adventures together this year! ($40+ and use code BROOKEROMNEY for 10% off)
This portable cooler is perfect for a road trip or picnic! This is something every young adult will put to use for years and years to come! Fill it with a bunch of groceries they love to make it even more loved! ($43)
If you are gifting to a foodie, this would be such a fun surprise! ($43)
If you have an outdoor lover, this gift provides all kinds of adventure and memories! ($46)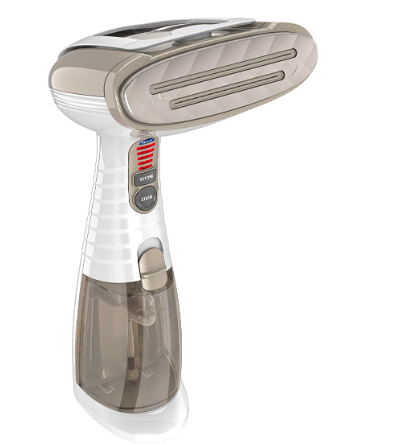 This is a great alternative to an iron. This steamer combines the performance of an iron with the power of steam to instantly smooth out wrinkles in clothing and upholstery while killing 99.9 percent of germs, dust mites and bed bugs. ($55)
A nice quilt set that comes in any color you want. ($55)
There is nothing better than having a past time you love! Pickleball is great for all skill levels and will give you hours of fun! ($60)
Smoothies are a great staple in a college kid's life! This blender would make a great gift for college kids and is easy to store and use! ($60)
Such a fun idea to have a sleeping bag big enough for two! ($70)
For the music lover who wants to play for themselves or others, this is a great option! ($70)
Spikeball is the perfect indoor/outdoor game. This portable, easy to play ball game is a great investment for the whole family. Great as a lawn or beach game or played in the basement during cold weather. ($70)
If your kiddo does not have a drill, this is, hands down, our most used tool. Every home needs one, so order it pronto. Super affordable too. ($70)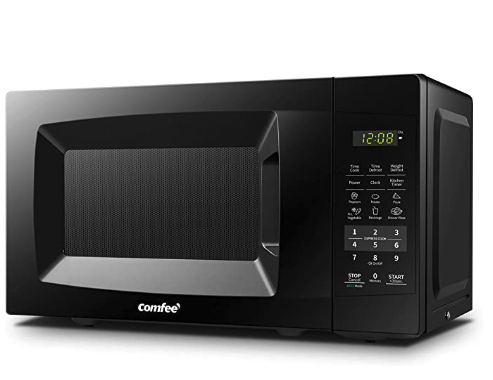 This compact microwave is just what you need to reheat those leftovers and cook a few meals. ($82)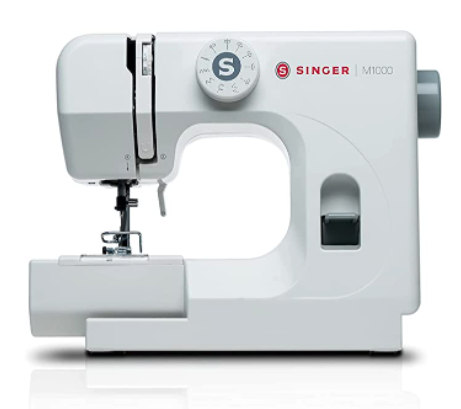 Simple, portable and easy to use sewing machine for those that want to continue a hobby even once they leave home.  ($85)
It's always nice to have your own printer, especially when the ink comes with it! ($85)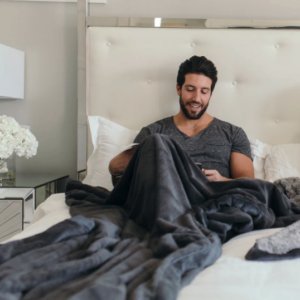 We love this blanket and it comes in extra large.  It feels weighted and doesn't make you too warm. You can add embroidery to make it extra personal. Nothing like coming home after a hard day and wrapping up in this! ($99+)
The Best Gifts for College Kids and Newlyweds:
Over $100
This is the kitchen tool dreams are made of and perfect for the person who is just learning to cook! Great for reheating or trying to make each meal delicious and healthy.  ($100)
This is a bit of a splurge, but so fun to have homemade ice cream to share! ($100)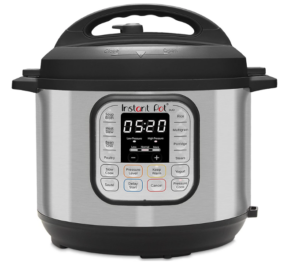 This is a bit of a splurge, but it is so cool to have two appliances in one…it is both an instant pot and a slow cooker! Perfect for people who are just testing out their kitchen skills. One of the best gifts for college kids with limited kitchen space. ($100)
Nice sheets make bedtime blissful! These are awesome and will keep you sleeping like a baby! ($100)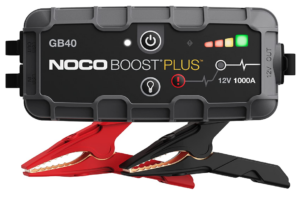 If your college kids are dealing with a less than reliable car, this is a great item to have on hand! Portable and easy to use. ($100)
A basic tool set is something everyone needs! This will keep them stocked for years to come! ($110)
Perhaps one of the most useful gifts ever! this will stick around for years to come and can even be a kitchen table for as long as needed! ($119)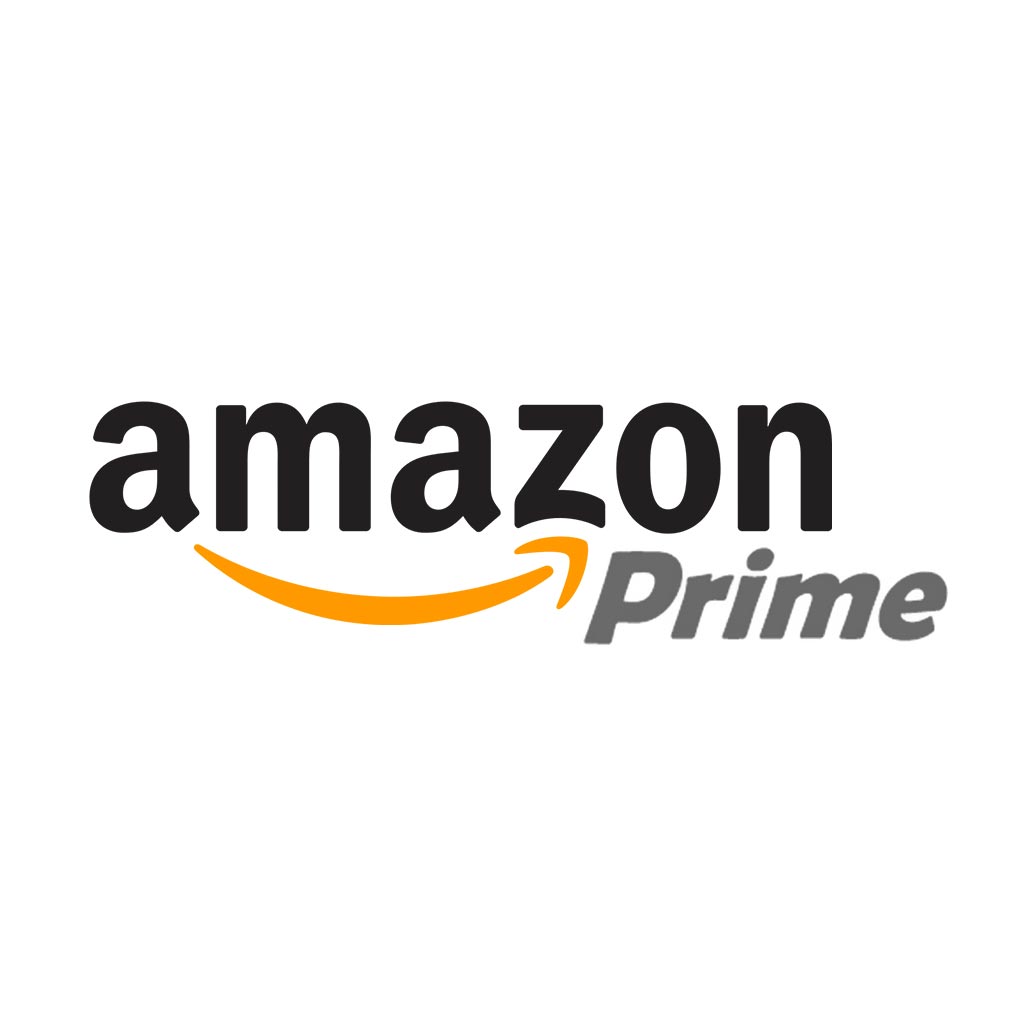 Amazon prime is truly the gift that keeps on giving! It grants access to great deals on Amazon and gives all kinds of shows and movies on demand every month! This is the perfect gift for the person or couple pinching pennies. ($139 per year)
This is an awesome gift to go along with a Hotels.com gift certificate or an airline credit! Perfect for the young adult with Wanderlust. ($143)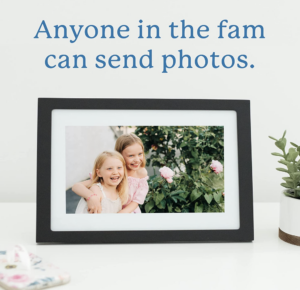 A great way to stay connected through the years! Help your newlyweds get their wedding pictures uploaded to remember their special day! ($150)
Tech gifts are always well loved! This is one of the best gifts for college kids who are navigating a new place, with a new schedule, and trying to stay in touch with old and new friends.  ($155)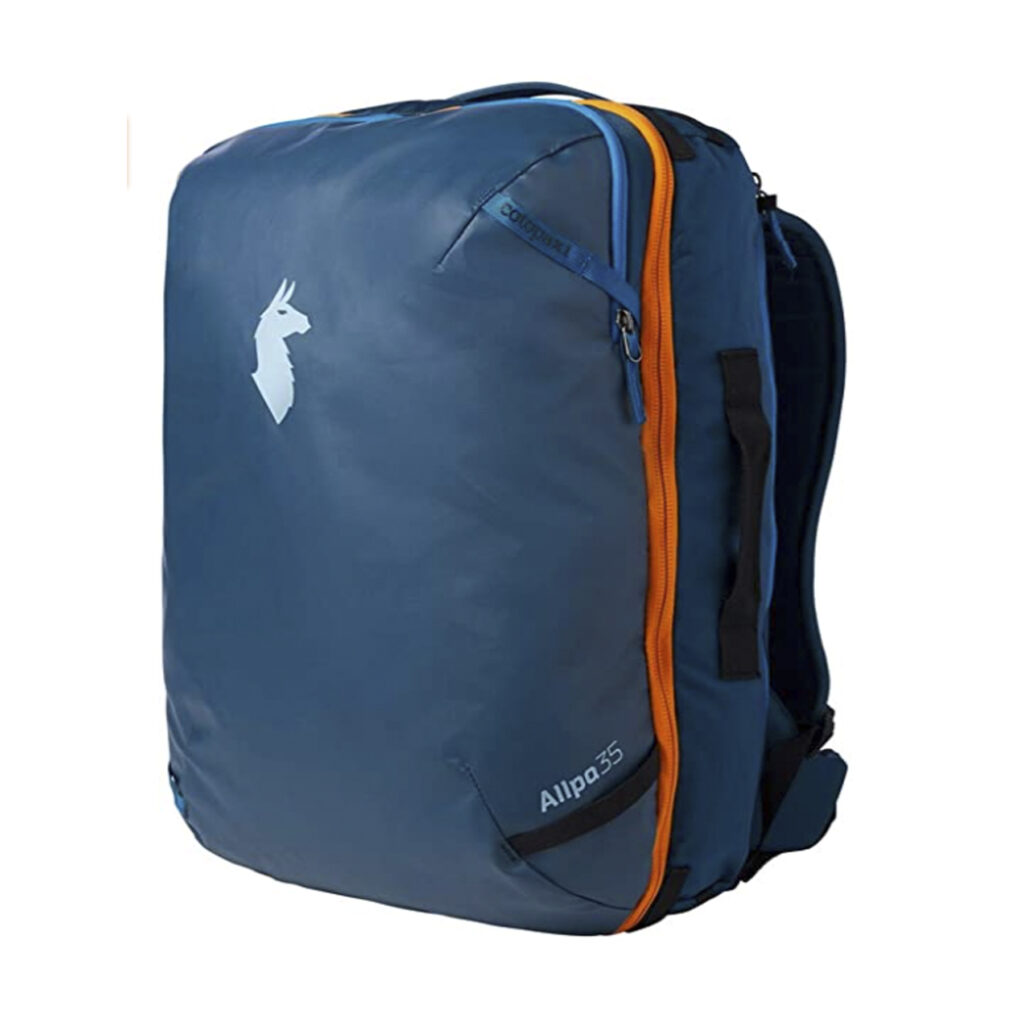 This is the perfect pack for traveling.  It has so many pockets that help you fit everything in. It is carry-on size so it fits in the overhead compartment on planes. ($200)
If you have a gamer, chances are they will be thrilled with the new Nintendo Switch. This is a serious investment, but if you are okay with it, it is sure to bring a hearty smile. ($300)
Do you have a kid in your life that loves to video or is an extreme sports addict? The Go Pro Hero has gotten much more affordable than it used to be and is a ton of fun to use! ($360+) Order it HERE.

This is the coolest VR option out there to enjoy games, concerts and so much more. Great as a family gift or for entertaining big groups! ($400)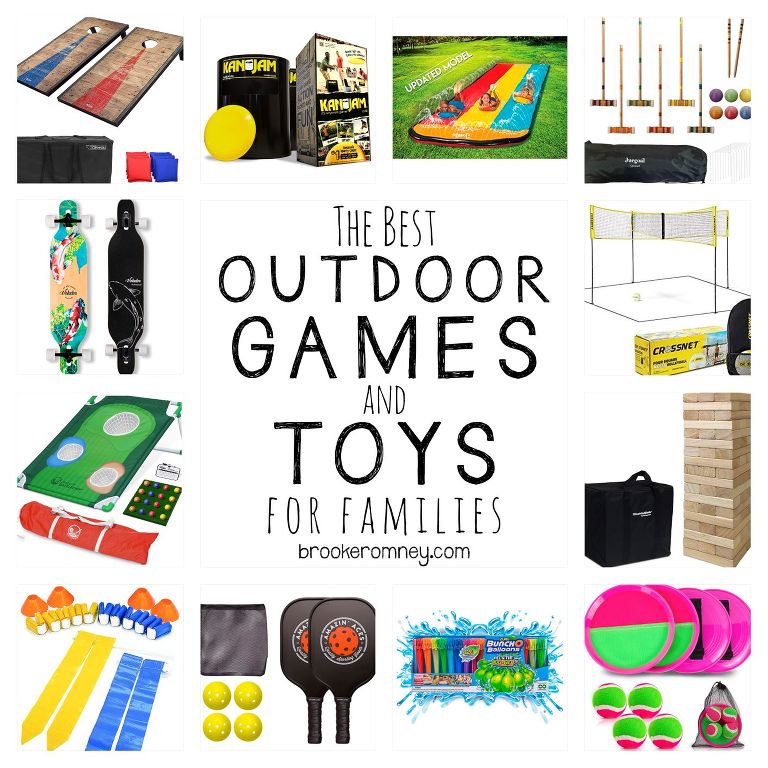 Outdoor games are awesome to keep parties going and couples active. You will love this my list of all the best ones. Just click the title above.
I hoped this sparked some great ideas for those kids who are maybe too big for Santa but desperate for presents! What gifts for college kids and newlyweds do you like to give?
*I am an affiliate for many of the items on the list. Thank you for supporting my research and writing!