Here we are again, trying to find something meaningful, fun and well loved for the men in our lives! Below you will find some great ideas that work for every kind of man! Do you have something awesome I missed? Add it in the comments to make all our gifting a little easier!
All items are linked through their title. Happy shopping!
If you are looking for other great gift ideas, we have so many for you! Click HERE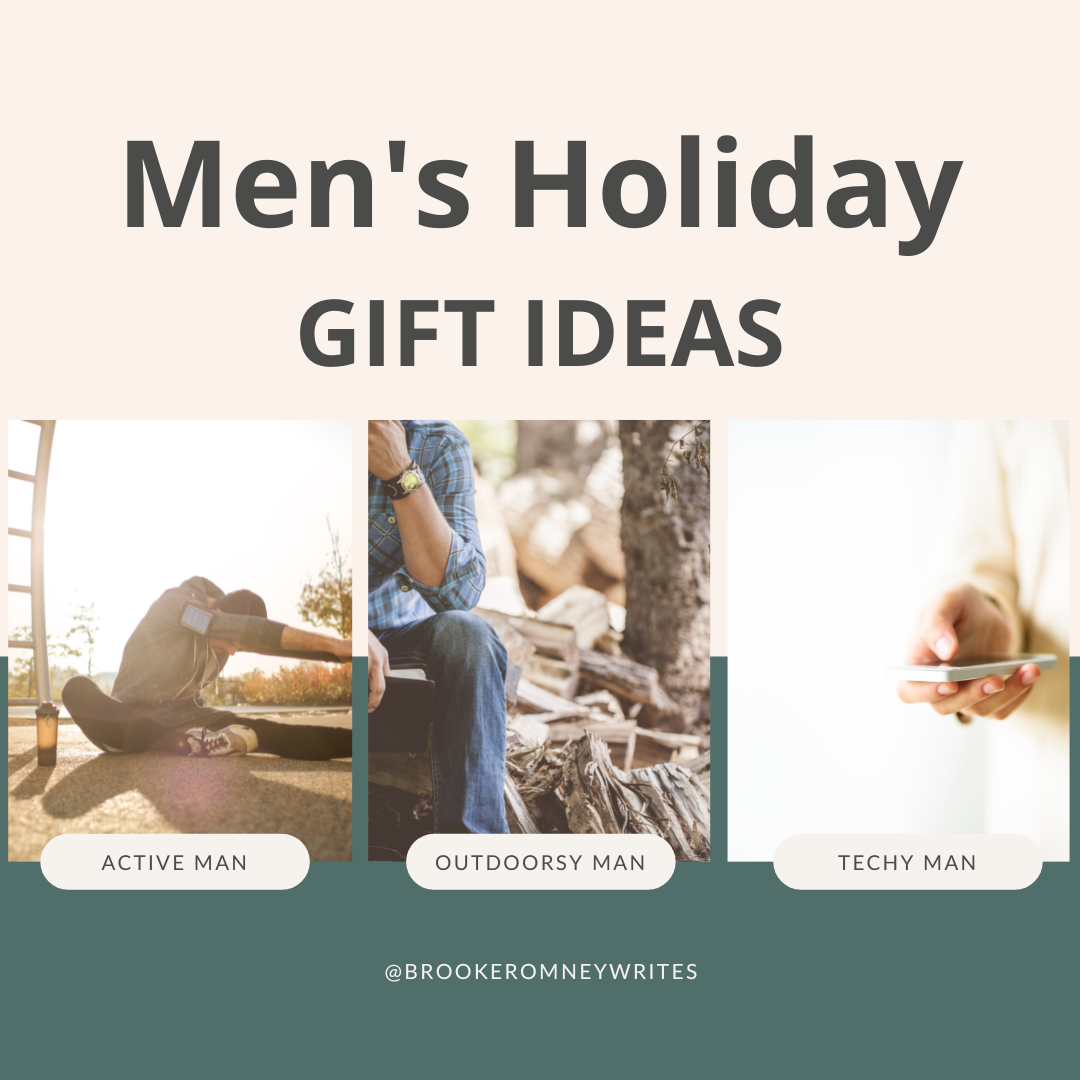 NEW for 2022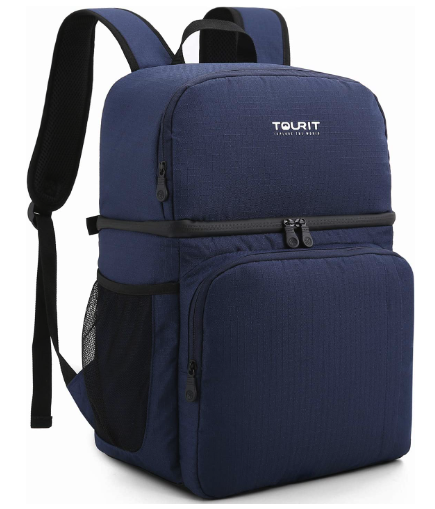 This leak proof backpack keeps food and drinks warm or cold for 16 hours. Perfect for the man who loves to camp, hike, fish, or road trip!  ($34)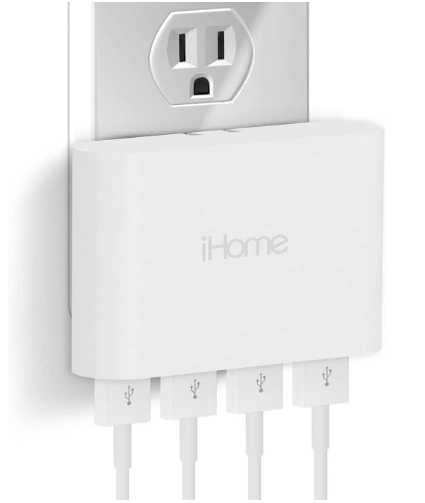 iHome's phone wall charger block is a usb adapter plug that converts a single AC outlet into a multiple usb charger, allowing you to charge up to 4 devices at the same time! A dream come true for all those dads who can never find a charger! It includes a dedicated 2.4A port to rapidly charge your phone or tablet twice as fast as other standard charging blocks. ($25)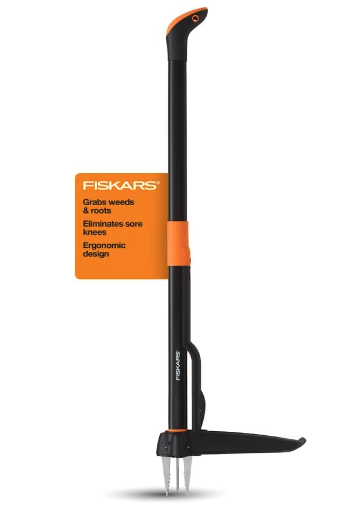 Lightweight long shaft and easy-eject design help to eliminate sore knees and back aches from bending, making cleanup quicker and easier for any garden lover!  ($48)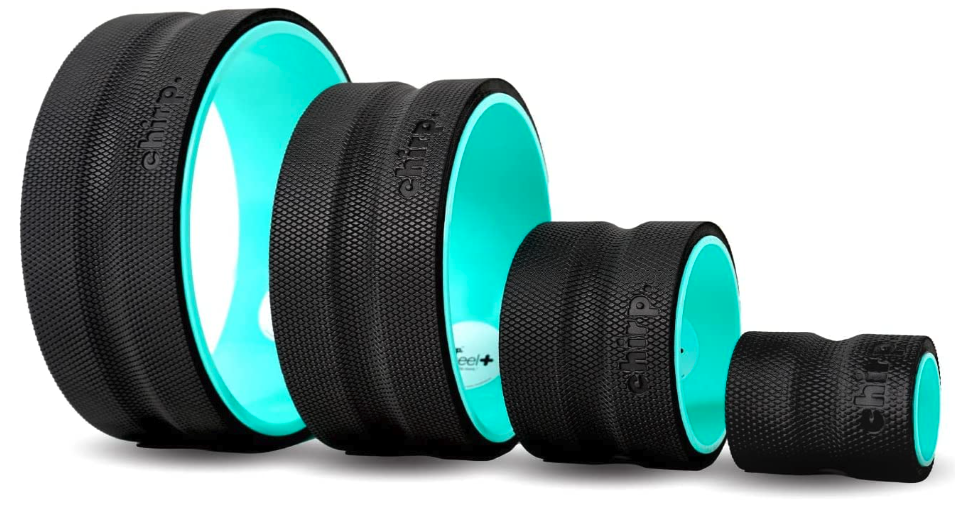 For your active man, this wheel back stretcher set gives a deep tissue massage no matter where the pain and soreness hit. A well loved gift for sure!  ($125)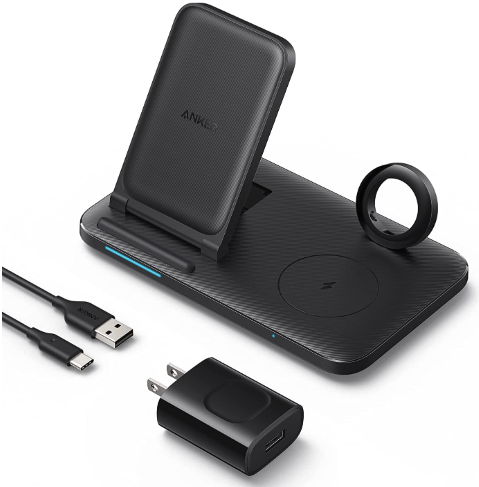 The space-saving foldable design is compact enough to fit in any bag and makes carrying the charger easier when you're traveling. Great for the man on the go. ($30)
Wind & Splash Proof Design prevents the electric pulse produced from being blown out by strong wind. Ideal for camping, BBQ ,hiking, indoor and outdoor activities. A great stocking stuffer! ($10)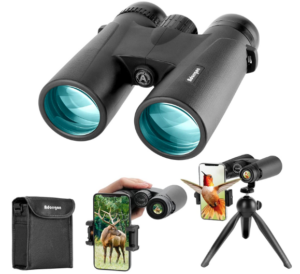 Capable of delivering a clear face from more than 650 feet away! Perfect for bird watching, hunting, sports events. Your detail oriented man will love it.  ($39)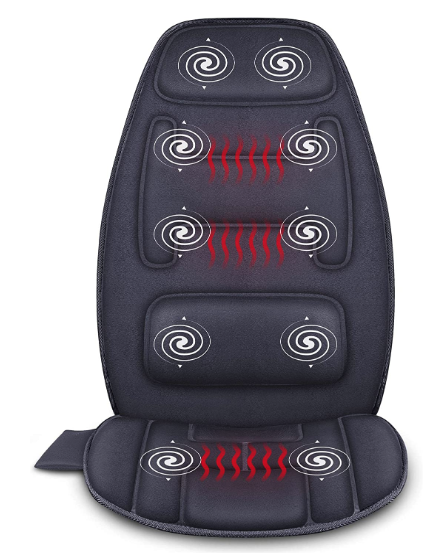 The back massager with 10 powerful vibrating motors (8 spot for back and 2 for thighs ) and heat function, provides soothing gentle massage for back and thighs and helps relieve stress and tension. ($60)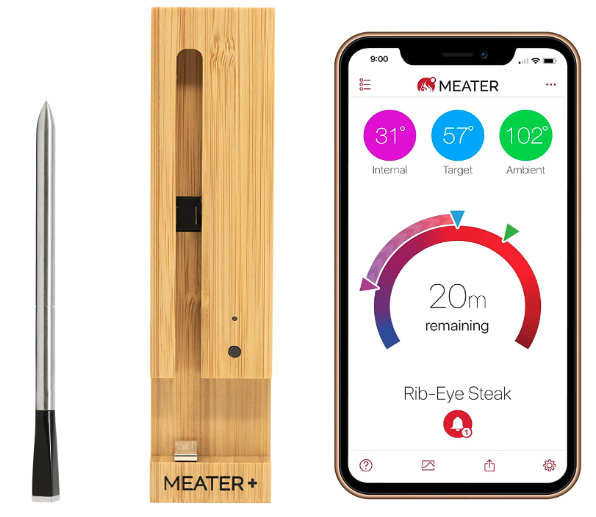 The first truly wireless smart meat thermometer. Monitor your cooking or smoking from anywhere!  ($99)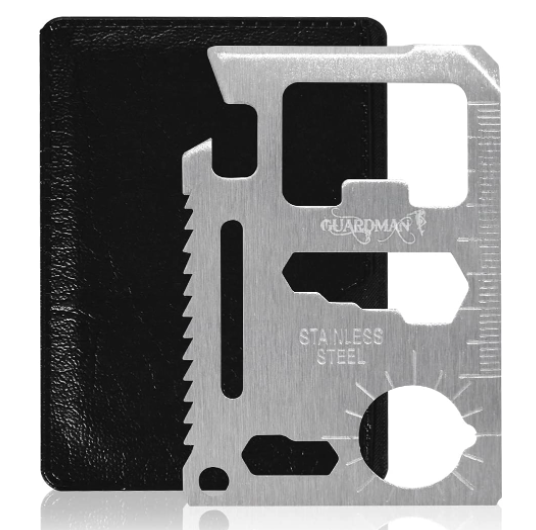 This survival credit card wallet multitools are made with nothing but the strongest materials and put through exhaustive quality control so you can trust their usability and durability. A great stocking stuffer!  ($7)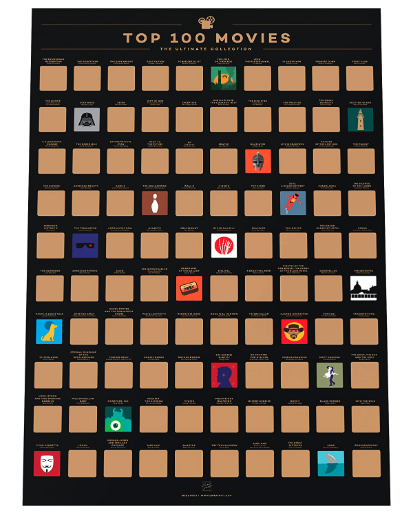 This scratch off poster is filled with films loved by both fans and critics worldwide – from influential classics to modern blockbusters and award-winning animation. Your moving loving man will love finding a new one to watch each weekend! ($28)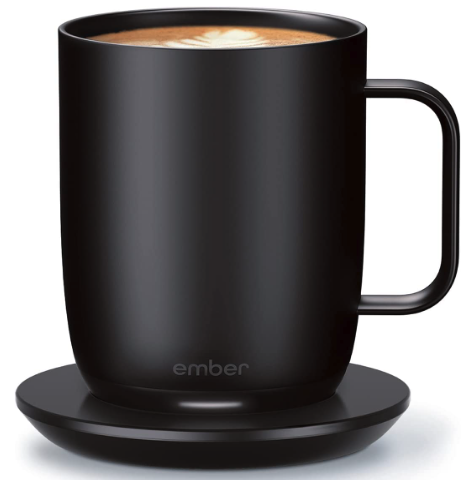 Extended battery life on your temperature control mug keeps your drink perfectly hot for up to 1.5 hours on a full charge or all day on the newly redesigned charging coaster. Choose the exact temperature you prefer (between 120°F – 145°F). Perfect for your coffee or tea loving man. ($130)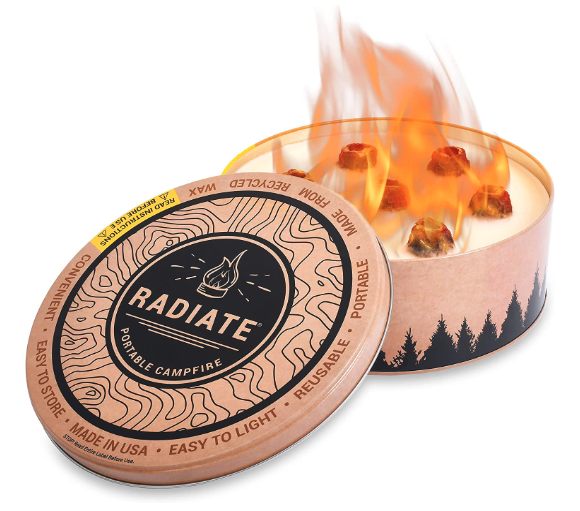 Bring the campfire with you anywhere! The Radiate Portable Campfire weighs only 4lbs and is 8″ wide, making it the hassle-free outdoor fire pit you can use wherever life takes you. Also awesome for emergency preparedness. ($28)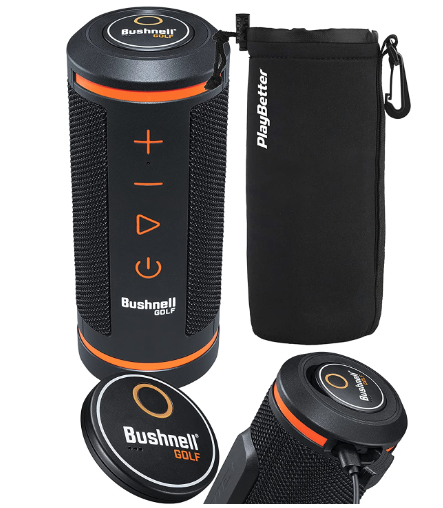 The Wingman speaker provides up to 10 hrs of uninterrupted golf game music (usually 2 rounds of golf), and also acts as a power source when you need a quick phone charge. A versatile golf cart speaker indeed! ($160)
Level up your apple watch with a stainless steel band!  ($16)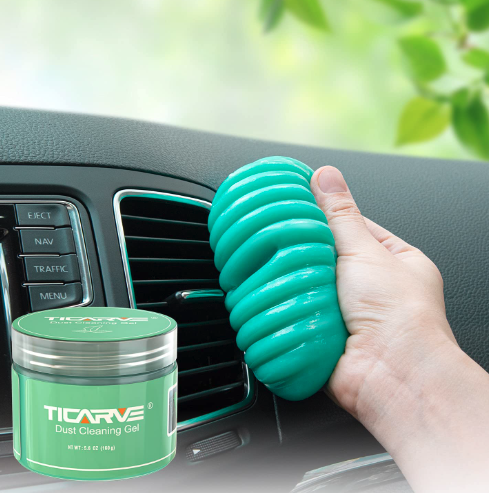 Car cleaning gel is perfect for cleaning the nooks and crannies in your auto. Car putty is super great to get into the gaps and little crevices on the car to pick up the dust, debris, crumbs and pet hair. Makes a great stocking stuffer! ($7)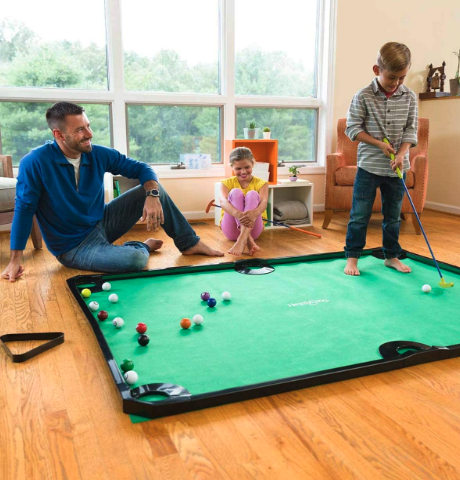 A unique and fun twist on two family-favorite games. Golf pool indoor family game combines the challenge of golf with the game of pool. Great for dad and kids of all ages! ($119)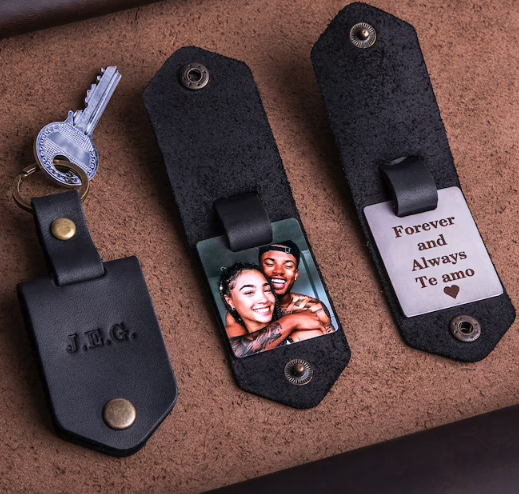 This gift is made to last. Every day your loved people will bring with them a small piece with that remains the best moments spent together. A great, personalized gift!  ($24.50+)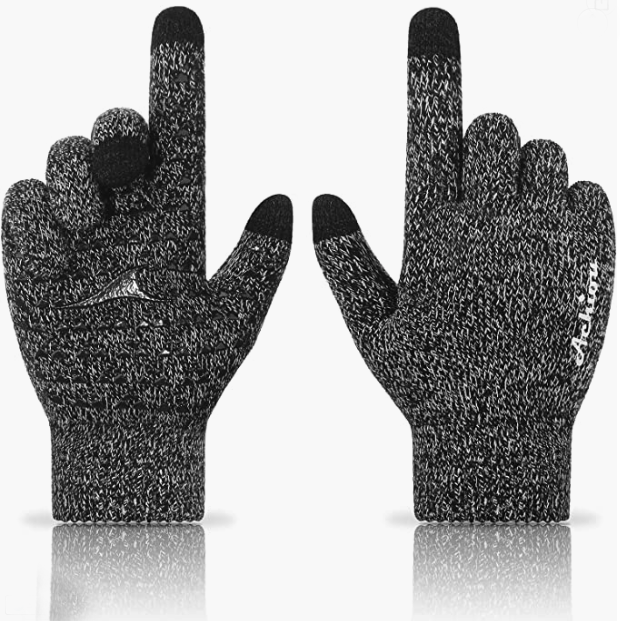 Soft and warm lining design provides warmth and functionality for driving, typing or cold-weather commuting. ($8)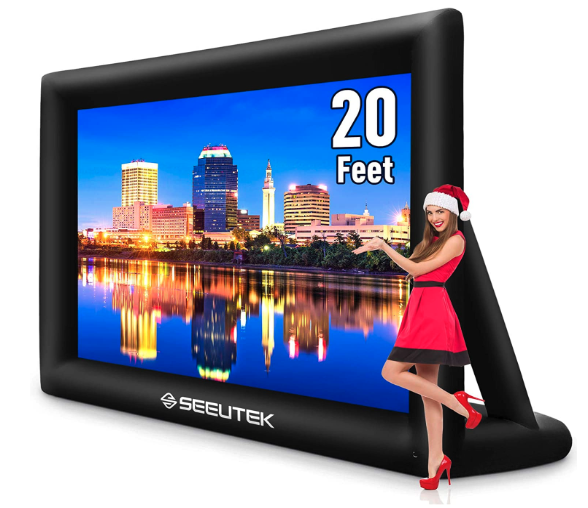 Enjoy watching your favorite films on the big screen anytime with your family and friends in your backyard. When inflated, this Big Movie Projector Screen measures 20′ wide x 13′ high. So fun for summer night parties! ($150)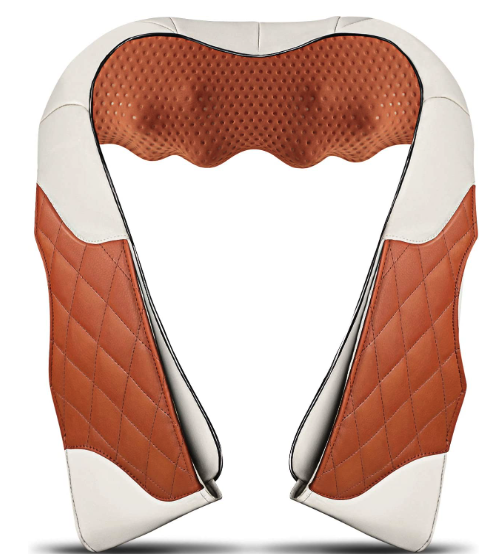 This wrap around neck massager is so loved! ($40)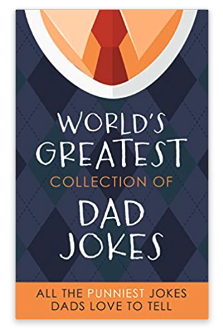 Here is a brand-new collection of more than 500 of the very best dad jokes. It is sure to provide some great entertainment, exactly what every dad needs. ($9)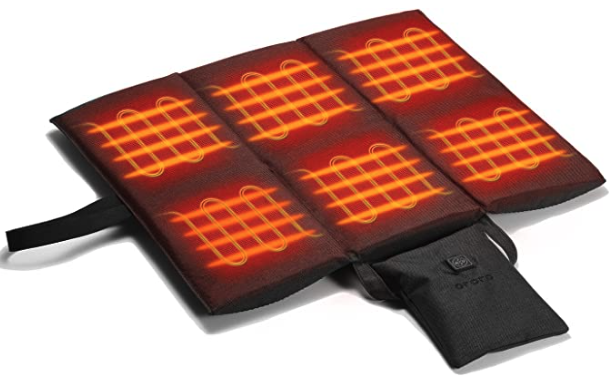 The seat cushion features Memory Foam that contours to your body while providing firm support where you need it most. Use it in the car or for those cold weather games! ($80)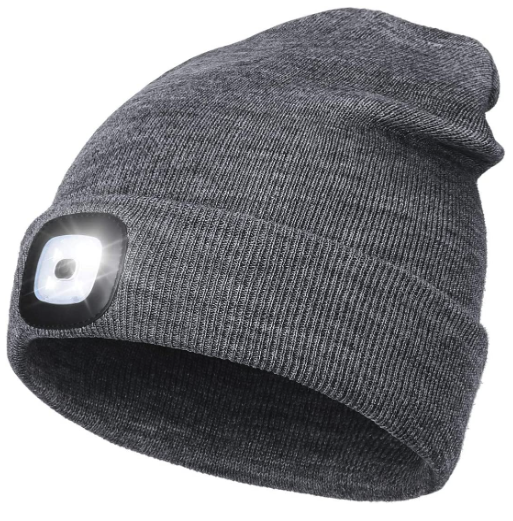 This is not only a warm Winter beanie hat, but also a hands free LED flashlight to make you warm and light up your way at night. The battery is rechargeable, so it's a favorite for all runners, hikers, and campers.  ($11)
FOR THE OUTDOORSY MAN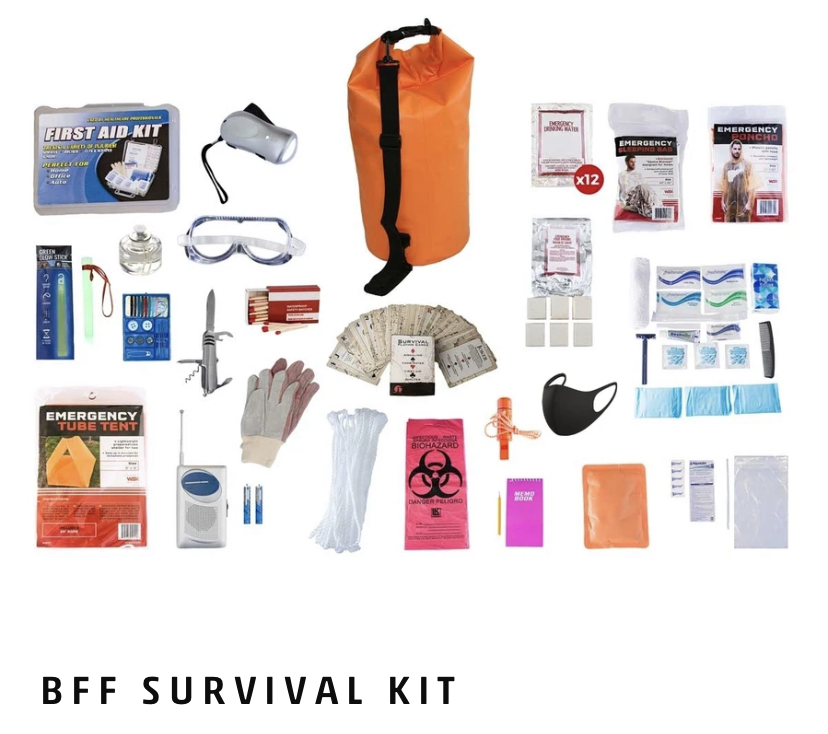 I got my husband a few survival kids over the last year and they have been the best gift! They are useful and help us both feel more prepared.  This waterproof bag is awesome and leaves room for personal needs at the top but we also love the rolling duffle bag with enough for two. It includes EVERYTHING you would ever need for 72 hours and is still light and practical. An awesome gift. Use code BROOKE15 for 15% off.
What man doesn't think it is fun to zap those pesky flies or mosquitoes? This is the gift that never stop giving in our house. We all love it! ($25) if you prefer a rechargeable one grab it HERE.
If you prefer to keep your camping tools simple, these colorful and safe roasting sticks would also make a great gift and only $20! Grab them HERE.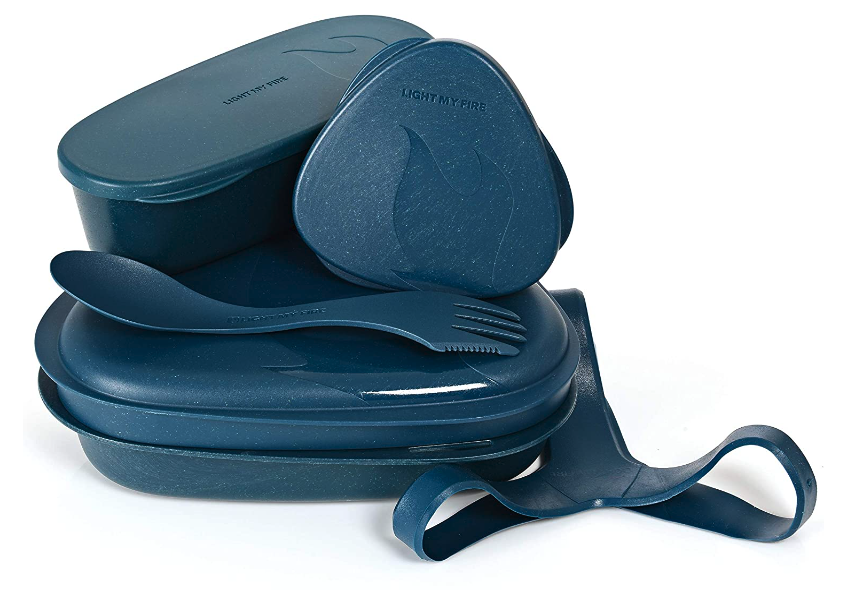 Does your family love to camp? Boys love having their "own" stuff to use. What about a cool mess kit or another item they need? ($22)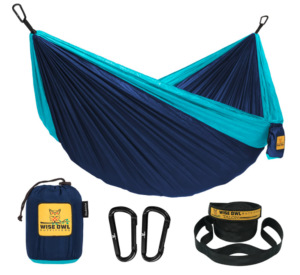 Hammocks are the perfect gift for an outdoor dad and the perfect place to camp, sleep, read and relax. If you have two trees, you can have your own personal space, and this hammock is a great one ($25).
If you have a gardener or handyman in your life, this makes a really inexpensive gift! Wrap this organizer around a 5 gallon bucket and fill it with favorite gardening tools or a few new screwdrivers and let the man in your life enjoy this organized bucket all season long. Include some small garbage sacks and he can carry the bucket with him as he gardens for quick clean up. A great price too at only $21!
If you have a man in your life who loves the outdoors but also likes to have guaranteed power, this Solar Cell phone charger would make a great gift! Reasonably priced and always useful! ($17)
Do you have a man in your life that loves to video or is an extreme sports addict? The Go Pro Hero has gotten much more affordable than it used to be and is a ton of fun to use! ($360+) Order it HERE.
If the men in your life are into hunting, off roading, or just being anywhere out of range, these walkie talkies can be fun and lifesavers. This pack of 4 will keep you connected to the people you need most even in remote areas. ($50 for a pack of 4) Order them HERE.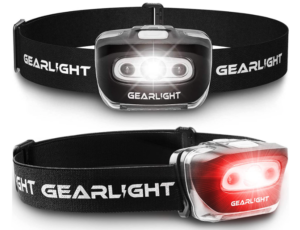 This would make an awesome stocking stuffer. Perfect for dark tag, camping, or even reading at night. Super useful. ($20)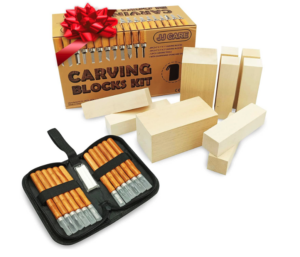 If you have an outdoor lover who also enjoys creating, a whittling set might be a fun and creative gift! ($35)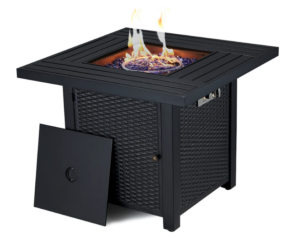 If you are looking for ways to create family memories in your own backyard, a fire pit would make a great gift. I love that it converts to a table when you don't need the fire option so you get a little extra surface area, and gas makes everything easier and a lot less smokey. ($170)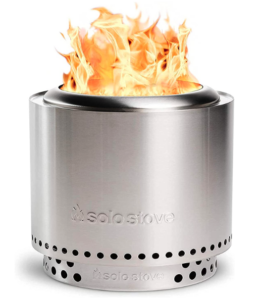 If you like  wood burning fire pit, this is a great one! ($260)
A reader turned me on to these as a great stocking stuffer for an outdoor lover. ($8 for a pack of 10)
This portable cooler is perfect for a road trip or picnic and cool looking enough to make a great present for the men in your life. Fill it with a favorite beverage to make it even more special. ($43)
FOR THE SPORTS WATCHING MAN
If you are a sporting family or just one that loves to be outside, this is one of the most useful items we own. Perfect for just the right amount of shade without being too huge or cumbersome. ($88) we also love the stand that makes it easy to put up and use HERE.
This umbrella is perfect for one person. It is just big enough and clips onto your chair for easy shade anywhere because it bends and swivels to get just the right angle! So awesome for all those sports watching dads and grandpas ($28). Grab one HERE.
Do you need to buy for a man who spends a lot of time on the bleachers? These seats will be heaven sent for him this year! They fold flat for transport and you can carry them on your back like a backpack…plus they are super light. Order two or you will want to steal his! We have had ours for YEARS and love them!  ($146 for 2)
This chair is ideal for camping, sports watching or just hanging out in the backyard. If you are tired of throwing away your chair at the end of the season, this one is an awesome option. ($60)
If you are gifting to a man with young kids, a coach or a man with a busy outdoor life, this Sports Wagon is a must. Its heavy duty construction and durable wheels make it your best friend at the park, ball field, parade, or just about anywhere. I love the way it folds up nice and tight so it doesn't take up precious trunk or garage real estate. This is an item every family with young children (or a bunch of junk they need to haul places) will use and use again. ($86)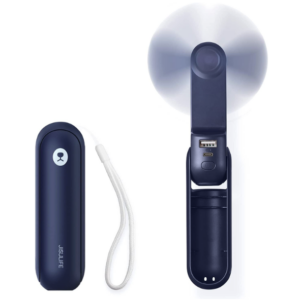 If your man is always hot and not always in a good way, this portable mini fan just might be his favorite gift or most well loved stocking stuffer! Super inexpensive and easy to bring anywhere. ($13)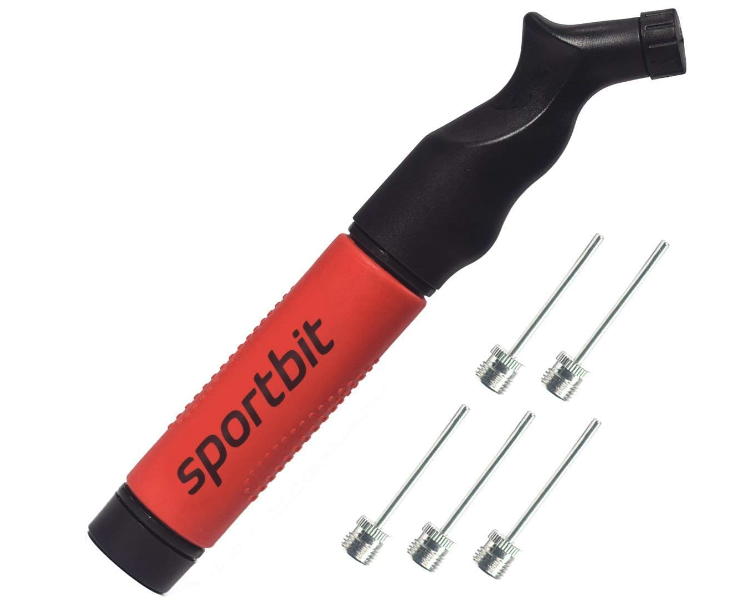 If your home is anything like ours, you can never find your ball pump when you need it! This would make a great stocking stuffer for your careful athlete. ($13)
FOR THE COMPETITIVE MAN
We played this yard game this summer and loved it! A little strategy and skill but easy enough for everyone to play. $45 grab it HERE.
Need something fun for the long winter days? What about this Hookey Ring toss game? Think darts but way safer! Throw this up in a man cave or basement or even a bedroom for all kinds of fun for kids and adults alike.  Order HERE ($15)
Spikeball is the perfect indoor/outdoor game. This portable, easy to play ball game is a great investment for the whole family. Great as a lawn or beach game or played in the basement during cold weather ($70).
A bit like ultimate frisbee for four, this fun and portable game is great for the backyard or  beach. This game is easy to play, portable, and keeps the whole family active.  We have LOVED ours! A great idea for a man who loves to be on the go ($40).
Has your area caught onto the Pickleball Craze yet? If not, it's coming! Such a fun way for the whole family to be active. This set is incredibly affordable and will give you hours of fun! ($60)
It's hard to disappoint with this classic option. Something every man will love to add to his wardrobe. ($55)
FOR THE RELAXING MAN
We got this little baby last year and everyone LOVES it. It is perfect, portable, and can get to just about any sore spot. I think this gift is a total home run if there is a man in your life that likes a little pampering. You will probably be stealing it for yourself, so basically it's a gift for two! ($35) grab it HERE.
When I splurge, I like doing it on something that will get used over and over again. UGGs are pricey, but worth the money…your feet will never feel more cushioned or warmer, especially during a long winter. Your man will feel very loved in these. ($50+)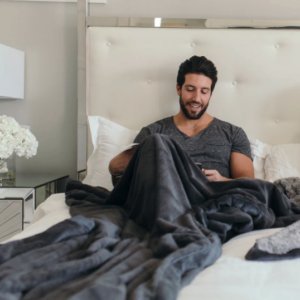 We love this blanket and it comes in extra large.  It feels weighted and doesn't make you too warm. You can add embroidery to make it extra personal. ($149)
Now I know this doesn't sound like the manliest present, but if your guy struggles with skin issues or hair loss, a silk pillowcase is totally worth the purchase as it really helps with bacteria and irritation. Maybe no hoots and hollers on Christmas morning, but it is a gift that keeps on giving. ($24)
FOR THE SUPER FIT MAN
This little gadget has SAVED us multiple times this year. It uses electric stimulation to help sore muscles, bad backs, and stiff necks or anywhere that is hurting. It has been a life saver and someone in our house is using it at least a couple times a week. At only ($35) it has more than paid for itself and kept us from needing PTs or chiropractors too often for minor discomfort. Your man will love this! Get it for him HERE!
Now this doesn't look like an especially kind gift, but it is pretty amazing for getting out those hard to reach knots and troubled back and neck areas. Inexpensive and sturdy, you will want this little tool around for sure! ($23) Order one HERE.
If you have a hubby who likes to lift weights, do serious exercise, is an outdoorsman, has gained a little weight, travels often or who just hates wearing an uncomfortable ring, these silicone wedding rings are the perfect low cost option that can be worn anywhere while doing anything! ($14)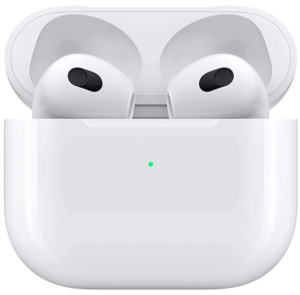 Great for phone calls and trips to the gym.($160) If you don't have quite that much to spend, we have loved the $50, less sleek option HERE.
If your fitness lover likes to keep things interesting, a balance board might be a fun addition to his home work out. Great core work and a little challenge too! ($67)
Never in my life have I been able to do a pull up, but if you know someone who does, get this this pull up bar…they will love it! ($35)
If the man you are shopping for likes to mix up his fitness, this agility pack is awesome for cross training a variety. Also great if he is a sports coach! ($23)
These waterbottles are crazy loved. Make sure you get one with a wide enough top for ice! This is good for any man…even if he isn't an athlete. ($30+)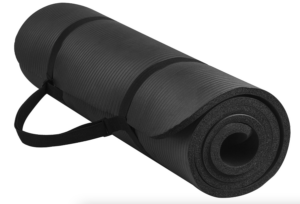 Maybe the man in your life is ready to add yoga to his workout and is in dire need of a high quality mat! This would make the perfect gift! Great quality and thick enough to keep your comfortable. ($25)
If your man is in into lifting, he will love having his own weight bench that is super sturdy but easily folds to make room for the rest of his life. The perfect addition to a home gym. ($168)
This fitness tracking watch has been through all the harshest environments with my husband and is still ticking. He absolutely loves it! ($175)
If the man in your life loves fitness, chances are he often feels the need to roll things out and release some of the lactic acid he creates. This foam roller is nice and sturdy and a great accessory for any fitness lover. ($33)
Sometimes a man just needs to get physical and let out a little frustration. This option for a punching bag is great since it doesn't have to hang from anything. Significantly better than walls with holes :). ($157)
You can't get a punching bag without some boxing gloves. These are even a cool gift on their own if you have something else you don't mind being punched. ($27)
A reader game me this idea for a stocking and it is brilliant! Absolutely small enough to fit in a stocking and super useful if a man in your life loves to bike! ($14)
If you have a bike rider in your home, safety is super important. These bike lights would fit nicely in a stocking and be so useful when riding at night or out on a trail. ($14)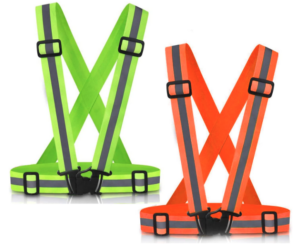 We had a tragic auto-pedestrian accident near our home a few months ago, and it reminded me of how important being seen is. So if you have a runner or biker that you love, this vest is a great idea to stuff in his stocking. Plus it will give you peace of mind! ($15)
FOR THE TECHIE MAN

This is the coolest VR option out there to enjoy games, concerts and so much more. Great as a family gift or for entertaining big groups! ($400)
This  portable, wireless, blue tooth speaker is a great less-expensive version of the BOSE and small enough to slide right into a stocking. $19
If the man in your life always has dead electronics this is the perfect, simple gift for him. Charges your devices super fast in the car and gives you 5 ports with one plug…great for the whole family. Grab one HERE ($24)
This is more of a practical gift, but if you have a guy in your life who is sick of looking for a charger when it is time for bed, he will love this sleek option. It is my favorite for a family charging station. $40 Grab it HERE.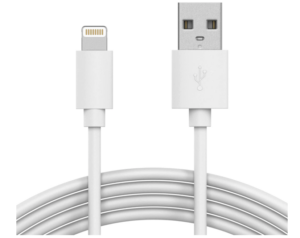 I am convinced you can never have too many charging cords. This one is extra long for those who want to charge, text and sit on the couch. Perfect stocking stuffer!  ($16)
FOR THE CULINARY MAN
If you have a man in your life who loves to spend a Sunday grilling or smoking, this apron is the coolest! Heavy duty and room for every tool he needs. He will love you for this one! ($30)
This is the kitchen tool dreams are made of. An air fryer allows you to get that yummy, crisp texture without any of the oil and with way less mess and time. Just about anything tastes good if it is air fried…think veggies, take out fries, chicken and a million other options. Super easy to crisp up leftovers too for all those men working from home. Perfect for any man at any stage. ($100)
Guys love a project and experimenting with food, so this Ice Cream/Gelato maker is the perfect gift to keep them cooking all summer long! Grab it HERE for $290 or find a smaller, still very high quality option for only $38HERE. Can't go wrong with dads, summer and ice cream.
Last year I did a big time splurge, something I literally NEVER do, but I am happy to report that it is my husband's favorite gift ever, and he has used it so many times it was absolutely worth it. It's fun because it is also a very useful hobby that gets us a really yummy dinner at least once a week. If you are on the fence about going for it, it was a great investment for us. If you already have one, we love the accessories HERE, and HERE. ($700)
If the man you love is crazy about meat, this handy smoking guide is a great, useful idea and only $7. Order it HERE.
Every serious chef needs a great meat thermometer. This would make a great gift and fits easily in a stocking for an added surprise! ($10)
FOR THE CAR LOVING MAN
Many men love their cars, and most like to keep them looking nice and clean. This cordless vacuum comes highly recommended and is easy to store for a weekly car clean out or other quick indoor uses. Such a great, useful gift for that little detail oriented man in your life! ($85)
If you are gifting to a man who loves to keep his car looking great, this is a nice, useful, inexpensive gift he will love! ($25)
I really love purposeful gifts, so this one isn't glamorous, but it is awesome. An emergency kit for his car that includes jumper cables, first aid, raid jacket, tools, tire gauge, flashlight and more. A great gift for any driver! ($39)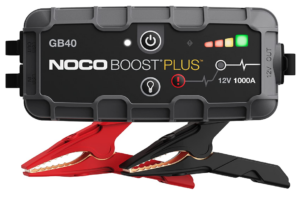 If the men in your life have unreliable transportation or just love to be prepared, this external car battery jump  will be an absolute gift! Portable and easy to use. ($100)
Do you have a driver in your family who likes to keep his car at least smelling clean if not looking clean? This pack of 12 fresheners is a great item to throw in a stocking. ($14)
FOR THE PARTICULAR MAN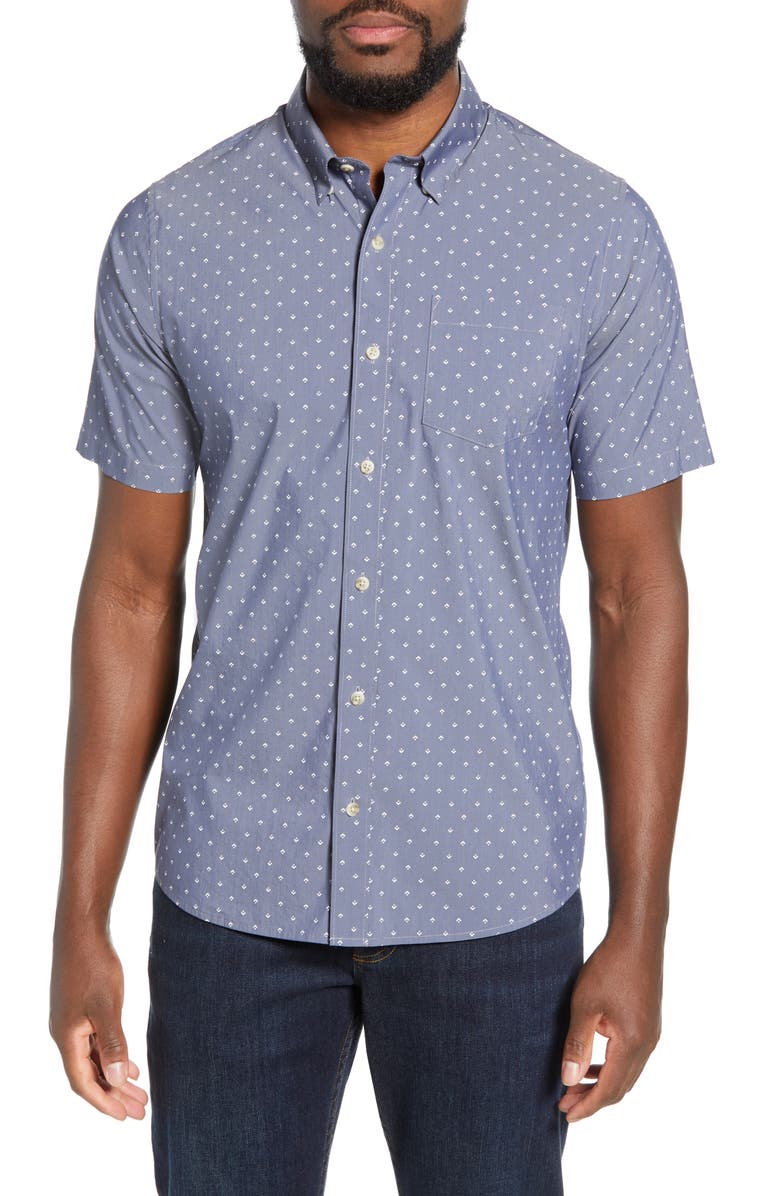 These items are a splurge for sure but that is what makes them so fun for a Christmas gift. My father in law and my husband both have their Travis Matthew items on repeat! Find a great hat HERE, the best polos HERE, cool button downs HERE, and outerwear HERE. ($24-$160)
What dad isn't always wondering where all the batteries have gone? This is the perfect gift, especially full of batteries and that the battery tester in the center makes this even cooler! ($25)
I got these gloves for my husband last winter and he wore them for the entire season. they were a great purchase for sure! These gloves come fleece or cashmere lined and have the technology to allow you to use them with your smart phone. Perfect!! ($23)
This little box disinfects all your small items and is perfect for the man who likes things clean! ($19)
With the toilet paper crisis of 2020, this might make an awesome gift for the men in your house. Thanks Merricksart for this fabulous gift idea! ($30)
What homeowner couldn't use a pressure washer? This is an electric version makes it easy to use and store. ($169).
If your husband irons all his own shirts but hates it, this gift is for him! Takes about 30 seconds to get a shirt ready for wear. What is not to love about that? What an awesome, practical gift! ($40) or this version which is bigger and can do more at a time is on sale now HERE.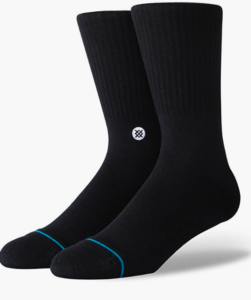 You can go classic or crazy, but there is no disputing that everyone loves the way STANCE socks feel. 3 pair for $30.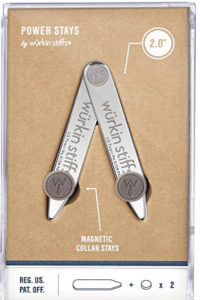 Is your guy always dressed up? If so, these magnetic collar stays would be perfect for keeping him looking sharp and put together, even when wearing his well loved and maybe too old shirts.  ($24)
A reader brought this one up as an awesome stocking stuffer that will is a bit of a gag gift, but hey…nice gift for everyone?  ($25 for 3)
Now that phones are pretty much a part of life, storing a couple cards and a little cash right with your phone is a brilliant idea, especially for your minimalist man. I love the Thread Wallets that are super flexible and sleek, they work for about anything. Or if you want a little more security, I love these other two options HERE and HERE. An awesome, inexpensive gift.  ($14-$45)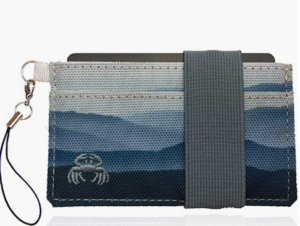 Looking for something slimmer than the traditional wallet? This Crabby Wallet is a great idea…holds 10 cards, some cash and your phone. Practical and only ($15).
 These sample spritzer sizes are the perfect way for him to find his favorite fragrance or split them in a house full of boys…perfect for gym lockers and travel.  ($32)
FOR THE FIX IT MAN
If your husband does not have a drill, this is, hands down, our most used tool. Every home needs one, so order it pronto. Super affordable too. ($70)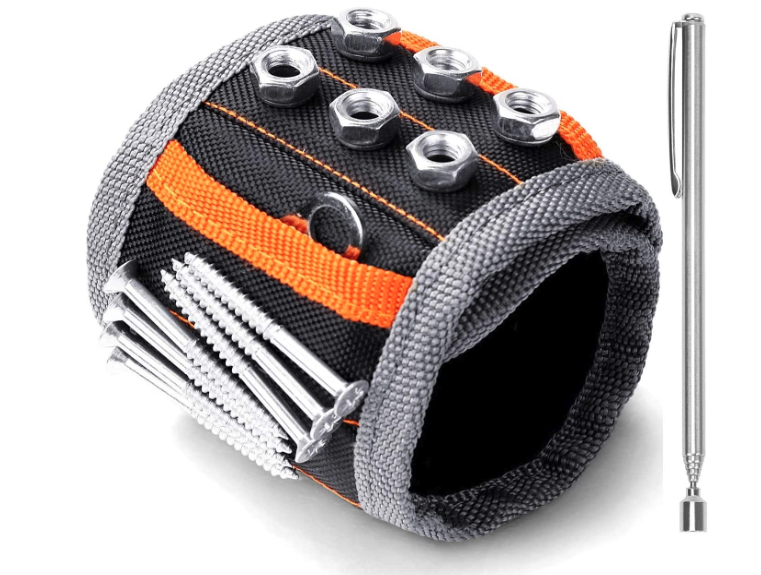 This magnetic wristband is such a cool idea for your tool man. So convenient when working on projects indoors or outdoors and a great price for something so genius. Say goodbye to all those lost and dropped screws!  ($20)
I introduced these super handy tools to you all last year and you went CRAZY for them! We have absolutely loved ours too. They are like retractable exacto knives but even stronger with all kinds of blade sizes. They are amazing for every day use, crafting, cake decorating, fishing, pretty much anything. Also the perfect stocking stuffer for men. ($11 for 3)
If you have a man in your life who loves to tinker and tool around, he will love having an air compressor as a constant companion. ($132)
FOR THE TRAVELER
If there is a man in your life who is often on the road, these noise cancelling headphones are a must and will be loved forever. The Bose brand is pricey but worth it at $330 grab them HERE or try the less expensive version for only $60 HERE.
If you have a traveler in your family who could use a little extra sleep, this Ostrich Pillow is the perfect gift. It also comes in a bigger variety for overnight flights, but this small one is guaranteed to keep you comfy and rested. ($60)
For big time travelers, these packing cubes are heaven sent. This allows maximum space in a suitcase so there is never reason for more than a carry on! ($23 for a set of 6)
If the man in your life is planning some international travel, he will love this power adapter. This allows you to plug your own gadgets in to any plug in the world. So practical but will be absolutely loved! ($21)
This is an awesome gift to go along with a Hotels.com gift certificate or an airline credit! Perfect for someone who travels. ($143)
JUST FOR FUN
This gift is a fun one with 12 different root beer varieties for your favorite man to sample. Make a party out of it, or let him enjoy them all on his own. ($45)
Is there anything quite as exciting as finding out where you come from? This Ancestry DNA kit makes the process super simple and rewarding. ($99)
My husband cannot get enough of these pants. These are not cheap but they are so loved, comfortable and easy to wear! If you want something similar but less money, these are a great knock off option HERE.  ($138)
Do you have a man in your life who has always wanted to be a rockstar or who needs an excuse to pick up a new talent or hobby? This guitar kit is well priced and offers a lifetime of music. Would make a great gift ($200)
This idea kind of made me laugh, but how often does a dad need one of these?? I thought it would make a fun gag gift that would most likely end up being used way more than you planned on! ($13)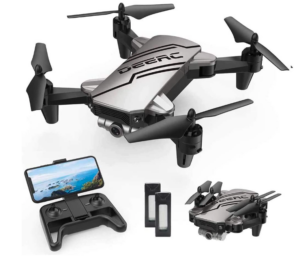 If you have been looking for an awesome drone that doesn't break the bank, this is the one for you! What guy doesn't love trying his hand at learning to fly? ($50)
FOR THE READING MAN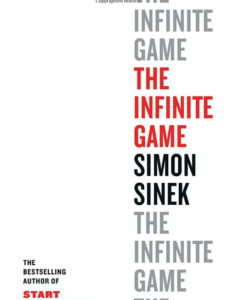 FOR THE EXPERIENCE SEEKER
As always I am a huge fan of experiences and so are most men, so get creative and think of what they love…tickets to games, plays, musicals, concerts, movies, top golf, real golf, car detail. Plan a vacation for them or get their buddies together for something they love. Maybe gifts cards to movies or dinner out or even a date a month would be tons of fun! Get to know them and get creative to plan something to them!
*I am an Amazon Affiliate and get paid a small commission when you purchase these items through my links, but please know that I NEVER recommend anything we haven't or wouldn't love. I really appreciate you supporting my work, time and writing through your purchases.*