When it comes to stocking stuffers, moms of girls have it pretty easy…nail polish, lipstick, jewelry… but finding something small and useful for a boy is always a particular challenge. I hate just buying candy or dollar store items that fall apart, so here is a list of useful and fun little stocking surprises for boys of all ages! If your boys are tweens or teens, scroll to the bottom of the post, but many of the items are good for all boys!! All items are linked by their title. 
Looking for others great gifts? Click HERE!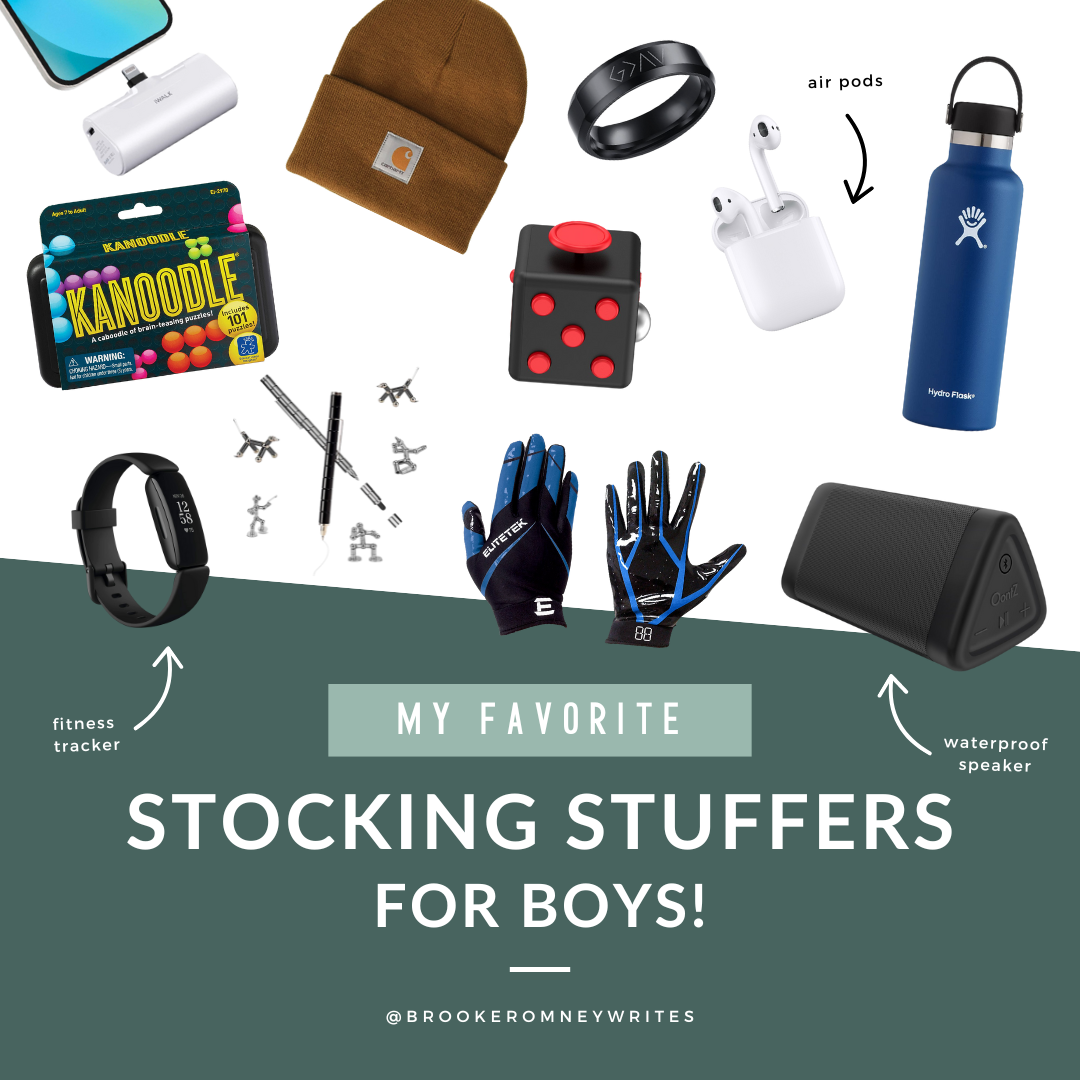 TODDLER AND PRESCHOOL

Perfectly playful companion for your child's bath time. Completely waterproof and dries quickly. ($7)
Who doesn't love a good tubby? The more toys and stuff you can bring into the water the better! Great idea for a stocking. ($5)
These super sensory toys provide hours of endless entertainment – no wonder kids love them! ($5)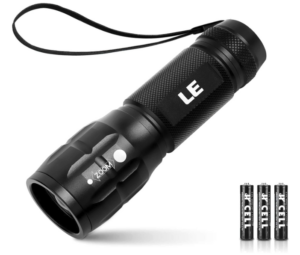 This gift is both fun and practical. You can shine the light in your brother's eye and make him scream, but you can also keep it in your nightstand in case of an emergency or power outage. This one is rechargeable and water resistant. $12 and great for all ages.
Who doesn't love watching things spin? A pretty cool addition to a Christmas stocking and great for all ages. ($13)
Small Compact Tube With 24 Wikki Stix ! Convenient Take-Along Size For Those Moments Of "Down Time". ($8)
Another options for your cute little animal lover. These offer hours of entertainment! ($10)

If you have a little creator or even a little mess pot, Pluffle is the best. It is easy to play with and mold and never dries out! The size also makes for an awesome stocking stuffer! ($28)
This movable track allows you to race your hot wheels and other cars just about anywhere. Create your own track in any space and clean it up in a snap. This is too fun for your car loving boys! ($40)
Matchbox cars seem to be a popular gift for years and years. Throw a few in the stocking and watch his eyes light up. I have always loved how even boys who are a little older don't mind sitting down to play cars every now and then.  $26 for 20 cars. 
For some reason all of my boys have loved these small stuffed animals for a much longer time than I would anticipate. Perfect for inside a stocking. ($12)
This blast from the past is just as fun today as it was when we were growing up. Try letting it take a walk down the stairs! $10
Elementary Age
This just might be the highlight in your dinosaur lover's stocking. So cool and only $20 for 12 eggs.
To be honest, I am SO excited about this stocking stuffer. I think it might even steal the show on Christmas morning…my boys LOVE rocks and in a rock hierarchy geodes are at the very top. Take them out of the box and divide them up. ($20)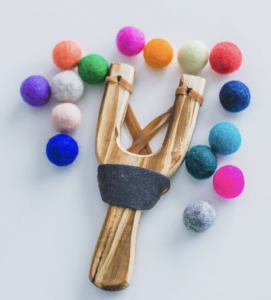 This is such a darling, fun, and inexpensive gift idea for a boy who loves exciting play! ($8+)
I LOVE this idea! This bookmark keeps track of your child's reading time…brilliant! No more guessing or asking, "How much longer?" They also have a version with a reading light here. Can't wait to start using ours! ($21 for 2)
This is the PERFECT stocking stuffer for your little Lego lover! This allows him to build his creations any where and everywhere, even on the wall! I think you will both love this gift. ($20)
These strange water beads that grow with water are a new craze and the kids love watching them change and the sensory play when they have finished growing. Super inexpensive and fun, they would make a great stocking stuffer in smaller containers. ($9)
My older boys were crazy about Beyblades when they were 5-10, and the toy is still going strong. These spinning top battle each other in a little arena and the last on e standing wins. A really fun toy for those competitive boys. ($90)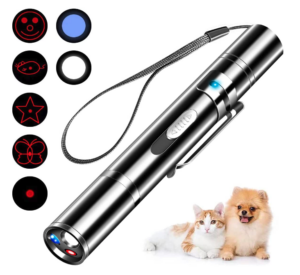 I am not sure why little boys love these but they do! Such an easy thing to slip inside a stocking to provide hours of entertainment (one caution, make sure they know to not point them in eyes and read up on warnings). ($12)
If you don't mind the chance of a mess, Silly Putty is every boys favorite small gift. ($6)
This toy is like Silly Putty for the big boys. They all love it…just keep it far away from your carpet! ($18 for 3)
Chances are your son has loved these, loves these now or will love these. After three boys, I still don't get it, but they love them and they are the perfect size for a stocking. ($14 and up)
This is a fun one person game if you have a little game lover who doesn't always have a friend to play with! ($11)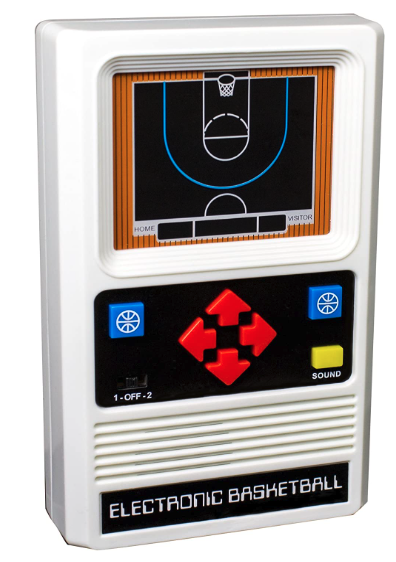 Your teenager will have a blast with this retro video game. ($25)
These fun little suction cup builders are fun for every age and every surface. Easy to keep track of and use, these will quickly become a building staple in your home, car, purse, and tub ($50).
 This is an AWESOME, quick game that is great for the whole family. The little ones are sometimes even better than the older ones. You can play with only two or you can involve the whole family. It is easy to understand and easy to love and fits nicely in a stocking. (If you have very little ones, make sure you grab the jr. version). ($10)
This easy to learn and quick dice game is fun for everyone and perfect to slip into a stocking. This game has provided hours of entertainment at our home! ($17)
What boy does not love to have a few new LEGO guys? These are great for throwing into the bottom of a stocking! 16 minifigures for ($43)
These crazy, bendable guys have suction on their feet and hands which make them the perfect boy toy and a great, inexpensive stocking stuffer. 8 bots for $35
When my friend suggested origami paper, I had to giggle because there was a time my boys were super obsessed with origami. It is such a fun little hobby and if your boys love it, extra paper is always necessary. ($5)
Please tell me you lose and break these as quickly as we do…there are literally never enough. ($20 for 100 bullets).
My boys have always loved a great seek and find book and this one is inexpensive and lots of fun. Best for 4-6 year olds.($3)
The benefits of these are debatable, but that doesn't keep boys from loving them! ($7)
Another fidget style toy that is perfect for boys. Lots of stretching, pulling and playing. ($10)
These cool dice are perfect for keeping kids' minds sharp in a really fun way. Perfect size for the stocking. ($10)
Not sure if Kendamas are cool again where you are, but they are all the rage again here for the middle schoolers, and I am all for them doing anything that doesn't involve a phone! Grab a nice, new one for under ($17.)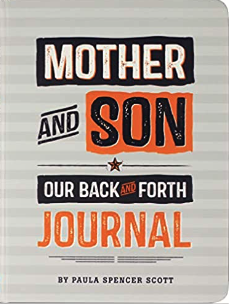 This fun interactive journal will turn small bits of free time into a way for Mom and Son to have some fun and find out more about each other! ($10)

Master the moves to beat the blocks – flip to find the color and slide to match the lights. Challenge yourself or play with friends. The only hard part is putting it down! ($15) 
Magazines
My boys love perusing magazines. Here are a couple your boys might like: Sports Illustrated Kids, Ranger Rick, National Geographic Kids, Zoobooks 
TWEENS
A fun activity for kids to like to be busy. ($28)
These cool bracelets remind kids to be kind. Easy to wear and adjust and they come in a bunch of colors. A perfect, meaningful stocking stuffer for any age! ($8)
These are mechanical bugs that you can fit with different types of armor and then watch them battle each other. Incredibly cool for every age. They offer small less expensive sets that are little, easy to use bugs or more complicated robot types that battle in large arenas. Pretty cool! ($20 for a 5 pack.)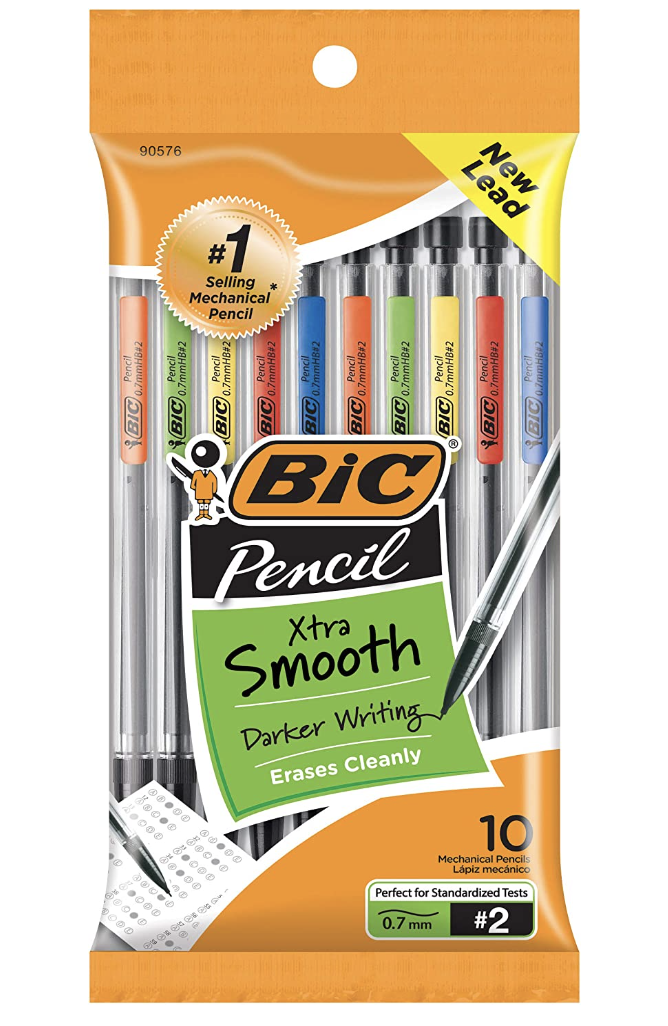 These are some of our favorite pencils! You never have to hunt for that pencil sharpener with these. ($2.75)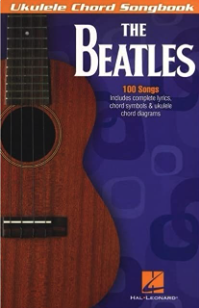 Each song also includes chord grids at the top of every page and the first notes of the melody for easy reference. These books are perfect for people who don't read music but want to strum chords and sing, and are equally ideal for more advanced, music-reading ukulele players who don't feel like wading through note-for-note notation. ($18)
Boys LOVE magic! A few decks of playing cards and a Magic Book can provide hours and hours of entertainment, plus help them develop a fun new skill. Cards $8 Book $7
If you have a fidgeter or a creative brain, he will love this sculpture building pen. Would be great all wrapped up or in a stocking. ($19)
Sword pens, syringe pens, multi colored pens, these are always a cool extra gift. Prices vary.
If you thought yo-yos were a thing of the past, think again! These toys have reinvented themselves and are challenging and fun for boys of all ages with a myriad of tricks to learn and perfect. Investing in a good one is worth it ($14).
Put this cute little bug together and then watch it power up with sunshine. A great little experiment for your budding scientist. ($8)
Kanoodle is awesome brain and spacial relations puzzle game that is perfect for car rides, waiting rooms, or quiet play at home $14.
What boy doesn't love the chance to fill in a story with funny words and then laugh at themselves? This is the perfect stocking stuffer!  ($6)
If your son is musical, this is a great option to gift him! An easy instrument to store and travel. ($13)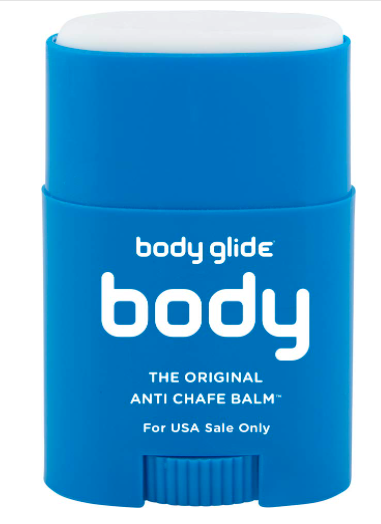 Effective And Long-Lasting. Use Daily In Humid And Dry Conditions For A Pain Free Active Life. ($9)

One of the best ways to get in shape is jumping rope, and if you are young enough, you might think it is fun too! This gift works for all ages but especially great for boys wanting to stay in shape! ($10)

We have had great luck with the simplest Garmin. My son has worn it for almost two years with no issues or problems. If you have a fitness junkie or a kid who needs to be motivated to get off the couch, this would make a great stocking surprise $60.
If you have a son interested in scouting there is nothing cooler than his first pocket knife. Sure to be a hit. $20 and up.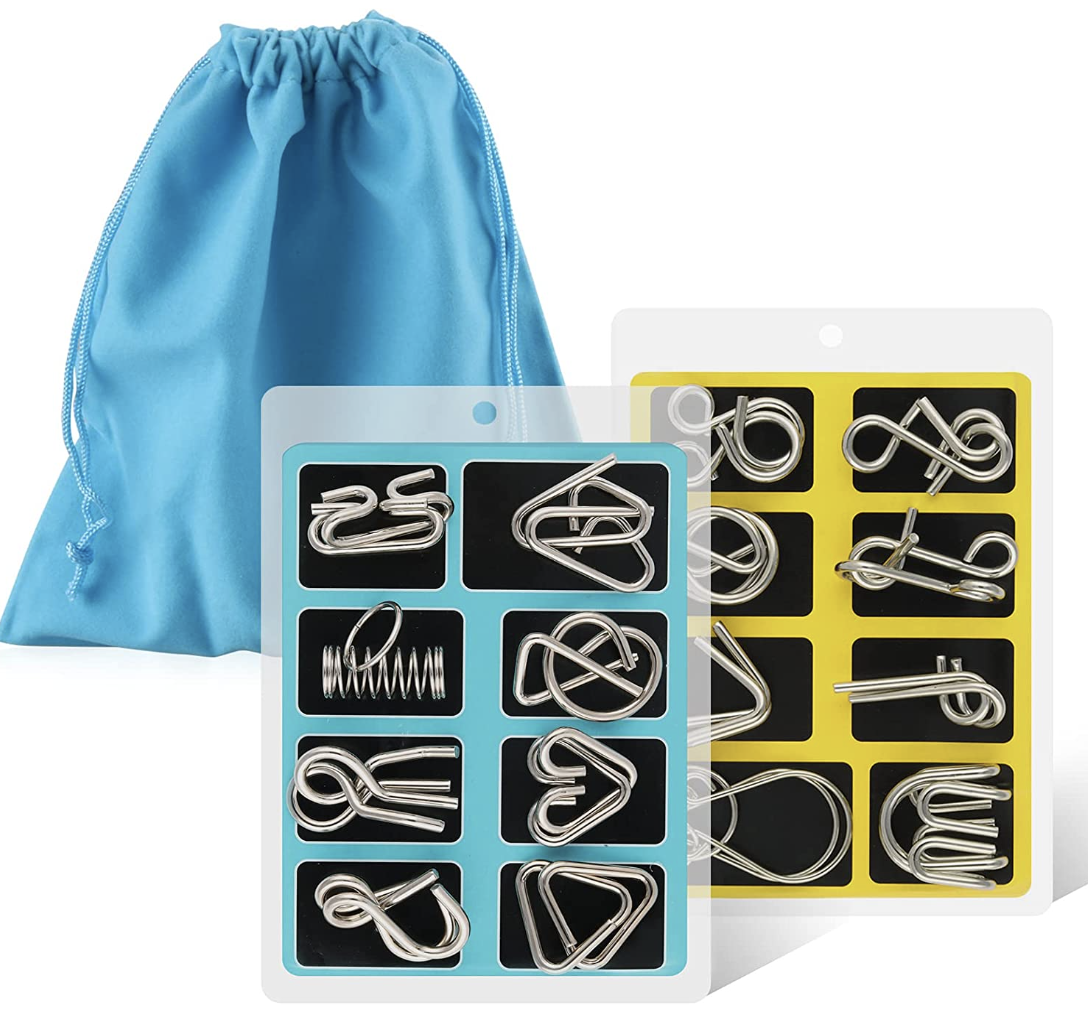 This set includes 16 different style metal wire puzzles, made by high quality mental and you can keep the shape from bending and breaking. The IQ toy doesn't have sharp edges to keep you and your children safe. You can split it between two people if you wanted! We had fun playing with these on Christmas! ($11)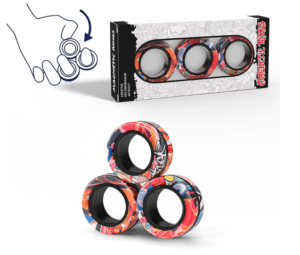 For the boys who always need something fun going on, these fidget rings are a fun new twist!  ($10)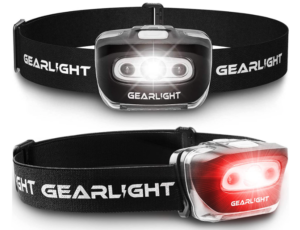 This would make an awesome stocking stuffer. Perfect for dark tag, camping, or even reading at night. You will be surprised at how excited boys are about a head lamp, plus it is super useful. ($20)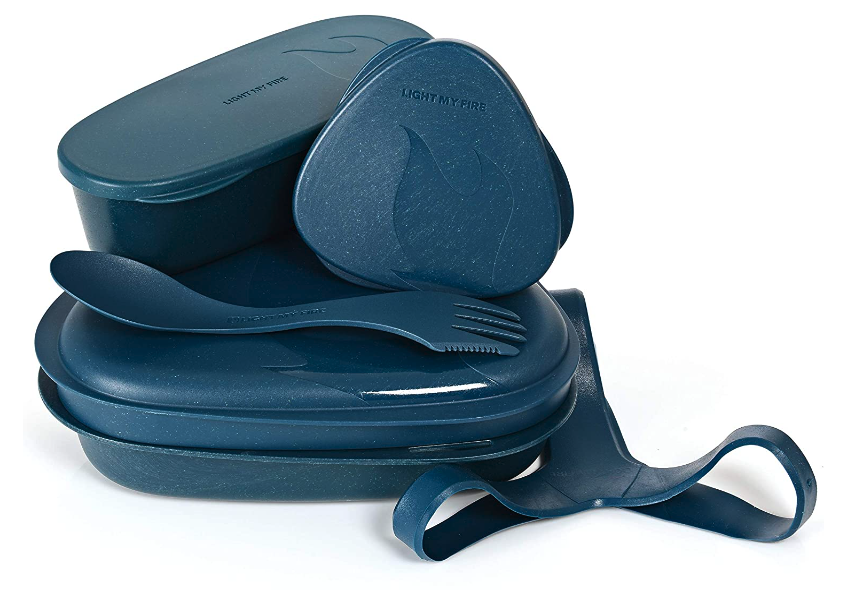 Does your family love to camp? Boys love having their "own" stuff to use. What about a cool mess kit or another item they need? ($22)
These take you back, right? They are just as entertaining and challenging as they have always been…a great little item for the stocking! ($11)
This Gear ball is a Rubik's cube with even more challenge. If you have a son who loves a little brain bender, this will keep him busy for days! ($25)
Fun to play game that easy to take anywhere you go! ($8)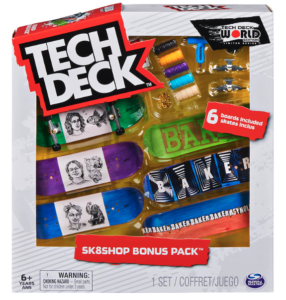 There are the perfect stocking surprise if you have a skate lover! Only about $3 each and you can split a pack between stockings. ($17)
This is a great reverse scrabble game that is perfect for a family activity! ($14)
What boy doesn't love a wallet. An Awesome stocking stuffer, especially if it includes a few crisp dollar bills! ($13)
TEENS
Every boy needs to take care of his lips in the summer, and this lip balm smells great AND has SPF. The perfect thing to throw in a stocking. ($4)
Our thread wallet is still going strong! We love it. Super simple design and lots of colors to choose from. Only $16. Grab a matching lanyard
HERE
for the perfect combo.
This might be a funny gift, but I think it is perfect for a stocking! It has been so effective for my boys when they have a zit forming or want to take care of one that is already there. Quick and easy to use. ($22 but lasts for a LONG time).
These bracelets are so fun and easy to wear. Your teen will love it! Great for stockings. ($4+)

It's always nice to have other options for you watch. These great for workouts! ($9)
If you know someone who loves to know everything in her life is clean and sanitized, this inexpensive cleaning kit with all the right tools would make a great gift! ($8)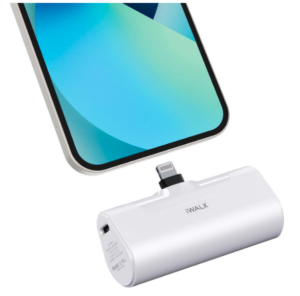 Most teens are pretty attached to their devices, so a high quality portable charger would be a very welcome stocking stuffer! ($30)
I guess jewelry is back for boys, and I love the message of this ring: "God is greater than the highs and lows." Could there be a more perfect reminder for all of us this year? ($10+)
This necklace has been worn and loved by both my boys. If you have a kiddo who likes a little bling, this one is a good one. ($30)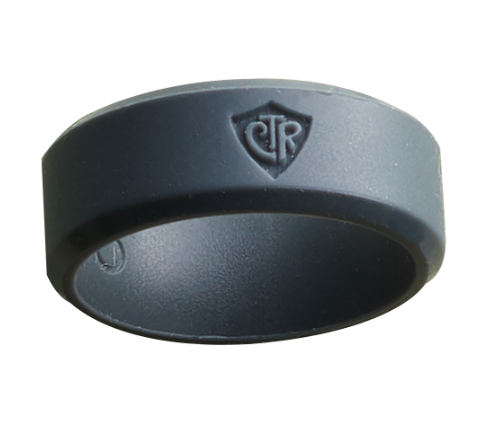 You can buy this one for your son. ($29)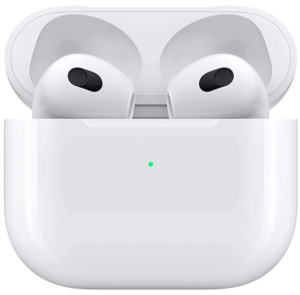 These top just about every boys' Christmas list. They are a little pricey but will be well loved and well used. ($160) If you don't have quite that much to spend, we have loved the $50, less sleek option HERE.
Great idea for anyone who is often on the go! ($24)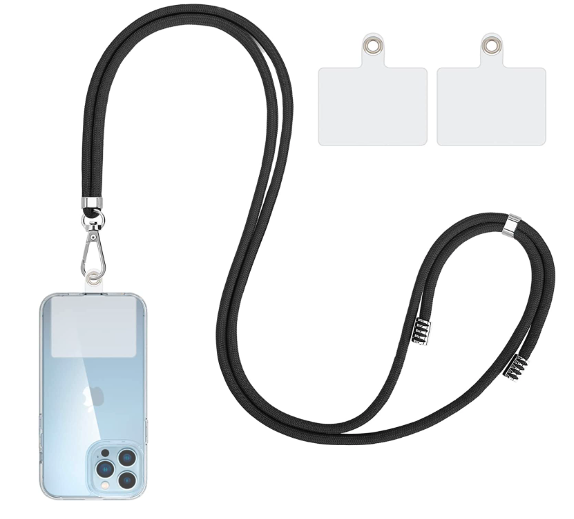 Whether it is skiing, kayaking, walking the dog, cycling or taking photos, this cell phone and key lanyard do allows you to free up your hands at any time to deal with the present. ($7)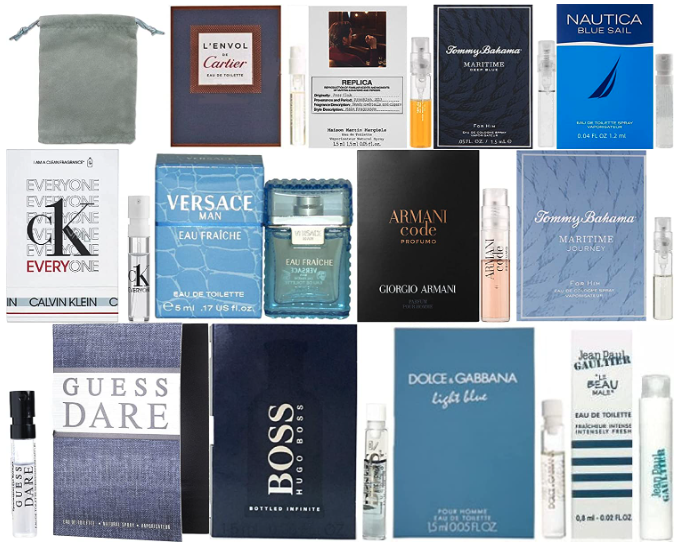 What boy doesn't sneak his dad's cologne for as long as possible? Make his day and gift him some of his own. These sample spritzer sizes are the perfect way for him to find his favorite fragrance or split them in a house full of boys…perfect for gym lockers and travel.  ($36) You can find another variety HERE.
This  portable, wireless, blue tooth speaker will allow your son to take his music everywhere, and it is small enough to slide right into a stocking. ($19)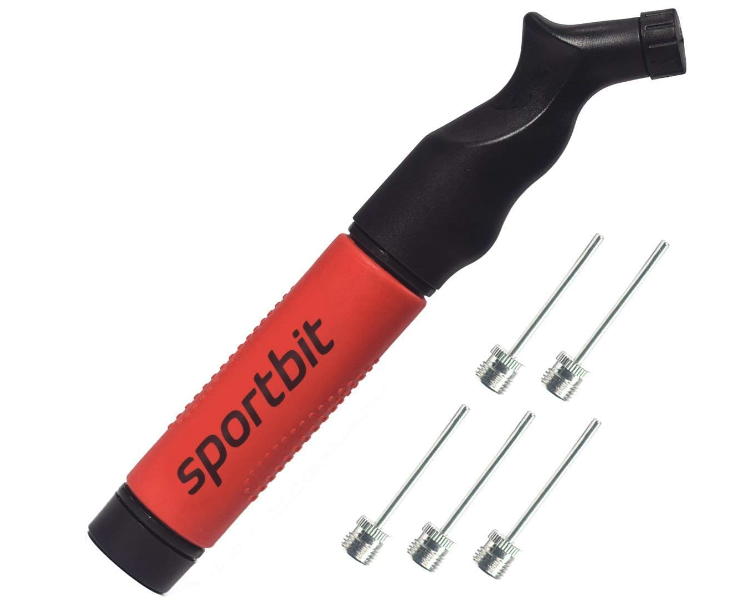 If your home is anything like ours, you can never find your ball pump when you need it! This would make a great stocking stuffer for your careful athlete. ($13)
This book is full of challenges for your little puzzle mind. A great, quiet gift for your studious teen. ($11)
Heaven knows we have had a lot of screen time this year! These glasses are functional and also super cute! (4 for $16)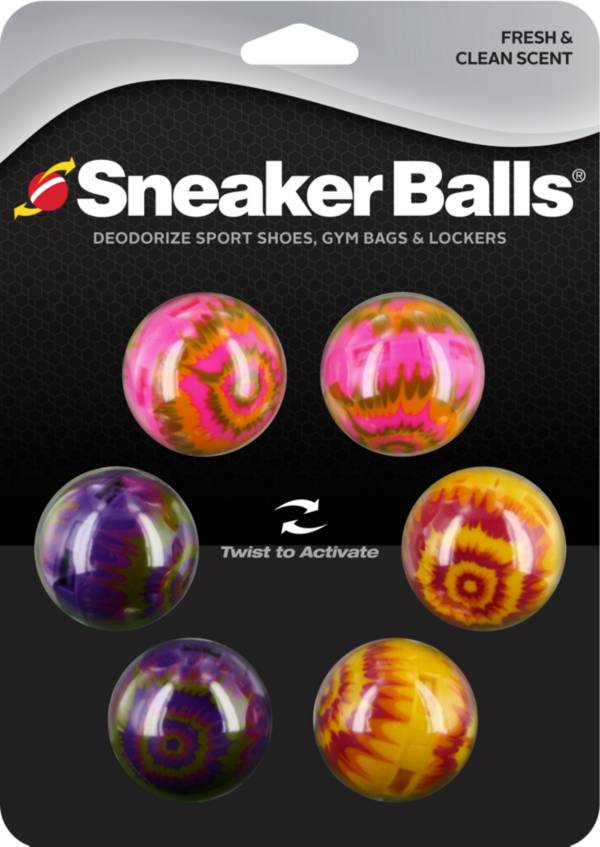 Pretty sure every teen needs these in his stocking. A gift for the whole family! ($10)
If braces just came off and the pearly whites aren't as white as he had hoped, grab a pack of whitening strips to start using over Christmas break $30.
The teen years are some of the most stressful! Give them a pack of stress balls to relieve a little of the pressure.
$11 for 3.
Who doesn't want this cool stress ball as part of their life? ($5)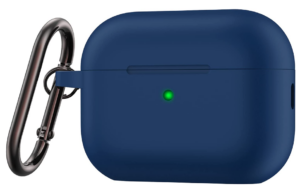 If you are looking to add a little color to your Airpod case or just need to differentiate it from your friend's, this is a great, super inexpensive and useful gift! ($8)
This cool wooden brain puzzle is challenging and fun! ($11)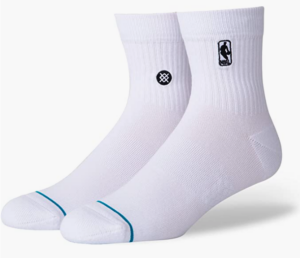 Boys love socks, but moms don't like to pay $15 a pair so throwing one of these great pair in their stocking is a real bonus!
Did you know that there is an "it" water bottle? If not, now you do and at $30+ a hydroflask is definitely a Christmas splurge. On the bright side, it is a very useful item that can fill a lot of stocking space too. It would make a great stocking stuffer for your athletic, outdoorsy, or musical son.
My boys always steal this favorite cup of mine! Everyone wants their own for Christmas. It keeps water cold for over 12 hours and everything fresh! Fits in a cup holder, doesn't spill, no sweat, and dishwasher safe. ($20+ depending on size and color)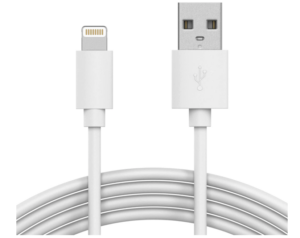 I am convinced you can never have too many charging cords. This one is extra long for those who want to charge, text and sit on the couch. Perfect stocking stuffer!  ($16)
A reader brought this one up as an awesome stocking stuffer that will make your teenager or young adult son laugh but will also become very useful. I am loving it. ($27for 3)
These ties are fun, funky and best of all…repel water and stains and are machine washable! That is right, machine washable. We love the crazy designs (but they also have conservative ones) and options for skinny or fat ties. Great stocking stuffer or gift! ($33)
Now I know this doesn't sound like the manliest present, but if your teen struggles with acne or troubled skin, a silk pillowcase is totally worth the purchase as it really helps with bacteria and irritation. Maybe no hoots and hollers on Christmas morning, but it is a gift that keeps on giving. ($24)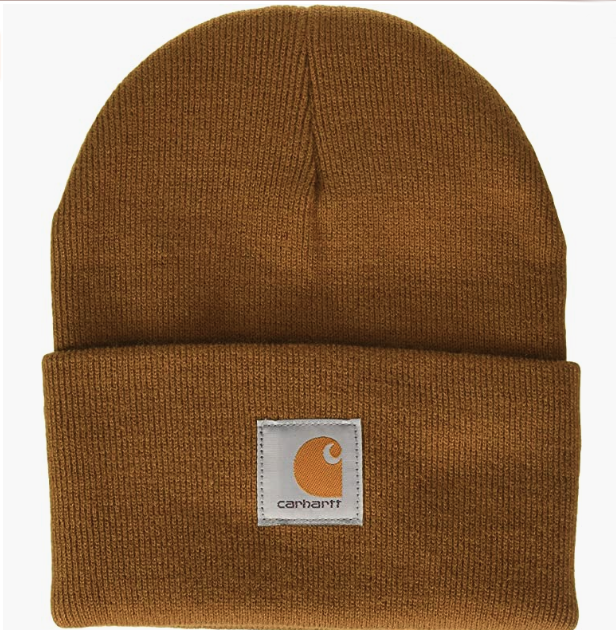 A cute beanie rolls up nicely into a stocking and doubles as a useful gift! This Carhartt brand is always a winner. ($20)
If you have a teenager who still loves to build and doesn't mind a challenge, this is a great stocking stuffer! He will love spending quiet hours putting together this intricate scorpion, no glue required. We LOVE them! ($8).
A reader game me this idea and it is brilliant! Absolutely small enough to fit in a stocking and super useful if you have a bike lover in your family or if the big gift is a bike this year! ($24)
If you have a bike rider in your home, safety is super important. These bike lights would fit nicely in a stocking and be so useful when your kids are riding at night or out on a trail. ($16)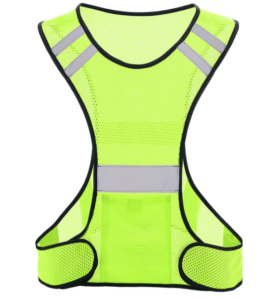 We had a tragic auto-pedestrian accident near our home a few months ago, and it reminded me of how important being seen is. So if you have a runner or biker in your home, this vest is a great idea to stuff in his stocking. Plus it will give you peace of mind! ($10)
Rounding out the biking theme is this awesome bike bell. Who doesn't want to be able to make themselves known on a bike or at the very least drive their companions crazy!($7)
Slide these gloves on and immediately feel like a pro. Perfect for any size football player ($24). If football is not your sport, what about golf, baseball or ski gloves instead?
Do you have a driver in your family who likes to keep his car at least smelling clean if not looking clean? This pack of 12 fresheners is a great item to throw in a teenage stocking. ($14)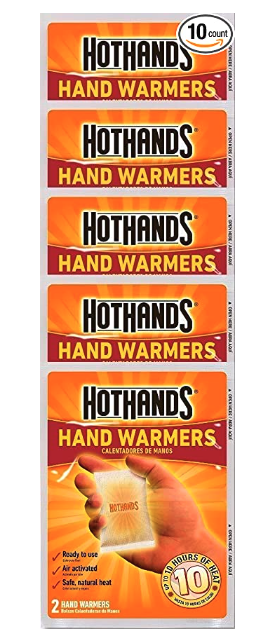 A reader turned me on to this one too! Such a great stocking stuffer for the skiers or outdoorsmen in your life! ($8 for a pack of 10)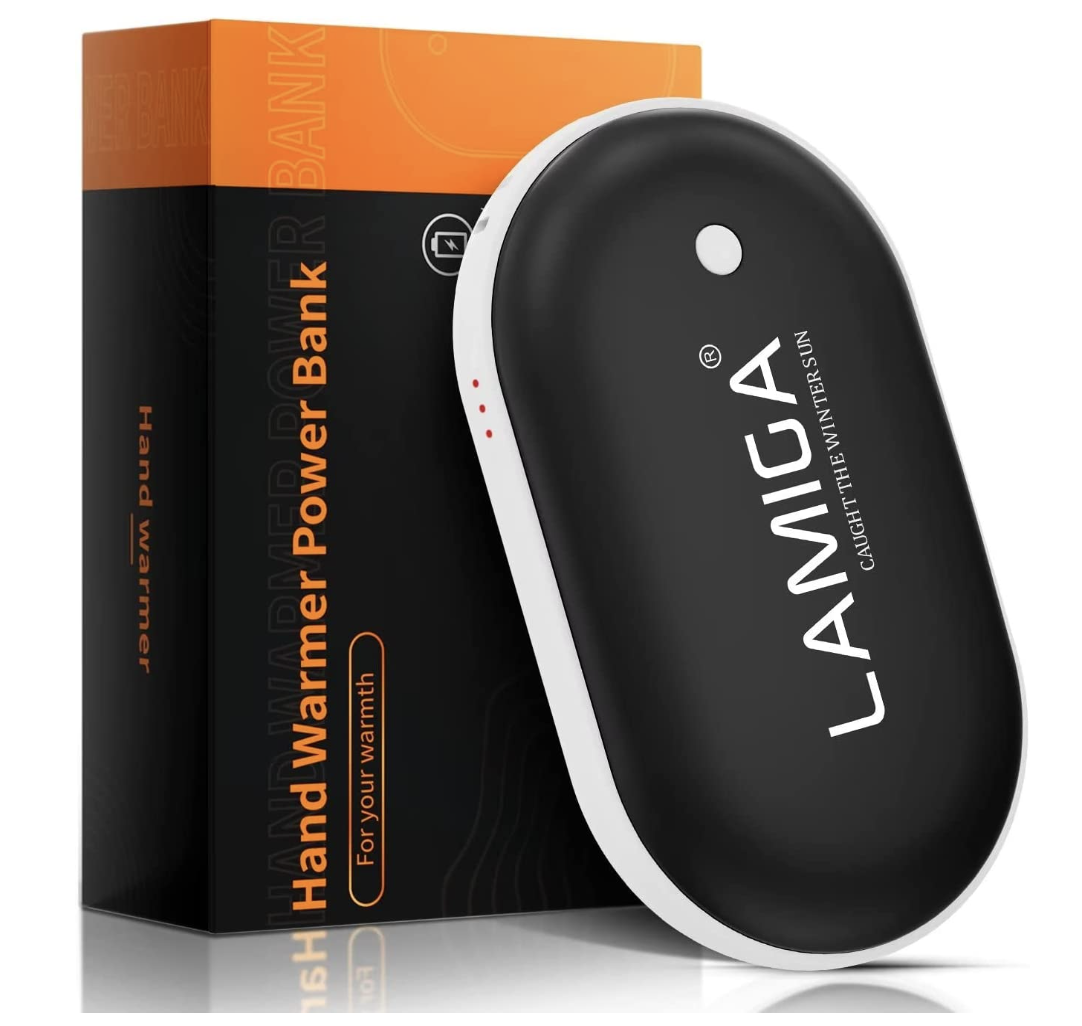 This is the best! A hand warmer and charger in one. It is easy to throw in your pocket when your hands are cold. Awesome for a kid who loves winter sports.  ($25)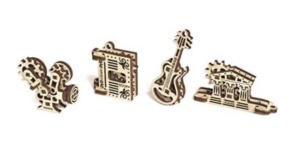 The unique sets of 4 individual miniature models for self-assembly for grown-ups and kids from 5 years to 80 and beyond. It's made entirely from high-grade wooden materials. ($15)
A stocking is also a great place for gift cards for teenagers…think music, food, restaurants, gas, oil changes, entertainment, movies, Amazon,  play tickets, concerts, sporting events, gym pass, etc! They will love a break from spending their hard earned money on life's necessities.
Need great ideas for girls? Click HERE.
Have a great idea that I missed? Let me know all about it in the comments!!
Looking for the Best Screen Free Gifts for boys? Click HERE.
Need gifts for Men? Click HERE.
Looking for great gifts for women? Great ideas HERE.
*I am an Amazon Affiliate and get paid a small commission when you purchase these items through my links, but please know that I NEVER recommend anything we haven't or wouldn't love. I really appreciate you supporting my work, time and writing through your purchases.*