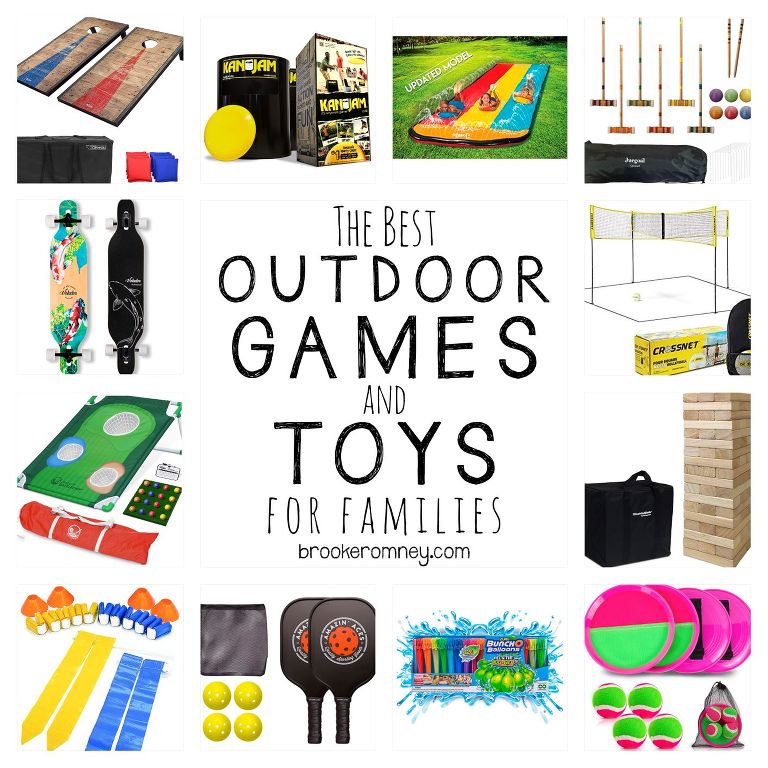 With the weather warming up, there is nothing more fun than spending time with family and friends outside. Here are some of the outdoor games and activities our family has loved. If you are looking to change things up this year, here are a few favorites you might love too!!!
This is probably our family's very favorite. We absolutely love it. A bit like ultimate frisbee for four, this fun and portable game is great for the backyard or  beach. This game is easy to play, sturdy and keeps the whole family active.  You do have to be old enough to throw a frisbee and and old enough not to feel like catching it hurts your hands! We have LOVED ours! ($40).
Another crowd favorite. Spikeball is the perfect indoor/outdoor game. This portable, easy to play ball game is a great investment for the whole family. Great as a lawn or beach game or played in the basement during cold weather. I would say you need to be old enough and coordinated enough to hit the ball hard with your hand, but you don't have to be especially athletic for this one to work ($60).
Has your area caught onto the Pickleball Craze yet? If not, it's coming! Such a fun way for the whole family to be active. We love playing and even I have caught on! This set is incredibly affordable and will give you hours of fun! ($54)
We got this for Christmas and we can't wait to try it out. We have played a similar version before and we love that pretty much anyone can participate and have fun. Think 4 square with a volleyball. Since people rotate in and out, it is a great game for small or large groups! ($150)
We played this yard game this summer and loved it! A little strategy and skill but easy enough for everyone to play. Steer clear of flying pieces or you can for sure get hurt! ($50)
This is the coolest backyard game if you are a golfing family. A little bit of golf, a little big of cornhole. It does take some skill and is more challenging than it looks, so be prepared! Best for 10 and up. ($40)
Bocce ball has been a long time favorite around here because is the perfect outdoor game for little and big ones alike. I love that you don't need superior athletic ability to be a contender in this game. Fun for all ages! ($35) If you prefer using soft Bocce Balls with younger kids, you can find that set HERE.
This might feel like a thing of the past, but our family has had the best time playing it. It works for all ages and takes some skill and a little luck too. I like that it isn't too intense and takes a little while so you can enjoy your time together. My family likes it more than I expected they would!  ($45)
This game is great for an outdoor game night. It works for all ages and skill levels and as many people can play as want in. This is a good one for families of mixed ages who want something to do together! ($38)
This is such a fun game for all ages! You throw the the stick and try to rack up 50 points exactly. Simple to learn and easy to play, a great game for all ages and skill levels!  ($33)
Cornhole has been popular for awhile, but we still find it super fun. Great for all ages and abilities so it is a great game to pull out during an outdoor party. ($100)
If you are looking at a hot summer and need a way to keep the kids cool, this Slip N Slide is a great option. High quality material and easy to use, it will provide hours of entertainment!
Might as well make killing flies and mosquitoes a little more enjoyable with this fly zapper. ($20) HERE.
So simple and so fun, this works for all ages and is a great, easy game to bring along to the park or beach to keep people engaged and playing. Fun to have 4 paddles so more people can play. ($23)
We have LOVED our hammocks so much, and they make all our outdoor activities and campouts more fun. Our kids even set them up in our backyard for a place to read an relax. These are big enough for two, stuff down into a tiny carrying case and have long straps so you can hang them just about anywhere. Great quality for sure! ($35)
These are perfect for camping, dark tag, or even reading at night!  ($13)
If you have an outdoor lover who also enjoys creating, a whittling set is the perfect fit! A relaxing, screen free activity to enjoy in the great outdoors or on a lazy summer day. ($30)
This umbrella is perfect for one person. It is just big enough to block the sun and clips onto your chair for easy shade anywhere. It bends and swivels to get just the right angle! So awesome for all those sports watchers or people who need a little extra shade in their life. ($20)
Longboards are such a fun option for outdoor fun. A little easier than traditional skateboards and especially cool!  ($100)
If you have a kiddo who is into wheels, these wave boards are the coolest. The wheels glide just like you are on the water and provide hours of smooth fun! ($90)
If you have been looking for an awesome drone that doesn't break the bank, this is the one for you! We are talking hours of outdoor fun and exploring. ($45)
Best water balloons ever. They fill up super quickly and easily and provide hours of backyard fun or water fight mayhem. What is summer without water balloons? ($37)
During quarantine, we tried our hands at a pogo stick and my kids loved it! They were bouncing up and down all day long and trying to beat each other's record all spring and summer long. Makes a great, active option! ($40)
So great for neighborhood night games. ($50)
Stomp Rockets are so much fun for kids of all ages! I love the learning and play element to an awesome toy! This is a winner. ($20)
What little boy hasn't dreamed of shooting a bow and arrow? This is one of our all time favorite outdoor items. The bow is great quality and perfect for little and big archers. Works great for kids 6 and older and even adults have a fun time with it. Make sure you order the extra arrows as they seem to disappear quickly!  (Bow set $23 and target $39)
If you are planning movie nights under the stars, this inflatable movie screen will add a little magic to the evening. Such a fun option for an outdoor, summer gathering ($130).
If you are going to have an outdoor screen, it's nice to have a projector to play the movies from and this one has great reviews and an affordable price! ($75)
Adults and kids of all ages will love adding this slackline kit to their outdoor fun. Perfect for an easy afternoon, a weekend camping or exciting as a balance challenge trainer, this outdoor toy will be used time and time again ($50).
You will never regret the purchase of one of these Kid's Kayaks. They are so easy to paddle, store and transport, and perfect for kids who love to be on the water. They hold up to 130 pounds or you can go one size up for 150 pounds, and are a great addition to any beach or lake day. ($100). If you need it to hold more weight, try this one HERE.
Make backyard football safe and fun with this durable flag football set ($20).
Slide these gloves on and immediately feel like a pro. Perfect for any size football player ($20).
Do you have a little golfer in your home who can't wait for his next tee time? This putting green is perfect to roll out on any type of surface.  Great for kids and adults alike ($40).
We have used this trainer for years. It is a great way for your soccer lovers to work on ball skills without a teammate. We have really enjoyed ours. ($13)
This are heavy duty but so easy to fold and put away. They offer hours of backyard fun! ($140)
Such a fun ride for older kids who love to be out on the road still. They will love this awesome gift. Best for 8 and up. ($80)
This isn't a cheap gift, but if you have a little kid who loves to ride, this would knock his socks off. A sturdy, well-made motorcycle great for younger boys ($400).
If your kids love to practice gymnastics, martial arts, or yoga, these mats are the coolest. They inflate quickly and provide a safe surface to practice all your tricks! ($130)
This remote control car is for the big boys who love to race, soup up, and replace parts on their car to optimize its speed and performance. This brand is tops and has replacement and upgraded parts to order and really customize your own car. Not cheap, but provides years of learning and fun ($180).
If you have younger kids, this is a great way to add a little fun to bubble play. ($9)
This giant bubble kit is awesome for a little added outdoor magic ($15)
Did we miss anything your family loves when it comes to outdoor fun? Let me know! I would love to check it out!!
*Some links in the post are affiliate links. Thanks for supporting my research and writing!