Summer Ideas for Teens
Summer with teens can be incredibly great and also incredibly hard. As they get older, there isn't as much neighborhood or sibling play and they may not be quite old enough for a job, but 12 hours of Netflix is usually not any parent's ideal plan.
We have tried lots of summer ideas for teens throughout the years to make it enjoyable and productive at the same time and some years have definitely been better than others. One thing I noticed was that my kids often wanted to do something, but they were too lazy to think of what to do! I also saw that as they got older, they wanted more control than a chore chart or prescribed schedule gave them. So, this year I created a list with some great ideas for play, learning, boredom, exercise, work and more.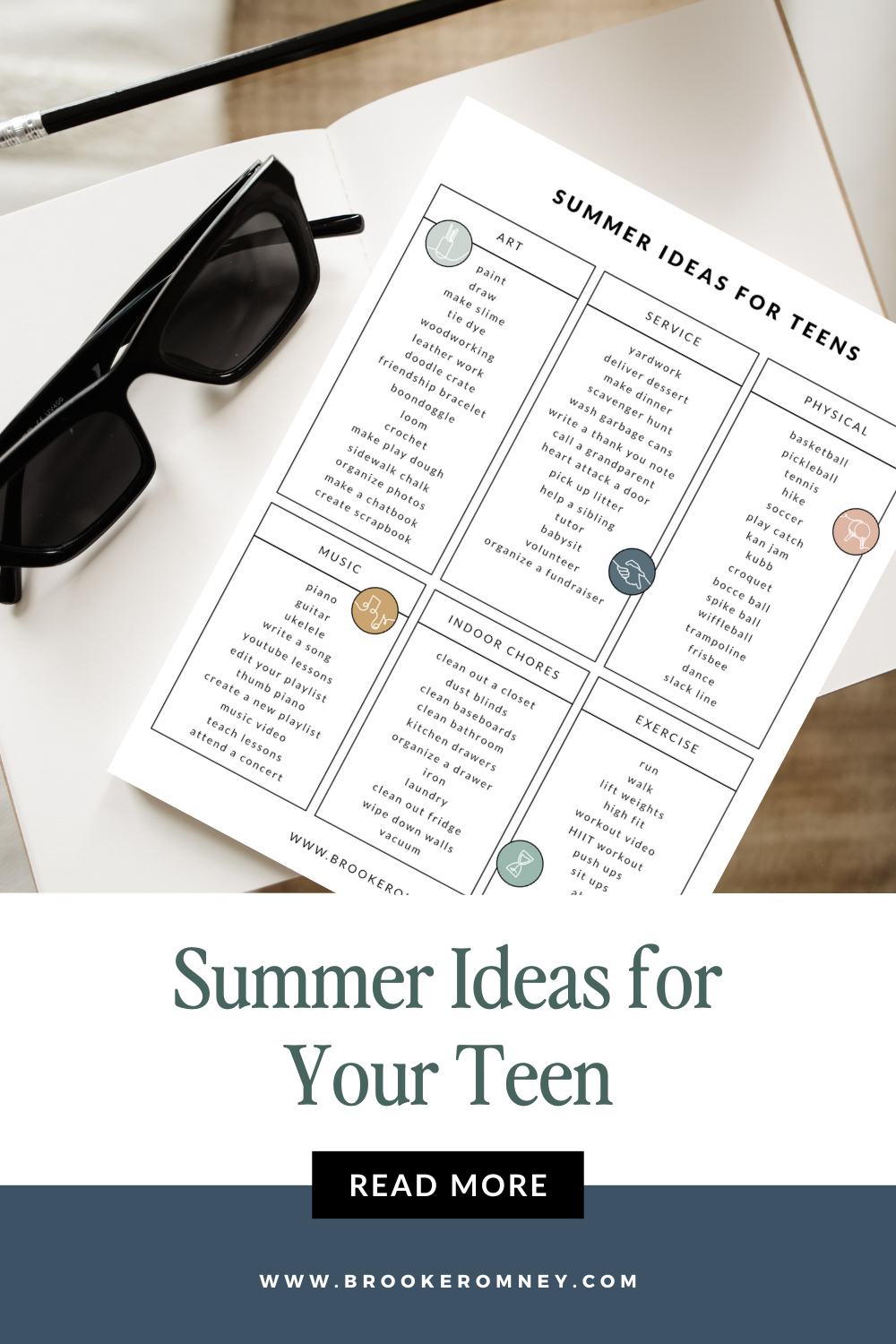 You can use this list in all kinds of ways. Every day, have them pick something from a few different categories. Or have "must do" categories and some optional ones each day. You can let them plan their entire week with the list and put a couple different things on each day, or just hang the list up on the fridge for when they need a little inspiration for summer fun. It also works well for working parents…just have them send you a photo when they complete each activity!
With over 150 stellar summer ideas for teens, I know you're going to want the whole list! Just click here, save, and print!
You can also find all the ideas right here in the post, just in case you want to copy and paste to add your own ideas. Some of them are linked to products that might be helpful to have on hand!
Exercise
Run
Walk
Lift weights
Workout video
HIIT training
Push ups
Sit ups
Abs 
Biking
Physical
Basketball
Tennis
Hike
Soccer
Play catch
Trampoline
Frisbee
Dance
Music
Piano
Write a song
Youtube voice lessons (linked)
Edit your playlist
Create a playlist
Listen to music
Education
52 Modern Manners for Teens (linked)
ACT Prep
Coding
Summer School
Write a story or a poem
Make a savings plan
Create a game
Watch a TED talk
Listen to a podcast
Peace
Meditation
Scriptures
Prayer
Boredom
Water
Swimming
Lake 
Kayaking
Sprinkler under tramp
Fishing
Water fight
Cooking
Plan lunches/dinners for the week
Bake a dessert
Bake bread
Make lunch
Cook dinner
Make Popsicles
Shop for Groceries
Service
Yardwork for someone
Deliver a dessert
Make dinner
Create a scavenger hunt
Bring in garbage cans
Write a thank you note or email
Call a grandparent
Heart attack a door
Pick up litter
Help a sibling
Teach something
Play
Art
Paint
Draw
Make slime
Craft
Calligraphy
Make Play doh
Balloon Tying
Sidewalk Chalk
Organize photos 
Make a Scrapbook
Create a photo wall or collage in your bedroom
Inside Work
Clean out a closet or drawer
Dust blinds or fans
Clean baseboards
Clean Bathroom
Kitchen chores
Organize a drawer, cupboard or closet
Decorate your room
Iron
Laundry
Clean out fridge
Wipe down walls
Outside Work
Mow lawn
Edge
Weed
Harvest
Sweep
Power wash
Clean garage
Wash windows
Wash car
Vacuum car
To Earn Money
Make and sell meals/cookies/salsa to people
Sell extra veggies or fruit from your garden
Babysit
Put on a sports or art camp
Window Washing
Lawn Care
Looking for More Summer Ideas for Teens?
Check out my other posts including Summer with Teens: Setting Expectations, Summer with Teens: Tackling Technology, and 100 Ways to Fight I'm Bored this Summer.
Leave a Comment
Any extras you think I need to add? Please suggest them in the comments!