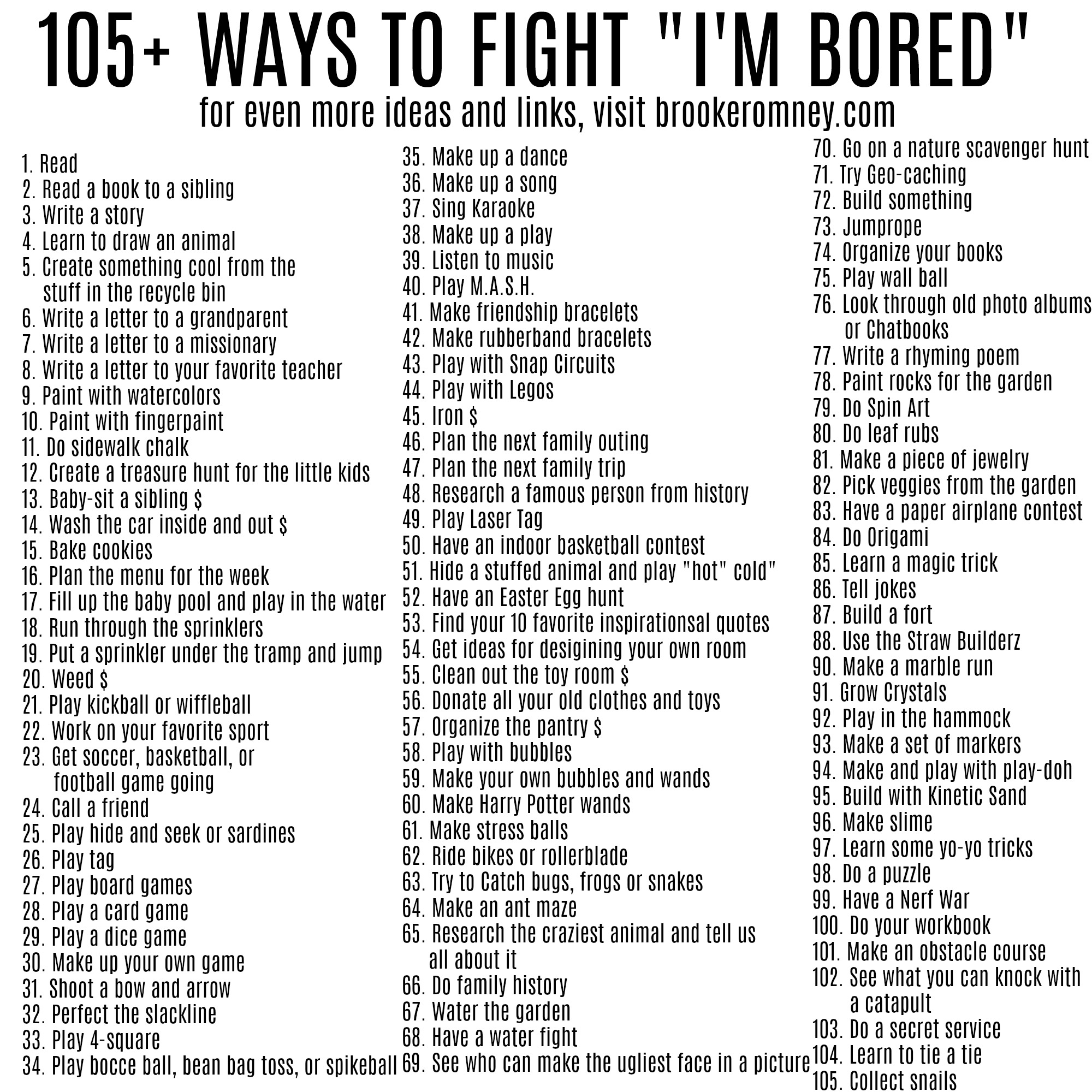 This is the list I used for years when my kids were younger! There are 105 options above, but even more on the list below…with links to resources and help!
I call it the, "I'm Bored" list. If they are ever feeling bored or like the only option is TV or an XBOX, they can take a look at this list and get an idea for something better.
I have also cut these ideas into strips and put them in a jar so they can draw one if they ever say, "I'm bored!" That saying becomes a bit risky when you have the jar because you might pull out something fun or something not so fun. They will often quickly figure out something to do on their own. I have linked some of the items to articles that explain them a bit more or to products that we have loved that help us get through the summer with a balance of learning, creativity, and fun!
Add your ideas in the comments…I love to hear how other families make the most out of summertime!
 Read a book to a sibling
Write a story, see prompts HERE
Learn to draw an animal or monster, THIS book is awesome for all ages
Create something cool from the stuff in the recycle bin with a glue gun
Write a letter to a grandparent
Write a letter to a missionary
Write a letter to your favorite teacher
Paint with watercolors, a great set linked HERE
Paint with finger paint, a great set linked HERE
Draw with sidewalk chalk
Create a treasure hunt for the little kids
Baby-sit a sibling $
Wash the car inside and out $
Bake cookies
Plan the menu for the week
Fill up the baby pool and play in the water
Run through the sprinklers
Put a sprinkler under the tramp and jump on it
Weed $
Play kickball or wiffleball
Get a soccer, basketball or flag football game going (love THESE flags)
Call a friend
Play hide and seek or sardines
Play tag
Make up your own game
Shoot a bow and arrow (THIS one is our favorite)
Perfect the slackline (THIS one has been great)
Play 4-square (Get a ball HERE.)
Play bocce ball, bean bag toss, or spikeball
Make up a dance
Make up a song
Sing Karaoke, microphone HERE
Make up a play
Listen to music
Play M.A.S.H.
Make friendship bracelets
Make rubberband bracelets (starter kit HERE)
Play with Snap Circuits (starter kit HERE)
Play with Legos
Iron $
Plan the next family outing
Plan the next family trip
Research a famous person from history and tell us all about him or her
Play Laser Tag (awesome set HERE)
Have an indoor basketball contest (greatest indoor hoop ever HERE)
Hide a stuffed animal and play "hot" cold"
Have an Easter Egg hunt
Find your 10 favorite inspirational quotes, print them out and put them in your room
Get ideas for designing your own room
Clean out the toy room $
Donate all your old clothes and toys
Organize the pantry $
Play with bubbles
Make your own bubbles and wands (best bubbles HERE)
Make Harry Potter wands (super easy craft idea HERE)
Make stress balls
Ride bikes or rollerblade
Try to Catch bugs, frogs or snakes
Make an ant maze, find one HERE
Research the craziest animal and tell us all about it
Do family history, great website HERE
Water the garden
Have a water fight
See who can make the ugliest face in a picture
Try Geo-caching
Build something with wood, hammer and nails
Jumprope
Organize your books
Play wall ball
Look through old photo albums or Chatbooks
Write a rhyming poem
Paint rocks for the garden
Do Spin Art (options HERE)
Make leaf rubs
Make a piece of jewelry (options HERE)
Pick veggies from the garden
Have a paper airplane contest
Do Origami (options HERE)
Learn a magic trick (book of simple ones HERE)
Tell jokes (book HERE)
Build a fort
Use the Straw Builderz
Make a marble run
Grow Crystals (good kit HERE)
Play in the hammock
Make a set of markers (loved THESE)
Make and play with play-doh
Build with Kinetic Sand, less mess and lots of fun (starter pack HERE)
Make slime
Learn some yo-yo tricks (we really love THIS one)
Do a puzzle
Have a Nerf War
Do your workbook (THIS brand is awesome)
Put together a tinker crate (an awesome summer activity HERE)
Learn all the states
Collect quarters for your State Quarter map (love THIS one)
Complete a Paint by Sticker (Our favorite is THIS one)
Think of something you would love to invent and draw it
Pick flowers and bring them to someone who needs a pick-me-up
Do a secret service for someone in your home
Do a secret service for someone outside your home
Run a mile
See what you can knock down with a catapult (awesome one HERE)
Make a movie
Design your dream house
See how many push up and sit ups you can do, and do one more each day
Play Would You Rather (linked HERE)
Create the perfect smoothie and write the recipe down
Collect snails
Write nice things on sticky notes, and stick them to neighbors or friends doors
Walk a dog (borrow one if you need to)
Create an obstacle course and time each other
Create something with Zoob Builders
Predict the top 10 college football and basketball teams for next year
Learn to tie a tie
Learn to tie your shoes
Make something with Pearler beads
Play with remote control cars
Paint each other's faces (great kit HERE)
Complete a word search or crossword puzzle
Make a photo montage video
Practice Keyboarding (great option HERE)
Play an instrument
Make a homemade instrument and make a band
Use sidewalk chalk to draw roads and buildings and play with the hot wheels cars
Use ice like water crayons
Finish a Sudoku or Colorku (awesome, thoughtful game HERE)
Do a search and find book or Where's Waldo (our favorite HERE)
Draw a map of your city
Find a service project you can do (great website HERE)
Create playlists
Play house
Play school
Create a fairy garden (options HERE)
Try High Fit (linked HERE)
Try Yoga (linked HERE)
Try figuring out a Rubix cube (linked HERE)
Read to a pet
Learn cat's cradle and different string games.