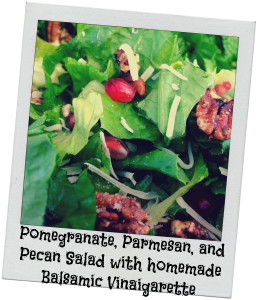 I LOVE a festive holiday salad, and this one knocked everyone's socks off and was super simple. Who doesn't love pomegranates and a sweet and tangy homemade balsamic? The best! Give it a try for your next holiday party!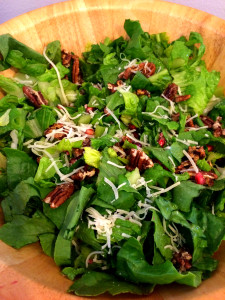 For the salad
Three large hearts of romaine chopped or one large tub of baby spinach
The seeds of 2 medium pomegranates 
1 1/2 cups of shredded parmesan
1 1/2 cups sugared pecans, chopped roughly
I only used the above ingredients, but if you want it more hearty, try adding : chopped granny smith apples, crumbled bacon, or chopped avocados (I would add just a little more lettuce if you add too many more ingredients).
For the pecans: 
To sugar the pecans, place them in a pan with about 1/2 cup of sugar (I also love adding a little salt and some cracked pepper) over medium high heat until the sugar starts to dissolve and becomes liquid and the pecans begin to brown. When they are coated, pour onto a pan or plate, let them dry and cool and then crumble into salad.
For the dressing (You won't need all of this for the salad, lucky you, leftovers!)
1/2 C balsamic vinegar
 3 TBSP. Dijon mustard
1/8-1/4 C sugar 
1 cup plus 2 TBSP oil
1/4 tsp. salt
1/8 tsp. pepper
Place all ingredients in an airtight container and shake vigorously. It is crazy good!
Makes 12 large side salad servings…maybe a bit more.