8 Books to Try if You Loved Ranger's Apprentice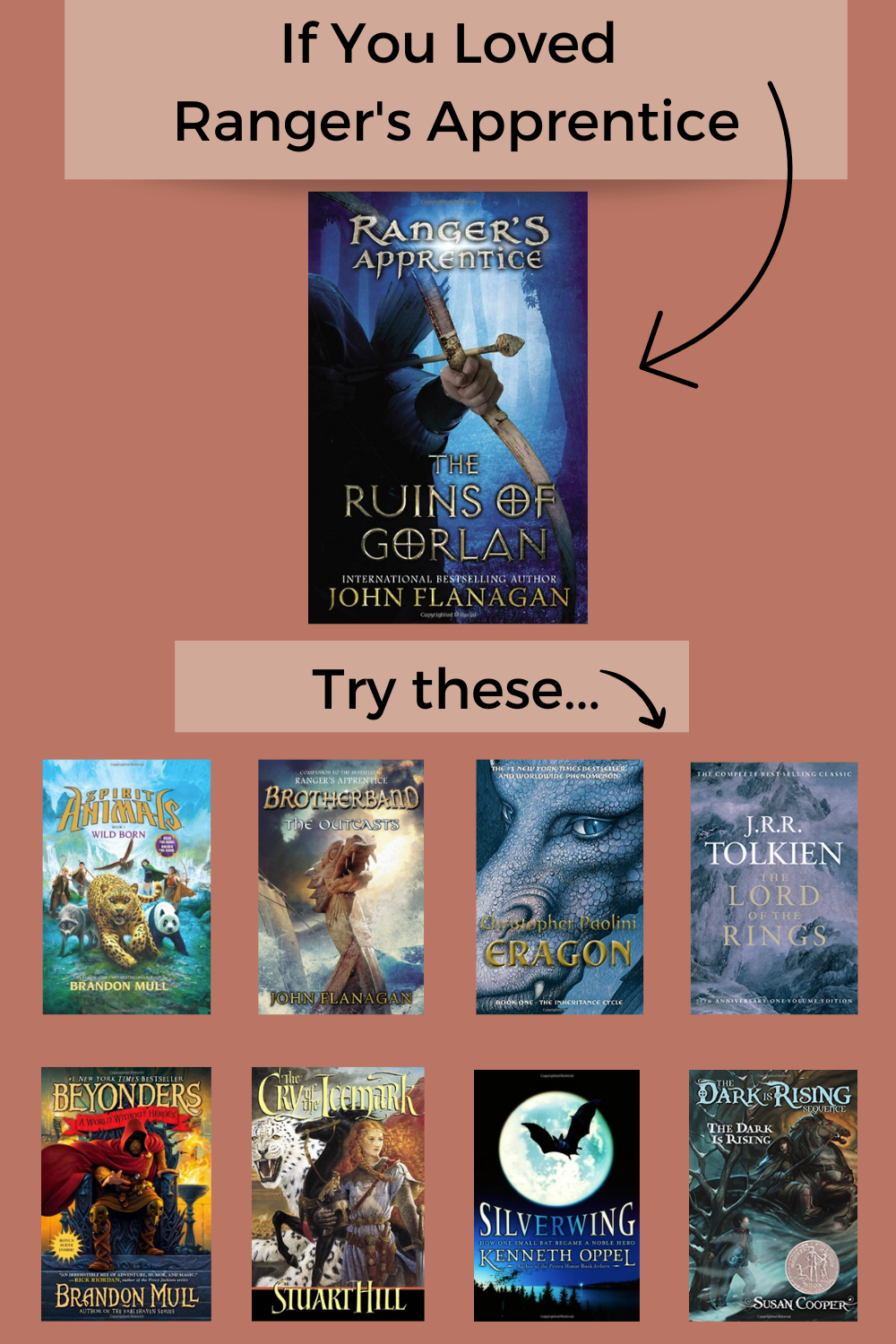 Full of fantasy, adventure, and magic, Ranger's Apprentice leaves readers young and old on the edge of their seat, wanting more. If your reader loved the series, try these other exciting books like Ranger's Apprentice (all titles linked).
They are outcasts. Hal, Stig, and the others – they are the boys the others want no part of. Skandians, as any reader of Ranger's Apprentice could tell you, are known for their size and strength. Not these boys. Yet that doesn't mean they don't have skills. And courage – which they will need every ounce of to do battle at sea against the other bands, the Wolves and the Sharks, in the ultimate race. The icy waters make for a treacherous playing field . . . especially when not everyone thinks of it as playing. John Flanagan, the same author as Ranger's Apprentice, creates a new cast of characters to populate his world of Skandians and Araluens. Full of seafaring adventures and epic battles, Book 1 of The Brotherband Chronicles is sure to thrill readers of Ranger's Apprentice while enticing a whole new generation just now discovering the books.
Four children separated by vast distances all undergo the same ritual, watched by cloaked strangers. Four flashes of light erupt, and from them emerge the unmistakable shapes of incredible beasts — a wolf, a leopard, a panda, a falcon. Suddenly the paths of these children — and the world — have been changed forever.
Enter the world of Erdas, where every child who comes of age must discover if they have a spirit animal, a rare bond between human and beast that bestows great powers to both. A dark force has risen from distant and long-forgotten lands, and has begun an onslaught that will ravage the world. Now the fate of Erdas has fallen on the shoulders of four young strangers . . . and on you.
Part engrossing book series, part action role-playing game — discover your spirit animal and join the adventure.
If your reader is looking for books like Ranger's Apprentice try getting started on Brandon Mull's Beyonders fantasy series. In this #1 New York Times bestseller, Jason tumbles into a quest to save a magical world.
Jason Walker has often wished his life could be a bit less predictable—until a routine day at the zoo ends with Jason suddenly transporting from the hippo tank to a place unlike anything he's ever seen. In the past, the people of Lyrian welcomed visitors from the Beyond, but attitudes have changed since the wizard emperor Maldor rose to power. The brave resistors who opposed the emperor have been bought off or broken, leaving a realm where fear and suspicion prevail.
In his search for a way home, Jason meets Rachel, who was also mysteriously drawn to Lyrian from our world. With the help of a few scattered rebels, Jason and Rachel become entangled in a quest to find their way home.
A brave girl must defy an empire to save her homeland in a sweeping fantasy that combines breathless action with richly-imagined characters.
After the death of her beloved father, headstrong princess Thirrin Freer Strong-In-The-Arm becomes warrior queen of her homeland, Icemark, defending it from a formidable invader. Despite Thirrin's bravery and the support of Oskan, the Witch's son, the task proves more difficult than Thirrin ever dreamed. She must assemble a force to rival her opponent. And, in the chill winter of Icemark, she only has until spring to unite the strange beasts and frightening creatures who live just outside her country. Ultimately, it is Thirrin's vision and determination that will see her through to victory.
Shade is a young silverwing bat, the runt of his colony. But he's determined to prove himself on the long, dangerous winter migration to Hibernaculum, millions of wingbeats to the south. During a fierce storm, he loses the others and soon faces the most incredible journey of his young life. Desperately searching for a way to rejoin his flock, Shade meets a remarkable cast of characters: Marina, a Brightwing bat with a strange metal band on her leg; Zephyr, a mystical albino bat with an unusual gift; and Goth, a gigantic carnivorous vampire bat. But which ones are friends and which ones are enemies? In this epic story of adventure and suspense, Shade is going to need all the help he can find — if he hopes to ever see his family again.
On the Midwinter Day that is his eleventh birthday, Will Stanton discovers a special gift — that he is the last of the Old Ones, immortals dedicated to keeping the world from domination by the forces of evil, the Dark. At once, he is plunged into a quest for the six magical Signs that will one day aid the Old Ones in the final battle between the Dark and the Light. And for the twelve days of Christmas, while the Dark is rising, life for Will is full of wonder, terror, and delight.
Just like Ranger's Apprentice, Eragon is filled with adventure, and magic. Fifteen-year-old Eragon believes that he is merely a poor farm boy—until his destiny as a Dragon Rider is revealed. Gifted with only an ancient sword, a loyal dragon, and sage advice from an old storyteller, Eragon is soon swept into a dangerous tapestry of magic, glory, and power. Now his choices could save—or destroy—the Empire.
One Ring to rule them all, One Ring to find them, One Ring to bring them all and in the darkness bind them. It might just be time to introduce your reader to the well loved Lord of the Rings series!
In ancient times the Rings of Power were crafted by the Elven-smiths, and Sauron, the Dark Lord, forged the One Ring, filling it with his own power so that he could rule all others. But the One Ring was taken from him, and though he sought it throughout Middle-earth, it remained lost to him. After many ages it fell by chance into the hands of the hobbit Bilbo Baggins. From Sauron's fastness in the Dark Tower of Mordor, his power spread far and wide. Sauron gathered all the Great Rings to him, but always he searched for the One Ring that would complete his dominion.
More Books to Love
If you liked this list of books like Ranger's Apprentice, you may also like my other book lists like, 21 Books Your Boys Will Love and The Best, Most Addictive Books for Teens.
Leave a Comment
Have you read Ranger's Apprentice yet? What books are your readers loving right now?