It's time for my annual, screen-free gifts for boys list! I can't wait to share these with you…some amazing, creative, educational, and crazy fun ideas to make your holiday shopping easier than you ever dreamed for boys of all ages. I am breaking them down by type this year, so look for your kind of kid, and find the perfect gift for him, no electronics needed!!
*All items are linked in this post, but NONE are sponsored.
Looking for Top 10 Gifts for boys 2016? Click HERE.
Looking for the HUGE 2015 list? Click HERE.
Need stocking stuffers for boys? Click HERE.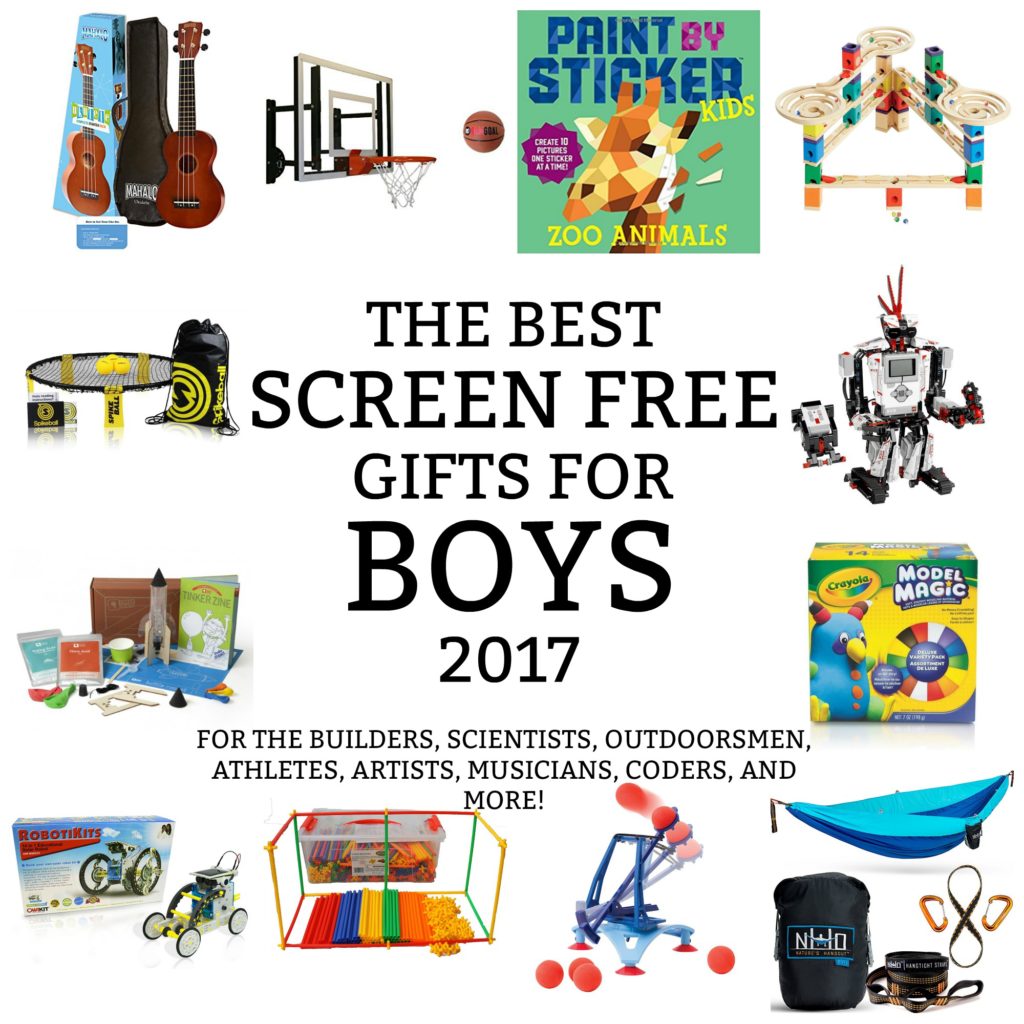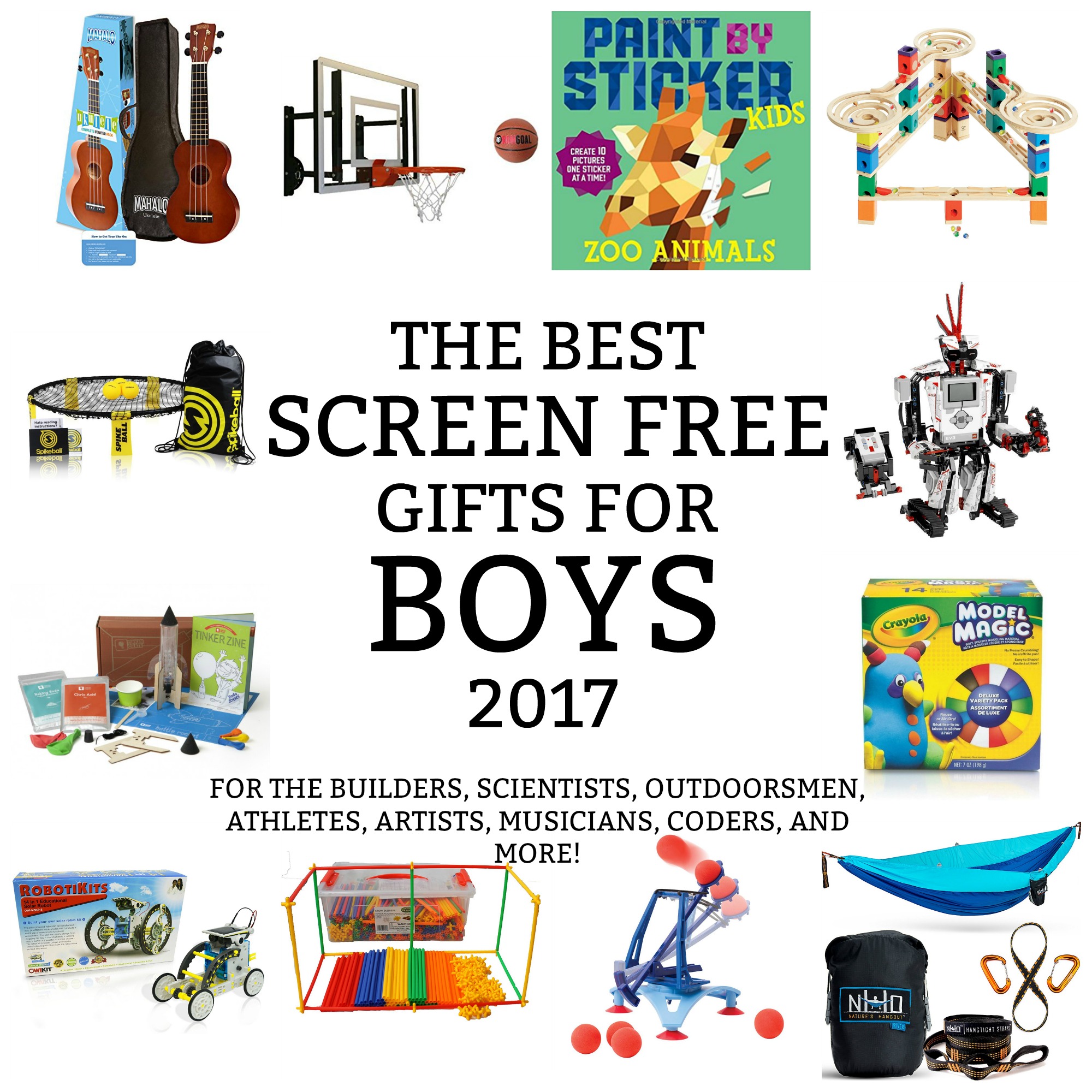 FOR THE BUILDERS
If you have a son who loves to build, these would make great gifts for him this year!
These magnetic tiles are a parent and child favorite…easy to use, easy to build and endless creativity. Wonderful for all ages ($30-$100).
These fun little suction cup builders are fun for every age and every surface. Easy to keep track of and use, these will quickly become a building staple in your home ($25-$50).
These building balls and joints allow your little engineer to build something they can play with and move after the building is over. Great for young and older kids alike ($20-$100)
Another cool way to incorporate S.T.E.M. into play. These straw builders are sturdy and so easy to use. Great for all ages and easy to store and put away ($30-$80)!
This incredibly sturdy, wooden marble run provides hours of entertainment as kids create their own marble tracks, race them, then rebuild something new. A great toy you can keep and use forever ($120).
If you are ready to take building to the next level, this solar powered robot is just right for you. With 14 different options, there is something for the new builder and the advanced builder alike. A great family activity ($25)!
If you have a teenager who still loves to build and doesn't mind a challenge, this is a great gift or stocking stuffer! He will love spending quiet hours putting together this intricate scorpion, no glue required ($7).
FOR THE SCIENCE LOVERS
Do you have a budding Einstein on your hands? If so, check out these gifts that will keep his mind working!
Do you have a dinosaur lover in your home? This will make his eyes wide on Christmas morning and provide all kinds of learning opportunities in the process ($30).
I am pretty sure all little boys love rocks and crystals, and being able to grow them just feels like magic. This is a fantastic present that keeps on giving ($30).
Why not learn about science through a little destruction? Nothing a boy enjoys more. This catapult is sturdy and provides endless hours of fun and opportunities for imagination at all ages ($20).
We are huge fans of Tinker Crates at our house. They allow me to be the creative, scientific mom I have always wanted to be without all the prep and work. These science boxes are absolutely amazing for boys ages 9 and up. The instructions are thorough and the product is superb. You can subscribe and get them on a regular delivery or purchase one box at a time. Love these at our house ($15-$30 per box).
FOR THE OUTDOOR ENTHUSIAST
Is there anything better than watching a boy appreciate and enjoy nature? If you have one who can't wait to get outdoors, these gift options will be perfect for him!
Adults and kids of all ages will love adding this slackline kit to their outdoor fun. Perfect for an easy afternoon, a weekend camping or exciting as a balance challenge trainer, this outdoor toy will be used time and time again ($50).
Hammocking is all the rage, and these easy to use, store, and hang hammocks are the perfect gift for an outdoor loving teen (or kid, or dad). Hammocks are the perfect place to camp, sleep, read and relax. If you have two trees, you can have your own personal space, and this hammock is a great one ($50).
You will never regret the purchase of one of these Kid's Kayaks. They are so easy to paddle, store and transport, and perfect for kids who love to be on the water. They hold up to 130 pounds, and are a great addition to any beach or lake day. Such a fun Christmas surprise ($100).
If you live in an area that can handle a zipline, there just might not be a cooler Christmas gift ($150)!
What little boy hasn't wished to find buried treasure? This light and easy to use metal detector will be so much fun season after season ($70).
FOR THE ATHLETES
Most boys love nothing more than a good, physical game, and these gifts will keep them playing all year long.
Slide these gloves on and immediately feel like a pro. Perfect for any size football player ($20).
Make backyard football safe and fun with this durable flag football set ($20). A family or group gift hit.
This is not your average over the door basketball hoop. This adjustable, break away mini hoop is perfect for creating an amazing athletic play space in your home. Be prepared for hours of shooting and dunking and non-stop activity. Great for a basement, game room, or even a bedroom. Sturdy enough for even the biggest boys to get in on the fun ($150). Enter code Studio5 for $10 off!
Has your family given pickleball a try? It is the greatest game for the entire family to get in to…a mix of tennis and ping pong and just good fun all around. Grab the paddles, balls, and net and you can play just about anywhere!
Do you have a little golfer in your home who can't wait for his next tee time? This putting green just might help shorten the winter months and keep his shot on par. Great for kids and adult alike ($40).
Spikeball is the perfect indoor/outdoor game. This portable, easy to play ball game will keep your kids occupied all year long while doing something that is crazy fun for the entire family. Great as a lawn or beach game or played in the basement during cold weather ($60).
If you have a smaller space or younger kids who love playing sports but don't have a ton of room, this 3-1 game is a great idea! It folds up for easy storage but gives lots of options for indoor play. Would be best for kids who are 10 and under! This is a Christmas show stopper. ($90)
A bit like a fast paced ultimate frisbee for two, this fun and portable game is great for the backyard, beach or even indoors during the cold weather. This game is easy to play and keeps the whole family active. A great idea for a family who loves to be on the go ($40).
Do you have a child who never wants sports to stop? This is a great little gift! Keep the game going all day long with lots of different sport themes to choose from ($24).
FOR THE ARTISTS
Do you have a budding Picasso in your home? Try these great gifts that will keep the creative juices flowing.
This is the coolest new art discovery. Instead of color or paint by number, you paint by sticker and create really awesome animals in the process. This would be amazing for church, car rides, airplanes, waiting rooms or any spot where you need a little peace and quiet. Great stocking stuffer too. Works best for someone 5 and up ($10).
This gift is so much fun for young artists! You get the chance to mix your own colors and create markers of your very own, then you add your preferred scent to each one and they are fully customized. You get to create away with your very own set of markers. Such a cool idea to add a little extra fun to craft time ($16).
Let your kids mold, shape and create without the crumbling mess or sticky hands…this is creative play that kids and parents love…lots of fun with very little mess. There are all kinds of colors and fun tools you can purchase to add to this great starter set ($15).
Doodle Crate is an amazing resource to really spur your kid's creativity. You can purchase a monthly subscription or just one crate at a time…each one comes with a complete art project your child will love completing. It allows them to explore their own creativity and artistic ability with all the materials and guidance they will need. An awesome gift for an art lover. They also have Kiwi and Koala Crates for younger artists ($10-$20).
If you have a little one at home who will be so sad without sandbox play, this kinetic sand is the perfect gift. It allows for building and sensory fun, without the serious mess. It truly never dries out and kids of all ages can't help but play when it is brought out. It comes in all kinds of fun colors with great molds too. A perfect creative gift ($10-$30).
Slime has captured the hearts of kids everywhere and taken Instagram by storm. This slime kit is a fun introduction to the crazy world with all kinds of mix ins, glitter, and scents, but all the supplies you will need! If you have someone who likes a little messy creativity, this is a great gift ($25).
FOR THE MUSICIAN
Are you constantly hearing music every where you turn? Grab these musical gifts and keep that love alive.
Ukuleles are a great instrument for a budding musician. If you think your child might like to add a little music to his life, this is a great starter option ($38).
Do you have a son who can't wait to be a star? He might love singing the night away with this Karaoke Machine. It comes with some Karaoke Favorites or use your own device to sing to your favorite songs ($50)!
FOR THE CODERS
This may be riding the "screen free" claim, but coding is a great brain activity for lots of little electronic loving boys. Put these two options to the test.
If you are just getting into coding, start with the award winning Ozobot. Easy to use and all kinds of fun for a techy brain ($50).
The price on this toy is no joke, but for good reason. Lego Mindstorm robots are the best out there and allow the user to have all kinds of programmable fun that will challenge their brain and their abilities ($350).
FOR THE CAR LOVER
Boys of all ages love cars. Here are a couple ideas for the littlest and biggest car lovers.
We have spent a lot of time trying to find sturdy, stable racing sets that work with hot wheels cars, and this is our favorite. It is made of wood, and takes tools to put it together, but it is fantastic. It allows for parked cars, races and slides all in one ($75).
This remote control car is for the big boys who love to race, soup up, and replace parts on their car to optimize its speed and performance. This brand is tops and has replacement and upgraded parts to order and really customize your own car. Not cheap, but provides years of learning and fun ($180).
This very sophisticated "toy" rides the line when it comes to electronics, but there is so much to this car racing kit that I decided to place it on the list anyway. This would make every little boy dream come true ($125)!
FOR THE HARD TO PLEASE KID
Sometimes the only thing our kids want is money, so choose a fun way to gift it.
When my mom gave money to my son in this locking cash box he was in absolute heaven. He loves placing his money in his box, counting it often and locking it so no one can get to it. A great idea for a money lover ($30).
What boy doesn't love laser tag? This set allows for four people to play at a time and the laser target is on the gun, so no difficult strapping on or extra equipment to take care of. A great family gift that will provide hours of fun ($75-$150).
If you thought yo-yos were a thing of the past, think again! These toys have reinvented themselves and are challenging and fun for boys of all ages with a myriad of tricks to learn and perfect. Investing in a good one is worth it ($13).
This game is like Sudoku but with colors instead of numbers. So easy for kids of all ages to understand and have fun with. Another quiet brain exercise that is perfect for the long winter months ($35).
FOR THE EXPERIENCE SEEKER
If you don't want to buy more stuff this year, think of gifting an experience: concert, escape room, top golf, amusement park pass, play tickets, ski pass, gym membership, movie gift cards, restaurant gift cards, gas cards, food cards, a date with mom or dad, plane tickets, sporting event tickets…anything they love!
I hope this simplifies your shopping this Christmas! If I have left out a favorite, please leave it in the comments!!
If you didn't see something you liked, or are looking for more ideas, check out past gift lists:
The Best Stocking Stuffers for Boys from Toddlers to Teens
60 Great Electronic Free Gifts for Boys
Great Stocking Stuffers for Boys Part 1
Great Stocking Stuffers for Boys Part 2
* I am an Amazon Affiliate. Thanks for supporting my writing and research through your purchases!