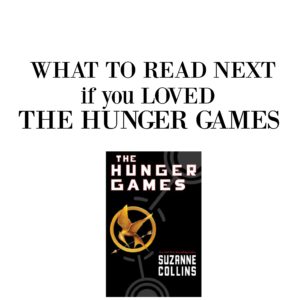 If your kids are old enough and mature enough to read The Hunger Games, chances are you didn't see them until they turned the final page. While it is difficult to find a book that is quite as addictive, this list should keep them engrossed again! (All books linked. Be sure your child is old enough and mature enough for the following titles as some have more adult themes, content and situations.)
The Giver, the 1994 Newbery Medal winner, has become one of the most influential novels of our time. The haunting story centers on twelve-year-old Jonas, who lives in a seemingly ideal, if colorless, world of conformity and contentment. Not until he is given his life assignment as the Receiver of Memory does he begin to understand the dark, complex secrets behind his fragile community. Lois Lowry has written three companion novels to The Giver, including Gathering Blue, Messenger, and Son.
(Hold off on this one until 8th grade or above. First book is okay, the others get more violent.) When Thomas wakes up in the lift, the only thing he can remember is his name. He's surrounded by strangers—boys whose memories are also gone. Outside the towering stone walls that surround them is a limitless, ever-changing maze. It's the only way out—and no one's ever made it through alive.  Then a girl arrives. The first girl ever. And the message she delivers is terrifying: Remember. Survive. Run.
(I would hold off on this one until junior high) Perfect for fans of the Hunger Games and Maze Runner series, Divergent and its sequels, Insurgent and Allegiant, are the gripping story of a dystopian world transformed by courage, self-sacrifice, and love. Fans of the Divergent movie will find the book packed with just as much emotional depth and exhilarating action as the film, all told in beautiful, rich language.
One choice can transform you. Beatrice Prior's society is divided into five factions—Candor (the honest), Abnegation (the selfless), Dauntless (the brave), Amity (the peaceful), and Erudite (the intelligent). Beatrice must choose between staying with her Abnegation family and transferring factions. Her choice will shock her community and herself. But the newly christened Tris also has a secret, one she's determined to keep hidden, because in this world, what makes you different makes you dangerous. 
(This one is clean so okay for younger readers but they most likely won't be interested until they are 6th grade and up) Cassia has always trusted the Society to make the right choices for her: what to read, what to watch, what to believe. So when Xander's face appears on-screen at her Matching ceremony, Cassia knows he is her ideal mate . . . until she sees Ky Markham's face flash for an instant before the screen fades to black. The Society tells her it's a glitch, a rare malfunction, and that she should focus on the happy life she's destined to lead with Xander. But Cassia can't stop thinking about Ky, and as they slowly fall in love, Cassia begins to doubt the Society's infallibility and is faced with an impossible choice: between Xander and Ky, between the only life she's known and a path that no one else has dared to follow.
(Great for younger readers…4th grade and up) The city of Ember was built as a last refuge for the human race. Two hundred years later, the great lamps that light the city are beginning to flicker. When Lina finds part of an ancient message, she's sure it holds a secret that will save the city. She and her friend Doon must race to figure out the clues before the lights go out on Ember forever!
(Good for younger readers 3rd grade an up) In a future where the Population Police enforce the law limiting a family to only two children, Luke, an illegal third child, has lived all his twelve years in isolation and fear on his family's farm in this start to the Shadow Children series from Margaret Peterson Haddix. Luke has never been to school. He's never had a birthday party, or gone to a friend's house for an overnight. In fact, Luke has never had a friend.
Luke is one of the shadow children, a third child forbidden by the Population Police. He's lived his entire life in hiding, and now, with a new housing development replacing the woods next to his family's farm, he is no longer even allowed to go outside. Then, one day Luke sees a girl's face in the window of a house where he knows two other children already live. Finally, he's met a shadow child like himself. Jen is willing to risk everything to come out of the shadows — does Luke dare to become involved in her dangerous plan? Can he afford not to?
In a society where the color of a person's palm determines their social class, Bruno goes from favored to fugitive when he kills a Royal Guard to save a boy's life. If he wants to survive, Bruno has to learn to accept the lower colors. A thrilling blend of fantasy and adventure perfect for readers everywhere
(Good for ages 13 and up) Prepare to be swept into a world of breathless fairy-tale romance, swoonworthy characters, glittering gowns, and fierce intrigue perfect for readers who loved Divergent, Delirium, or The Wrath & the Dawn.
For thirty-five girls, the Selection is the chance of a lifetime. The opportunity to escape a rigid caste system, live in a palace, and compete for the heart of gorgeous Prince Maxon. But for America Singer, being Selected is a nightmare. It means turning her back on her secret love with Aspen, who is a caste below her, and competing for a crown she doesn't want.
Then America meets Prince Maxon—and realizes that the life she's always dreamed of may not compare to a future she never imagined.
After fourteen-year-old Peak Marcello is arrested for scaling a New York City skyscraper, he's left with two choices: wither away in Juvenile Detention or go live with his long-lost father, who runs a climbing company in Thailand. But Peak quickly learns that his father's renewed interest in him has strings attached. Big strings. As owner of Peak Expeditions, he wants his son to be the youngest person to reach the Everest summit–and his motives are selfish at best. Even so, for a climbing addict like Peak, tackling Everest is the challenge of a lifetime. But it's also one that could cost him his life.
Roland Smith has created an action-packed adventure about friendship, sacrifice, family, and the drive to take on Everest, despite the incredible risk.
He's strapped to a chair. He's covered in blood and bruises. He hurts all over. And a strange voice outside the door just ordered his death. The last thing he can remember, he was a normal high-school kid doing normal things–working on his homework, practicing karate, daydreaming of becoming an air force pilot, writing a pretty girl's number on his hand. How long ago was that? Where is he now? Who is he really? And more to the point . . . how is he going to get out of this room alive?
 (Good for readers 4th grade and up)  In the irresistible first novel by the author of The Hunger Games, a boy embarks on a dangerous quest in order to fulfill his destiny — and find his father. New cover art coming July 1st!
In the first novel of the New York Times bestselling series by Suzanne Collins, author of The Hunger Games, young Gregor falls through a grate in the laundry room of his apartment building and hurtles into the dark Underland. This strange world is on the brink of war, and Gregor's arrival is no accident. A prophecy foretells that Gregor has a role to play in the Underland's uncertain future. Gregor wants no part of it — until he realizes it's the only way to solve the mystery of his father's disappearance. Gregor embarks on a dangerous adventure that will change both him and the Underland forever.