My Itinerary for One Week in Greece
We have been preparing for the trip of a lifetime for the past year and our 10 days in Greece and Croatia were even better than I hoped they would be. It felt a little overwhelming planning something so far and so unfamiliar but it absolutely exceeded all of our expectations. If you want something worth saving for, I'm sharing our itinerary for one week in Greece and our 3 day Dubrovnik itinerary with ALL the details.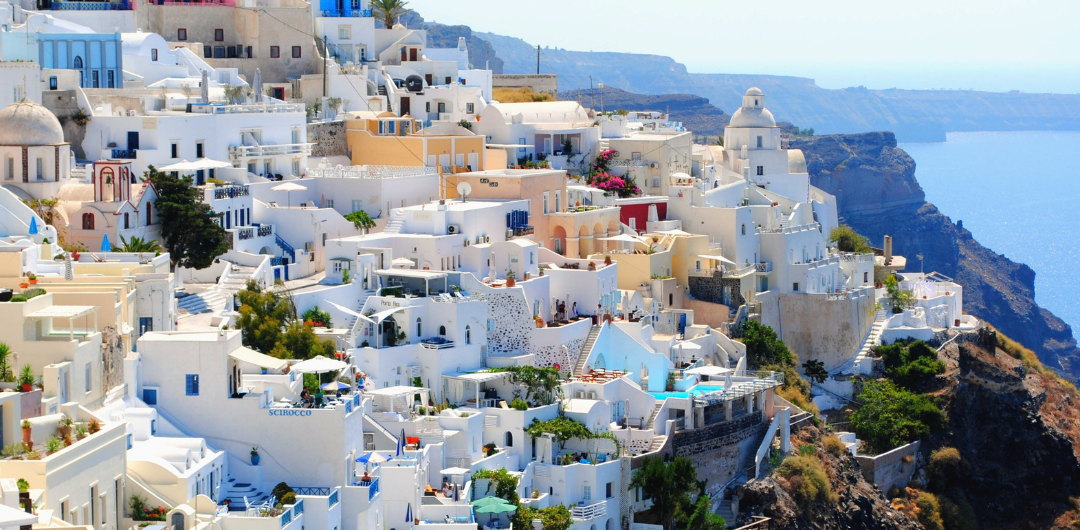 Huge thanks to my friend and travel buddy, Lyric Payne for her extensive research on the perfect itinerary for one week in Greece and her willingness to share it all with you!
A few things you should know about the way we travel before you decide if this plan works for you:
We GO: We were up by about 8:00 most mornings and didn't return to our hotel until after 10 most nights.
We like to be active and are in pretty good shape. We don't mind a lot of walking, love hiking, and most days were well over 25,000 steps, many of those being stairs. We don't sit for long periods of time very well.
We didn't spend a lot on our accommodations. They were fine and clean with excellent Airbnb hosts, but we were rarely there. We used the money saved for food and tours. If you are looking for luxury hotels and four star resorts, this isn't the plan for you.
We ALL packed in a carry on with a backpack…for 12 days. I thought it was totally worth it. It cut our time in airports way down and we were never worried about lost luggage. I used packing cubes to make it work. I have linked all of the must haves in my post What to Pack for Greece and Croatia.
We took our trip from June 7-18 and I loved that it wasn't too hot or too cold. We did get rain on three of the days, but only one interfered with plans and they said it was abnormal. If you are using this as mostly a beach or water vacation, I would consider going a little later in the summer. Going early in June, there were plenty of crowds, but most of the Europeans were still in school so it wasn't quite as packed or as hot as it gets later in the summer.
Are you ready!? Here we go! Our itinerary for one week in Greece!
Quick Tips for Santorini
Dress: People in Santorini dress up most of the time. If you like to be resort fancy, this is the place to throw on that dress. There is a ton of shopping here with beautiful things to buy. This was the place that had the most unique and fun clothes and souvenirs; however, it was also the most expensive. We found many of the items we loved for much less in Athens, but there is no guarantee, so if you love it, grab it!
Food: There were so many food options and almost everything we ate was fresh and delicious. I will highlight a couple favorites you don't want to miss. We had fun practicing our table manners at the different restaurants.
Weather: It was HOT in Santorini, though one of the nights I was grateful for a light sweater and it was nice to have a long sleeve on the boat to minimize the sunburns. Sunscreen is a must.
Accommodations: We stayed in this awesome Airbnb. The only issue we had was a problem with the hot water. Just double check that they have plenty before you go! Otherwise, it was incredible.
Day 1: Santorini
After flying for more hours than I care to count, we arrived in Santorini, Greece and it was just as magical as all the photos seem to make it. I have never seen a city so white and so unique. We stayed in Oia which is it's own beautiful, medium sized city with all the views you've always wanted. We were ready to hit the ground running and start chipping away at our one week itinerary for Greece.
We had a driver pick us up at the airport and transport us to our Airbnb which was carved out of the white rock and just felt so magical. We needed Euros to pay our driver. Our Airbnb host had someone there to meet us at the beginning of the city and take our bags and show us to our spot. It would have been impossible to find without him. The host was great at making sure we were taken care of.
It was late, so we just did dinner and dessert that night. There are TONS of delicious restaurants all within the town, all within walking distance, then we headed to bed. I love getting to a new city in the evening when we have been traveling a bunch because it lets me acclimate to the new time zone more quickly.
Day 2: Santorini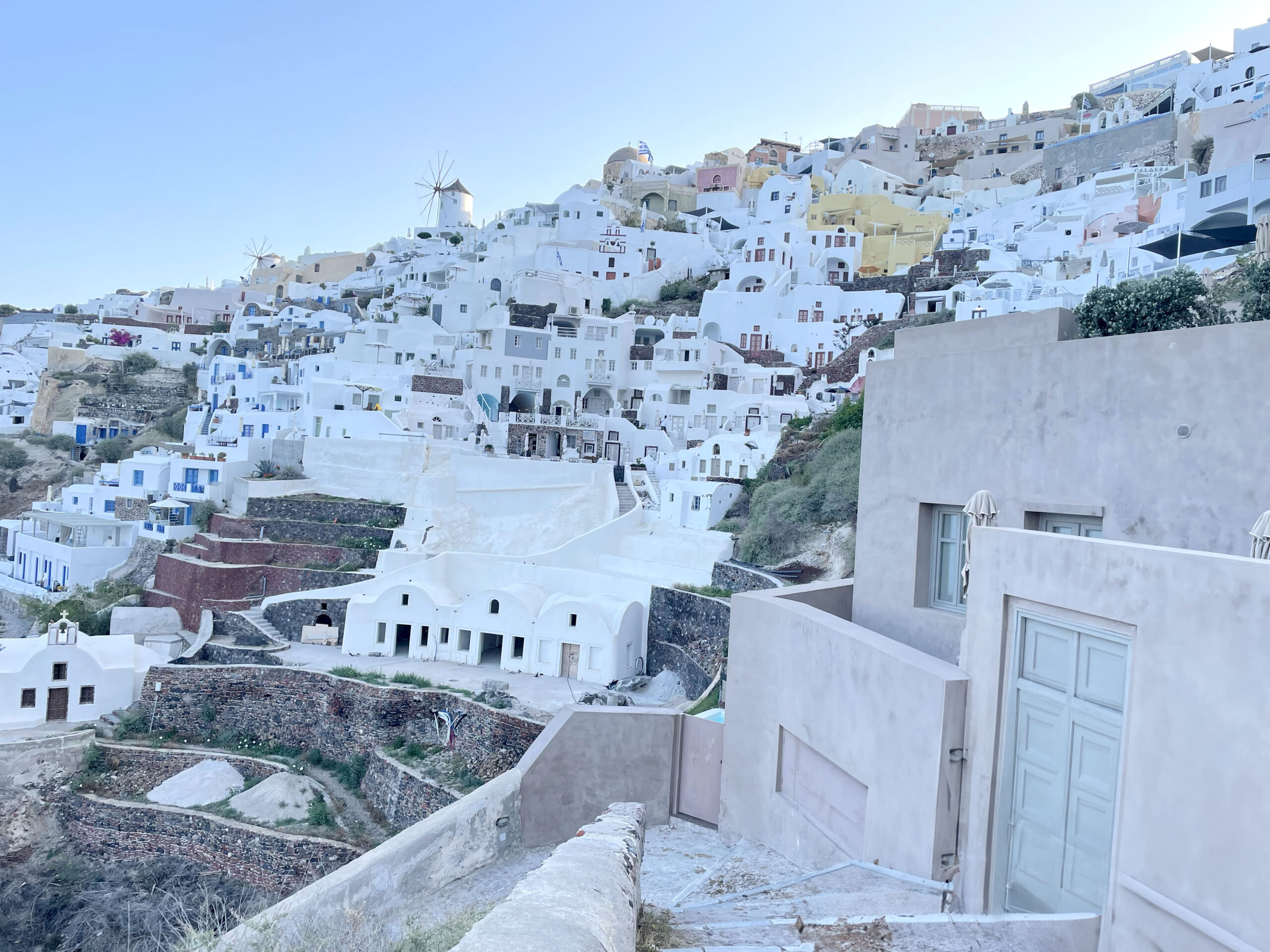 Because of the time zone change we woke up before sunrise, which was a special surprise. We hiked all around the deserted city. We went down to the water and explored the rocky coastline on trails most people don't walk. This wasn't on our itinerary for one week in Greece but it was the most wonderful surprise.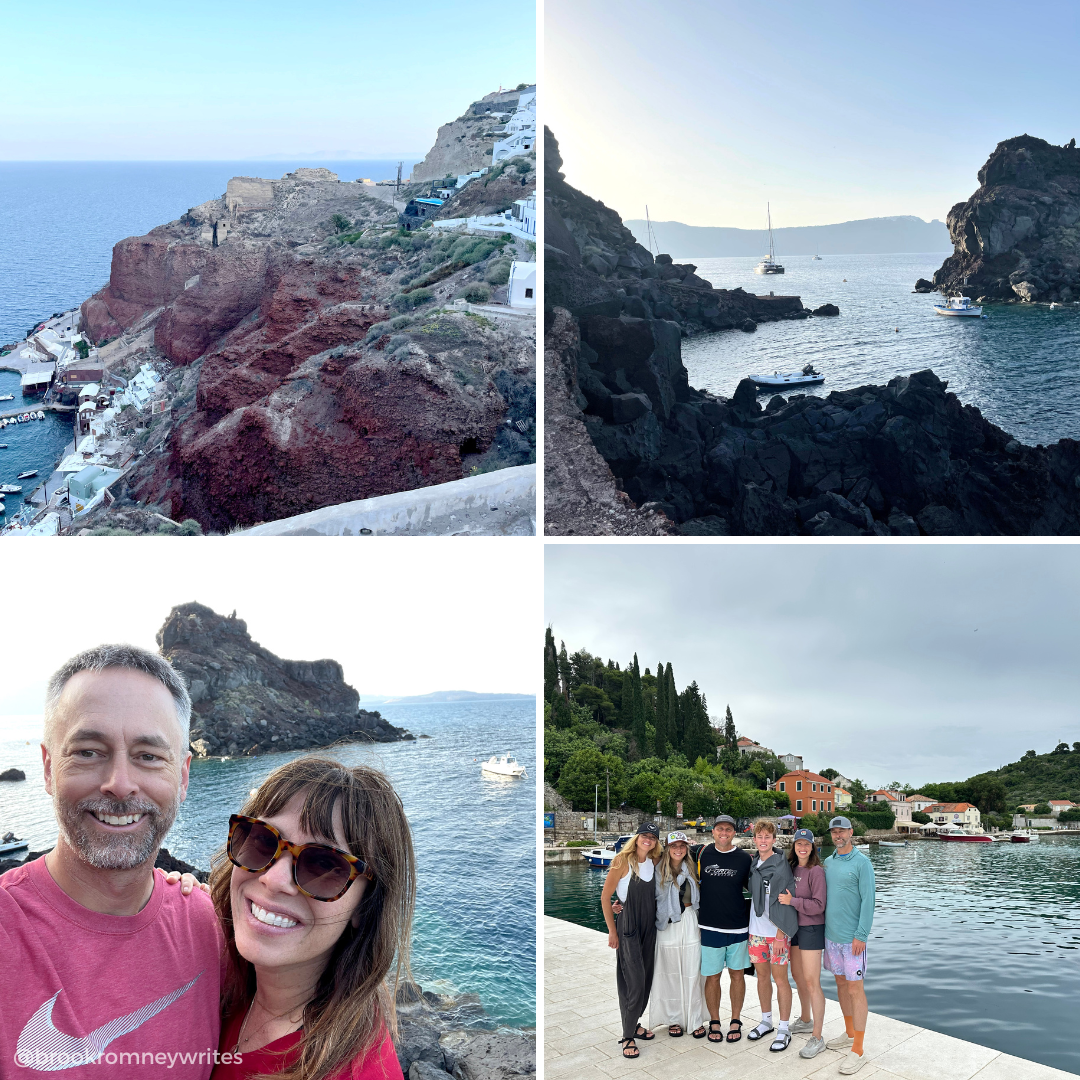 Around 9 we met our shuttle driver and drove about 45 minutes to hop on our Catamaran for the day. It was such a fun way to see the coast and all the different rocks and formations that make it such a gorgeous place. A catamaran is a must in Santorini. It was so fun to just sit back and enjoy a day on the water. There were plenty of swimming spots and geology lessons and the lunch they made for us right on the boat was delicious. Some of the water we swam in had a high concentration of sulfur, so don't wear a white swimsuit if you want to jump in.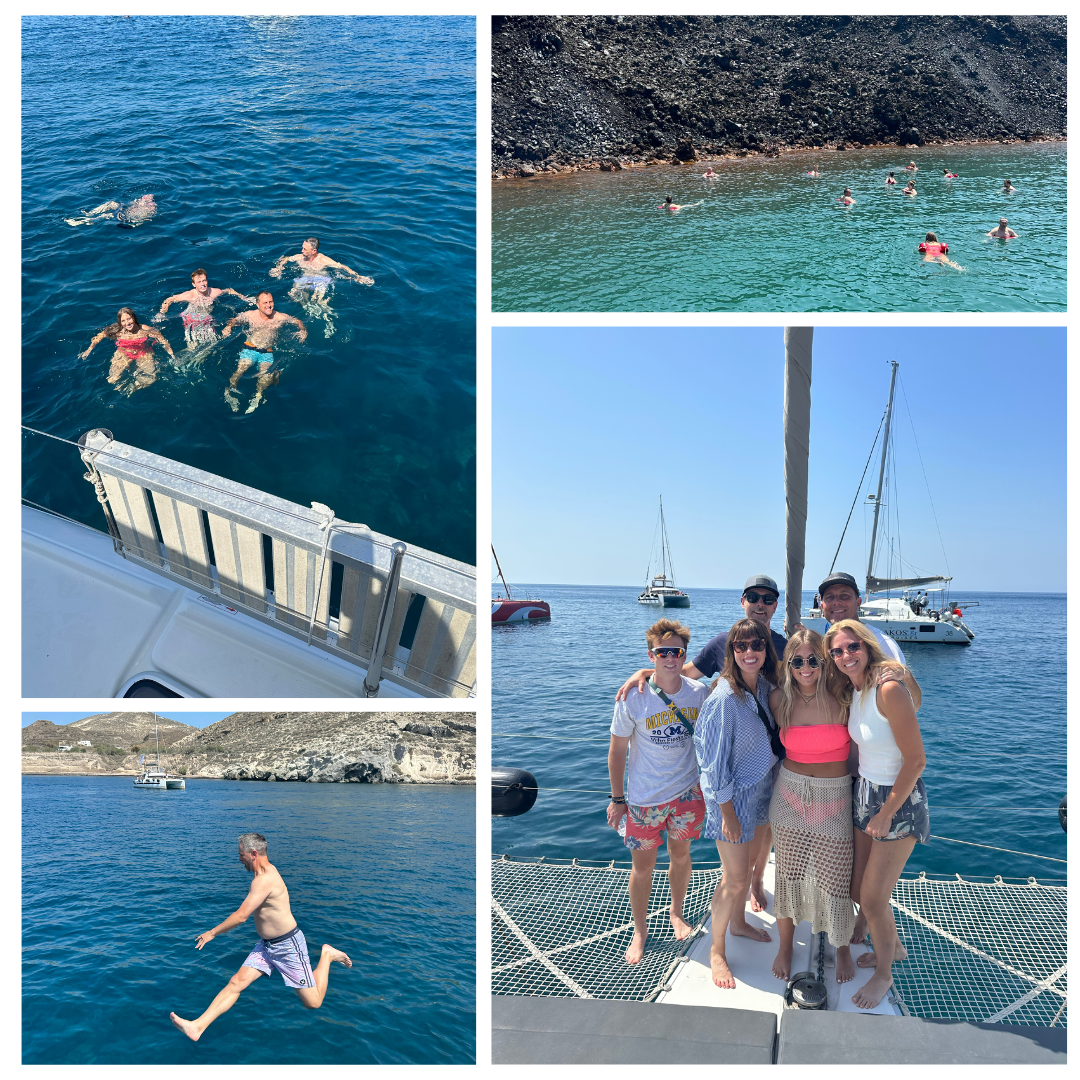 After we returned from the boat, we cleaned up and got ready for dinner. We did some shopping until sunset, then had a great meal together and ate our favorite Gelato, Lolita's, which was a bit tucked away but worth the find!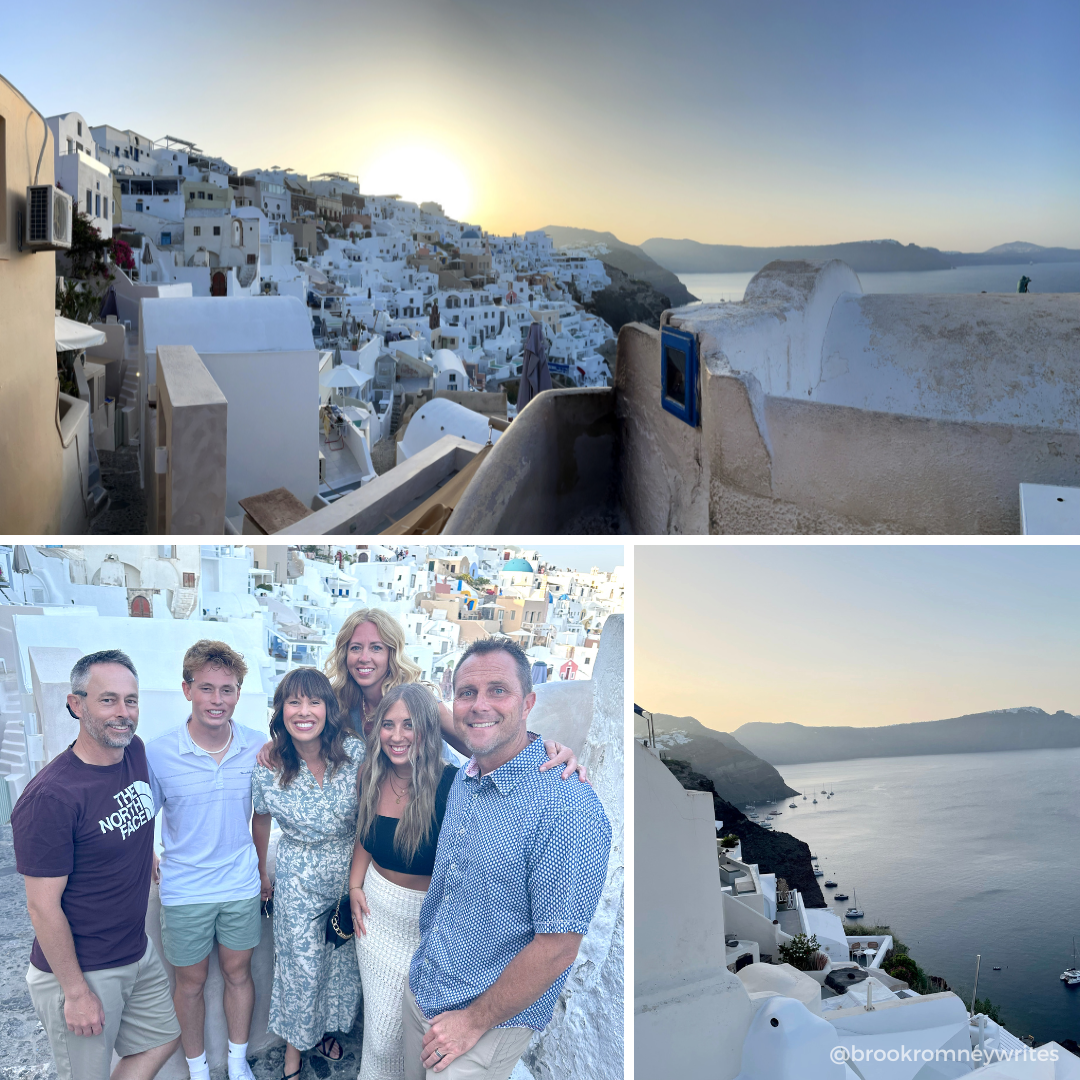 DAY 3: Santorini and Athens
We all slept in a little after a busy day and thoroughly enjoyed it. Traveling with adults and teenagers can have it perks! We were planning on taking a bus to Fira and then hiking our way back to Oia, but didn't end up having all the time we wanted for the 5 mile hike from there back to Oia. Instead we just hiked about 2 miles up and 2 miles back to the summit of the mountain just outside Oia.
It was awesome. It gave us a great workout and the most stunning views. On the way back we stopped for brunch at the best place we ate in all of Santorini and maybe a trip favorite, called Mes Ami. The smoothies, bread basket, coconut cream yogurt bowl, greek omelette, and chocolate pancakes cannot be missed. The restaurant was away from the busiest parts of the city and we loved our leisurely brunch there. Highly recommended!
We finished our shopping and made our purchases on the way back to our place, and then packed up for our flight to Athens. For me, two days was perfect in Santorini. If you love sitting by a pool, eating, and shopping, you could stay for longer, but that was about as much as our crew needed.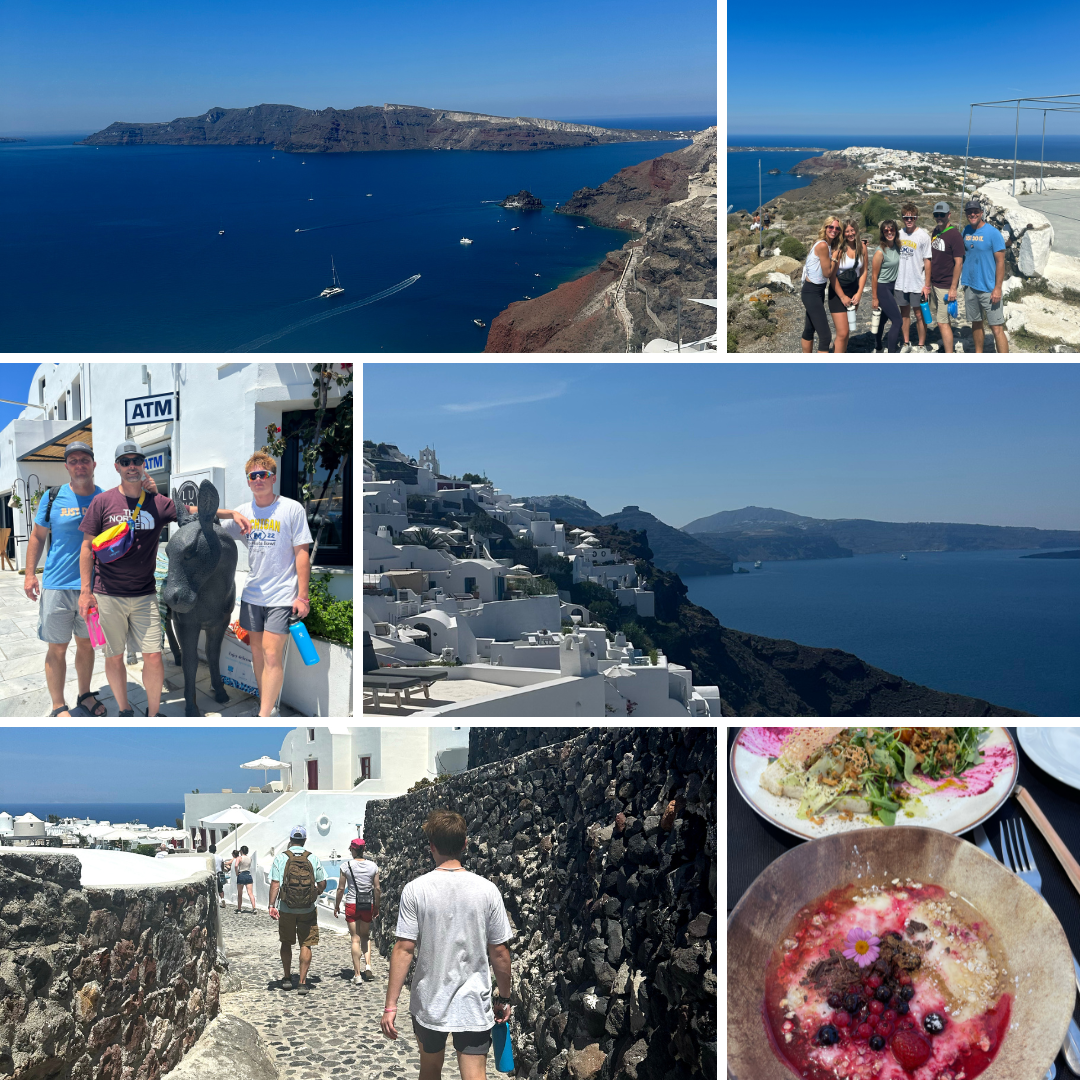 We flew into Athens, grabbed Ubers, and checked into an awesome hotel called The Manor House near the heart of the city. It was clean and spacious and just what we needed for a couple of nights. Athens is green and vibrant and we were surprised by the lush vegetation. It's a beautiful city and a must-do on any one week itinerary for Greece. We decided to walk around and explore until bedtime and made some of our favorite memories!
We got our phone cases painted by an incredible spray paint artist, ate yummy greek food and desserts, heard fun music, saw some beautiful churches and city squares, and just enjoyed the energy of the big city. We finally turned in and called it a night but had already fallen in love with Athens. One thing we were surprised about overall was how affordable everything was. From food to tours to lodging, your money goes a lot further there than Santorini!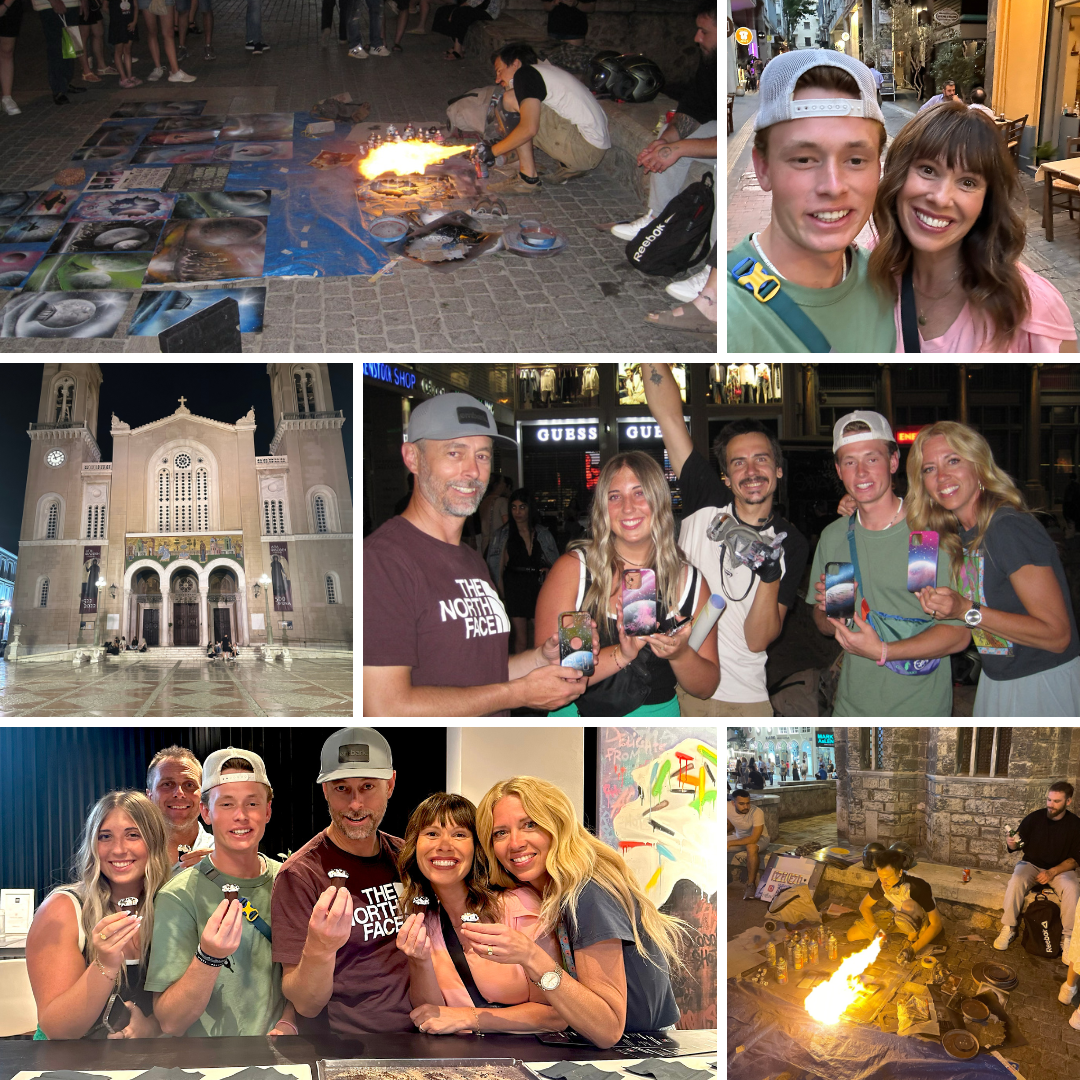 Quick Tips for Delphi
Dress: Most people were wearing things that they were comfortable touring in. It felt pretty casual. I was so glad I had my rain jacket and glad our driver furnished umbrellas. Good shoes are helpful here. You can see my favorite shoes on my packing list for Greece and Croatia.
Weather: It is higher in elevation, so Delphi is most likely a little cooler than Athens. We had some rain and it was a little chilly.
Food: This was one of our only food misses, though we did love the Baklava. I would look for eating recommendations online somewhere.
DAY 4: Athens, Delphi and Arachova
We woke up and hit our Sunday church services at 10 just outside of Athens. We love going to church outside our hometown! After we returned we quickly changed and jumped in the van with our awesome driver who was taking us to Delphi.
We booked a private tour in Delphi and loved it. We used this group.
We were shocked by the mountainous beauty that greeted us when we got to Delphi. It was gorgeous and green, not at all what we expected. We loved touring the ancient city with a private guide who walked us through the outside ruins and the museum inside. It made it all come to life for us and kept us all engaged. It did start to rain quite a bit, which was a bummer, but we had umbrellas and pushed through. Totally worth it.
On the way home we stopped in Arachova, which is a charming little ski town. There were places to eat, get baklava, and shop. The afternoon was gorgeous, and we were so happy to be there!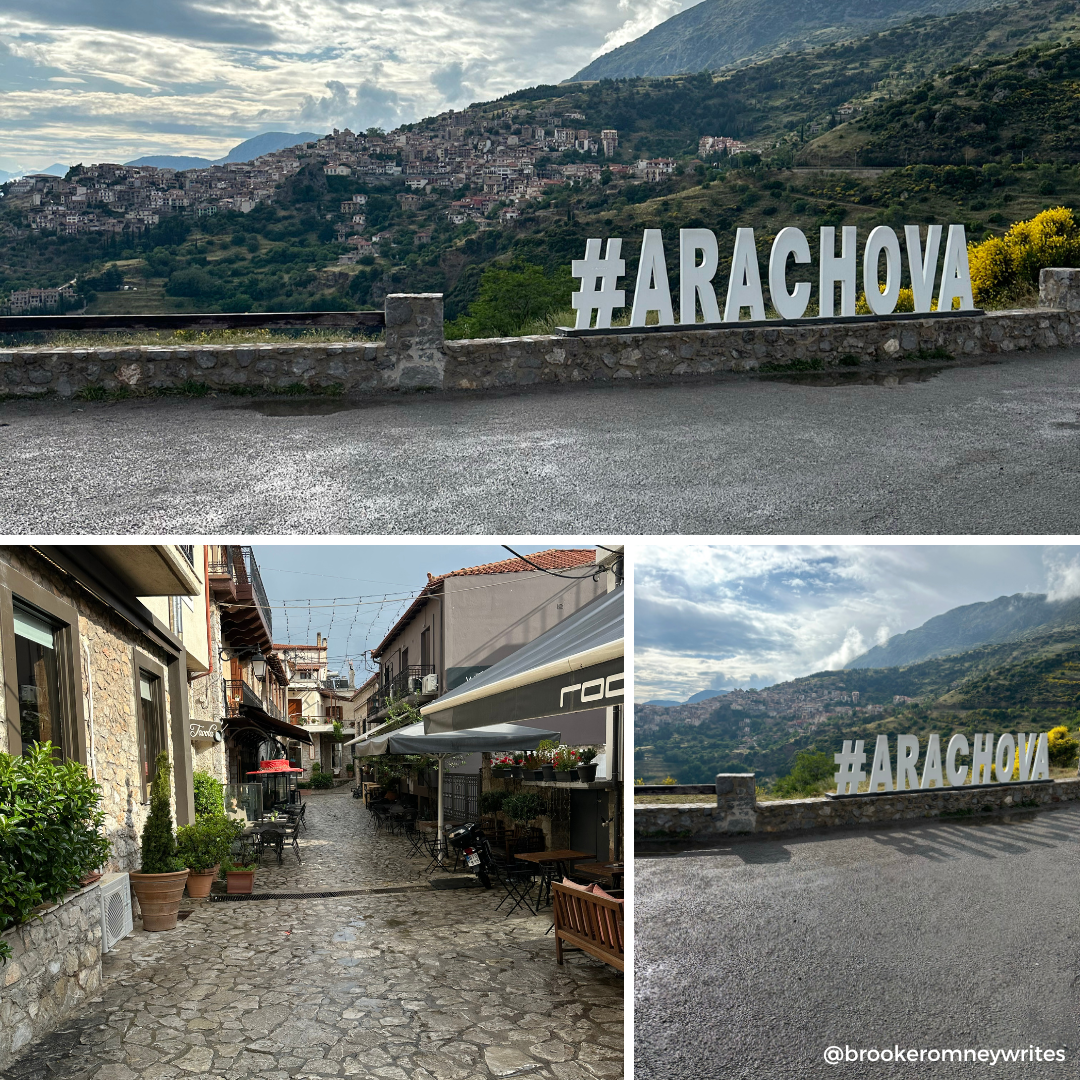 That evening we were all exhausted, but had a quick dinner and walked around Athens a bit more before turning in for the night.
Quick Tips for Athens
Dress: We saw a mix of everything here so wear whatever you feel comfortable in. Plenty of people were dressed up and plenty of people were casual. If the sun is shining it is SUPER HOT at the Acropolis and surrounding sites so be prepared and wear sunscreen. Good shoes are a must for a day like this since you are on your feet for the whole day!
Food: The food tour gives you more food that you could ever dream of eating. Pace yourself. Take it slow. There is so much good food to eat!! You can check out my What To Eat in Athens post for more suggestions. We had a few misses and wish we would have researched better. The list should have you covered!
Accommodations: They were excellent here! We loved staying at The Manor House. Great location and all the amenities we needed to be comfortable.
Day 5: Athens
This was a FULL day of touring Athens and we absolutely loved it. We started early and headed to the Acropolis which is absolutely magnificent. Get your tickets online and it's important to get there by 8 and enter at the southeast gate so you don't have to wait in the lines. One thing I wish we had done was hire a tour guide for our group, it just makes the experience so much richer and more educational in a fun way. Would have been worth the money for sure.
After the Acropolis, we explored the surrounding areas then headed to the Acropolis Museum which was absolutely fantastic. So much to learn there too, but I wish we would have had a guide!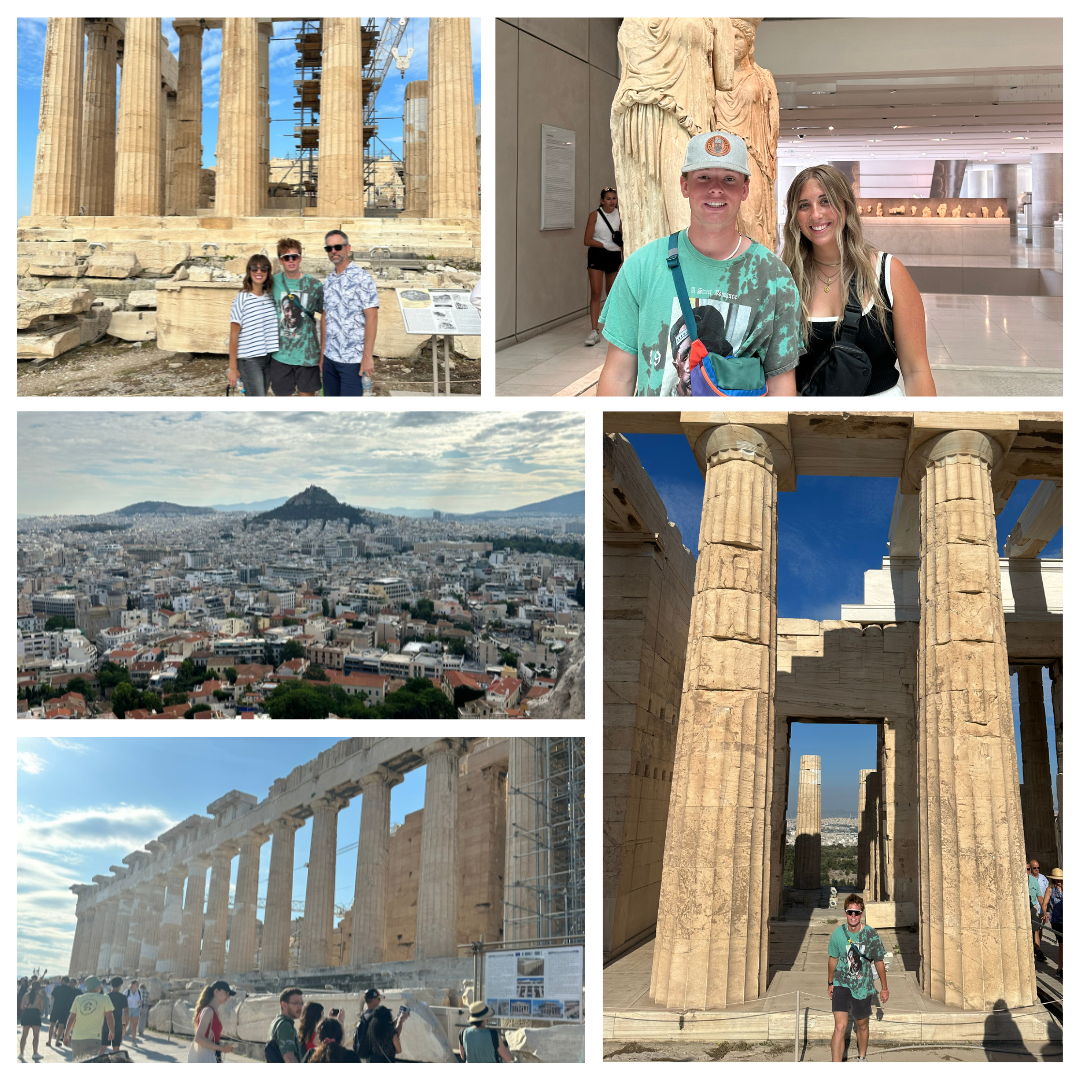 After our time at the Acropolis we did a little shopping on the side streets, then met Anna for our Food Tour. We chose to do a private one and loved it. It was so much fun to see Athens through her eyes and eat all of the authentic Greek food. Everything we had was SO GOOD, but pace yourself and even have her order a little less here and there. You don't want to miss anything but your stomach probably can't handle it all. By the last spot we could all only take one bite. We loved this experience.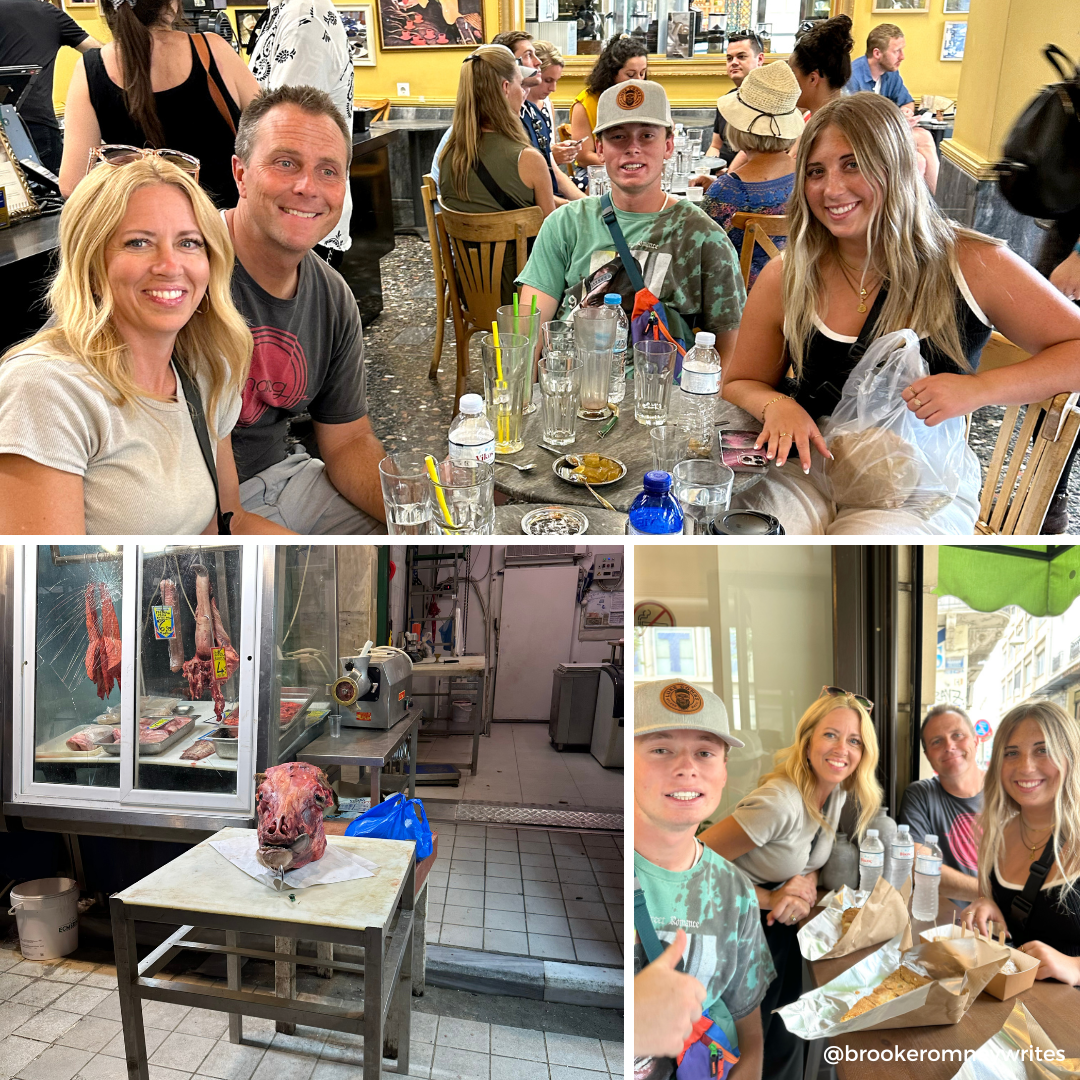 After our food tour, we met up for our private Segway tour which was WAY cooler than I expected it to be. The perfect thing to throw into the middle of our one week itinerary for Greece and one of my favorite memories! We cruised all around Athens and the outskirts of the city seeing all the lookouts, the extra historical sites, the fun neighborhoods, and the changing of the guard. It was an amazing way to see the city and we absolutely loved it.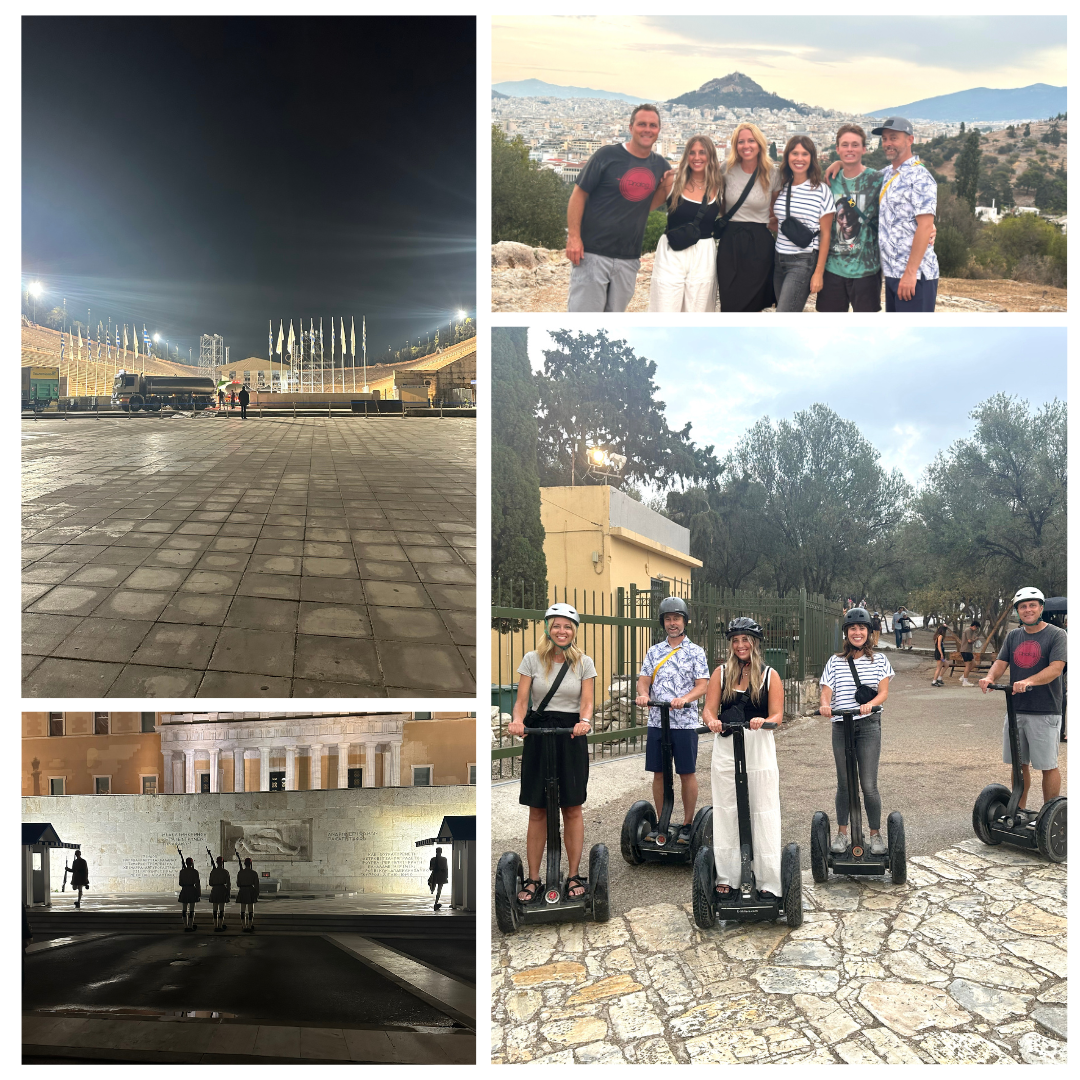 Quick Tips for Milos
Dress: You will be beaching all day. Swimsuits, cover ups, towels, hat, sunglasses, good water shoes and then something fun to wear that night. People got pretty resort fancy, but there is still a ton of walking so be cognizant of your shoes. We all needed a sweater after sunset.
Food: We ate at a food truck with fresh fruit, salads and sandwiches at our first beach and then at a restaurant we really loved in another town whose name I can't remember. Check online for food reviews and make a reservation if you see one that looks good.
Transportation: RENT A CAR. Some blogs say you can do public transport or get a 4 wheeler but we were so glad we had a car. It gave us a place to store our suitcases since we couldn't check into our hotels early and allowed us to comfortably travel around the island. The cars and roads are tiny, so beware of that when booking.
Accommodations: They are a little rough on the island. Kind of a mix between a condo and camping as it is a bit primitive and also books up super fast and we didn't realize that so we were left with what was available which ended up being just fine but nothing posh.
This blog about all the beaches was super helpful as we built our own itinerary for  Milos and one week in Greece.
Day 6: Milos
We flew to Milos early the next day. There are all kinds of Greek islands you can visit, but Milos is an absolute gem and was one of my favorite spots on the trip. It's a smaller island, way less touristy which we love, and one that is frequented a bit less than the others so it felt more untouched and rural, but I was absolutely in love with our one day here.
We started at Sarakiniko Beach with the gorgeous white rocks and turquoise water. If the water is calm, you can cliff jump but it was too rough, so we ended up hiking, exploring, and then swimming in the protected cove. It was absolutely stunning scenery. Our friends went back before sunset to capture some gorgeous photos, so if you love a good picture, that is a great idea!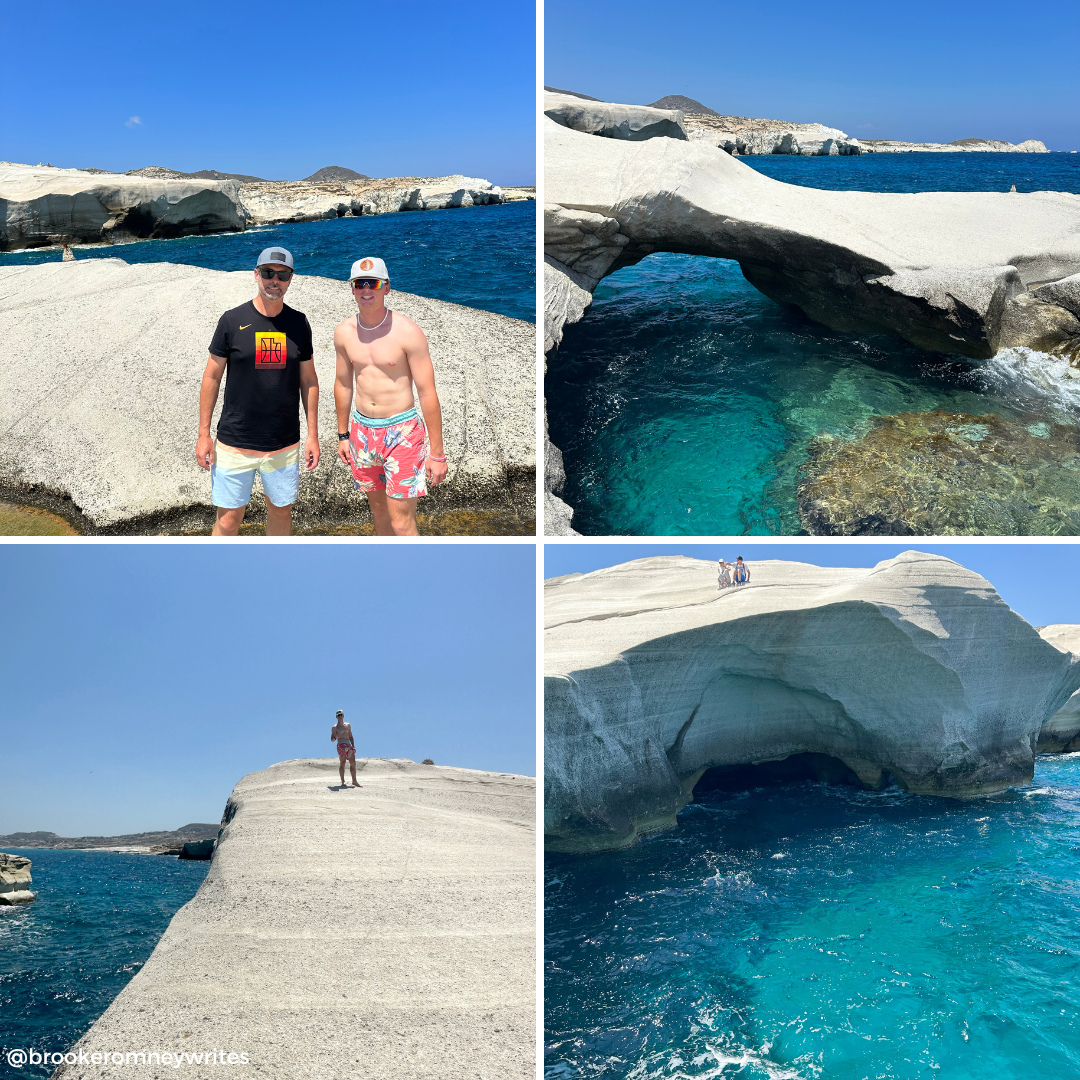 After our time there, we headed to Tsigrado Beach which was one of my favorite places. Getting down to the beach is pretty tricky. You have to climb down a crevice in the rock that had two pretty sketchy ladders, one twisted on its side and was missing a few rungs. Let someone experienced go down first and help the others get down, but the climb (if you can do it) is so worth the reward. The cove is stunning and the water is an unbelievable blue, perfectly clear, and just right for swimming on a hot day. We played in the water, swam through tunnels and explored a water cave, then laid on the sand and soaked it all in. If you are brave, this one is not to be missed.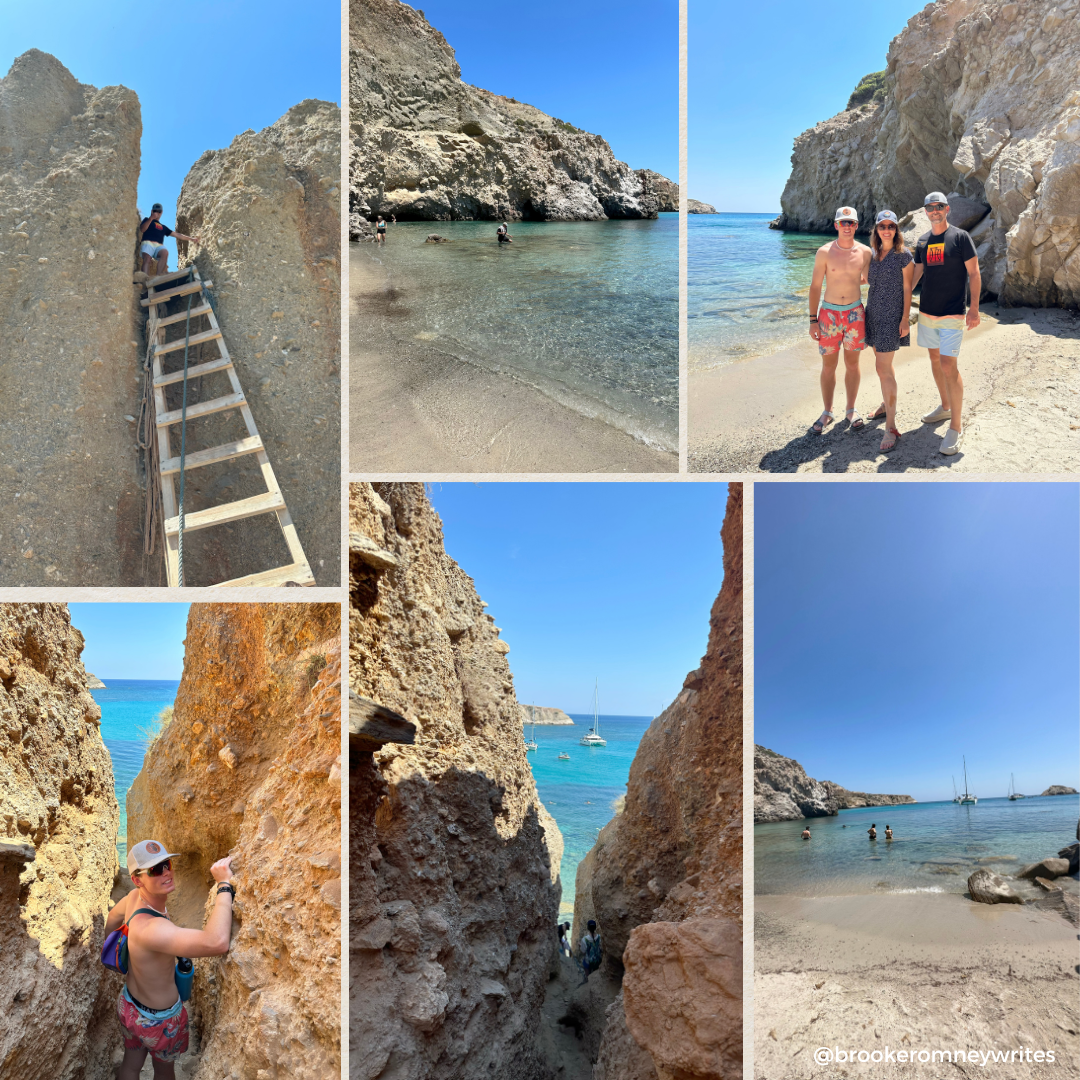 After our beach adventure, we went one beach over to Fyriplaka which was just beautiful and much easier to access with warm sand. We found the coolest colored rocks and otherworldly topography on our walk down the coast. It's a great beach for swimming as long as you have water shoes, and is perfect for laying in the sun. Be aware that there were quite a few people who felt comfortable being topless there.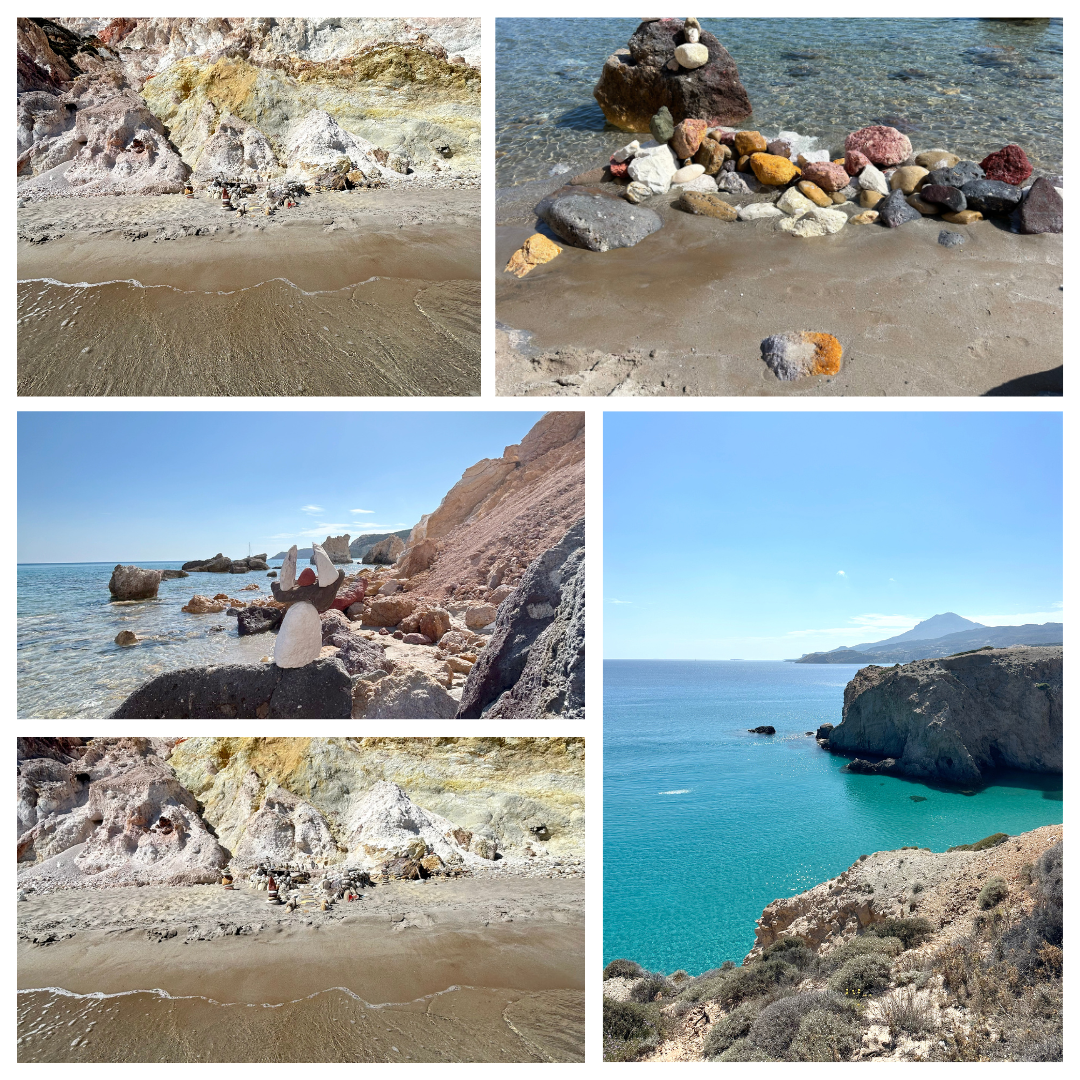 We headed back to our place to shower and get ready for sunset and dinner in Plaka where the whole island goes to watch the sunset. You may want to head there a little early as it can get crowded. The parking is pretty far away from the best sunset spots. The best spot is on the top of the castle, but if you don't want to fight the crowds there are plenty of other places along the way.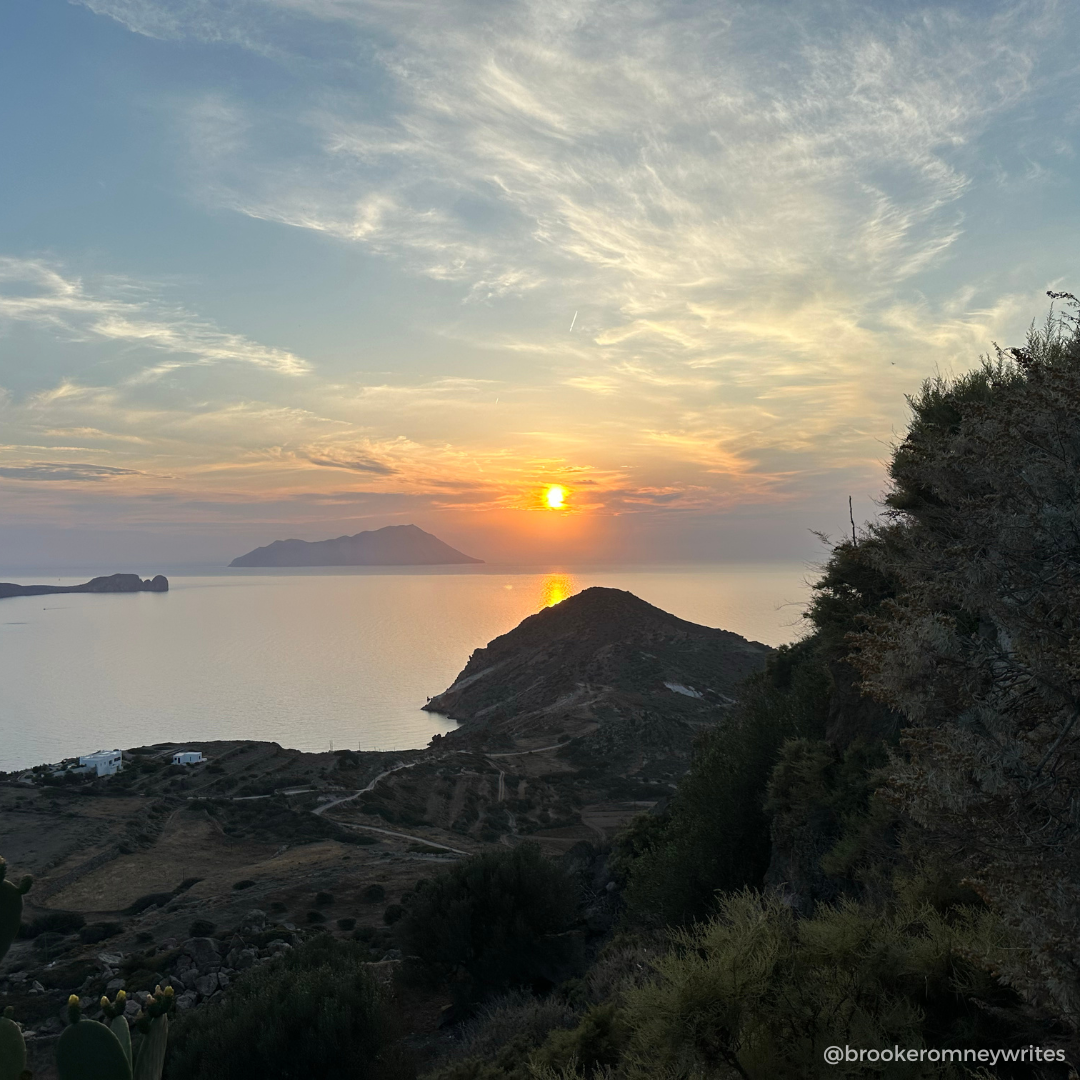 After the sunset, we had dinner at a place close to the water. We all wanted something besides Greek food, so we chose a place where we could get pizzas and watermelon salads and it was delicious. I wish I could remember the name, but there was tons of good food on the island to try.
Day 7: Milos
We got a good night's rest and caught a 10am flight out of Milos to Dubrovnik, Croatia with a layover in Athens. Seriously, this was the most magical itinerary for one week in Greece! The trip of a lifetime!
If you're interested in more beaches, history, and good food make sure to check out our 3 day Dubrovnik itinerary with ALL the Croatia details. It was the perfect way to end our trip!
FAQs About My Itinerary for One Week in Greece:
Q: We can't travel to Greece for quite that long. Is there anything you could cut out?
A: We used pretty much every second of our trip, but if you had to cut something out, you could take away that first night in Santorini and the day trip to Delphi to save some time and money. 3 things I wouldn't cut: Santorini, the Athens sites, and Milos.
Q: Did you have cell service in Greece?
A: Yes! Having the international cell phone plan is a must for at least someone in your party. Wifi was available in our hotels at night but cell service was crucial during the day. For sure have the airbnb app installed to message hosts.
Q: How did you find your way around?
A: Google maps was excellent in every city but I would not have felt comfortable driving in Athens. The roads were very narrow and I didn't have a good handle on the traffic laws. Walking worked great in most cities we visited.
Q: How did you pay for souvenirs, tours, and food?
A: Paying with a credit card was mostly fine but some won't take amex so having more than one option was helpful. We did need cash for a few things….tips, shuttle rides, and boat tours. You can get euros at the airport which is a safe choice but comes with a hefty fee. You can also exchange money at your local bank before you go.
Q: Did people speak English?
A: Almost everyone in the tourism industry speaks English. They learn English in schools in both Greece and Croatia. We never really struggled with communication. Once when we did with an Uber driver from Albania we just pulled up google translate. It was actually so fun to meet people from all over the world in Greece working all kinds of different jobs. In our experience, Grecians were kind and welcoming.
Q: Did you feel safe?
A: Absolutely. We were warned about pickpockets so we kept everything in front of us and in our travel packs. Could not have done our trip without them! You can see all my traveling suggestion in my What to Pack post!