Five Days in Kauai, Hawaii With Teens
Last summer, we had such an incredible time adventuring in Kauai! We used every minute to explore and experience the beautiful island with our kids. When we went home we were exhausted, exhilarated, and happy!
A Few Details About Our Trip to Kauai
We went at the end of July and the weather was ideal. It was sunny most days with temperatures in the 80s. It couldn't have been better.
We stayed on the north side of Kauai at the Westin in Princeville and absolutely loved it. It is quieter, quainter, and feels more natural and lush up north than other spots. Now, we would have a hard time staying anywhere else although if you don't go in the summer, you can get a lot of rain there. Here's my post all about where we stayed on the east side.
If you like adventures that are decently challenging and require a medium level of fitness and mobility, this is the itinerary for you. Our trip was absolutely excellent.
Day One in Kauai With teens
Because of the time change, we started the day EARLY. We explored Anini Beach from the Westin parking lot. The hike down is steep but beautiful and it was low tide so we got to have fun with crabs, starfish, and all kinds of tide pools. It was a great welcome to Kauai.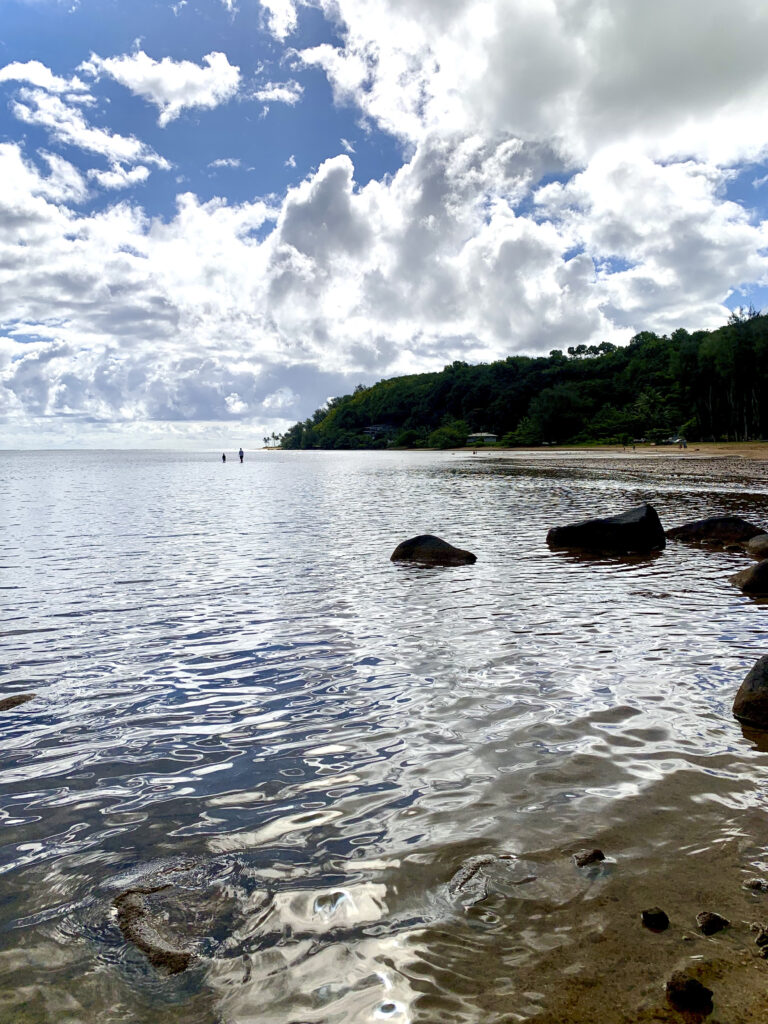 Day 1 morning tide pools at Anini beach.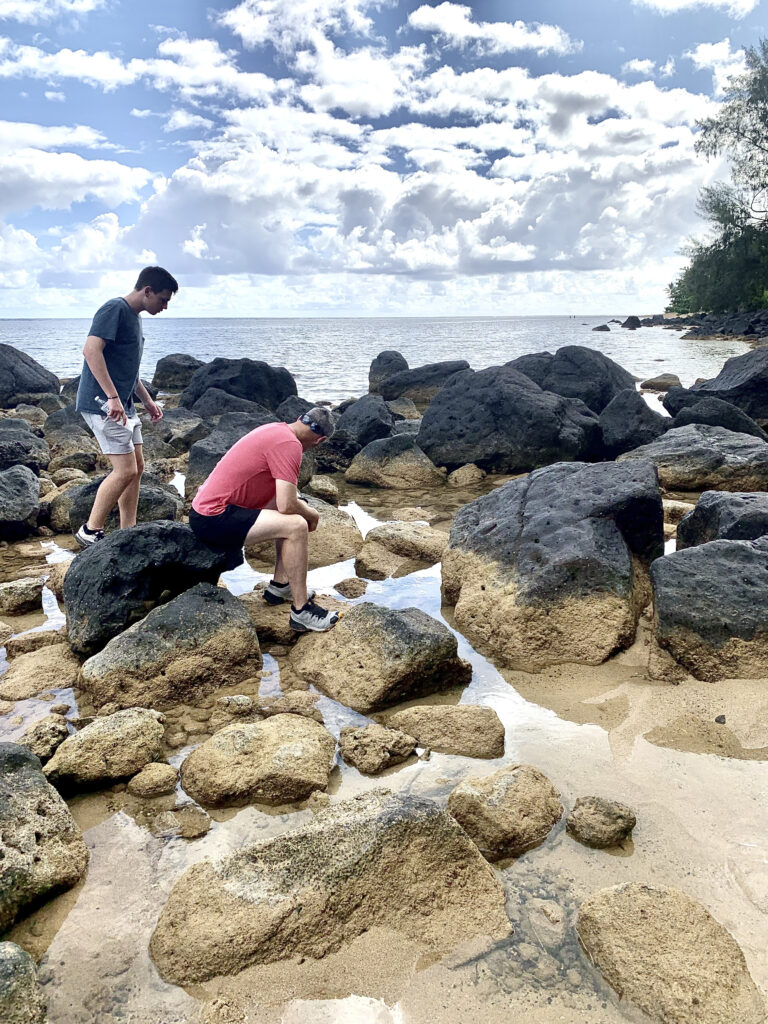 Later that morning, we hiked to Queen's Bath where we were met with the bluest water and all kinds of sea turtles swimming up to say hello. We explored the rocks and the baths, and since tides were relatively low, we were able to jump into the pools from the rocks above. The boys loved it!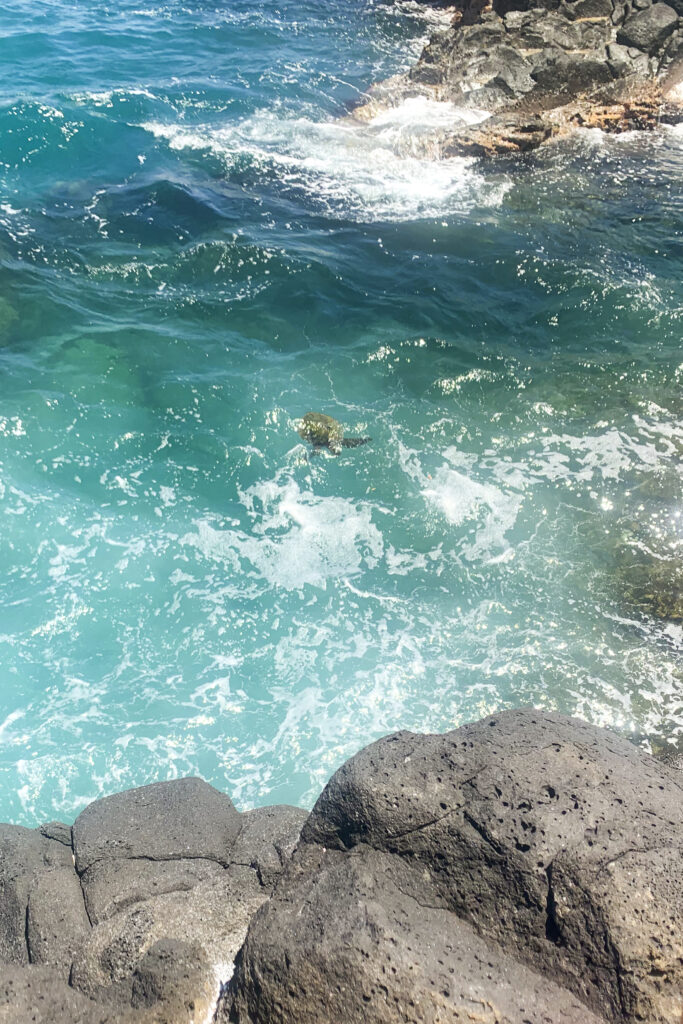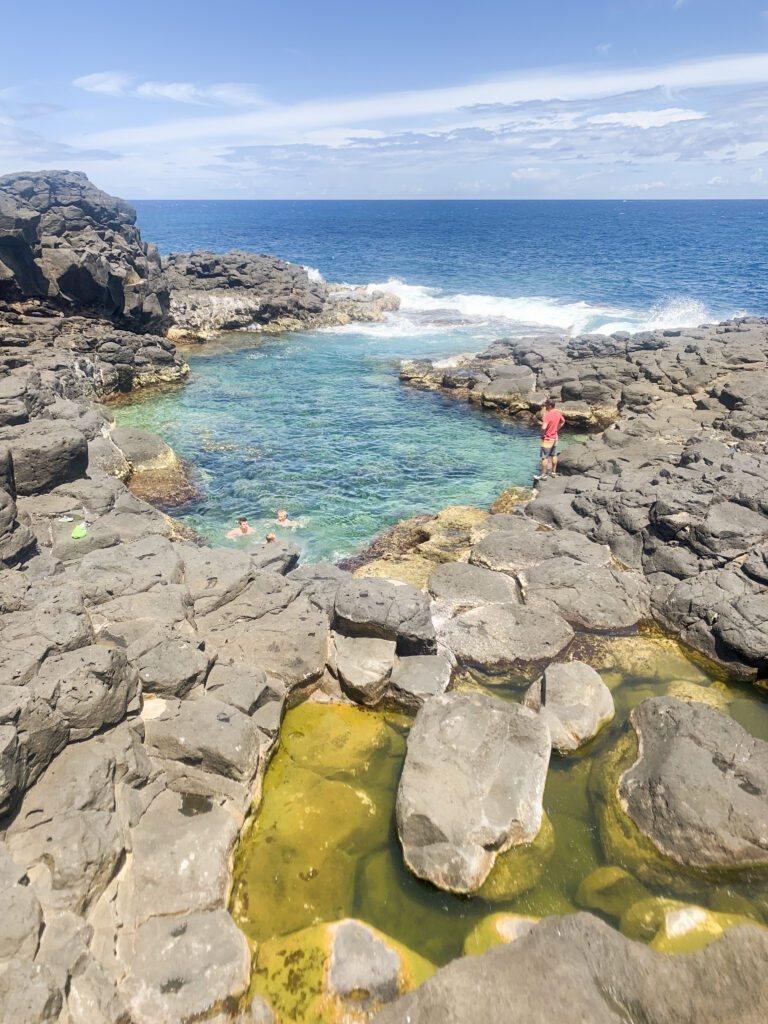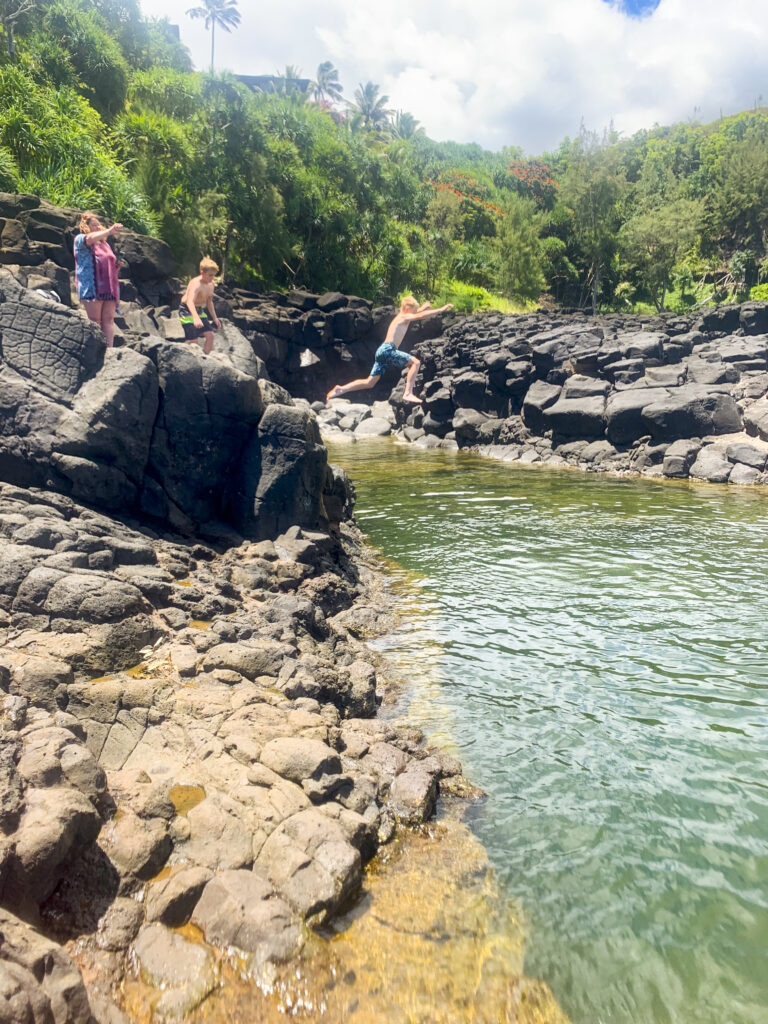 Later that day we rented snorkel equipment for the rest of the trip which was an awesome choice. Super inexpensive and so worth it! We ended up back at Anini beach where the water was so warm and clear enough near the rocks to see all kinds of fish, sea life and turtles!
Day Two in Kauai With Teens

We started the day early with a boat ride and snorkel trip along Hanalei Bay. It was an absolute highlight for us and we LOVED our boat and the captains. The boat stopped on the way there at Tunnels Beach were we had the best snorkeling of our trip by far. We saw SO many turtles and huge, colorful fish. We had an absolute blast. Then we continued our trip along the gorgeous coast, learning about geology and history, and sneaking into a few of the caves. It was a day I will never forget. One warning… two people on our boat were SO seasick it was miserable. If you are prone to that, take your medicine!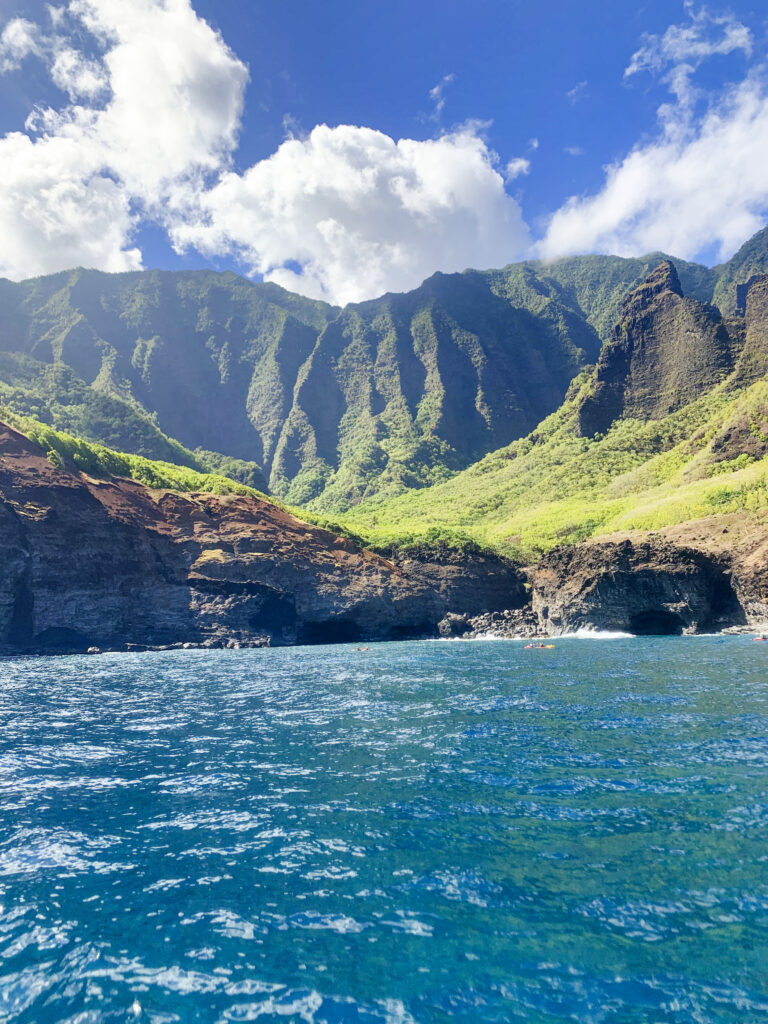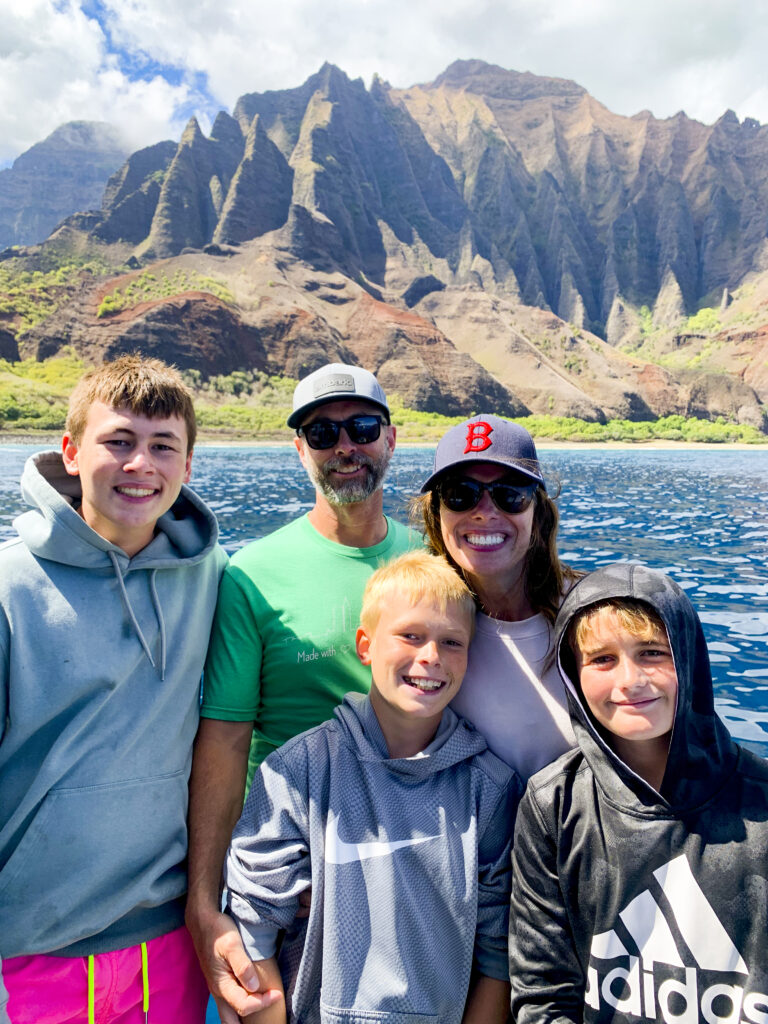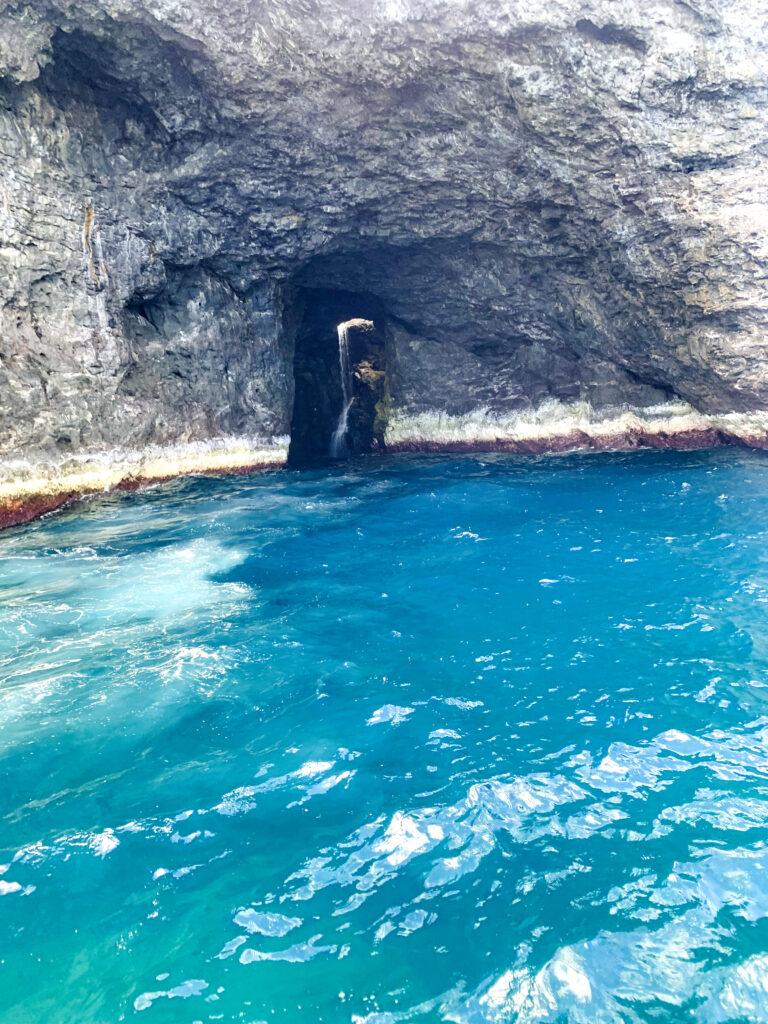 After our trip we did some eating and shopping, we headed back to the hotel for a little downtime. In the early evening we headed back to Hanalei Bay to jump off the pier. We did some swimming and snorkeling before we watched the sunset. Another perfect day!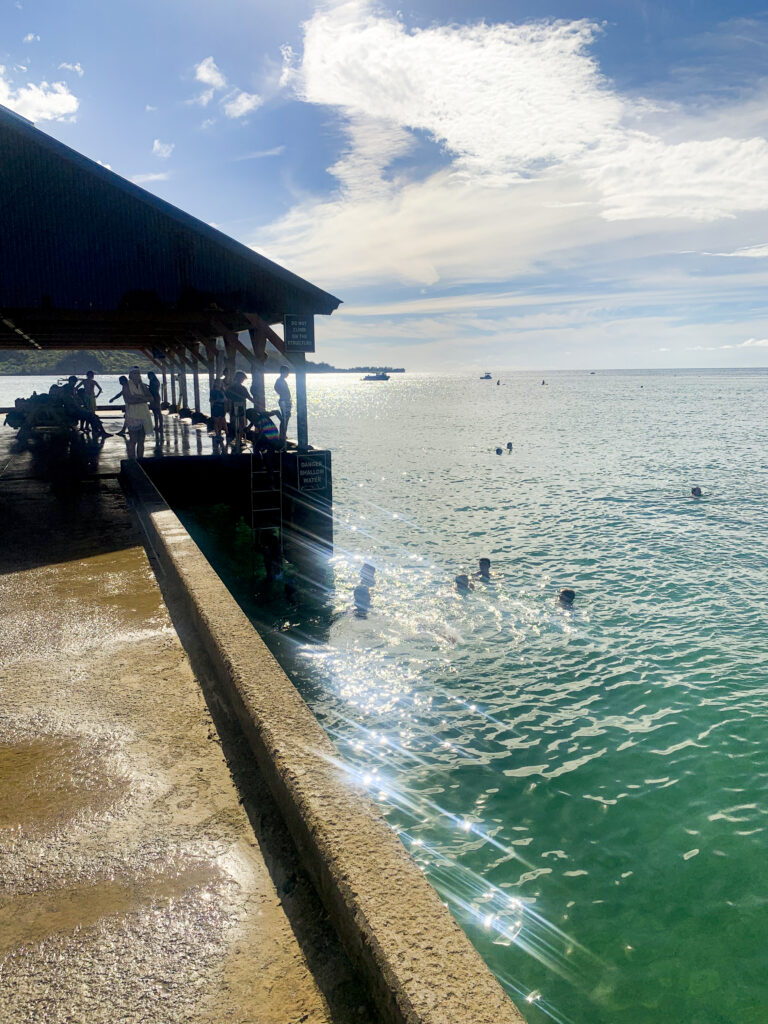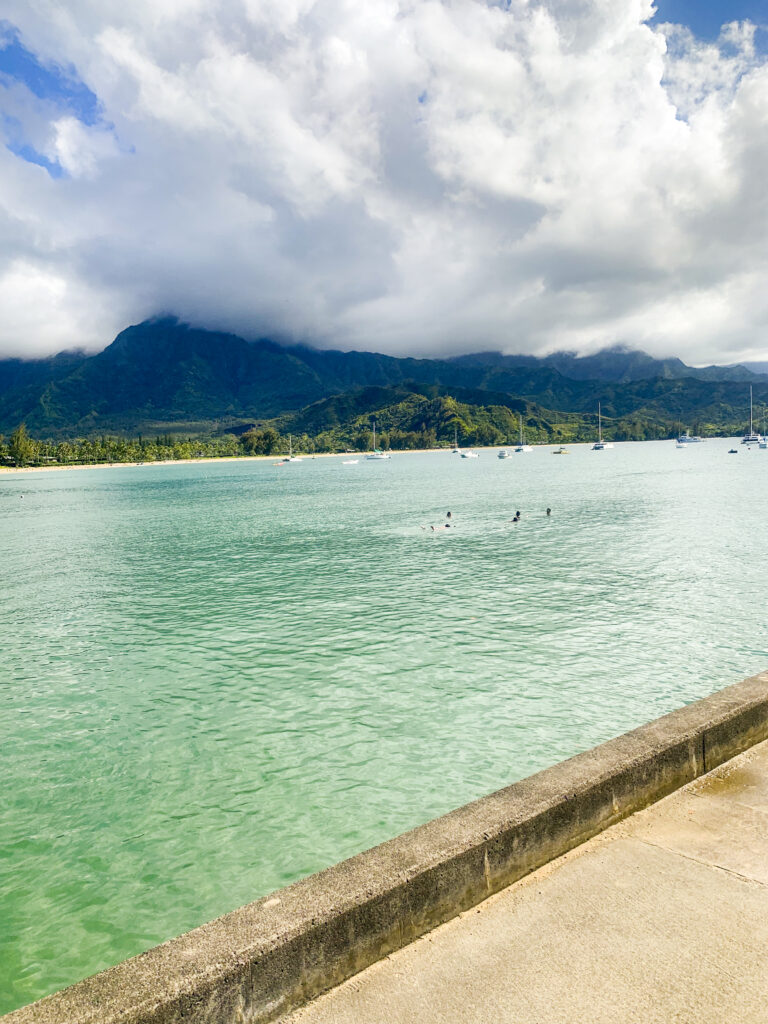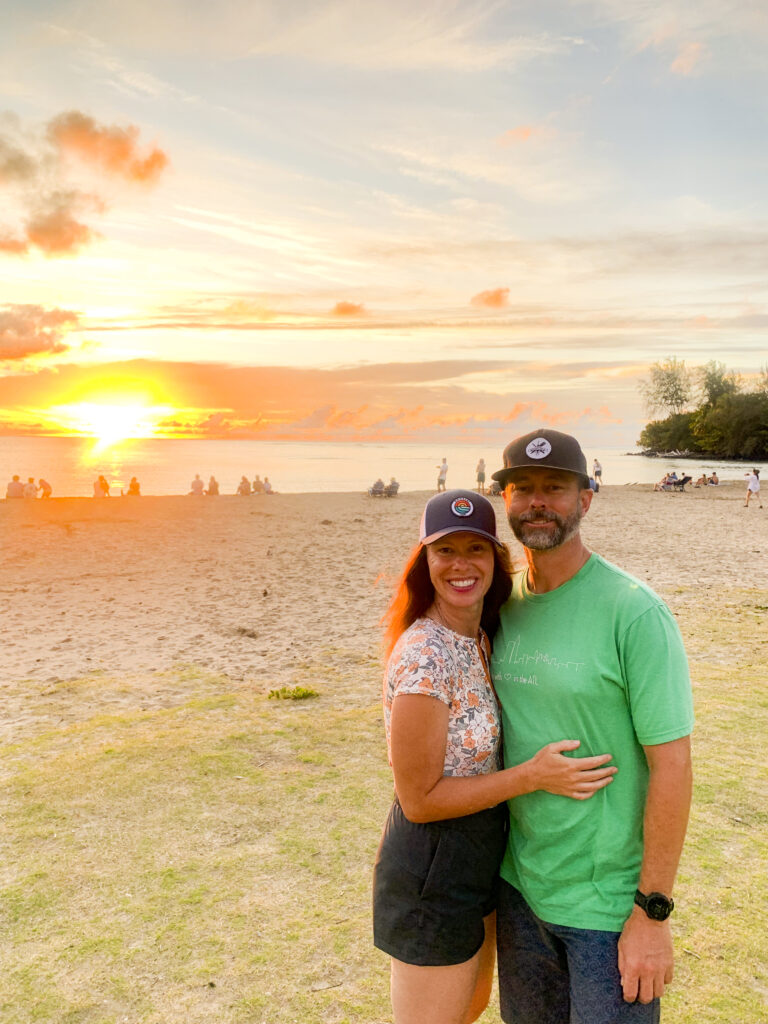 Day Three in Kauai With teens
We started our morning at the farmer's market where everything was gorgeous and fresh but also super expensive. Then we headed to Ho'opi Falls for a really cool hike. This hike has a lot of shade, but the humidity ensured we were dripping with sweat by the time we made it to the beautiful falls. My kids loved trying out the rope swing and dunking themselves in the water. The water did seem a little muddy but people were still happy to jump in to cool off. The parking here is tough (you may have to park at the school and walk down). Please, remember to be respectful of the people living in the neighborhood that surrounds this popular hike.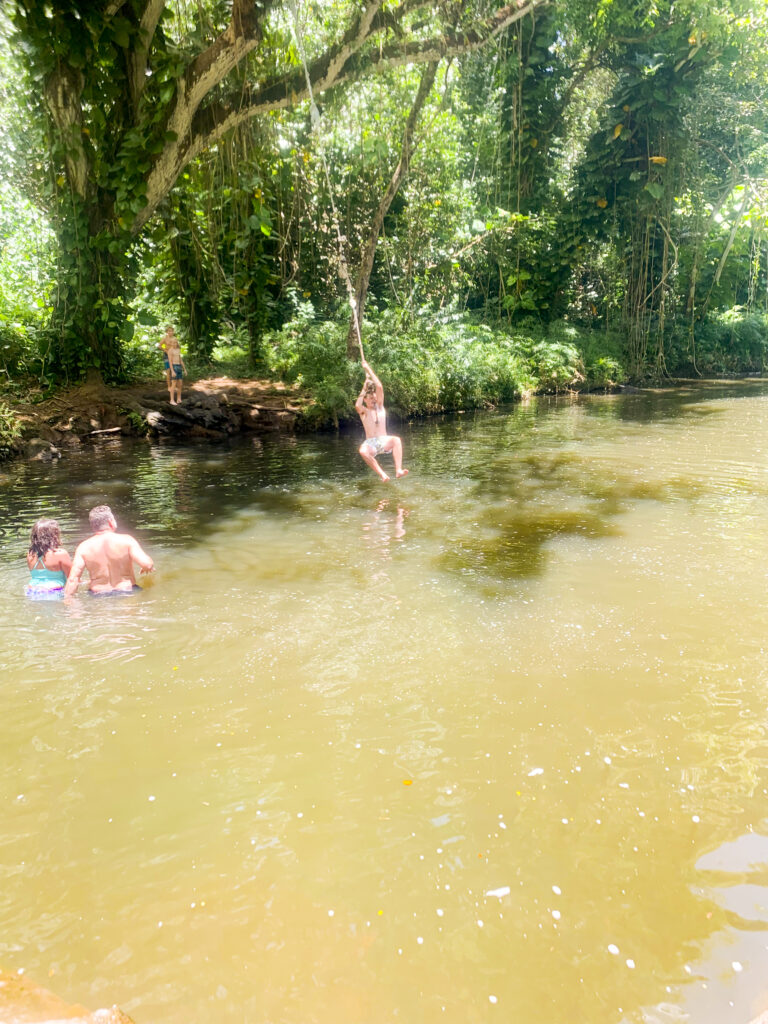 The rest of the day we spent relaxing, eating, and swimming. Vacations with kids are the best.
Day Four in Kauai
We took a LONG drive to the west side of the island to explore Waimea Canyon. The views at every turn are absolutely gorgeous and we loved our hike on The Canyon Trail to Waipp'o Falls. The hike is about 4 miles round trip and steep so be prepared. We stopped at JoJo's Shave Ice and it was the perfect treat on the way out.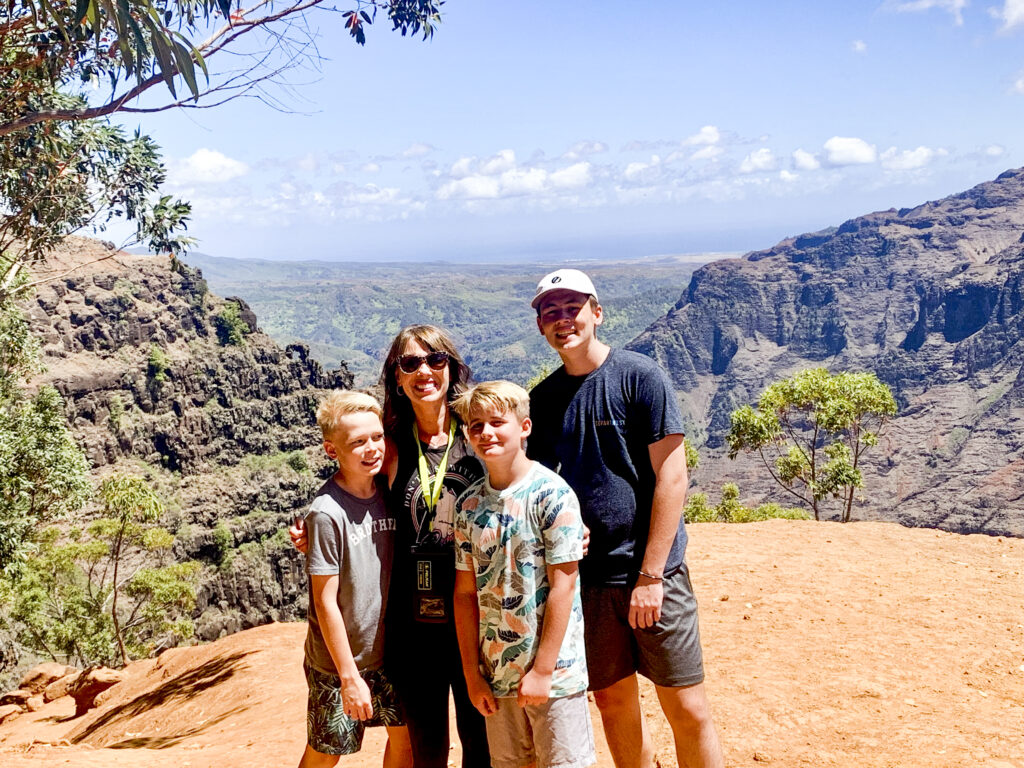 Waimea Canyon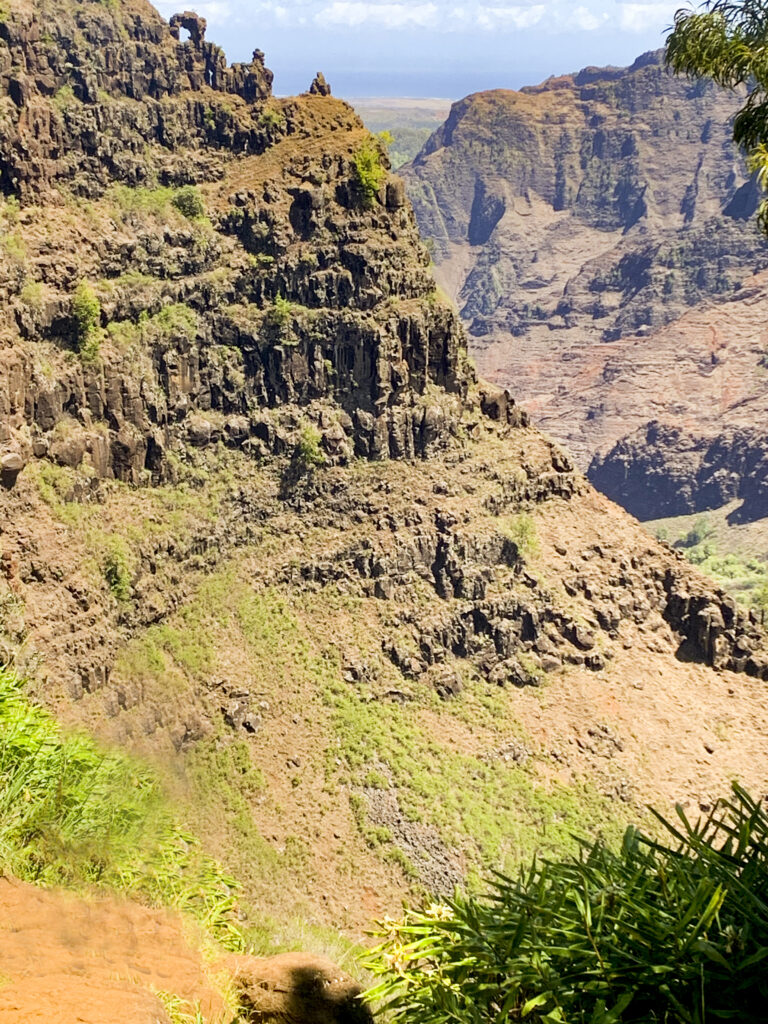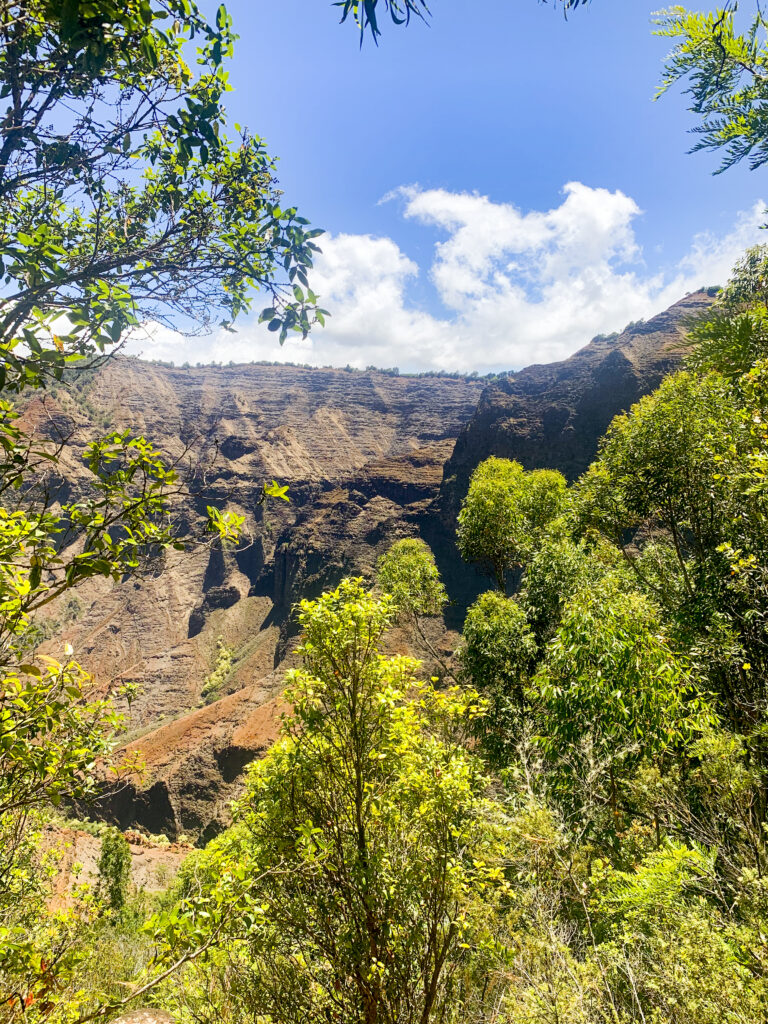 Day Five in Kauai With Teens
This was our last day on the island and we absolutely made the most of it!! We did a chocolate tasting tour at Lydate Farms and it was AWESOME. Such a fun change from all the beach time and hiking. It was so educational, fun, and delicious. I was surprised by how much our kids loved it too. I highly recommend Lydate Farms.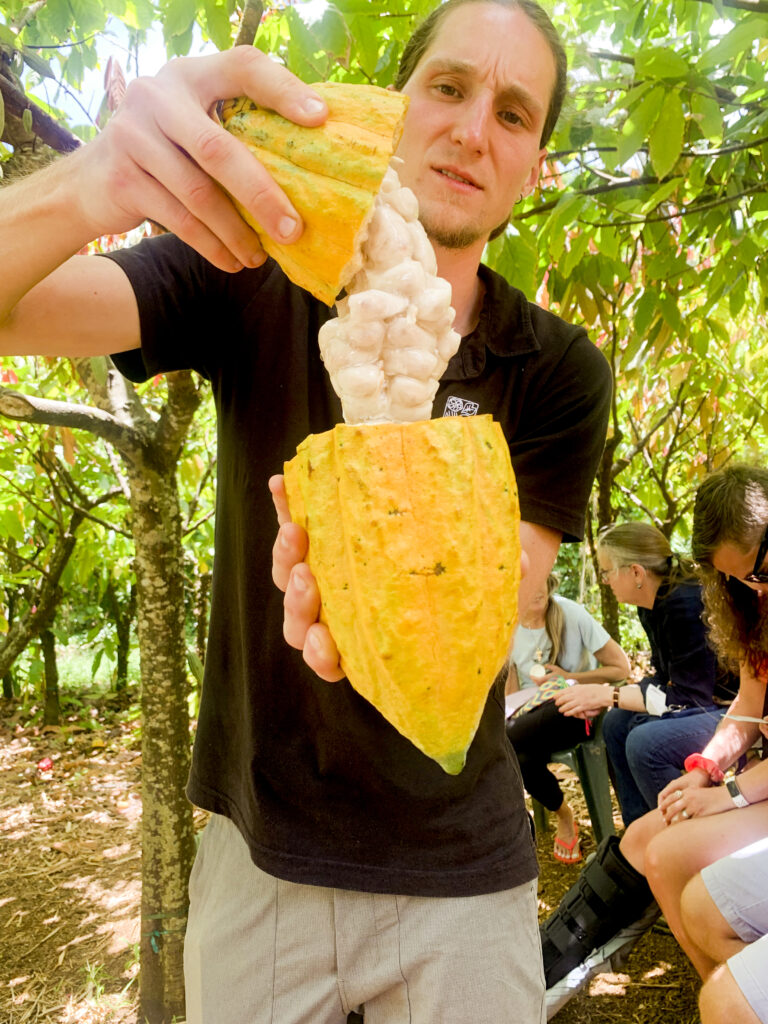 Then we decided to kayak to Secret Falls. We rented kayaks instead of choosing to go on a tour. It was SO much better than being with a million people and we were just fine to follow the map and park our kayaks on the shore before the hike. The coolest part was because we were on our own we left at 2pm which was about the same time everyone else was coming back from the falls, so we had them all to ourselves. It was incredible and we felt so lucky! The trip and hike does take about 4 hours so make sure you have enough light. The kayaking is tough and the hike isn't bad; however, be prepared to walk through lots of water!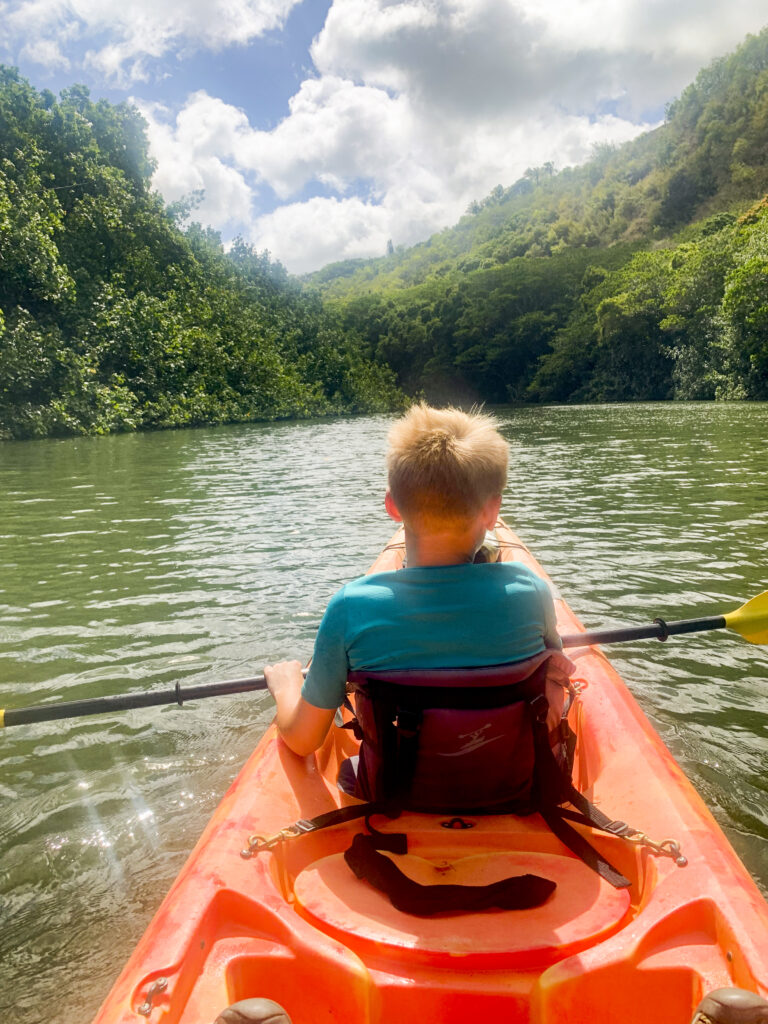 Kayaking Wailua River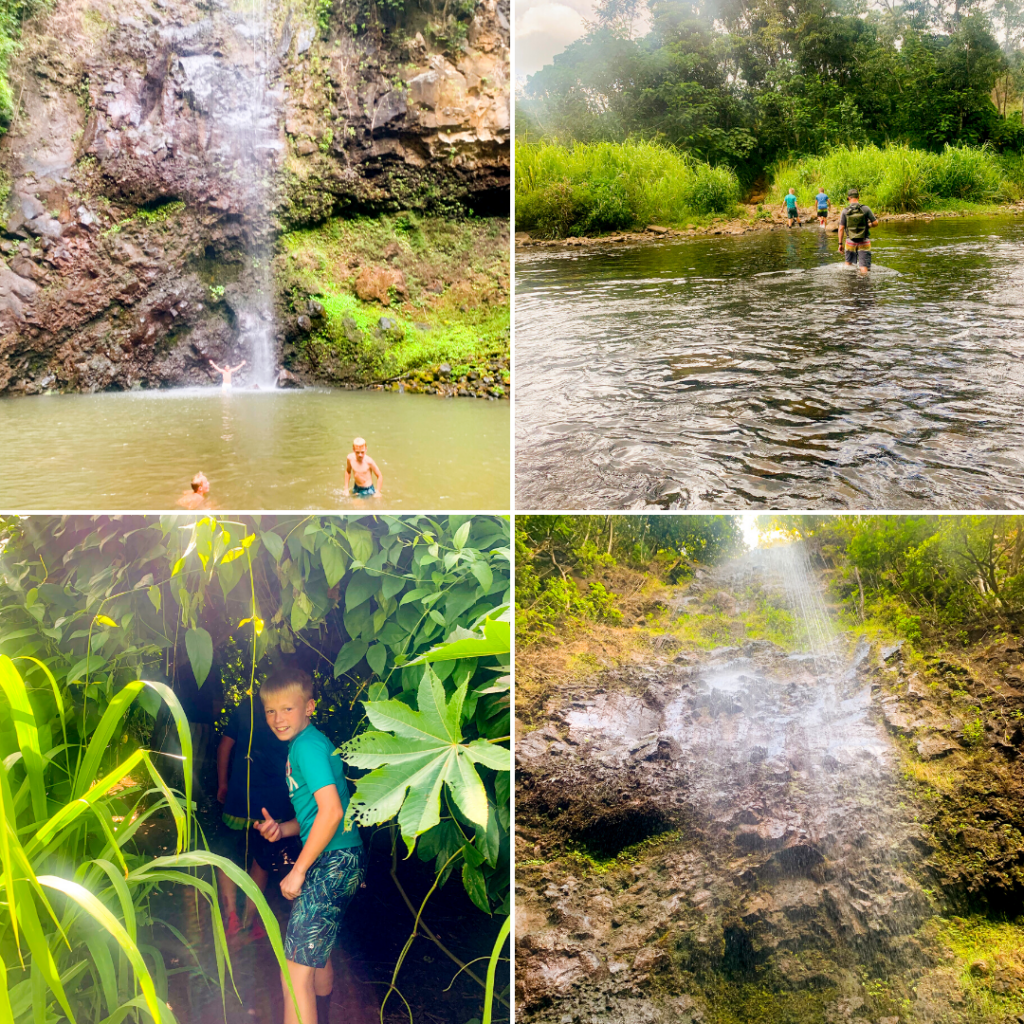 After the falls we tried to clean up, ate a quick dinner, and headed to the airport. This was a family vacation we will NEVER forget!
Yummy Places to Eat in Kauai
Note: There are weird hours and times at a lot of places. Many need reservations, so double check before you go!
Grocery Stores have amazing local fruit so we also loaded up there. We loved the spam masubi rolls, and the local nuts and treats.
Northside
Nourish (Hanalei/Princeville): one of our favorites, fresh, healthy and so delicious
Hanalei Gourmet (Hanalei/Princeville): hearty and fresh
Aloha Juice Bar (Hanalei/Princeville): really loved the smoothie bowls and juices here
Pink Ice Cream (Hanalei/Princeville): heard it is delicious
St. Regis (Princeville, Brunch): decadent and pricey but so good
Fresh Bite (Hanalei/Princeville): Hard to catch this one open, but if you do, you will be so glad. Healthy and delicious.
Wishing Well Shave Ice: by far the best shave ice we've ever had…you have to go organic and get the ice cream. Yum!
East Side
Smiley's Local Grinds: true local food, yummy, hearty, and cheap
Deli & Bread: if you are craving a sandwich, these are the best!
Fish Express: our favorite place for fresh fish, a quick spot you don't want to miss
Street Burger (Kapaa): a great burger if that is what you are craving!
Mermaid's Cafe (Kapaa): Good, hearty food with a nice variety. Something for everyone!
West
Kalaheo Cafe and Coffee Co.: This place for brunch was to die for. Everyone loved everything they ordered
South
Puka Dogs (Poipu): A must on a Kauai trip!
Duke's (Poipu): A chain but one that is well loved
The Dolphin (Poipu): a high end restaurant that is exceptional. Reservations are a must.
Living Foods Hawaii (Poipu): delicious and slightly gourmet
Street Burger (Kapaa): a great burger if that is what you are craving!
The Mermaid Cafe (Kapaa)
Things We Wish We Could Have Done or Loved on Our Last Trip
Snorkeling at Poipu
Ke'e Beach (reservations required one month in advance)
Hike to Hideaway Beach (needed reservations)
Helicopter Tour
Here are all the details about our last family vacation to Kauai.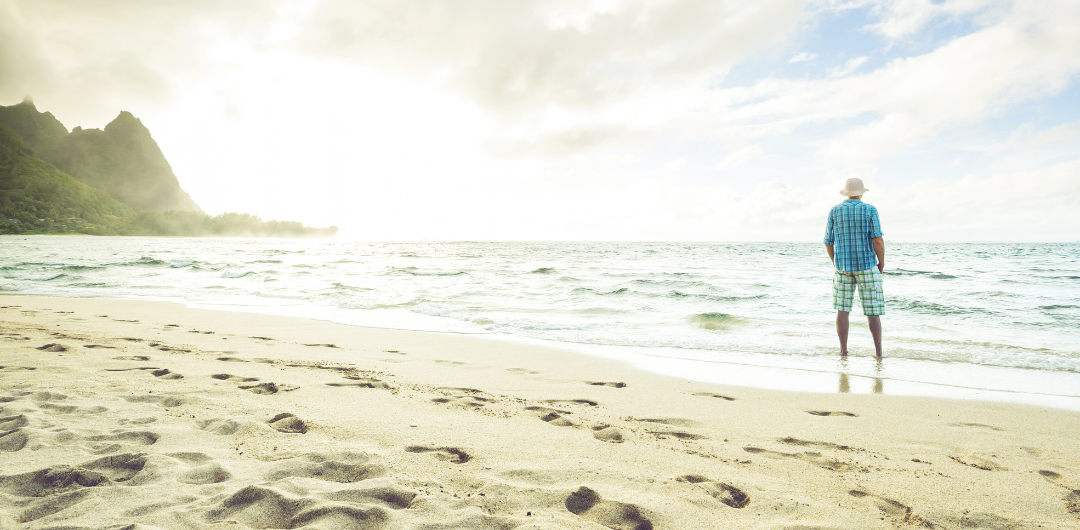 Things You Might Want to Bring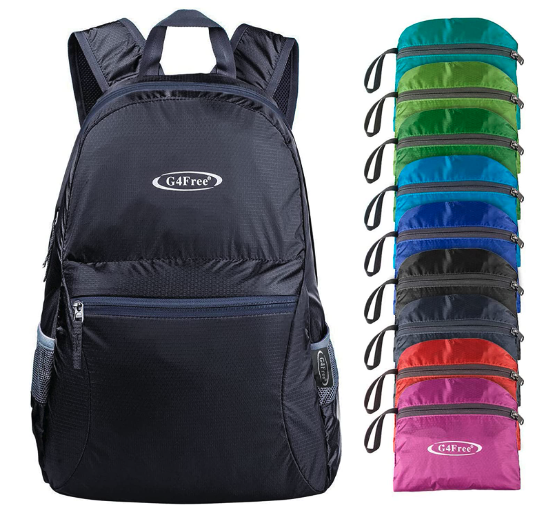 The ultra-lightweight shoulder bag. Save your space to fold into its built-in pouch as a Sandwich size. (Note: No extra pouch carry with). Easily pack it in your suitcase or purse. ($19)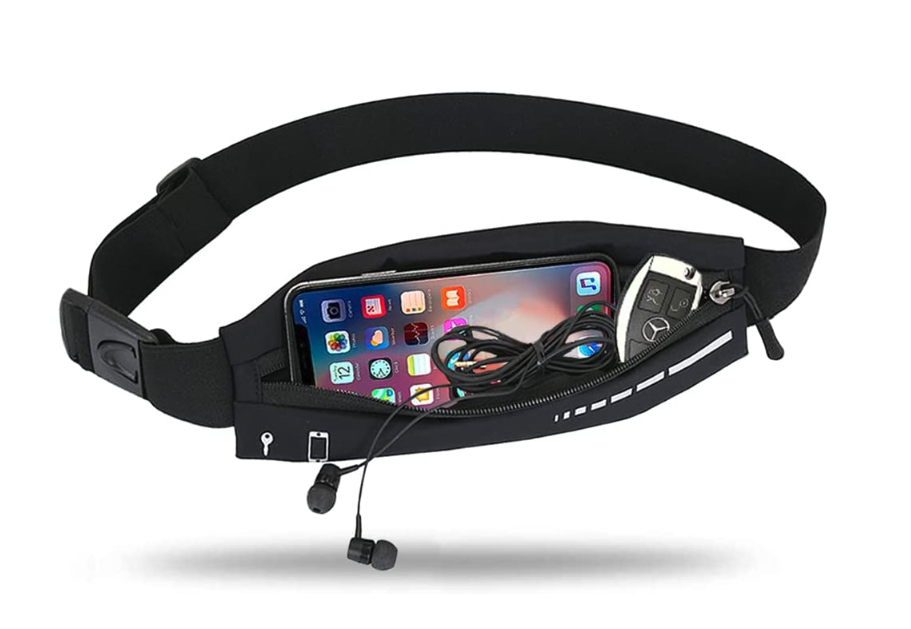 This is perfect when you just have a few things to carry. It is also great for quick access to your phone so you can have it handy for all the amazing pics you will be taking. ($13)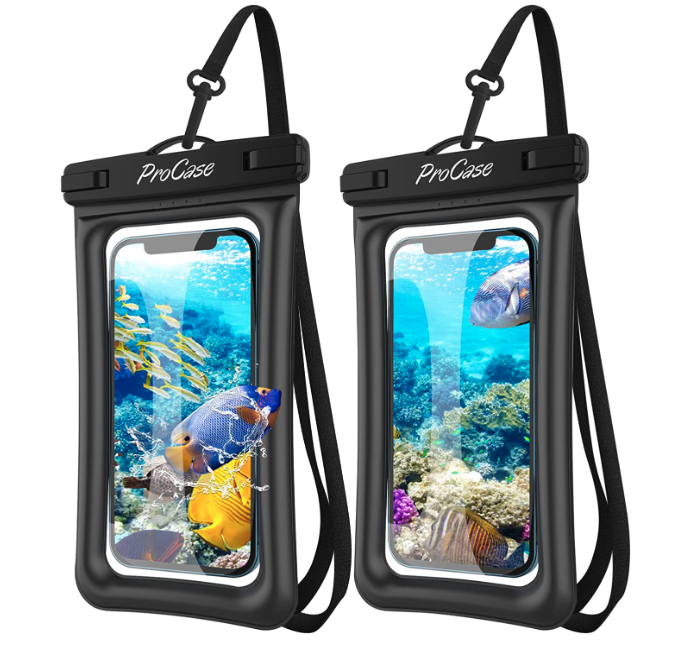 This is a must to grab great videos underwater. You don't want to miss the amazing fish and turtles! You also don't want to risk loosing your phone on any water expeditions. (Been there, done that!) ($13) If you have a waterproof phone, you can find another great option HERE.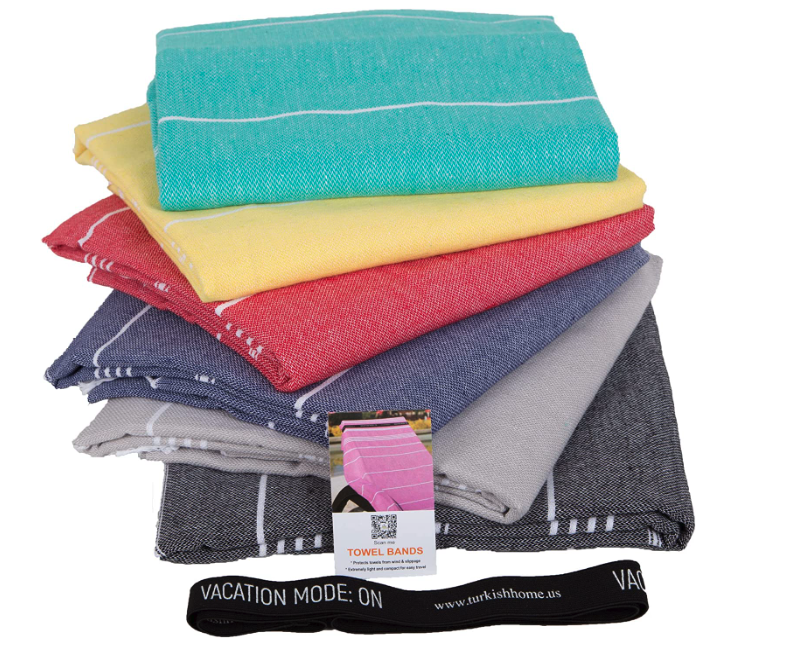 Turkish beach towels are perfect for anyone who wants to enjoy a sandy beach without the hassle of dealing with a bunch of sand afterwards. The towels are quick drying, so you can shake them off and be on your way in no time. They're also sand repellent, so you won't have to worry about getting all sandy in the first place. ($50 for the Set of 6)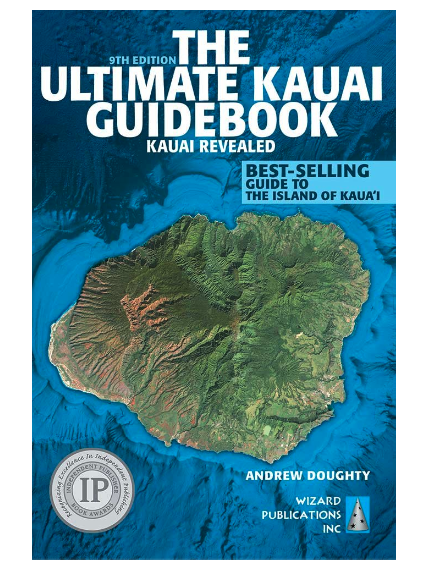 This guide was so helpful! It was so great to share with the kids so they could help plan some of our trip activities. ($26)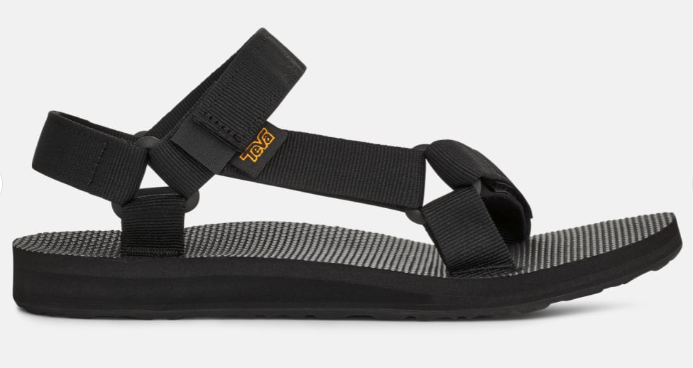 Great water shoes are a must! These are the best! We love them for swimming, cliff jumping, kayaking and and even hiking. ($26+)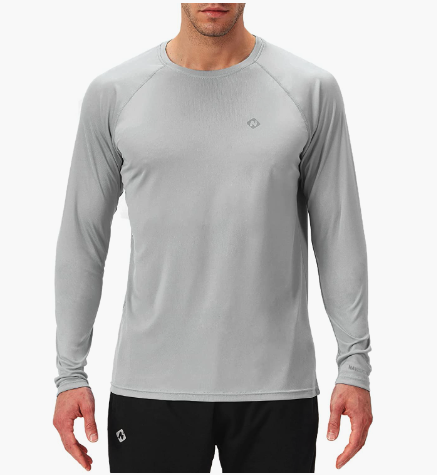 This is a great quick dry shirt. It comes in long or short sleeve. ($20)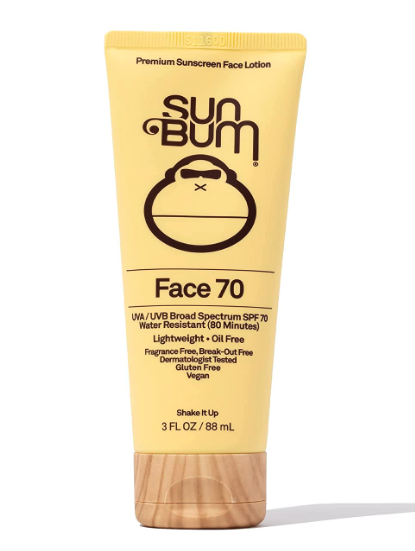 Reef Safe Sunscreen
This oil-free, water-resistant and reef Friendly SPF 70 Face lotion is great for all skin types. ($15.50)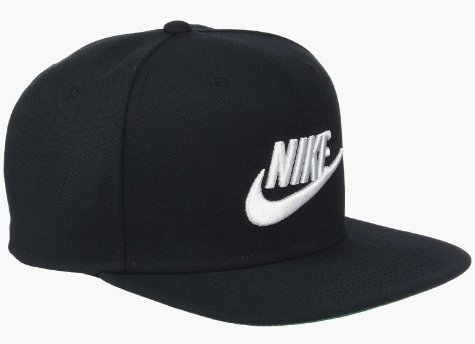 Hats are a must to protect yourself from the sun! ($30)