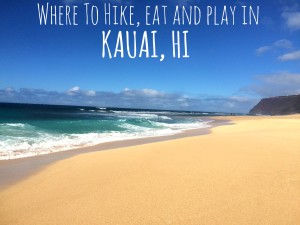 I just returned from Kauai, HI last week (hence the long blogging break) and I have never fallen in love with an area so quickly and completely. When my husband and I vacation, we always say, "Let's just relax." Apparently our version of relaxing is sucking every last beautiful moment out of the place we are visiting and trying to see it all…and Kauai left us overflowing with unforgettable experiences. If you are planning a couple's trip, this is the perfect spot …read on to see why.
First things first…
Do not visit without the The Ultimate Kauai Guidebook (known on the island as the "Blue Bible"). It is a thorough and expansive look at the island with unbiased and uncompensated ratings, reviews, suggestions and directions to EVERYTHING. We planned our trip using his recommendations and experiences and were thrilled with everything we did (and everything we ate). You will need it to find many of the hikes! The book is well-written and informative…we read it cover to cover. Well worth the $20 and few hours of time. Get it HERE. There is also an app you can use now and I'm sure that would be great as well.
Do not fret if your forecast isn't sunny. Kauai has 4 different climates on the island in the North, East, West, and South, so if it is rainy where you are, drive to a different location and enjoy the sights there. Also, planning for weather in advance is tough as it seems to change over night. We plugged in 4 cities on our phone and decided where to go in the morning depending on the weather in each location.
Things change season to season. Depending on when you go, things could be different than the way we experienced them including tides, beaches, etc. We traveled in February, which is a low-tourist time, so we didn't run into problems with parking, crowds or waiting for things. This may not always be the case.
Check your beaches. If you plan on snorkeling, surfing, or boogie boarding, you will want to know which side of the island and which beaches are best for what you are hoping to do. You will also need to steer clear of some because of rip tides. We rented snorkel equipment from Snorkel Bob's  and found their recommendations timely and useful.
It is a small island with small roads :). This means you may run into traffic. We tried to stay off the roads between the hours of 4pm and 6pm. Even during a slow tourist time the streets were very busy.
Some of Kauai's best sit down restaurants require reservations in advance as do the luaus and helicopter rides (even in February). So, book those before you go. Because we don't like to be tied down, we ate mostly at places that didn't need a reservation and they were all incredibly delicious!
Where to stay depends on the experience you want to have. We stayed on the East side of the island. This part is more commercial and a bit more crowded. Lots of restaurants, beaches, hikes and shops and easy access to all other parts of the island. We stayed here because we knew we wanted to explore. It was the perfect spot for that. There isn't much on the West side in regards to lodging. The North side is where I would stay if I were planning to sit at a beach or cared mostly about remote beauty…it is quaint, open and gorgeous. The crowd there seemed a bit older and much less local and it rains there more than the other parts of the island, but every where you go up north is just exquisite and the beaches are unmatched. However, far less restaurants, harder to travel from, and not as many hikes or things to see. The south was also darling and more quaint and touristy. Seemed like a place lots of families enjoy. Good amount of restaurants and shops but the beaches seemed rockier overall. Good location if you plan on spending most of your time in the South, East and West parts of the island though. We enjoyed every last spot on Kauai!
A word about food. We were blown away by how fresh and delicious everything was on Kauai. They obviously cater to a palate that loves high-quality, local food. There are lots of organic and gluten-free options every where you turn. That being said, you get what you pay for, so enjoy eating well all week and spending some of your vacation budget on that great food.
I am going to organize my post by day and share what we did and what we loved!
Day One: WEST SIDE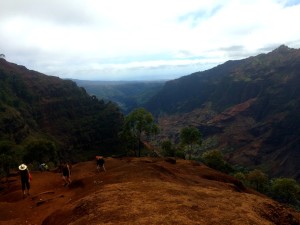 Because the forecast called for rain everywhere except the west side, our plan to be lazy was interrupted by rain, so we decided to venture out. We stopped at Kalaheo Cafe and Coffee Co. for breakfast and loved it. From there we headed west to see Waimea Canyon. We stopped at the first lookout and enjoyed a view of the entire canyon. There is a yummy fruit stand there…get the fresh cut mango…it is a delight. Then, continue your drive to The Canyon Trail to Waipo'o Falls…it was AMAZING!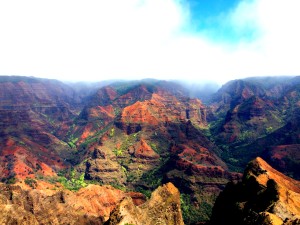 Four miles round trip, but you will need waterproof hiking shoes and clothes and shoes that can get muddy and possibly a jacket. The trail was mildly challenging in places and slippery at times but doable. It is important to remember that the real payoff is the incredible open view of the canyon. The falls are fun to see up close and cool to explore, but not the highlight. This hike is highly recommended and just the right length.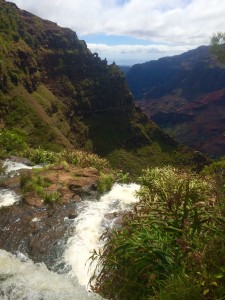 After our hike, the sun was high in the sky, so we explored a more remote beach on the west side: Polihale. We were almost alone on the soft sand and enjoyed the view of the crashing waves, clear water, and the end of the Na'pali Coast. There was an area for swimming where the waves were calm (queen's pond). Getting there was a crazy drive down a pothole riddled dirt road, but the view and seclusion were worth the bumps. We loved spending the after noon there basking in the sun.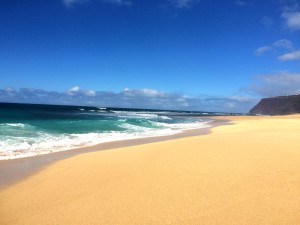 We ate dinner that night closer to home at The Mermaid's Cafe and it was delicious! It is one of the less expensive options but the portions were huge, super fresh and for sure sharable. We loved the fish tacos and the stir-fry options were fantastic.
Day 2: NORTH SIDE
The drive up north is positively breathtaking. We loved every second of it, and kind of wished we were staying up north (but glad we didn't since it rained there almost the whole week!). You will fall totally in love.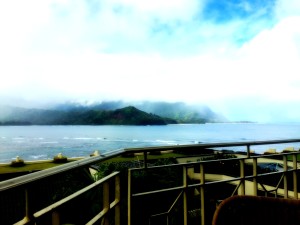 We stopped for brunch at the St. Regis, which just may have the most beautiful view on the island. The brunch buffet is pricey ($38 or $78 on Sundays with champagne), but feeds you everything you have ever dreamed of eating (or never dreamed of) for breakfast and more, and the ambiance is second to none.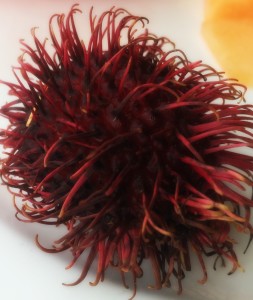 After filling our bellies, we tried to walk it off with a hike up the Kalalau Trail which takes you across the Na'pali Coast which is arguably the most gorgeous part of the island. The full hike is 22 miles round trip and requires camping and a permit, but we just walked a couple of miles and enjoyed the view along the way. This one is easy to go up, then turn back when you are finished. Steep incline at the beginning but not too difficult.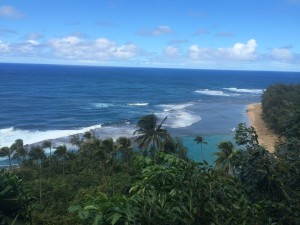 We loved exploring the gorgeous beaches on this side of the island including Ke'e, Hanalei Bay, and Anini (where we found great snorkeling). We wanted to make it to Tunnels too, which is supposed to be awesome, but the water was too rough that day.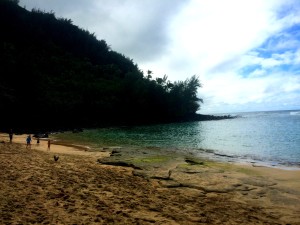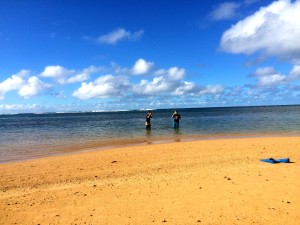 We ended the evening with a hike to Queen's Bath, which was one of our favorite spots! Such untamed beauty! In the winter the sea is too wild to take a dip but the short and easy hike is beautiful and the lava rock with the crashing waves is a real sight to be seen.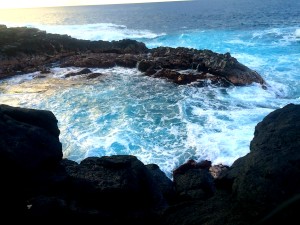 Queen's bath is positively gorgeous and fun to get out and explore. I can only imagine what a treat it would be in the summer time. Don't let the warnings dissuade you…this is a must, just be careful.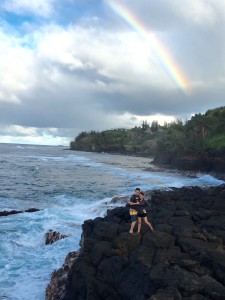 The favorite restaurants on that side of the island seem to be Baracuda or the Dolphin but we neglected to get reservations, which we needed. We ended up at Postcards Cafe which has had some mixed reviews, but we thought it was great! The bread with macadamia nut butter and the fresh catch with pineapple sage sauce totally hit the spot. The quiet and intimate atmosphere was the perfect place to catch up with old friends and it ended up being one of our favorite evenings.
Day 3: EAST SIDE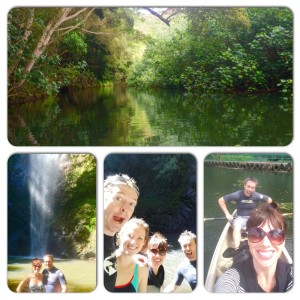 We started the day kayaking the Wailua River. This was an awesome adventure. Locals offer tours, but they are unnecessary. We rented our kayaks right along the river, which saved us the hassle of putting them on top of our car and returning them later. We rented them from Kamokila Hawaiian Village ($70 for the day, but get there early and call in advance to make sure they have enough for you). We kayaked to the Secret Falls hike which is a medium effort but adventurous hike to an awesome waterfall. You will get super wet and very muddy, but it is so worth it!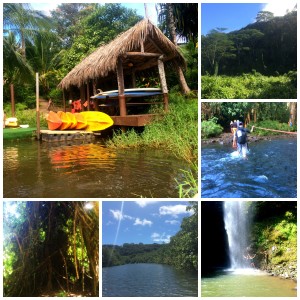 We also kayaked to the fern grotto and explored the rest of the river before turning in our kayaks. Such an awesome day and a "must do" experience. For lunch we were craving a little American food, so we stopped at Bubba's for some fantastic burgers (teriyaki with pineapple and grilled onions), onion rings and fries (a must), and vanilla and chocolate banana shakes that totally hit the spot. With the sun out, we spent the rest of the day at a near by beach soaking up the sun. For dinner that night, we tried out a local favorite, Monico's. It was good, traditional Mexican food with an interesting seafood twist (the fresh seafood was a highlight). Nothing fancy, but nice and fresh.
Day 4: EAST SIDE
Since our 4th day was Sunday, we hit a local church in the morning and then spent the rest of the day relishing some of God's greatest creations. We had lunch at Deli & Bread which is perfect if you are craving a sandwich on your vacation (they were SO good), but, in hindsight, we might have skipped it for something that was a little more local feeling. That afternoon we took the Sleeping Giant hike (4 miles round trip) which was intense, but phenomenal. If you hike all the way to the tip top (don't stop at the picnic tables), you feel like you are on top of the world, looking below at some of the most beautiful country ever created. It was a moment I will not forget.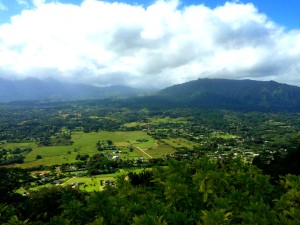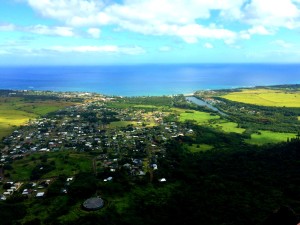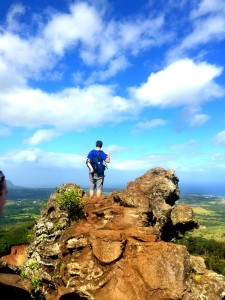 That evening we walked the beach and stopped for a quick dinner at Tiki Tacos, which was a fast favorite. I would highly suggest the luau pork taco, the shrimp taco and the Kauai style with fish, pineapple and all the fixins. Everything is stuffed into a fresh, homemade corn tortilla. Add the pico de gallo and guacamole to everything. 2 tacos is plenty per person but beware of long wait times to receive your food if there is a line since every taco is made fresh.
Day 5: SOUTH SIDE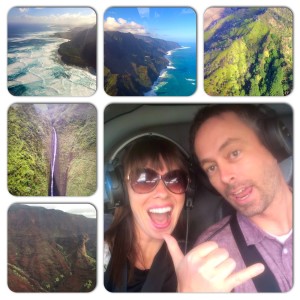 We started our day with a helicopter tour from Blue Hawaiian. It is pricey ($200 per person and needs to be booked in advance), but it was one of the highlights of our trip. About 70% of the island in Kauai you can only see from the air, and I am so glad we got to see it all. The narrated tour was spectacular and I found myself smiling and gasping at every new sight. I felt completely safe and enjoyed the hour flying over and through the island.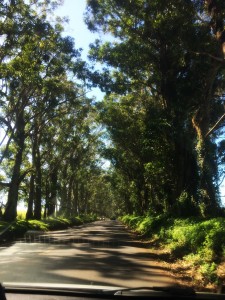 After our tour, we headed to the beach at Poipu  through the eucalyptus tunnel (beautiful!) and had our favorite beach day! We snorkeled in the clear water and swam with schools of colorful fish. We saw tiny ones and large ones and counted over 15 varieties in that underwater world, so much fun! The highlight of the day was when a lone sea lion came into the lagoon and settled himself on the beach for all his admirers. What a treat. We grabbed a Puka Dog for lunch, an island must, and the fresh squeezed lemonade hit the spot on the warm, sunny day.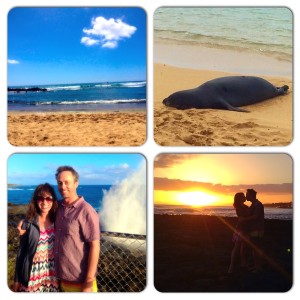 In the early evening we took a drive to see Spouting Horn which is a natural blowhole in the Kauai rocks. It was a nice sight since we were already close (but one I wouldn't travel far for). We spent the next hour enjoying the view from the boat launch area as we waited for the sun to go down. We had to see a Hawaii sunset and were always on the wrong side of the island to catch one! It didn't disappoint.
We had heard all about Duke's, so we had to give it a try. While everything was tasty and cooked to perfection (including the ever famous Hula pie) we enjoy something a bit less touristy, so we will try another one of their highly rated island restaurants next time. But, if you love a more American taste with a great view and attentive staff, this is a perfect spot.
Day Six: EAST SIDE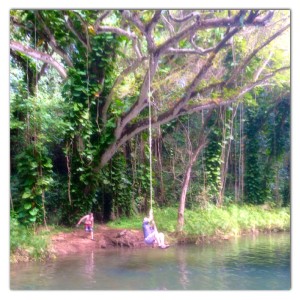 On our last day, we had to go out with a bang, so we tried one more hike and it ended up being the perfect way to say good-bye to our favorite island. Ho'opi'i Falls is an easy 2 miler that ends in a small waterfall with a swimming hole and a rope swing, nothing more "Hawaii" that that! We had a blast swimming and watching the swimmers frolic in the water and bask in the sunshine. Definitely a swimwear hike. This one would be perfect for a family with kids. A few precarious spots, but overall, pretty easy with a little hand holding. You won't want to miss it.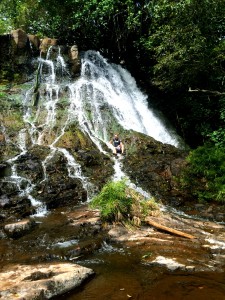 We stopped for lunch at our very favorite find, Fish Express! This was  THE BEST and we wish we would have eaten there earlier. They have a whole deli case of items, but our favorite item on the menu was the fresh fish plate served with their fresh catch prepared one of six delicious ways on the grill, accompanied by sticky brown rice and mixed greens with the most delectable dressing…all for $12. Trust me, if you love seafood, you will want to go here. You must arrive before 3 if you want grill items and make sure it isn't closed before you drive out. We took our items to go and ate them at Lydgate beach. We could have done this every single day…perfection. The snorkeling was pretty good there and we soaked up a little more salt water and sun. After washing up and packing up, we stopped for dinner at another surprise favorite, Kauai Pasta. While the strip mall feel wasn't immediately endearing the food knocked our socks off. Our salad and butternut squash ravioli was so good we were embarrassingly sopping up every last morsel. We definitely went home with full tummies.
Other places that have been recommended to us that we for sure want to try next time!
Porky's Food Truck: This one is a huge hit…can't wait to go back.
Catamaran Boat Ride to Na Pali Coast: This is one I wish we would have done. On our list next year for sure!!
When we go again, what do we need to plan on? What did we miss? I would love to hear your suggestions for myself and others!
Such a wonderful few days with the man I love and some incredible lifetime friends. Tune back in tomorrow when I share my packing list about all the things I wish I would have packed for our adventures.