My Favorite Sweaters
With the temperatures dipping, you will probably find me in a sweater 90% of the time. They are so easy to wear and even easier to love. Here are a few of my favorite sweaters this year!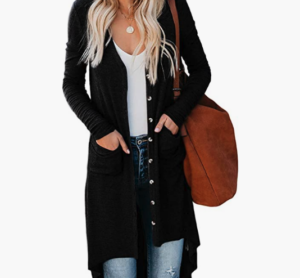 Long cardigans are so essential for those transition months and the can easily elevate an outfit. This one is light and flattering and comes in a bunch of colors. I got one in black and cream. True to size. A closet staple for sure at a great price. ($28)

This sweater is a bit more casual with cute texture and a great mock neck. The fabric is sturdy and keeps its shape well. It works great for an every day look. True to size. Lots of colors! ($41)

I love mixing up the look of my sweaters with the open collar and buttons. It feels cozy but fresh at the same time. The fit is flattering, but the sizing runs big, so if you like the roomy look, get your regular size. If not, size down.  One of my favorite sweaters for sure! ($42)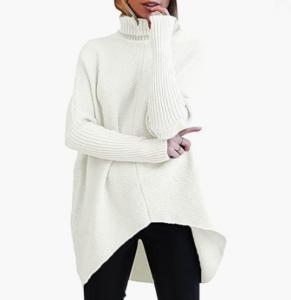 This is one of my favorite sweaters of all time. It is WARM, oversized, flattering and looks good on all sizes. The turtleneck is loose and fun and it looks great long or tucked in front. I'm wearing it in a lot of my website pictures, so you can check it out there. ($42)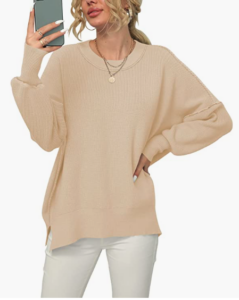 This one is a fun, oversized option with great sleeve detail. Super flattering on everyone but runs BIG. If you love the roomy option, get your regular size. If not, size down and there will still be plenty of room.  ($43)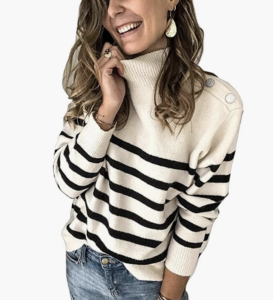 I love this sweater and the small details that make it special. It has a roomy, classic fit. If you like it more form fitting, size down. It's perfect for every day wear or to dress up on the weekends.  ($36)
Get More of Favorites
I love finding pieces for my wardrobe that look good, feel good, don't cost a ton, and last forever! If you'd like to see more of what my family and I love, check out The Best Socks for Women, What to Bring to Greece and Croatia: The Ultimate Packing List, and Back to School Clothes for Teen Boys.