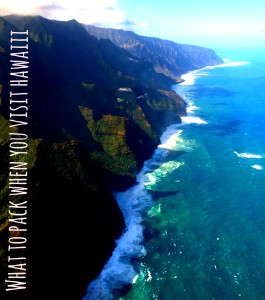 If you read yesterday's post, I shared with you our ideal itinerary for visiting Kauai. After one week there, I would have packed completely differently! Here is what I wished I would have had (and a few things I was glad I did have) in my suitcase for the way we explored Kauai. If you plan on just doing the beach, your suitcase will look very different! (There are affiliate links to everything I could link to. Hope they help.)
MUSTS
The Ultimate Kauai Guidebook: The BEST travel guide for Kauai, hands down. We took this with us every where.
Otterbox Waterproof Case for iPhone: I was SO happy I had a waterproof case for my phone. I loved being able to take it everywhere with us without worrying if it was going to get wet or ruined. It was definitely necessary with all the water and mud!
A small, lightweight backpack: With all the hiking and day tripping we did, this was essential. We threw a few water bottles in it, our phones and wallets if necessary, plus our guidebook (we referred to it multiple times on trails), and sometimes our swimsuits and a towel. If you plan on doing a lot of hiking, I would bring a backpack for sure.
Beach bag: This was something we did not bring and boy do we wish we had! Since we usually left the hotel in the morning and didn't return until night, having a beach bag would have made life so much easier. We would have just kept our beach towels, sunscreen, swimwear, hats, easy snacks and flip flops in it at all times. I also would have thrown in a change of clothes and maybe some make up and a brush so I didn't look like such a scoundrel at dinner every night.
Keens: These water/hiking shoes saved me the entire time. They aren't pretty to look at, but they are the greatest hiking shoe around. The serious traction kept me from slipping everywhere, the holes made walking through rivers and streams no big deal, and the support and comfort level were awesome, even with my tendonitis. Most of the hiking in Kauai is either wet or muddy or both, so keep that in mind when packing…don't ruin your nice gym shoes!
Kindle Paperwhite: Is there anything more fun than a good book on a beach? I previously had a Kindle Fire, but I ADORE my new Paperwhite! There is no sun glare and it is so much easier on your eyes…plus the battery lasts for days and days. If you are a reader, this will be one of your best investments.
Music: I LOVE music, and in Kauai, there were very few radio stations that worked all around the island. We did a decent amount of driving and I wish I had brought hook ups to play our music in the car or even a CD…every vacation deserves a sound track, right? Oh…don't forget your car charger too (you will want photos of it all)!
Wool Socks: We got this tip from The Ultimate Kauai Guidebook. If you are visiting in the summer or when the sand will be hot, wool socks protect your feet from being burned by the sand. Brilliant!
CLOTHING
A comfortable swimsuit: Some swimsuits are suited for activity and some are suited for lounging on a beach, make sure you pack one or two that you can move in since most days we were in swimsuits for a good portion of our active activities, but don't forget the cute one that makes you feel awesome too. Just for reference, we wore a swimsuit at some point almost every day.
Swim shorts: I am embarrassed to say that I pretty much wore the same swim shorts every single day. With all the water/hiking we did, they were always my best option. Do not go to Kauai without them!
Exercise pants: It may be chilly during your visit, at least for a day or two, and I was happy I included some long exercise pants that were also quick-drying.
Tanks or t-shirts: While you are hiking or kayaking, chances are you will want something over your swimwear, so throw in some tanks or t-shirts that you don't mind getting muddy or a bit wet.
Beach towels: Most hotels and resorts will offer you one beach towel, but they are usually kind of small and not very plush. We brought some of our own and were so happy we did. In fact, we would have brought two had we known how much we would use them.
Hoodies/Jackets: When we were there in February we wore a jacket or hoodie at some point every single day. I was SO happy I had thrown in 3 long sleeved items and that one of them was decently cute. It was normally a little chilly in the morning and for sure cool in the evenings after a day in the sun. If you go, don't forget something warm (hopefully you don't need to use it)!
Dark clothing: If you plan on doing the airplane tour, you will need to wear dark colors so nothing reflects off the glass.
A pair of pants: I was glad I had pants in addition to my shorts and skirts.
A few cute cover ups: Since we liked traveling to a different part of the island each day and didn't want to make the drive home to clean up before going to dinner, I wish I would have thrown in some easy clothing I could have put on before dinner on the nights we were far from our hotel or even packed a change of clothes each day that we were away. Most of those outfits would have included a sweater. That being said, no one in Hawaii really cares how you are dressed…even at the nice spots.
OTHER
flip-flops, sunglasses, travel sunscreen and aloe vera, regular clothing if you plan on doing other activities or dressing up for dinner, hats, goggles, etc.
One more thing…grab a large pack of bottled water from the grocery store or drug store. You will need them through your stay!
Anything I missed? Let me know!