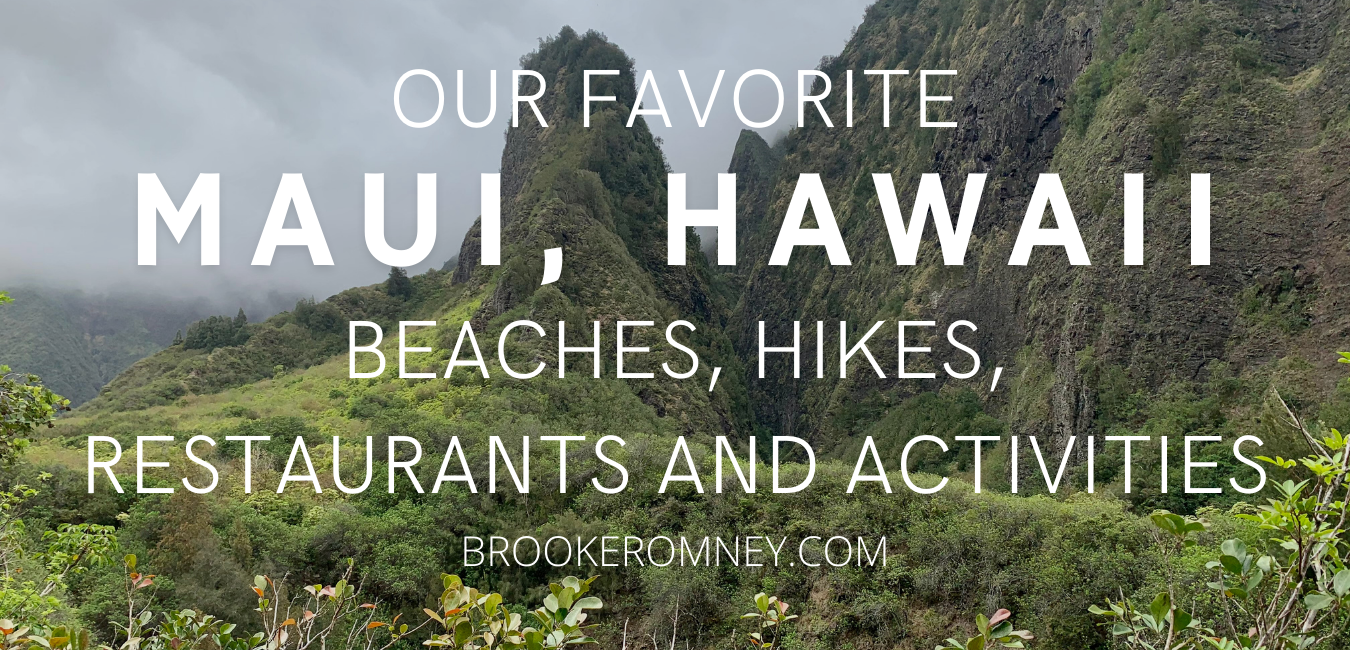 Our family just returned from Maui and it felt like a dream come true. I could not have asked for a more glorious trip. Many of you wanted all the details, so I am happy to share them with you, but a few things you should know:
I have 4 boys (18, 16, 14, 9) who are athletic and adventurous and love to be active, so that is how our trip rolls. I know that isn't for everyone.
This time, my third son had a broken foot in a boot, so that did change our plans a bit.
We are not high rollers, so we are conscious of the cost of things but on vacation do splurge a bit. This isn't the cheapest or the most lavish way to do Maui…somewhere in the middle.
We don't need the nicest or highest end of anything. We usually like to truly experience where we travel so we love local and to feel like we have been a part of the culture and community a bit. We are also willing to be a little inconvenienced to make that happen.
EVERYTHING in Maui is dependent upon the weather. What was awesome for us might be a flop for you.
We went in late March and felt the weather was just right.
Food is a big deal to us and a huge part of our trip. It is also pricey in Maui. If you want to save money head to Costco at the beginning of your trip because even the grocery store is expensive ($6 gallon of milk!)
Another food tip…if you can, eat on off hours as things get pretty busy and dinner menus are significantly more than a late lunch.
I am not sure I would spend the money, long airline flight, and endure the time change to go to Hawaii with young kids. If you just want a beach and pool there are lots of awesome places to go that are cheaper and closer. For me, Hawaii is for exploring, but if you have the money and patience it is a beautiful place to be regardless of age.
GENERAL ADVICE
You MUST get the Maui Guidebook. We used it religiously. There are plenty of places on the island without cell reception (especially road to Hana) and we relied on the directions and tips daily. It also helped with food suggestions and parking. Worth every penny!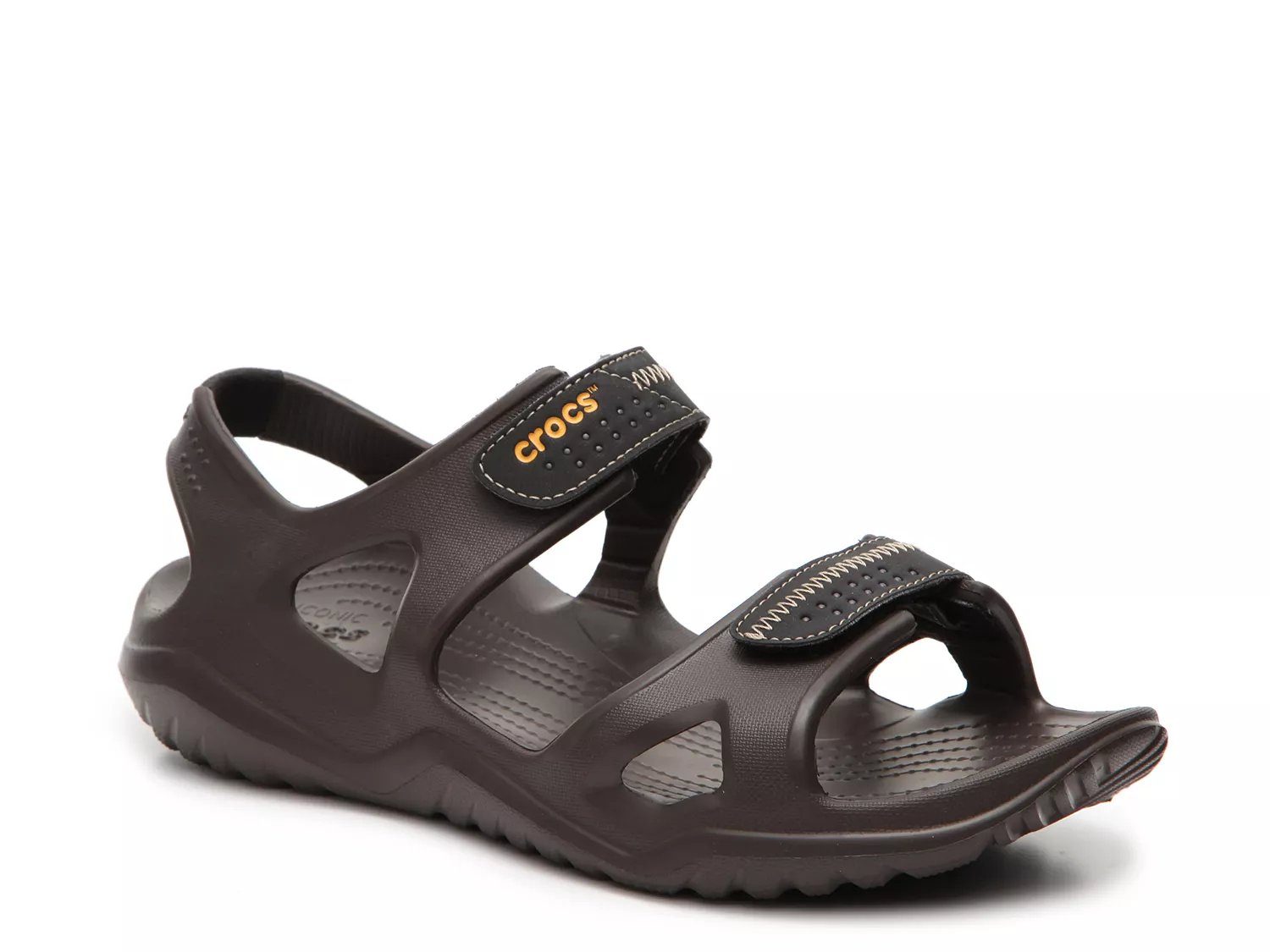 Water shoes would be very helpful. Most hikes are wet, muddy or both. Try these.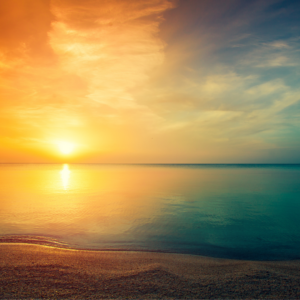 Stay on your mainland time. Everything opens up early in Hawaii and often the beaches and snorkeling are best in the morning. We had a lot of luck getting out early and wrapping up early.
Wear sunscreen and rashguards! I refuse to let my vacation be ruined by sunburns and the sun is hot. The sand is sticky, so put on the first layer before you leave the house and make sure you put it on your feet and lips and keep a shirt on when you can!
We liked to switch between beach days and hiking days so we weren't in full sun all day everyday.
WHERE TO STAY
We stayed in Kihei and loved it. The pros: we got a great deal, it is less expensive, less touristy, fairly central and has lots of good food. The downside: the beaches and snorkeling were not nearly as good, it is pretty windy, and the overall beauty is not nearly as breathtaking as the other side of the island which means we drove quite a bit. Overall, we were still super happy about our choice.
We booked our spot through VRBO and stayed at Maui Sunset Vacation Rentals and were thrilled with the experience. The property overall was beautiful, right on the beach, great views and sunsets. It also had a nice but not fancy pool, hot tub, tennis courts, pickleball, shuffleboard, a huge lawn, BBQs, bocce balls, croquet, etc. We totally took advantage of all of it at the end of each day.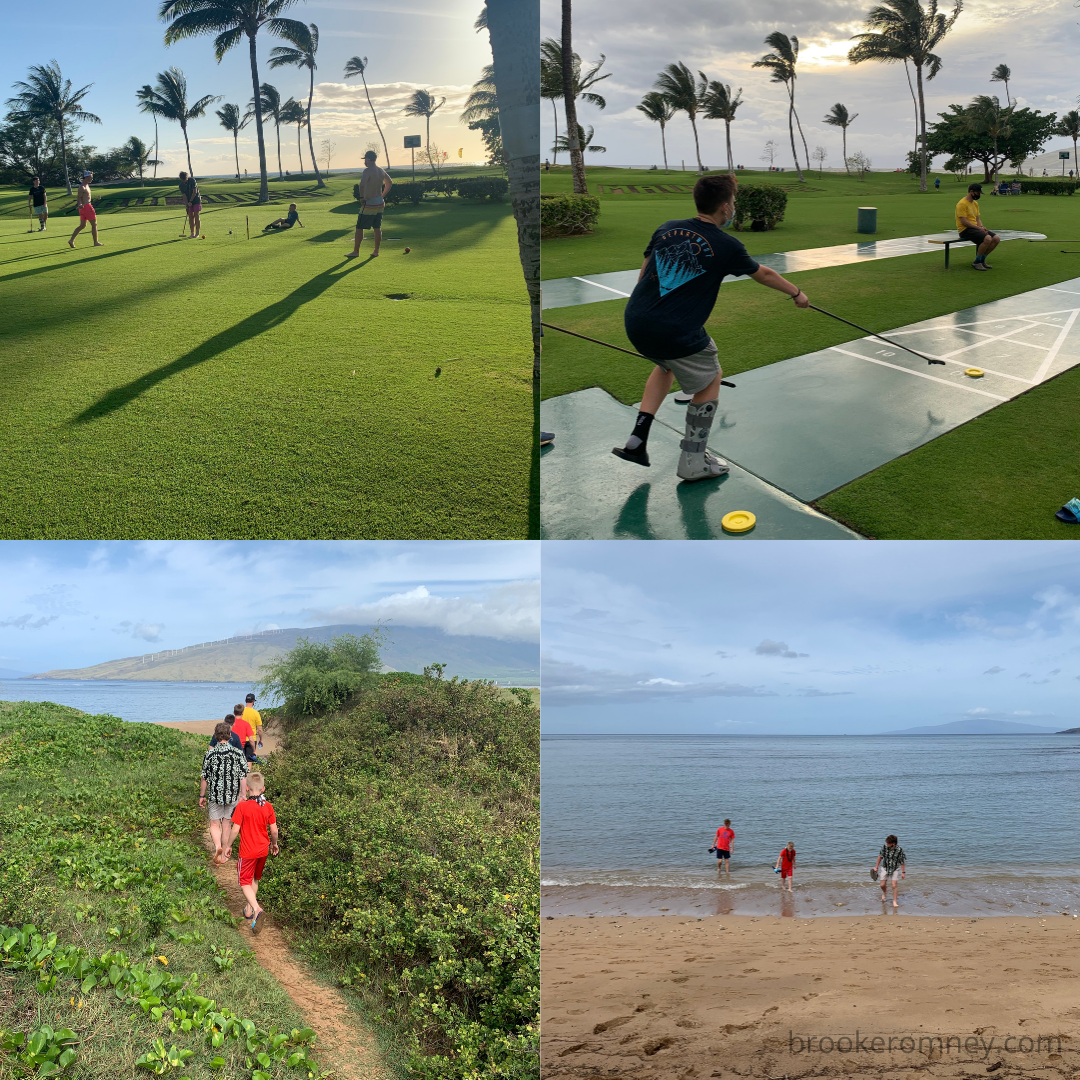 Our friends stayed at the Honua Kai resort on the other side of the island and loved it. You may be able to book this one through Costco.
BEACHES
Every morning we checked the Snorkel Report and pretty much followed it so we could be at the best beach (it doesn't update until 8am). We used the Maui Guidebook for help getting to the right spot.
We rented snorkel gear at the beginning of the week at Snorkel Bob's. They have them all over the island and if you rent for 3 days you get 3 days free. I think getting the upgraded snorkel is totally worth it but the basic fins are fine (if it doesn't work well, go exchange it). Also, you most likely don't need one for every person as people don't snorkel all day and someone has to stay with the stuff, but people do need the right size fins. Snorkeling is also pretty hard for little ones.
Everything changes depending on time of year and weather on Maui, but here is what we liked at each beach:
Keawakapu: This one is in Kihei and is a beautiful beach in front of 5 Palms. We took an awesome long walk along the beach and there was great boogie boarding but also quite a few rocks. Loved it.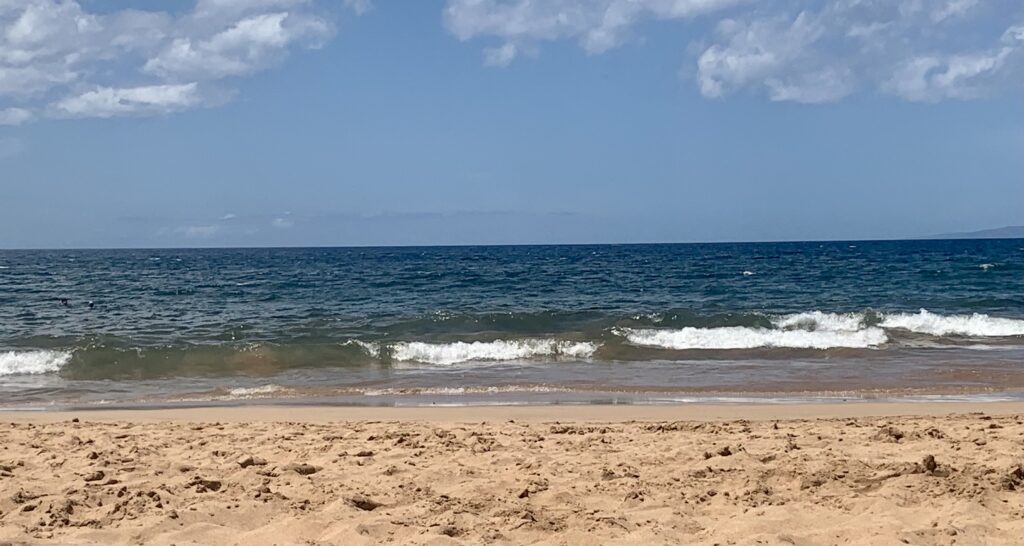 Kalama Beach: We didn't swim here but we ate take out and treats here often and loved watching the roller hockey and skaters here.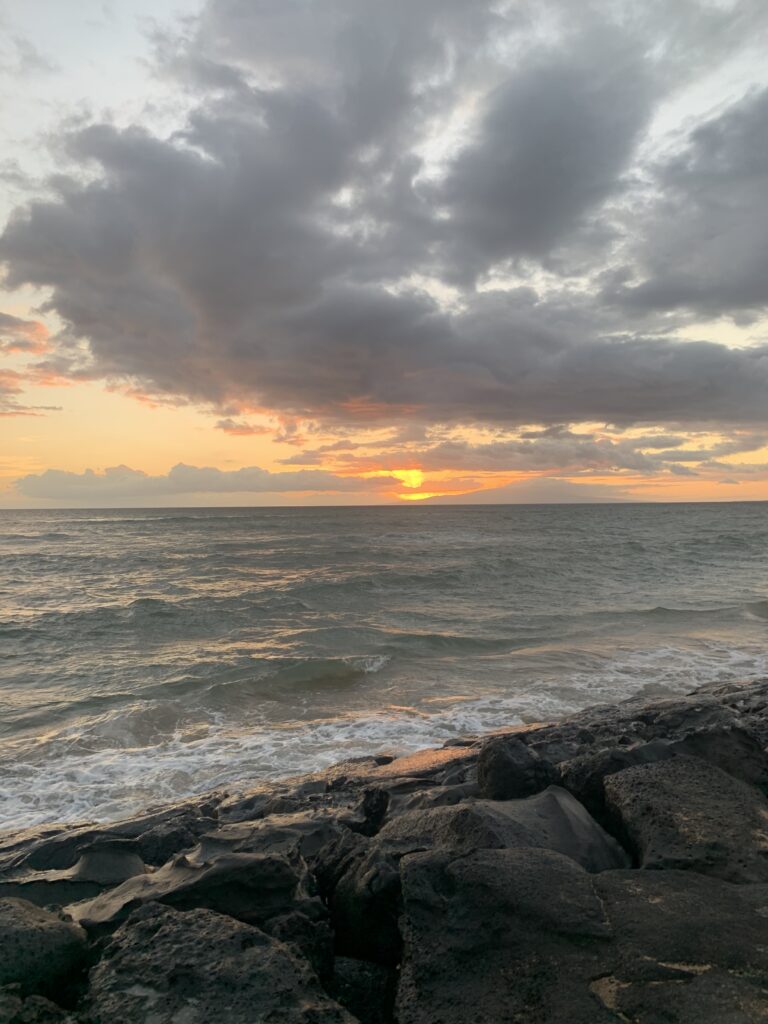 Kamole Beach: We were surprised that most beaches weren't great for boogie boarding, but this one usually is! We also saw great waves at Olowalu beach but I know it depends on the day and time of year.
Black Rock Beach: Overall this was our very favorite beach. It had everything! Awesome snorkeling, black rocks for the kids to jump off of, great waves, perfectly soft sand, shade, food close by it was absolutely the best!!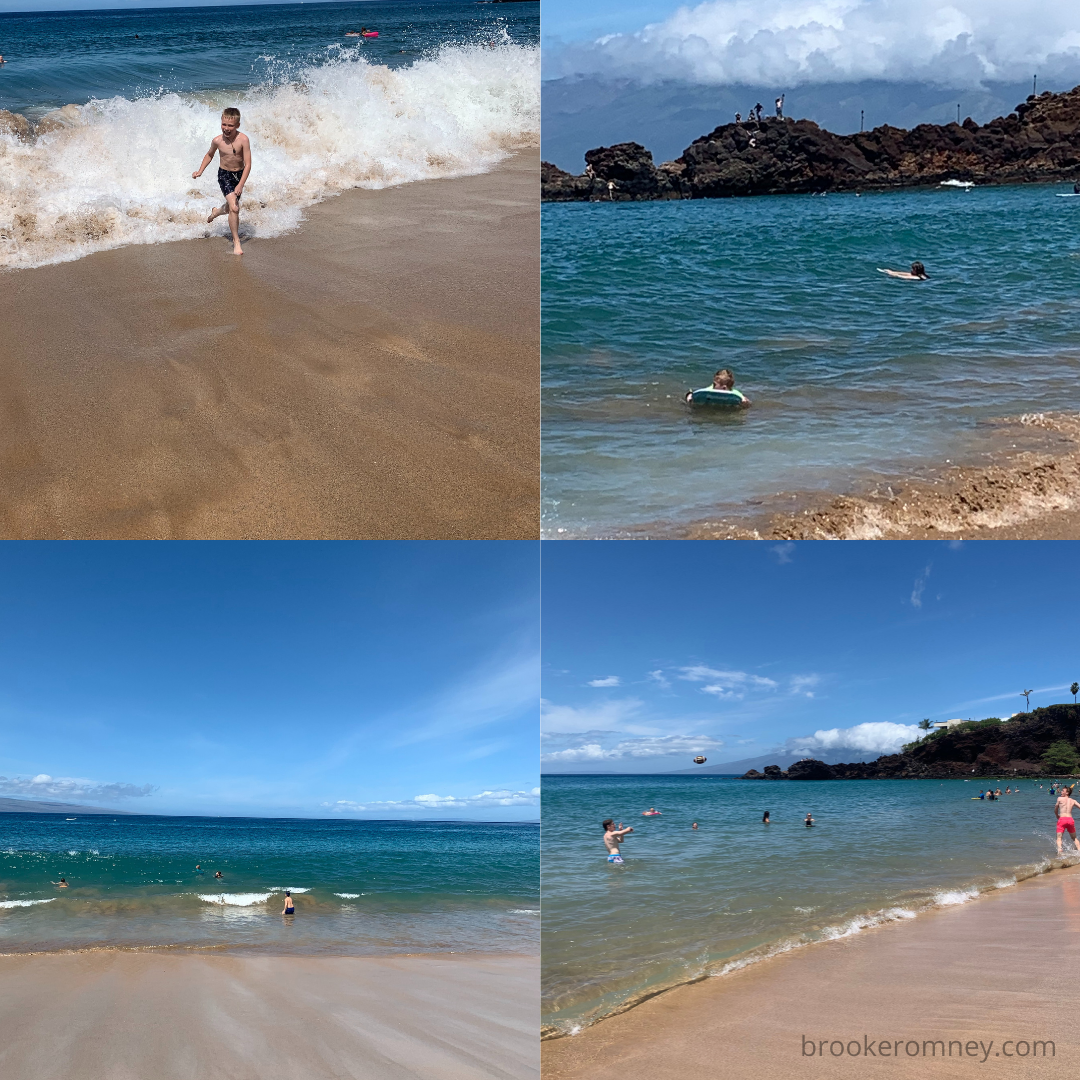 Kapalua Bay: This was also beautiful and where we saw the most fish and turtles. Snorkeling was super easy here as the water was totally calm in the morning and we found so much marine life and clear water especially near the rocks on the right. Clean bathrooms, nice sand and grass to sit on plus good shade but also pretty crowded, so get there early. Big parking lot across the way. My kids didn't like it as much because they love the waves!
Black Sand Beach: This is on the Road to Hana and is pretty amazing to see. You have to have a reservation to get in and pay online. They don't accept anyone without one.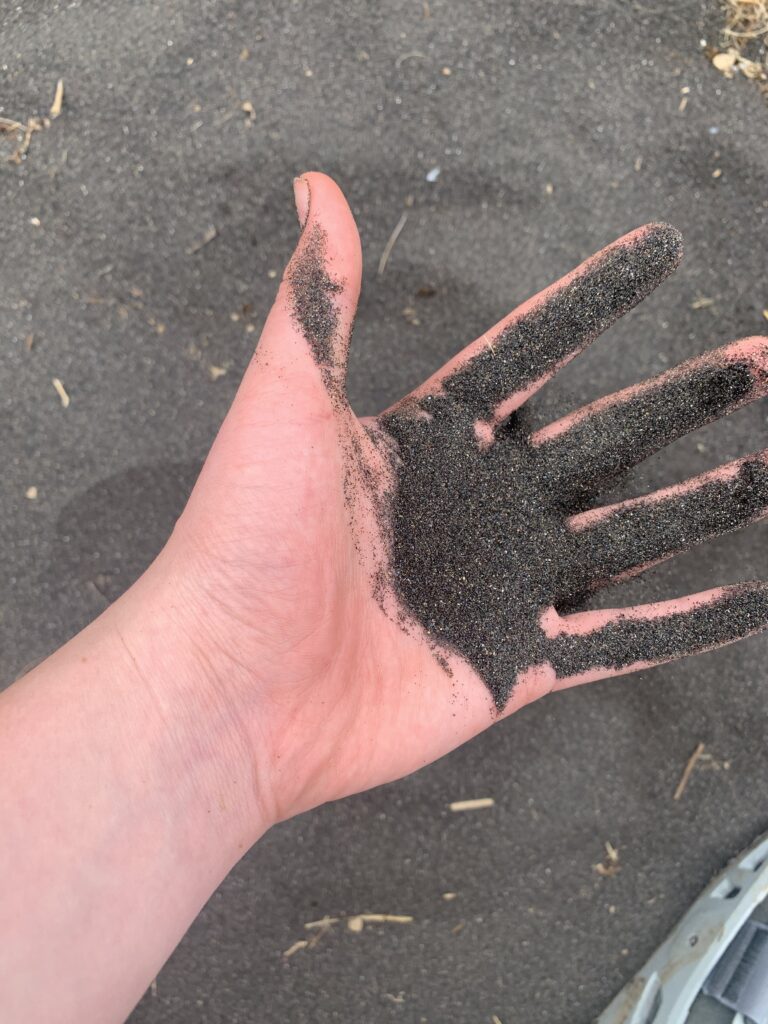 Red Sand Beach: This is also on the road to Hana and by far one of the most beautiful and unique places I have ever seen. There is a small but slightly sketchy hike to get there (wear shoes not flip flops). For me, this is an absolute must see.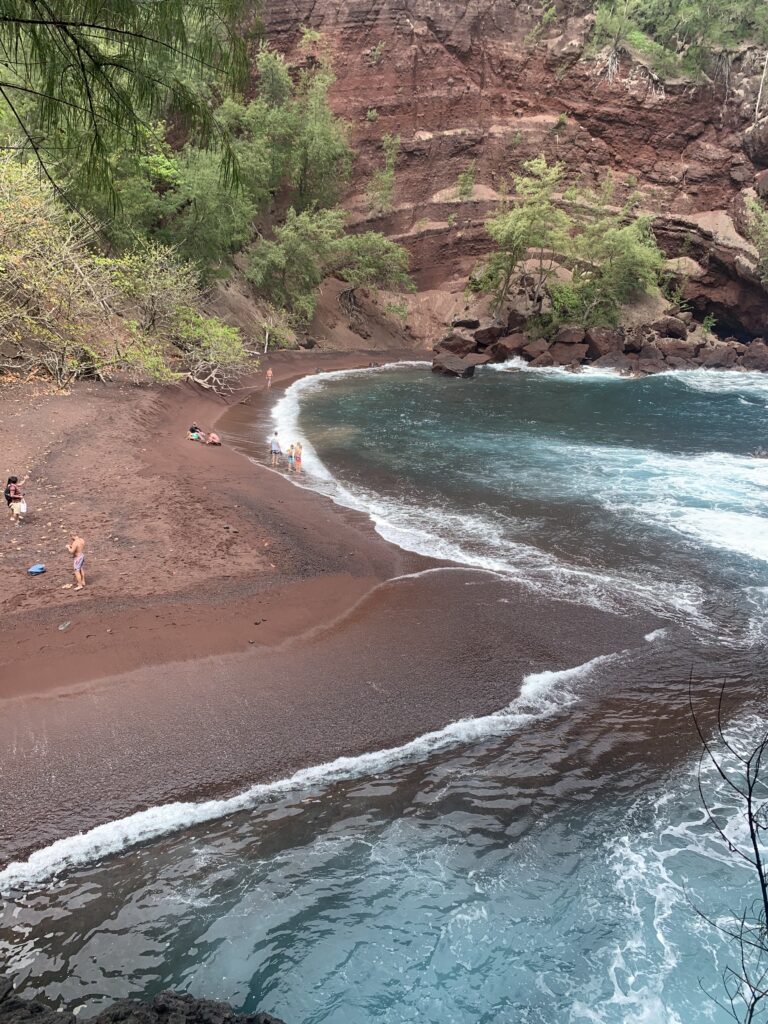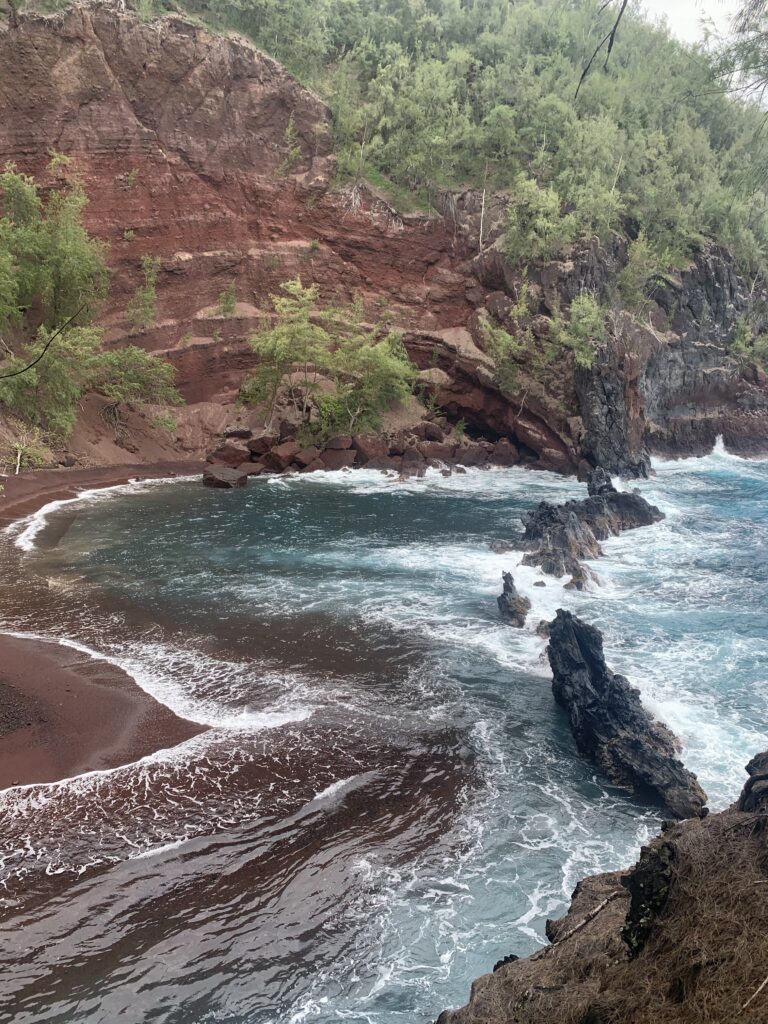 ROAD TO HANA
I could talk for hours about this, but I will be quick and say that this is a long day with almost too much to see, but everyone should do it once. We made the mistake of going all the way to the seven sacred pools. We got all the way there to find out they were not open for swimming. The tide was super high and the falls were unimpressive and muddy. They have a ranger station you may be able to call to see before you go. If they are not open, the drive is for sure not worth it. YOU DON'T NEED TO DO THE FULL ROAD TO HANA. YOU WILL BE SO MUCH HAPPIER IF YOU TURN AROUND AFTER THE RED SAND BEACH. That would have made it SO much better for us.
Other than that, it was awesome as long as you have a confident and experienced driver and maybe a little Drammamine. I would stop and swim at Twin Falls and any other that catch your eye or that you find in the guidebook and for sure make some time for Ching's Pond. It was probably our favorite. I've heard good things about the Venus Pool too. Be sure to hit both black sand and red sand beach. Loved them.
I would do this on a hot, sunny day since you are in and out of the water and most of the trails are shaded. We didn't do any of the long hikes because of the broken foot kiddo, but I am sure there are some great ones. The entire day including driving took us about 13 hours so plan accordingly or stay a night in Hana to fully enjoy things.
For food on the road to Hana we stopped at the deli listed below and loved the banana bread at the snack shop "Halfway to Hana." We ate in Hana at Brudda's BBQ  and the pork ribs and salmon in cream sauce was amazing. Hours can be unpredictable and it was pretty crowded but worth the wait. We grabbed some ice cream at Coconut Joe's on the way home and it was interesting but good. We just shared a couple as a fam.
The Guidebook is a must for this part of the trip!!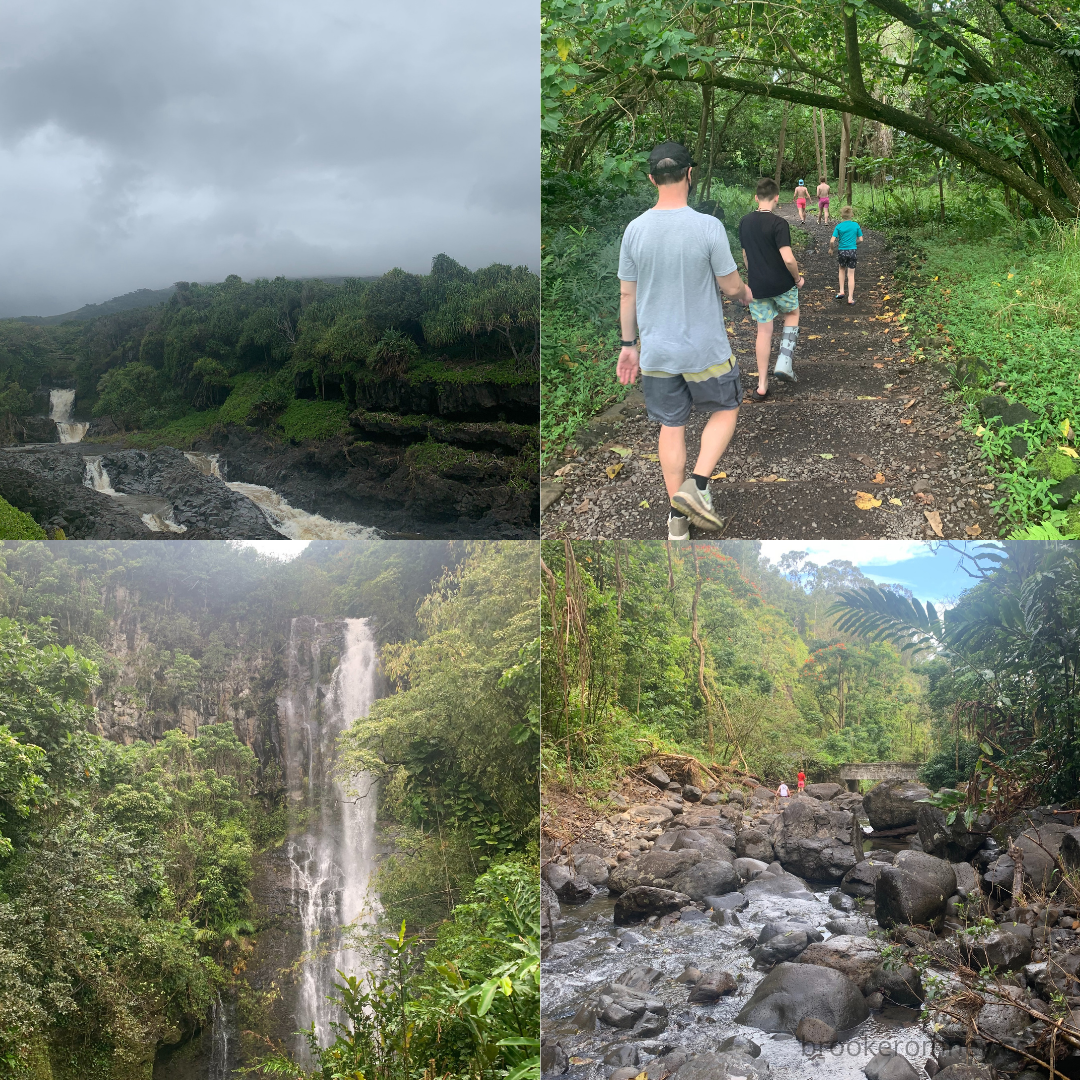 HIKES
Our family loves to hike and we had to adjust a bit because of the foot in a boot, but he is tough and we were still able to do a lot of fun ones. The Guidebook is super helpful for these, though the last one is not in there, so use All Trails.
Iao Valley: This was a gorgeous piece of Maui that stunned us with its beauty. The hike is super easy and paved all the way to the lookout, then some of us went a couple miles further while the others waited. There is also a beautiful river  you can swim in if you need to cool off. This is an easy, accessible must do.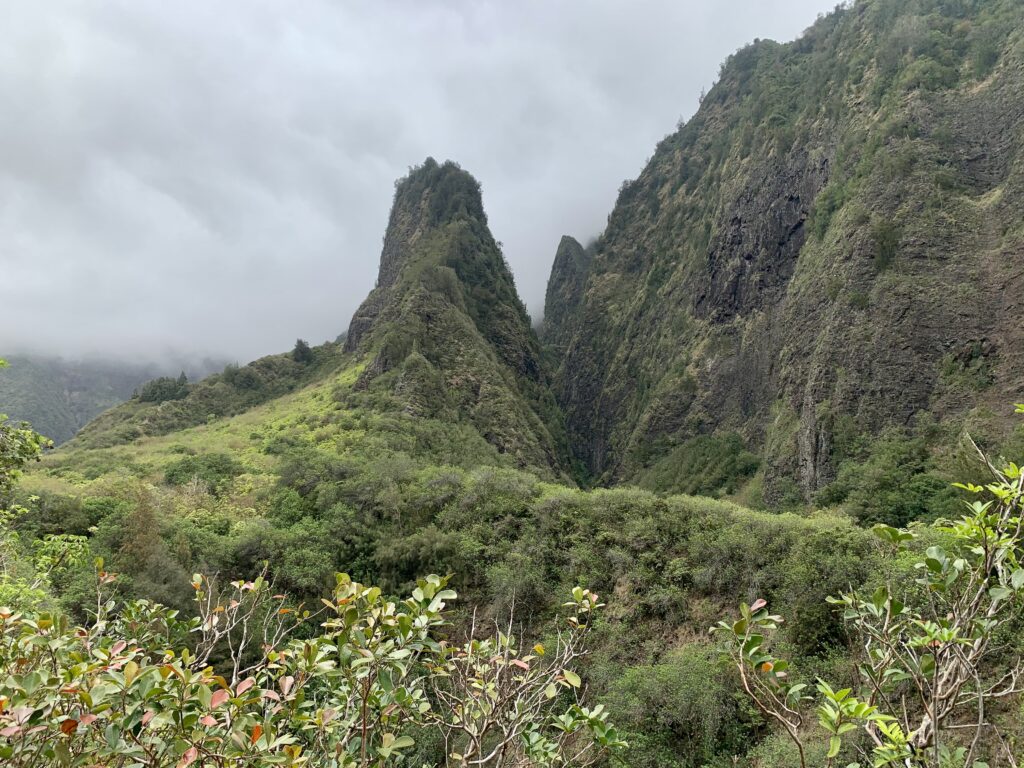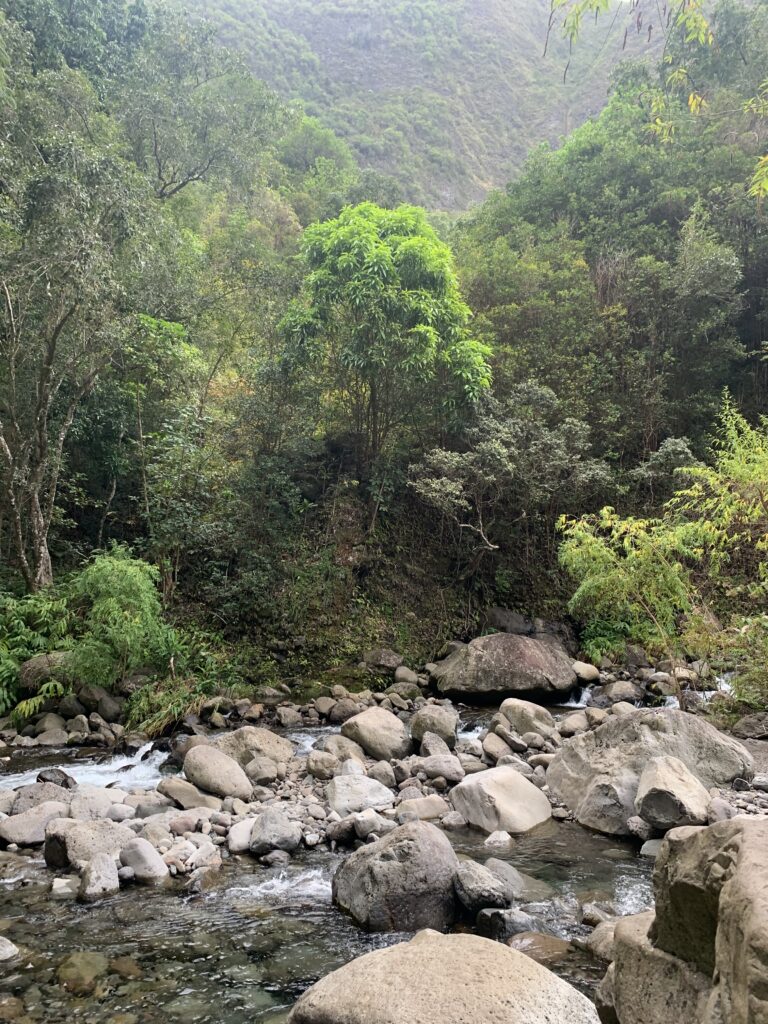 Nakalele Blowhole: This one was short and so much fun just a bit up from Kapalua Bay. Lots of rocks to explore and a great blowhole payoff at the end. It is short and most of us did it in sandals but shoes would for sure be better.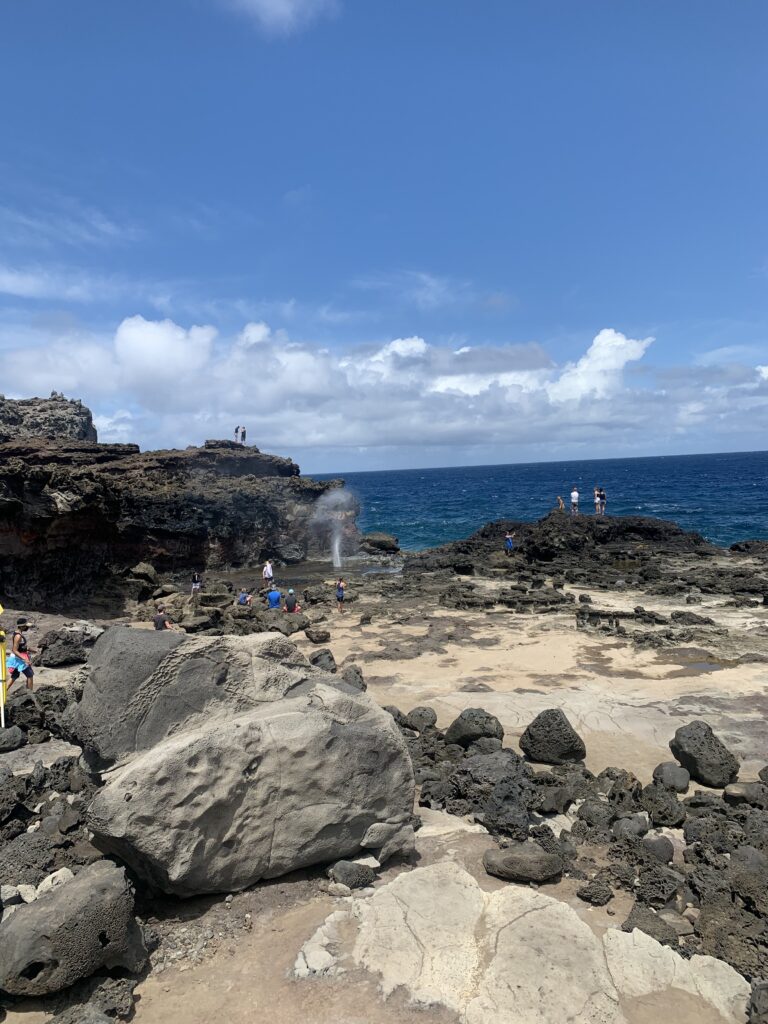 Makamakaole Stream: This was by far the coolest hike we did. We loved it SO much. The terrain was varied, we walked through a bamboo forest and ended up at small waterfall with a pool you could swim in (there is also another waterfall if you go to your left instead of your right). If you are a little crazy you can continue hiking up the water fall (it is scary and you have to hold onto ropes to ascend) to 3 more pools and the most magnificent waterfall. This is only for experienced, strong and confident hikers. Overall the hike to the first waterfalls on the left and right isn't hard, but you do have to cross the stream quite a few times and I know if it has been rainy this hike can be hard to find and especially muddy, so do it on a sunny day. This is not in the guidebook, so you will need to follow All Trails. Read the warnings about valuables and your car!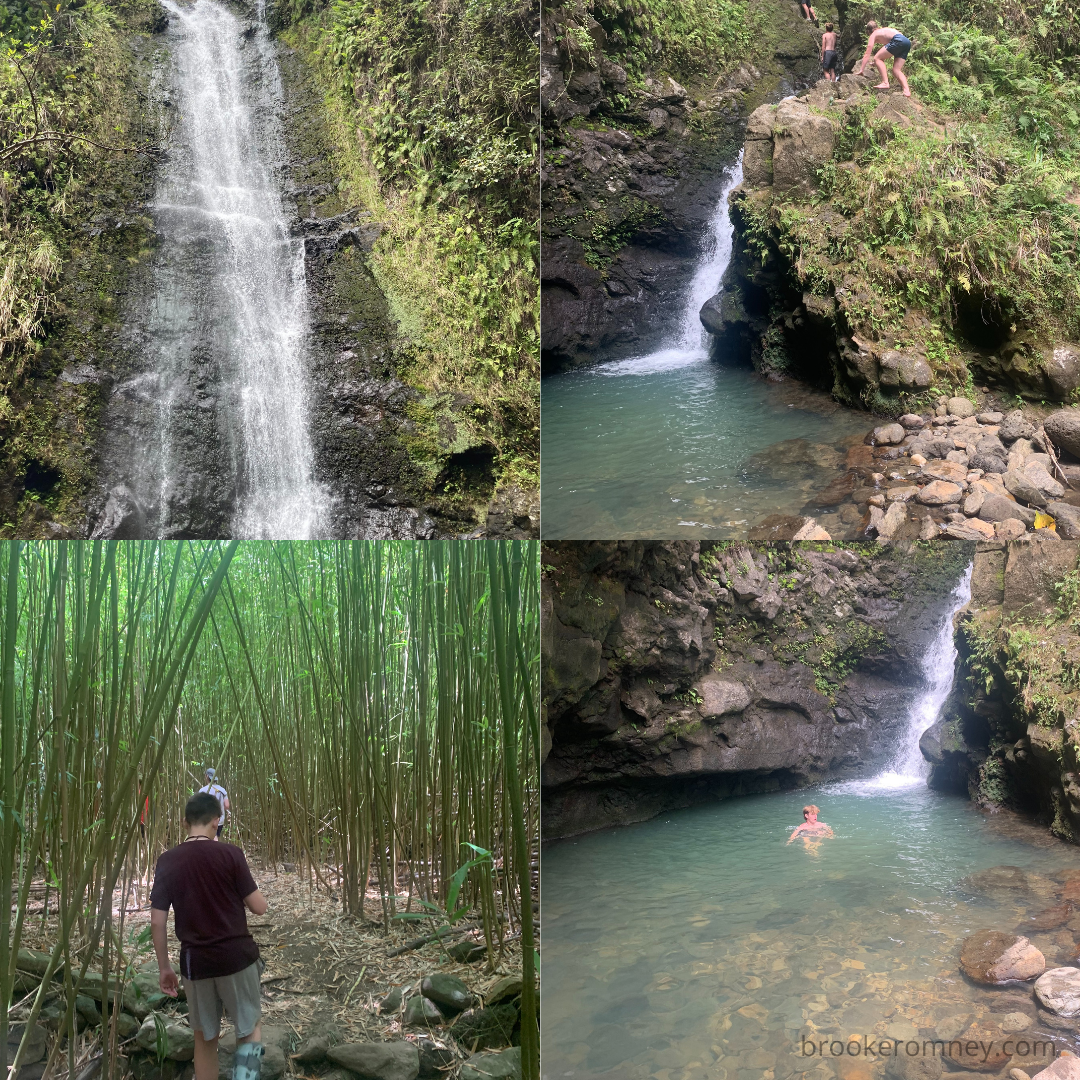 With the broken foot, we didn't hike as much as we wanted to, but a friend also suggested these hikes: Pipiwai Trail and Waihee Ridge Trail.
LUAU
We went to Drums of the Pacific Luau at the Hyatt and were thoroughly entertained and impressed. The quality of entertainment was awesome and the food was good and plentiful with lots of variety, especially for feeding so many at a time. I think it was worth the money and something everyone should do at least once! Also, buy the photo! The best $20 I spent the whole trip so I didn't have to keep bugging my family about getting a good picture.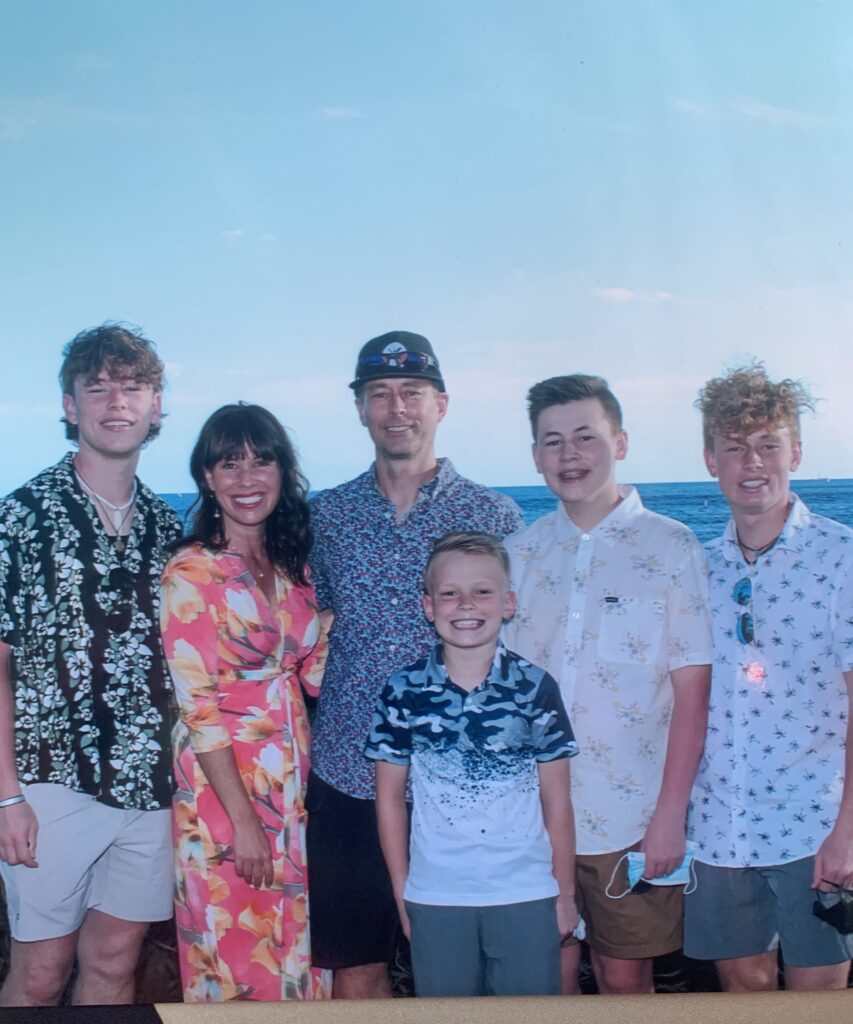 FOOD
I feel like we didn't have enough time to eat everywhere we wanted to go, but here are a few places we loved:
Kiehi Cafe. It is crowded but SO good. We were crazy about the banana macadamia nut French toast, the crab eggs benedict, the pancakes, and every omelet was huge and delicious. The POG juice is the best on the island and worth the extra calories.
Coconuts. This island staple had great coconut shrimp, fish tacos and fish n chips. We were all big fans.
Hula Grill. Amazing fish tacos, fish n chips and hula pie right in Whaler's Village by Kaanapali Beach.
Nikki's Pizza. If you are at Kaanapali Beach a lot and don't wait to spend a lot on lunch, the sandwiches we got from here were fresh and delicious and came with good fries. Perfect for pickier eaters too!
808 Deli. Awesome sandwiches and salads and my boys loved the burger.
Miso Phat Sushi. The sushi here was incredible. We did a bunch of rolls and the chef's choice totally blew us away but everything was great. Go early…happy hour is 3-5.
Ku'au Store & Deli. There is where we stopped before our Road to Hana. Delicious, fresh smoothies and breakfast paninis and also a great poke bowl! A fun little store with lots of healthy, deli options.
Wow Wow Lemonade Stand. We all got lemonades and lava flows here and they were all so good! Try one with passion fruit and the lava flow is the best pina colada you have ever had!
Peace, Love, Shave Ice. This was our favorite treat! Pele's passion cannot be missed and I loved the natural flavors with my favorite combo being pomegranate, lime and orange. The Azeka location was closed while we were there so we went to the one on Kiehi Road.
Leoda's Pies. Don't go home without trying these! They are crazy popular and there will be a line, but totally worth it. The cream ones weren't our favorites but the apple, pineapple, and lime could not be beat. I know they switch up the selection often.
Roselani Ice Cream. Skip the ice cream cones and buy this local Maui Ice cream at the grocery store. It is to die for. The haupia and chocolate macadamia nut were such a delicious treat!!
SHOPPING
We don't do a lot of shopping with my crew but everyone did want to find some souvenir necklaces and we found the most affordable and plentiful pieces in a small shop in downtown Lahaina. It was a fun place to scout out and window shop. Worth a stop there for sure!
COVID
We went to Maui in March of 2021 and Covid protocols were very serious. Getting tested on time and uploading the test was for sure a hassle, especially finding an appointment during popular travel times. Hopefully the restrictions ease soon. They are VERY serious about masks there and someone at our resort was fined $5,000 for not wearing one on the streets of Maui, so don't be cavalier about it…it's not worth it. We didn't have to wear them on the beach or while exercising or hiking, but we did always have them with us just in case. I also just heard that you now have to test negative when you get there or quarantine for 10 days 🙁 Maybe wait until restrictions are less before you go!
THINGS WE WISH WE WOULD HAVE DONE AND SUGGESTIONS FROM OTHERS
We were supposed to go snorkeling on a boat to the Molakai Crater, but when we got there that morning the motor wasn't working. It was a huge bummer and we were super disappointed. There were not any other openings because of spring break and tight covid restrictions, so we will have to try it again.
We would have loved to go whale watching. We saw quite a few just from a few lookout points but it would have been fun to see them up close. Our friends used Captain Steve's and had a great experience. They use the raft boats that allow you to get super close. Just make sure it is whale watching season.
Olivine Pools were on our list, but we didn't get there. We will for sure do them next time!
Sunset at the crater. This is something we think would have been a blast but it takes a ton of time and we decided to skip it on this trip. If we go again, we will add this in for sure. We would choose sunset over sunrise with our crew.
A few other beaches people love: Makena beach, Baby beach, Baldwin Beach, Big Beach, Hookipa Beach, and Kaanapali Beach!
Mama's Fish House: By far the most recommended spot on the island but we couldn't get reservations. If you can, do it. I've heard nothing but rave reviews.
Duke's: Our friends said breakfast (banana macadamia pancakes and eggs benedict) and hula pie were the best here. Dinner is a little over priced and not quite as good.
Cool Cat Cafe: A great spot for families with awesome root beer floats.
Cheeseburger in Paradise: We've heard this is delicious.
Flatbread: We heard rave reviews about this spot.
Star Noodle: This is supposed to be great. I think our family would have loved it but we ran out of days!
Nachos Grande: Great for a family meal.
Ululani's Shave Ice: Everyone loves this spot!
A couple more people have sent me: 808 Grindz, Choice Health Bar, No. 1 BBQ, Monkey Pod Kitchen, Surfing Monkey Shave Ice, South Shore Tiki Lounge, Piko Cafe,  L&L Hawaiian BBQ.
Wow! That was a serious brain dump!! For those of you who have been to Maui recently, what did I miss or what needs to make our list for next time? Please share!!
And if you are headed to Kauai instead, I have some of our favorites on that island too HERE.