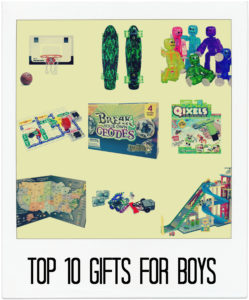 Ready or not, here it comes! I LOVE Christmas, truly my favorite time of year, but sometimes finding the right gift can be a little overwhelming, especially for boys. I know most boys like to just tick off a list of expensive electronic devices, but we try to steer clear of those for as long as we can and find items that encourage creativity, activity and play.
Here are the ones that are tried and tested at our house. I am pretty sure your boys will love them too (all items linked in title)!
Want to see the toys in action? Check out the clip on Studio 5 HERE!
What little boy hasn't dreamed of shooting a bow and arrow? This is one of our all time favorite gifts! The bow is great quality and perfect for little and big archers. Works great for kids 6 and older and even adults have a fun time with it. Make sure you order the extra arrows as they seem to disappear quickly! This gift can be used when the weather is nice out or also works great in the snow. Looking for more great outdoor ideas? Check them out
HERE.
Do not waste your time with other over the door basketball hoops! Buy this one and you won't ever need another. The backboard is strong and shatterproof and the hoop has a breakaway steel rim for slam dunks. Any age kid (or adult:) can play on this and will love it. It can be mounted on the wall of a playroom or bedroom or can hang over a door. We have moved it around to the back of a chair for the baby to play on or on our highest door frame for the big boys. It will be loved forever. If you buy it, definitely grab the extra balls! Do your kids love sports? Check out more sporty ideas
HERE!
Do you have a son who loves video games, electronics, science or figuring out how things work? If so, Snap Circuits are an incredible toy he will absolutely enjoy. In one little box you can build over 300 designs including a doorbell, burglar alarm, and a radio…no tools required. Your kids will be having so much fun, they will hardly realize they are learning in the process. This makes a great family gift too! Learning about electricity and building has never been so easy and exciting!
Do you have a budding artist at your house? If so, these books make drawing so much fun! They give simple steps to create crazy monsters and cute animals that keep your boys occupied for hours. Such an inexpensive, great gift for your creative child!
I was shocked to discover how cool my boys thought collecting state quarters was! They were given these maps by their grandparents and have had the best time filling them up every time they find a new state quarter. It has created a fun way to bond as grandparents look for those hard to find quarters my boys need to complete their map. As an added bonus, it has helped with geography and counting money too! When the map is filled, they can deposit their quarters and start over again.
These tiny skateboards look like they would be hard to manage but kids 5-25 are loving them and riding them everywhere. Seems like the louder the colors, the cooler the board and there are so many to choose from there is something for every personality. Another bonus? Their small size means they can go anywhere easily!
There is just something about boys and rocks, they are the perfect pair. This box of geodes would be a great Christmas gift on its own, or open the box, include instructions and win for the coolest stocking stuffer of the year. Need more great stocking stuffer ideas? Check out these awesome options
HERE
and
HERE!
These are mechanical bugs that you can fit with different types of armor and then watch them battle each other. Incredibly cool for every age. They offer small less expensive sets that are little, easy to use bugs or more complicated robot types that battle in large arenas. Pretty cool!
These crazy, bendable guys have suction on their feet and hands that make them the perfect boy toy and a great, inexpensive stocking stuffer. Stikbots also come with a cool app, green screen, and tripod so your kids can make their own stop animation videos…an electronic that teaches a new, creative skill. Need more great stocking stuffer ideas? Check out these awesome options HERE and HERE!
Looking for a great, quiet activity that boys will get into? Quixels are the perfect gift. They are similar to Beados, but are created especially for boys, offering pixelated, square beads that you arrange to create your favorite characters and action figures, then you fuse them together with a pretty cool squirt gun. They also offer
3D options
and refills if it is something your child ends up really loving.
This racing ramp is #1 in my eyes! Our 3 year old loves cars, but it was difficult to find something sturdy that would work with matchbox cars. Ths KidKraft set is fantastic! It has a winding slide, an elevator, and best of all, two side by side tracks for races. This item gets enjoyed all the time. It is made of wood and incredibly sturdy (though it does take some power tools to put together). Pricey, yes, but significantly better than any Hot Wheels or Fisher Price Item we have had. ($94.31) Looking for more great gifts for toddlers? Try the options
HERE
.
If the boy you are shopping for is getting too old for toys, then gift cards are always appreciated. Think about amusement or water park season passes, tickets to plays, concerts or football games. Maybe gas cards for a new driver or an iTunes card for a music lover? Make it a little more personal and be his date for something he has always wanted to see or do.
Still looking for more ideas? Check out 100 more options that we have loved,
HERE!
Want to see the toys in action? Check out the clip on Studio 5
HERE!
(This post contains Amazon Affiliate links. Thank you for supporting me!)