You loved having a Mother's Day list with great, affordable ideas, but you were BEGGING for one for Father's Day because men are SO hard to buy for. So, I am delivering on a promise, and I have found you all kinds of good stuff for the men in your life!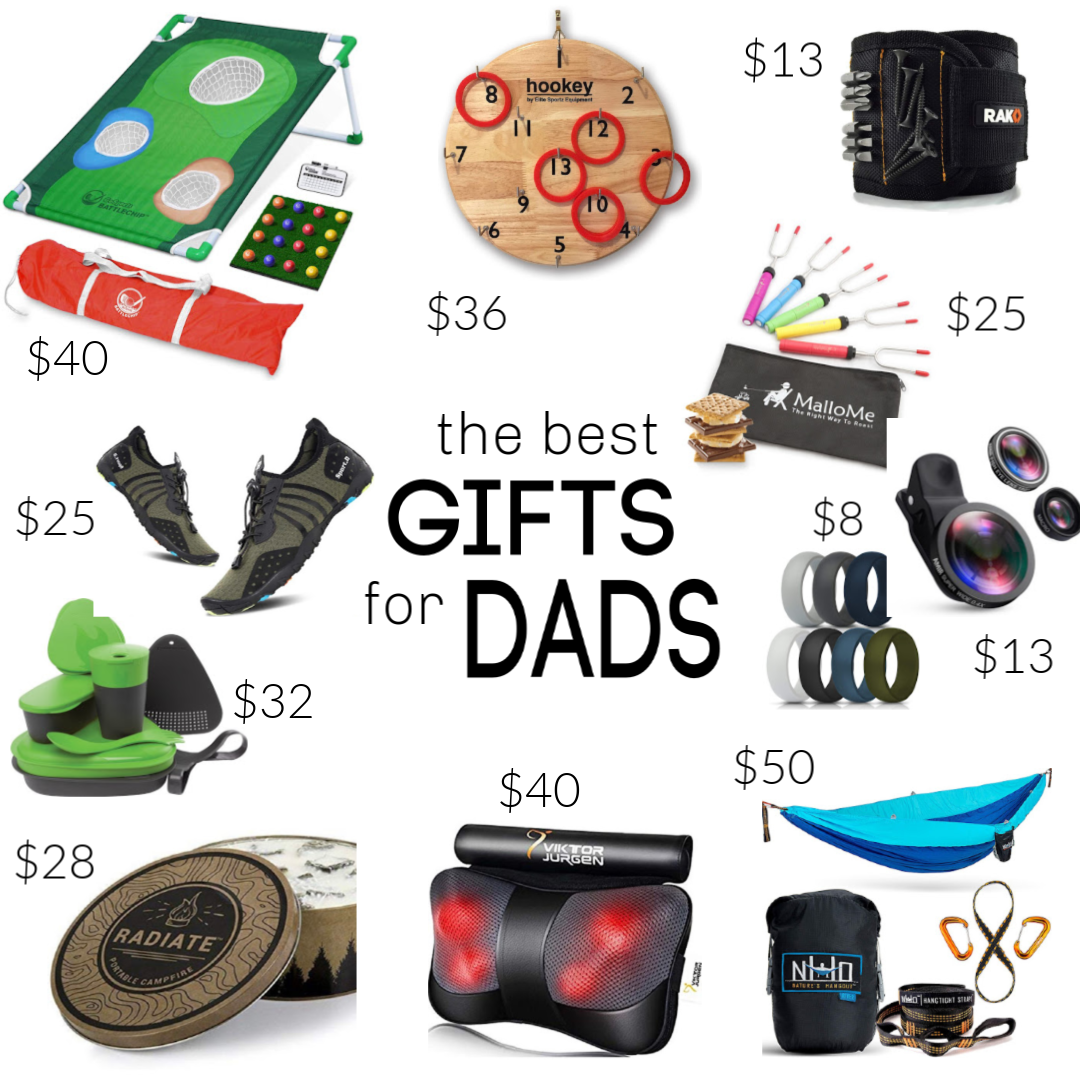 If your husband or dad loves a good massage but you don't love giving them, this is such a great gift! It massages the neck, shoulders, back and feet with a great shiatsu motion and can be used with heat or without. You might be stealing it for yourself, so basically a win/win! $40 grab it HERE.
This is the coolest! This small circle gives you a 3 hour portable campfire! Perfect for the man who is a little more of a glamper than a camper but also awesome for food storage and emergency preparedness buffs. Order it HERE! ($28)
If your husband does not have a drill, this is, hands down, our most used tool. Every home needs one, so order it pronto. Super affordable too $35. Grab it HERE.
This magnetic wristband is such a cool idea for your tool man. So convenient when working on projects indoors or outdoors and a great price for something so genius. Say goodbye to all those lost and dropped screws! Grab it HERE. ($13)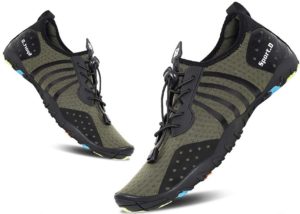 If you know you will be doing all kinds of water activities this summer and your man's feet will need a little love, these water shoes are awesome and super affordable…and they don't even look that dorky! Order them HERE ($25).
Does your husband or dad love taking photos? This extra iPhone lens is the perfect gift to allow him to get that detailed shot without the big lens! Such a great value HERE. ($13)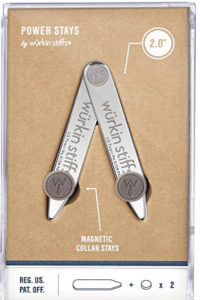 Is your guy always dressed up? If so, these magnetic collar stays would be perfect for keeping him looking sharp and put together, even when wearing his well loved and maybe too old shirts. Order them HERE $20
If you are a big camping or fire pit family, these GrubSticks are so much fun! They keep your s'mores perfectly cooked and held together and have other awesome camp fire tool options too. Grab a few of them HERE ($30-$150).
If you prefer to keep your camping tools simple, these colorful and safe roasting sticks would also make a great gift and only $20! Grab them HERE.
If you are looking for a memorable summer in your own backyard, a fire pit would make a great Father's Day gift. I love that it converts to a table when you don't need the fire option so you get a little extra surface area, and gas makes everything easier and a lot less smokey. ($180) Order one HERE with free shipping.
Guys love a project and experimenting with food, so this Ice Cream/Gelato maker is the perfect gift to keep them cooking all summer long! Grab it HERE for $220 or find a smaller, still very high quality option for only $30 HERE. Can't go wrong with dads, summer and ice cream.
Does your guy love to camp? Guarantee his mess kit needs a little upgrade. Try this one for only $30
HERE
.
We have LOVED our hammocks so much, and they would make an awesome gift for any man in your life. These are big enough for two, stuff down into a tiny carrying case and have long straps so you can hang them just about anywhere. Great quality for sure! $50 order it
HERE
.
This is the coolest new backyard game! A little bit of golf, a little bit of cornhole and tons of fun for the whole family. If you have a man who can't get enough golf, this is the perfect game for him! $40 Grab it HERE.
Need something inside instead? What about this Hookey Ring toss game? Think darts but way safer! Throw this up in a man cave or basement for all kinds of fun for kids and adults alike.  Order HERE ($36)
If the man in your life always has dead electronics this is the perfect, simple gift for him. Charges your devices super fast in the car and gives you 5 ports with one plug…great for the whole family. Grab one HERE ($20)
My good friend Jamie from Wander and Scout introduced me to these packing cubes and they are magic for maximizing your suitcase!! If your man is constantly on the go, these will become a staple and a love forever gift. Grab them HERE $22
Do you have a husband who spends a lot of time on the bleachers? These seats will be heaven sent for him this year! Order two or you will want to steal his! ($55) Order HERE.
A friend said she was getting her husband a pressure washer for Father's Day and I thought it was a brilliant idea! This is an electric version with lots of great reviews and a good deal at only $129 right now. Order it HERE.
If you have a hubby who likes to lift weights, do serious exercise, is an outdoorsman, has gained a little weight, travels often or who just hates wearing an uncomfortable ring, these silicone wedding rings are the perfect low cost option that can be worn anywhere while doing anything! ($15) Order a few HERE.

The YETI cooler is all the rage, but boy is it expensive! This Lifetime version keeps ice from melting for 7 days, is bear proof and all around fantastic. Ours was fabulous for camping this year! ($110) Grab yours at a Lifetime store or order online HERE.
This yard game was recommended to me in the comments on my post and it looks like a great new game for our backyard…a little strategy and skill but easy enough for everyone to play. $40 grab it HERE.
This is more of a practical gift, but if you have a guy in your life who is sick of looking for a charger when it is time for bed, he will love this sleek option. It is my favorite for a family charging station. $40 Grab it HERE.
Last year I did a big time splurge, something I literally NEVER do, but I am happy to report that it is my husband's favorite gift ever, and he has used it so many times it was absolutely worth it. It's fun because it is also a very useful hobby that gets us a really yummy dinner at least once a week. If you are on the fence about going for it, it was a great investment for us. If you already have one, we love the accessories HERE, HERE, and HERE. ($15-$800)
If the man you love is crazy about meat, this handy smoking guide is a great, useful idea and only $8. Order it HERE.
If you have a dad who loves to read, here are a few recommendations I think he will enjoy! Click the title below the picture to order. All under $20.
10 Great Souls I want to Meet in Heaven
Experiences are also so awesome for dads! Give him some golf balls, and plan a day to golf together or get him a new pan and a cooking lesson, or the meat guide and a Treager class. Time is pretty much always the best gift, so if you choose something off this list, see if you can find a way to make it personal by adding a class, day, or moment to it. Three cheers for all the great men in our lives!
If you need a few other ideas, check out my Christmas post for Men HERE.
I am an Amazon affiliate and earn a small commission when you purchase through my links. I cannot thank you enough for supporting my writing and research in this way.