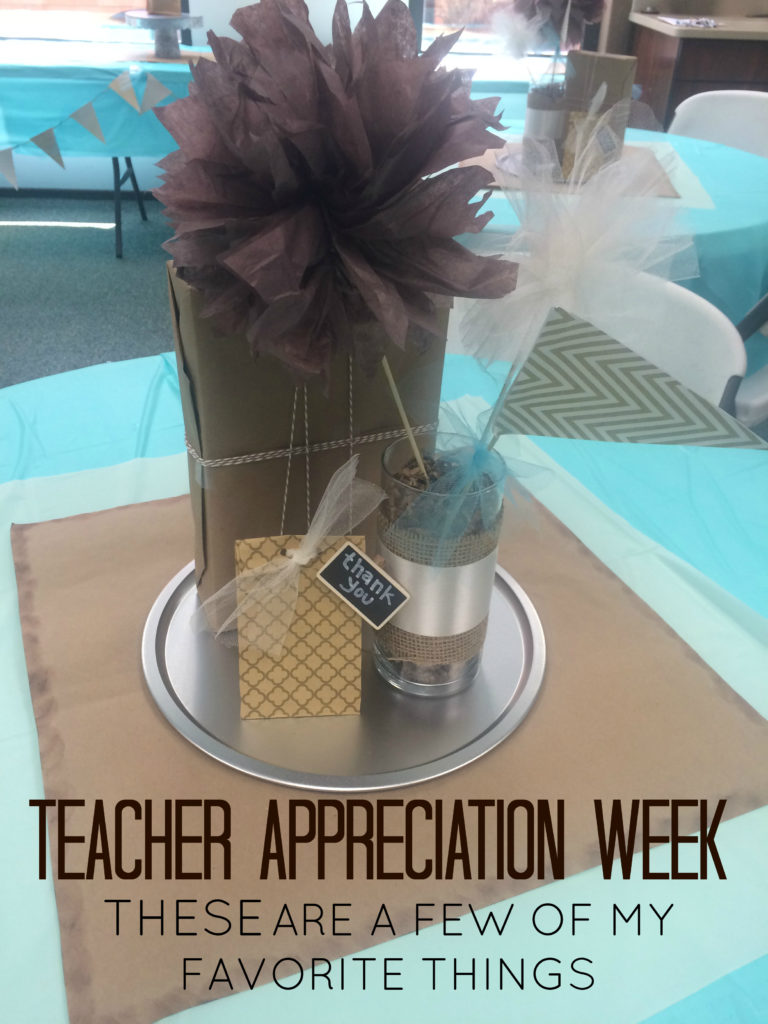 I loved being involved in Teacher Appreciation Week at the elementary school last year. It is one of my favorite volunteer opportunities because I think teachers are amazing and it is so much fun to be able to spoil them for a week. I couldn't find much on Pinterest, so we had to start from scratch last year. Since there is no need to reinvent the wheel, I thought I would share what we did in case anyone is in need of a last minute theme!
THEME: These are a few of my favorite things! (Sound of Music)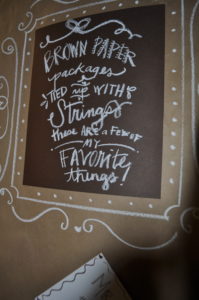 TEACHER QUESTIONNAIRE: We passed out a questionnaire to each of the teachers at the school and asked them to fill it out and tell us a little about their favorite things. This was a lot of fun for the kids to read and very helpful during our appreciation week. If your school is more tech savvy, just have them post their answers to their teacher website to save on paper and hassle. If not, HERE is a link to a paper version you can use.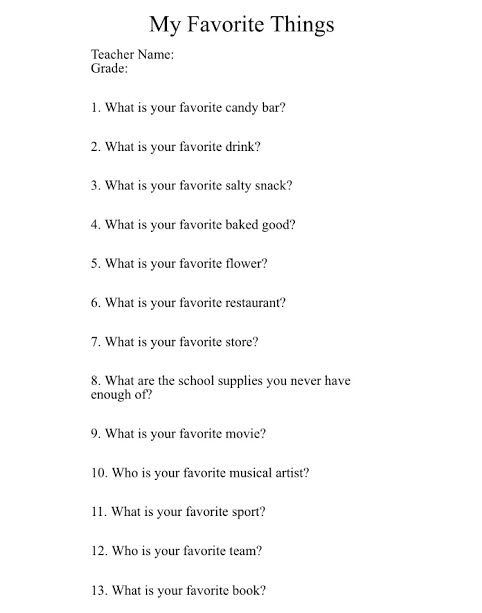 DOOR DECORATIONS: I hate decorating doors and I don't think I am alone. If I did it again, I would skip door decorations and just decorate the doors into the faculty room. However, we did decorate doors and so many of our volunteers went above and beyond. Some went with the simple theme, "Brown paper packages tied up with string," while others chose to focus on teacher "favorites." Many asked the kids what their favorite things were about their teachers, which made the doors so meaningful. Here are a few worth copying.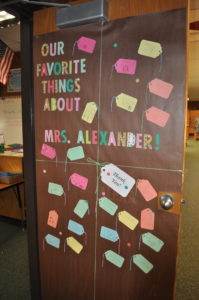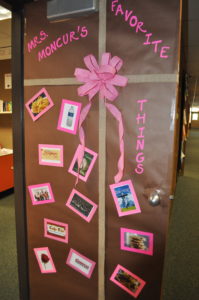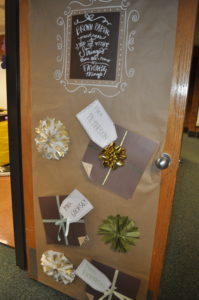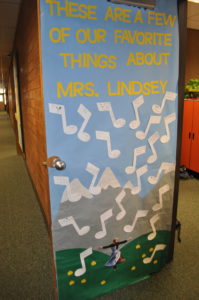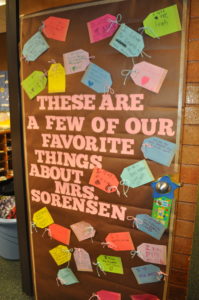 DAILY TEACHER GIFTS: We sent a letter home that had a list of the teacher's favorite items and a theme for each day (for example: on Monday, bring her favorite candy…). Students could choose to bring something daily, one little gift, or just fill out the note. What I liked about using their favorites is all week that teachers were given things they loved and would use. At the bottom of the flyer was a little letter the kids could fill out at home to tell their teacher what they loved about him or her. If I did it again, I would let the kids fill out the letters during a lunchroom activity so that everyone would have the chance to bring a note to their teacher. For a copy of the letter we sent home, click HERE.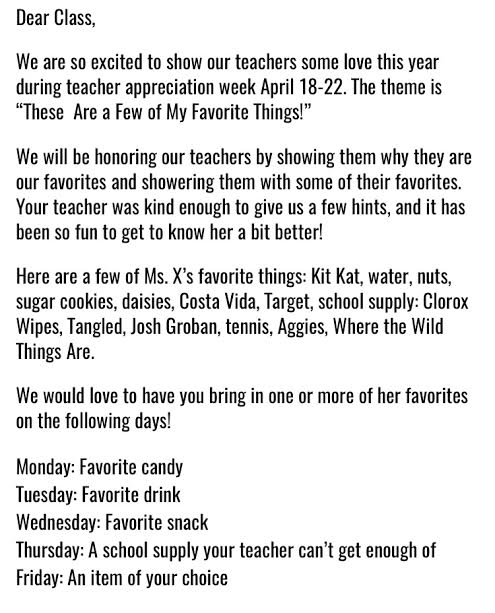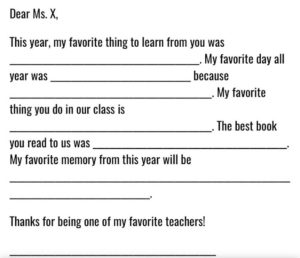 FOOD: I am pretty sure that the way to a teacher's heart is through food. Each day we provided something for them to enjoy and they were thrilled with the chance to kick back and relax during lunchtime without eating leftovers! My amazing friends decorated the room so beautifully in accordance with the theme at the beginning of the week (lots of brown paper packages tied up with string) and it stayed looking great all week long.
Our menu was for the week was:
Monday: Pork Chalupa tostadas. Recipe for the pork is HERE. It is a nice option because it is filling, inexpensive and also gluten and dairy free. The rest of the meal was pretty simple…hard tostada shells, lettuce, cheese, sour cream, guacamole, salsa, chips, fruit, and dessert.
Tuesday: Breakfast before school. We had a variety of parents bring in hot breakfast casseroles, cinnamon rolls, fruit, muffins, and juice. We served them 45 minutes before the beginning of school and it was a fun start to their day. It was also the type of meal that many people can contribute to.
Wednesday: We wanted to keep things simple in the middle of the week, but still wanted to provide a meal, so we ordered a bunch of sandwiches from the Walmart Deli. They are yummy and a killer deal. You can put whatever you like on them…turkey and gouda, roast beef and muenster, and they come with all the lettuce, tomatoes, pickles, onions, mustard and mayo. It is awesome. With those we provided small bags of chips, a few veggie trays and dessert. A super easy day!
Thursday: We pulled out all the stops for this one. We made the Chicken, Pesto, Spinach and Pine Nut Pasta (recipe HERE), homemade rolls, fruit with fruit dip, and yummy desserts. This day was a little more work, but for sure worth it.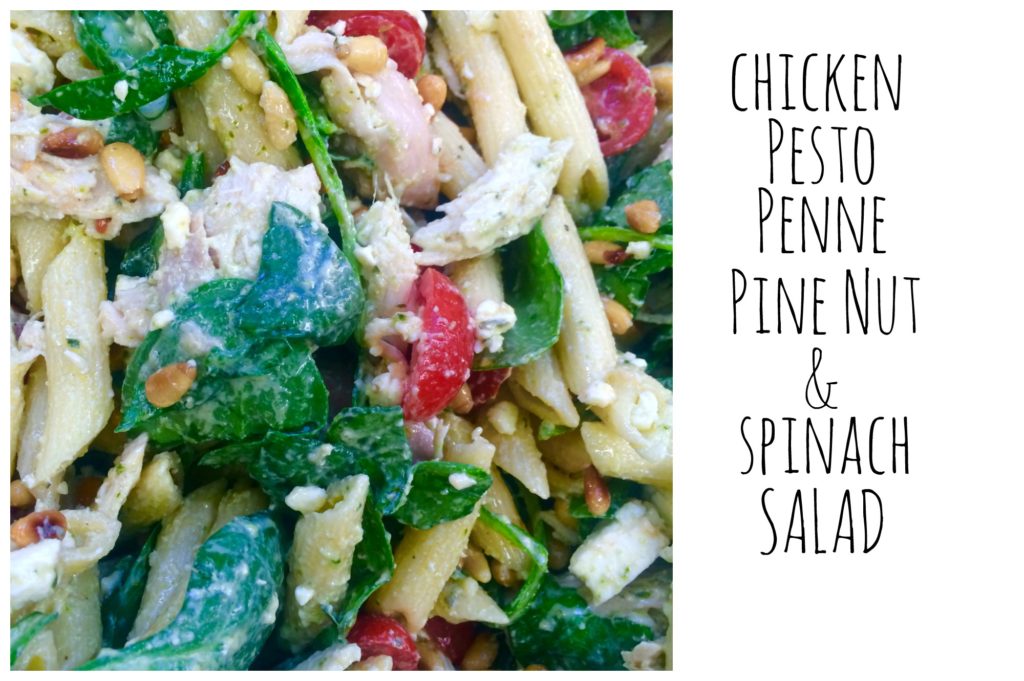 Friday: As the week wound down, we paid for drinks and cookies for all the teachers at a local soda shop at the end of school (Friday is early out). Worth every penny!
Hopefully this gives you some great ideas for celebrating your teachers!