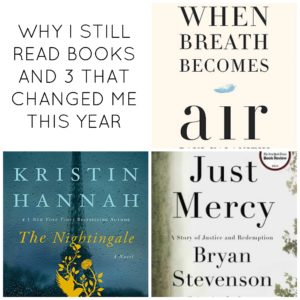 Our culture probably reads more than it ever has, constantly consuming information, memes, articles, and captions at a dizzying speed. But, for me, there is still nothing like a book. I love getting wrapped up in a story that quite literally changes my life. Great characters stick with me long after the last page, and my very vanilla life has been enriched by reading the stories of those who have lived very differently from me. Books spark a sense of gratitude, they alter my perspective, they help me develop empathy, and often push me to try to change myself and sometimes, in a small way, even let me think I might be able to change the world.
Because of books, I have some understanding of lives I will never lead, of heartbreak I will never know, and of courage I can only dream of. They have opened up lands, cultures and time periods that were formerly only after thoughts in social study texts. Books inspire me to be better and to try to understand situations from an alternate point of view. If we let them, they can make us much more thinking, interesting, and loving people.
I wanted to highlight three books that I read this year that are much more than just words on a page. They have changed the way I think, act and see the world, and they have done it all through incredible story telling. If you are looking for a great read, these three, for men and women, are the perfect place to start.
Just Mercy by Bryan Stevenson: If you think you know how you feel about the criminal justice system and death penalty, think again. What Bryan Stevenson has dedicated his life to is just absolutely phenomenal. He softened my heart, opened my mind, and made me want to get up and DO something about it. I guarantee this book will move you. Another wonderful reminder that life is never what it seems to be. Warning, you will be reading about some very difficult, raw and heart wrenching situations, so be advised.
When Breathe Becomes Air by Paul Kalanithi: This book is everything you want out of a book rolled into a perfectly written memoir that will leave you wishing for so much more. It will keep you up way past your bedtime; it will open your eyes to thoughts, references, and possibilities that you can't help but share; it will introduce you to the life of a neurosurgeon and you will come away with a profound respect for those that do such an important work; and it will make you cry as you watch someone so full of love and light go through cancer and remain true to himself, those he loves, and his passion for goodness.  You cannot finish this book without resolving to be a better human, more full of empathy, support and understanding. What a legacy Paul Kalanithi has graced us with. Buy it. Read it. Use it for book club. Give it as a gift…it is perfect for everyone.
The Nightengale by Kristin Hannah: This book is a work of historical fiction but the characters and story are so artfully crafted that the inspiration and lessons learned are absolutely real. It begs the reader to decide what they are willing to risk for goodness, light, and truth and what they are willing to sacrifice for those they love. It reminds us of the eternal lessons of forgiveness, love, loss, and faith and that life is never black and white. It is a book I wished would never end. Do not miss this one.
I would love to know, why do you still read books? What are your favorite reads of the last year or your favorite reads of all time? Please share, I am always looking for a good book!
On another note, I read all of my books now on my Kindle Paper White. It is my very favorite piece of technology…so easy on the eyes, no sun glare, but still stores all the books I love. The perfect gift for a reader or traveler.
What to see some of my other favorites? HERE they are.
Need some book ideas for your boys? Try THESE.
(this post contains amazon affiliate links)