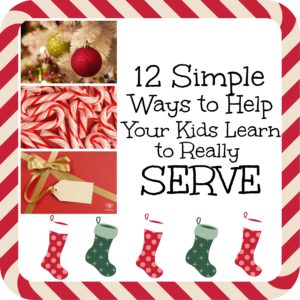 A friend of mine recently asked for some of our family's favorite ways to serve and suggested I write a blog post with a few ideas I could share. I compiled this list, with the help of an especially service oriented neighbor, and hope you find a few things that will work for your family and help open their hearts to others this season. Settling on meaningful ways to serve with children (where THEY are actually participating in or doing the service) can be difficult, but also incredibly rewarding.
Start with one of these ideas:
Go through your toys and find items to donate. Then, clean them up with Clorox Wipes, put all the pieces in a bag together and label it so it is ready for someone to enjoy. Ideally, if the kids are really making a sacrifice, it should be something they still like but no longer play with, not just junk. It is important for them to realize the people they are donating to are just like them and appreciate things that are clean and work well.
Take care of your mail person or UPS driver. The holidays (or anytime) are a great time to show a little extra love to those who are working especially hard. Take some candy bars to the post office and drop them by, leave a coke and a note for your UPS man, decorate your mailbox and leave a gift or gift card for your mail person.
Show love to your teachers. Have your child be a detective and find out what his or her teacher loves and then go together to find a gift that is really personal. With that gift, have your child include a special note of appreciation, find a good prompt HERE. This can work for all kinds of teachers…school, dance, coaches, church, scouts, etc.
Earn money and donate. There are so many great ways to give financially during the Christmas season and always), and it is easy for kids to ask their parents to donate money, but it means so much more when the money is their own. Have your kids do small jobs around the house for quarters, then take those quarters and drop them into the Salvation Army boxes or place the quarters in candy machines at the mall, so some little boy or girl gets a surprise when she tries to jiggle out a gumball. Your kids could do jobs for grandparents or hold a toy, bake, lemonade or hot chocolate sale for a cause that is important to them.
Spend time with the elderly. I am not sure there is a population who loves little children more than the elderly. Oftentimes just seeing their little faces is a gift. We like to take our kids and carol to senior centers (the smaller ones often have less visitors), and they love it. If you aren't a musical bunch, you can go and pass out Christmas cards, or read your favorite Christmas stories to them. The most important thing is to have your children interact with them. They can ask them questions and listen (you might need to give them some ideas), and they all love hugs. My 5 year old lets them hold him tight for as long as they like and their face softens into a smile as they hug him. It is a beautiful thing to watch. 
Serve in the home. One of our favorite traditions is to draw "secret pals" during December. We place all the names in jar and each person picks someone different to serve all week long, in secret. At the end of the week we try to guess who our pal was. It brings such a sweet spirit into our home and eases the contention. Love this tradition.
Give gifts. For the last 6 years our little family has done a dollar store gift exchange. Each person goes to the dollar store to purchase a $1 gift for each person in our family, including mom and dad. You can have the kids use their own money if they are old enough or you can provide it if they are young. We open these gifts on Christmas Eve,  and the warmth and love we feel for each other is priceless. Everyone is so excited to give and so generous in the way they receive. Proof that gifts from the heart are the very best. It is one of my favorite things about Christmas. More details HERE. I also love having our boys help us with a Sub for Santa or Angel Tree giving experience. The trick is to try and paint a picture of who you are serving and what their life might be like, then let them really help pick things out and wrap the presents…usually tasks that are easier done on your own. 
Help neighbors. There is nothing more valuable during Christmas than time, especially for a mother of young children. If your kids are old enough, invite a few younger kids to your home, and put your older kids in charge of entertaining them while the mom gets some last minute shopping or Christmas prep done. You can also kidnap and clean a neighbor's car or take their garbage cans in all month…such an awesome treat at Christmastime.
Take care of the homeless. Winter is such a time of intense need for many, so involving your children in this service for the most downtrodden in our society can be a great experience. You can make sack lunches or plates of warm dinner to take to the homeless you know live in your community. You can create blessing bags with essentials a homeless person may need all in a large Ziploc bag and take them to a downtown or urban area. You can make simple fleece blankets and deliver them to people who are living on the street or in shelters. You can drop new toys off at a homeless shelter where they can be distributed to those who are staying there. When you head downtown, you can ask each child to pack a few coins and dollar bills in his or her pocket so they have something to give to those who are asking for money.
Remember those who are often forgotten. This year, in addition to teacher, have your child write a heartfelt note or give a gift to someone who may not often be noticed: a crossing guard, a librarian, a custodian, a lunch worker, a garbageman, someone who might love to be remembered.
Say thanks to a serviceman. As a family, bake treats for the police or firemen. Write notes and include Amazon gift cards to soldiers serving our country. Send a letter to a missionary who is far away from home.
Have a "Polite" day.  Together, decide on a day when everyone will be especially polite to each person in their path. Hold doors, help with groceries, clean up, say "Please" and "Thank You," compliment 10 people, do the right thing without being asked, make a new friend, ask someone to sit with you, smile and say hello to someone who looks sad. Report on how little things can make a big difference.
I would love to hear how your family serves! Please share your great ideas with the rest of us!