This past week I was in charge of our high school's mental health week. Whenever I volunteer for something, I like to be sure that our money and time are not being wasted, and it is something the kids will find meaningful or at the very least enjoy. It ended up going really well, so I thought I would share it will all of you.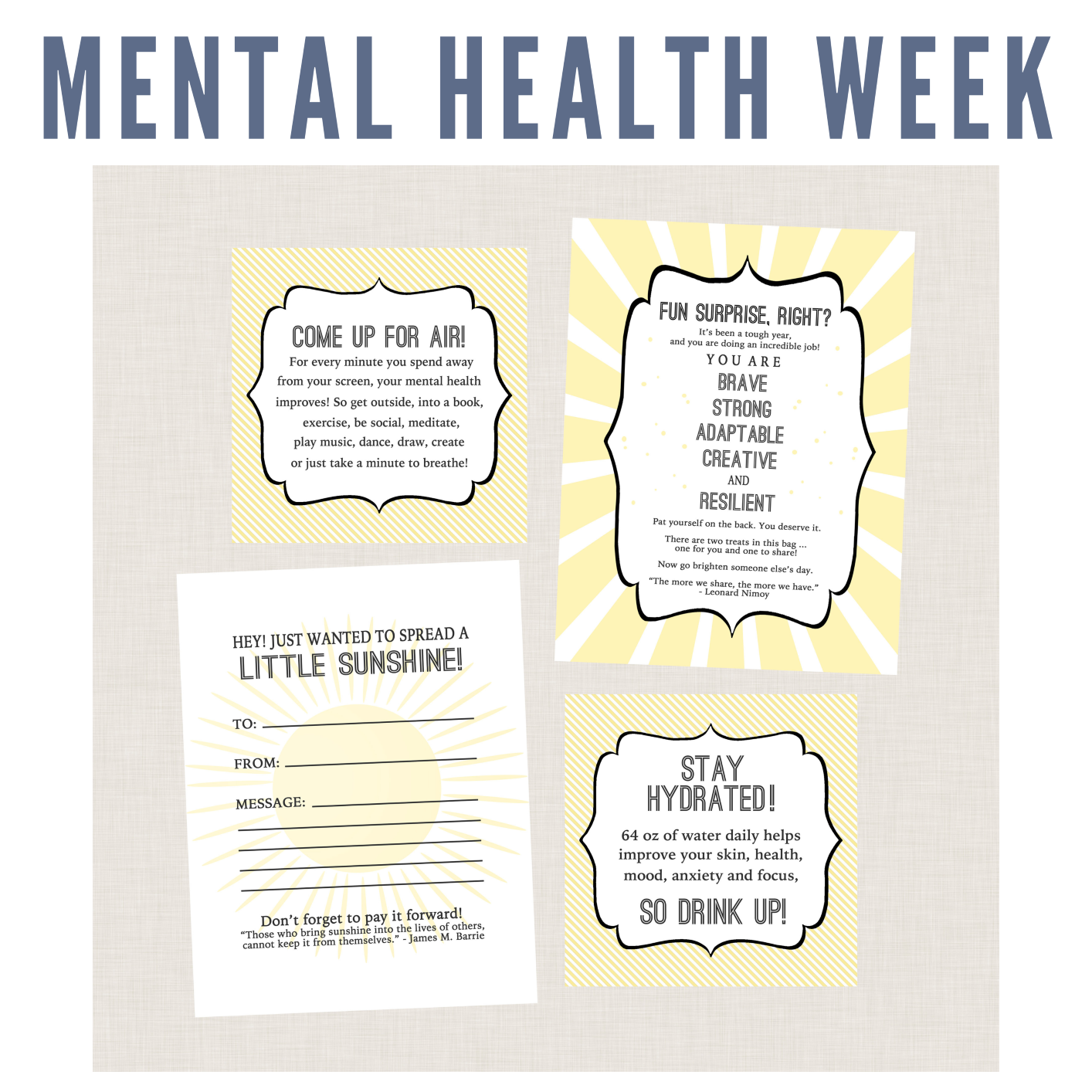 The printables I used can all be purchased on ETSY. You can find them HERE.
During such a rough year, I wanted the week to be uplifting and full of positivity, so we decided on the theme SPREAD SUNSHINE!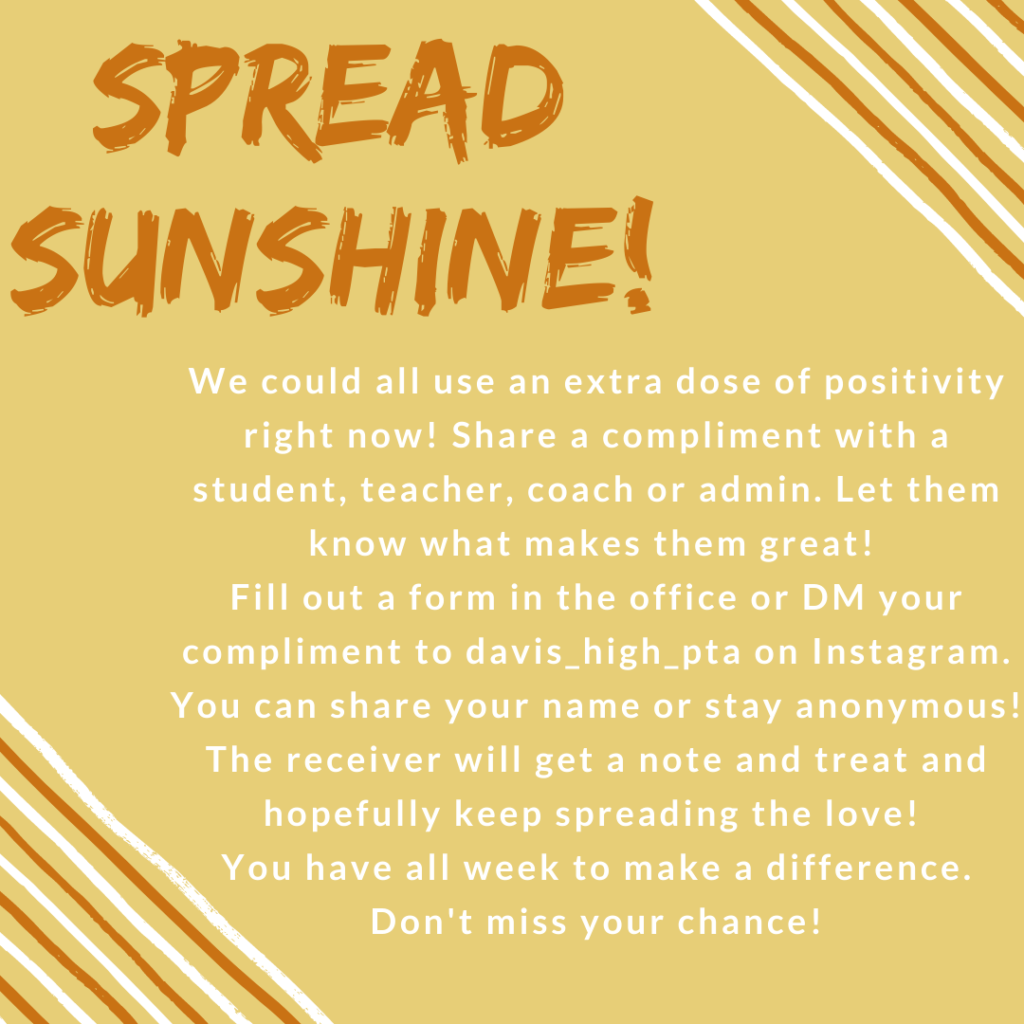 We started the week off by asking students to compliment another student, teacher or staff. They filled out a compliment card in the office, DM'd it to the PTA Instagram account, or wrote one at the Hope Squad table at lunch. To get the ball rolling, we had a full class fill out the cards and a few of the counselors participated too. The next day, the compliment, along with a full size candy bar would be delivered to the student or teacher. We got the word out through social media, announcements and word of mouth and had GREAT participation (much better than I planned for). We accepted and passed these out all week long and the kids were thrilled with a full size treat!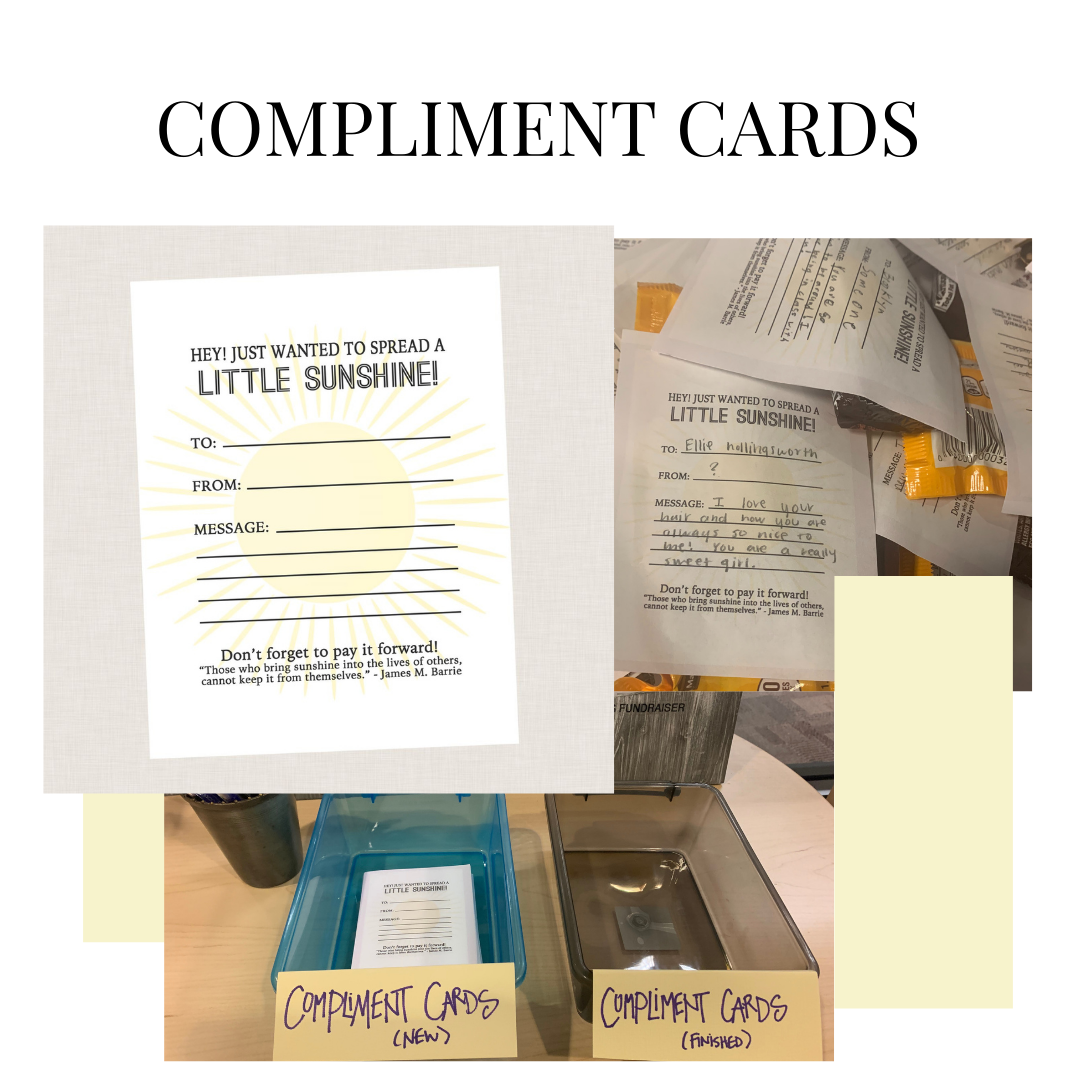 It has been a crazy year, and we wanted to make sure the students realized how incredible they were. We also know that mental health is bolstered when you connect with others, so we combined the two and delivered a bag with 2 treats and an affirmation note inside. We wanted them to read the note, pat themselves on the back, eat a treat and share one with a friend. From the feedback, this was a fun surprise on their cars or at lunch! You could also pass them out in class.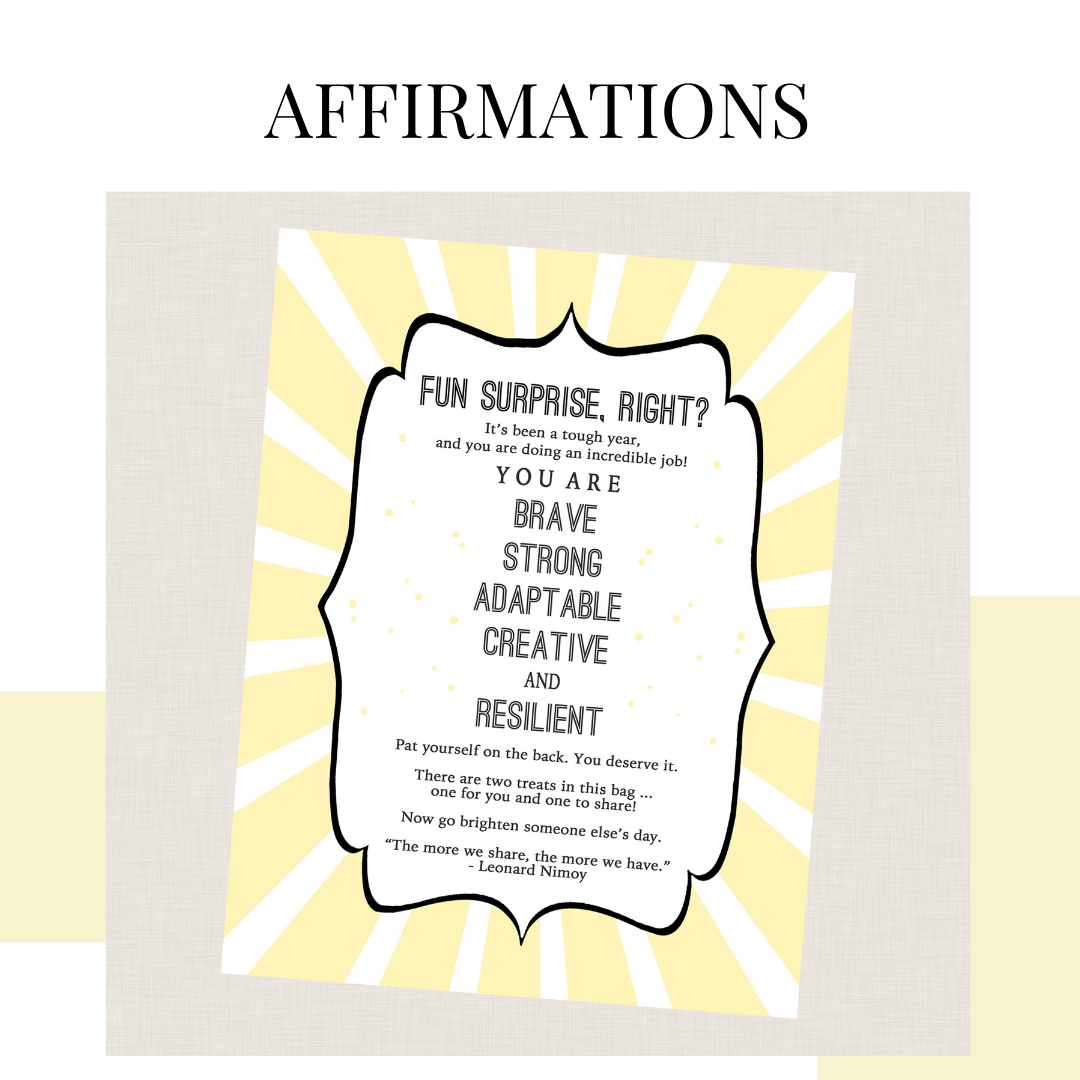 So many of teen's health issues can be fixed by getting enough water!  We passed out small water bottles at the beginning of school with a little sticker that reminded them to get enough to drink. It's amazing how many problems water can solve. Water bottles were inexpensive, but they were cumbersome. Another thought was to get little water flavor packets and pass those out with the same sticker or tag. We used simple mailing label stickers, but if you have the ability to print stickers or are doing them for a smaller group, the printables are cuter!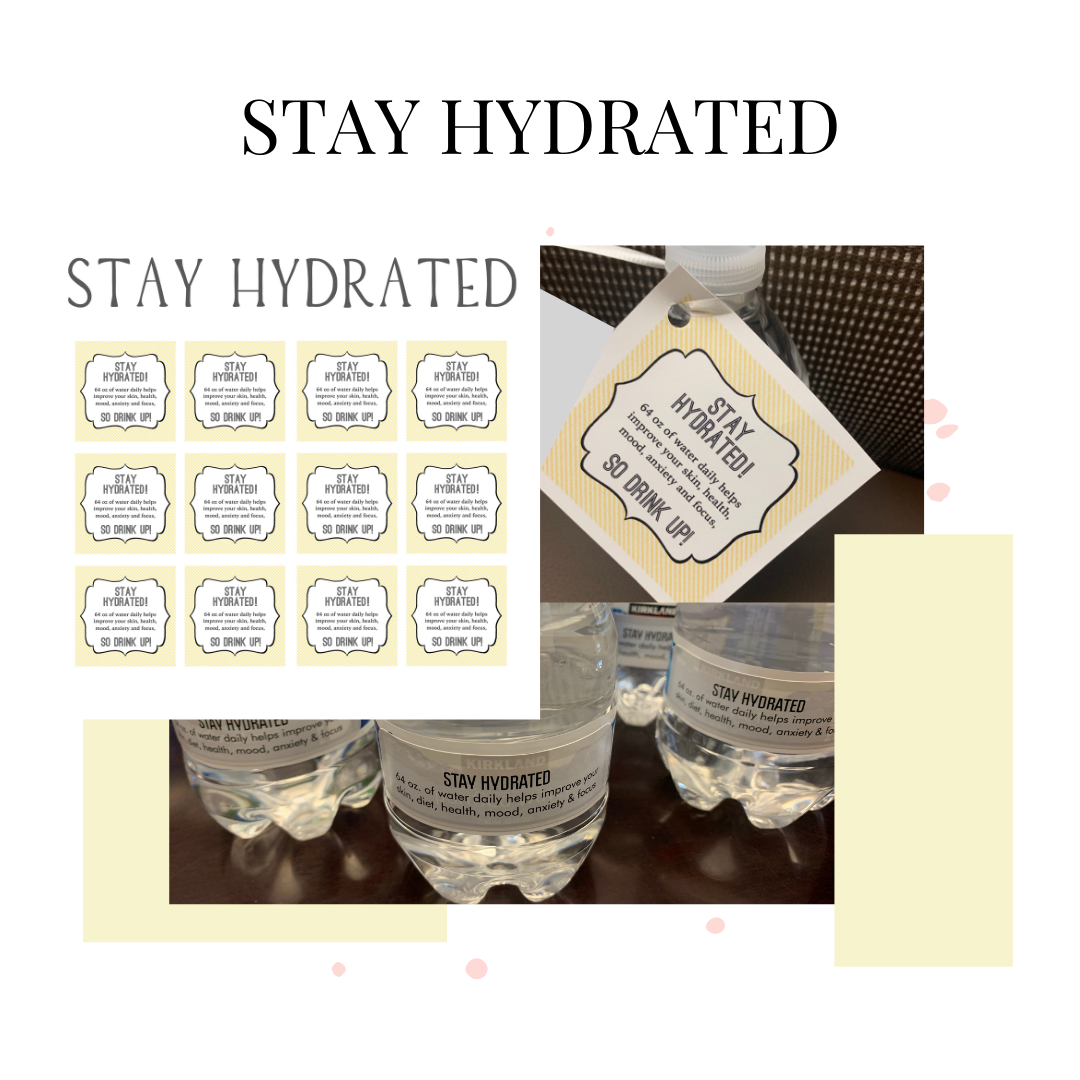 Many studies have shown how important screen free time is for our mental health. As a low key, not in your face tip, we urged them to "Come Up for Air!" and take a break from their screen. We are hoping it reminded each student, in a nice way, of little actions they can take to improve their own mental health and add a little extra enjoyment to their life. Airheads were a great treat…inexpensive, easy to pass out, and the kids love them.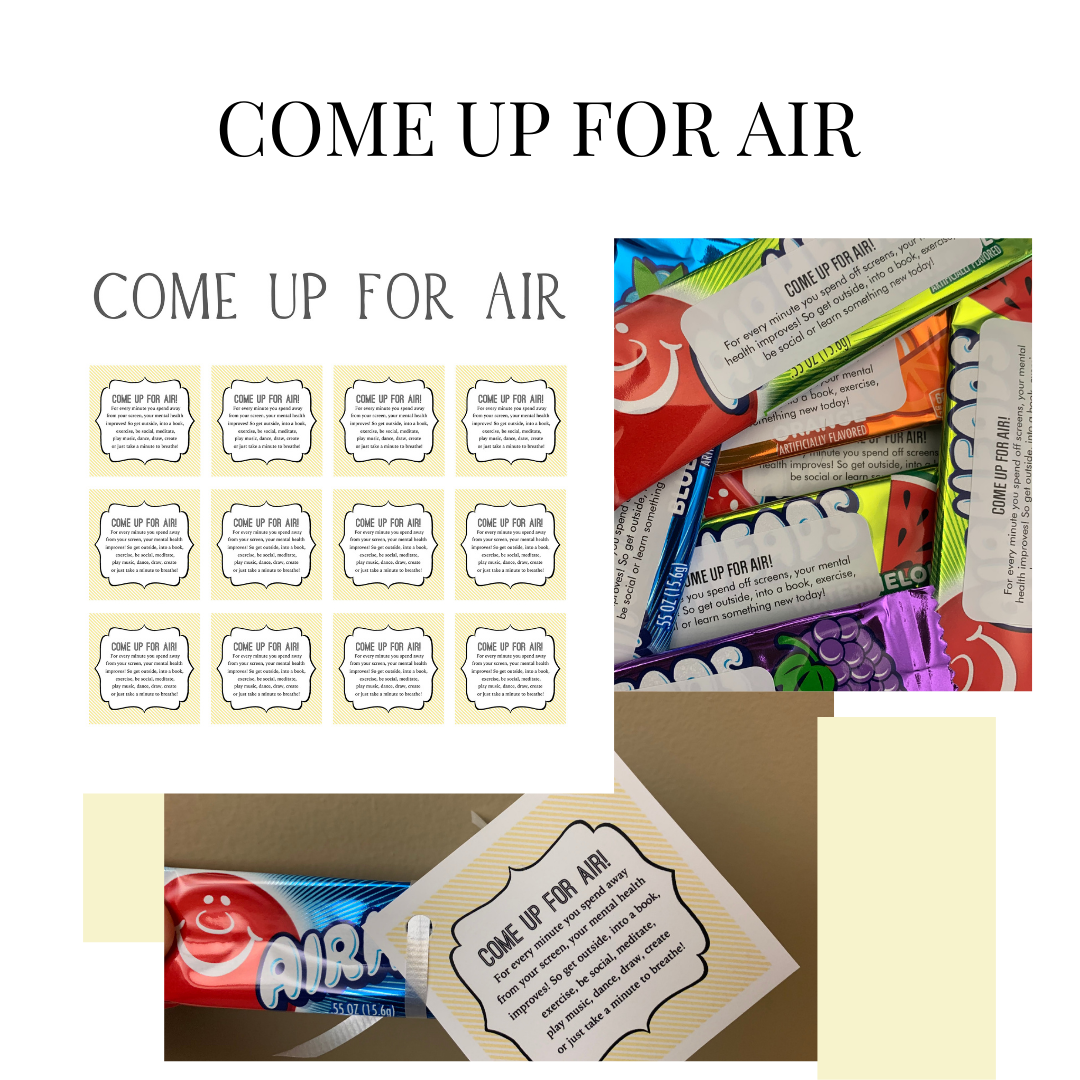 Overall it was an awesome week! This would also be great for a Hope Squad week or if schools are just looking for a simple, fun way to let their students know they are loved! It would work really well in some variety for both middle and high schools! You could make banners and posters as reminders too, but we chose to keep most of it digital.
Head to Etsy for all the inexpensive printables you need to make the week a total success!
In 2022 we mixed it up just a little! Instead of doing water bottles which were heavy, we did granola bars and encouraged the kids to get outside to boost their mental health. Using a label maker was a game changer and we added some fun social media challenges too! Here are the social media posts we used. Hopefully they will be helpful!
Also, this year we did way less of everything…only 250 compliment cards and 600 of everything else for our school of 2200. Seemed like plenty and hopefully everyone felt the love at some point!