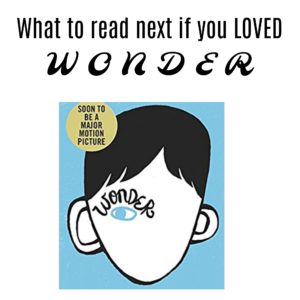 Wonder was a phenomenal book that touched all of our hearts and helped us walk in someone else's shoes for a few hundred pages. If you are looking for something similar, something that is touching with an atypical hero who beats the odds, this is a great list for you. On e warning, many of these books have a little more mature subject matter, so you may want to read them aloud or read them first before you pass them along to your kids!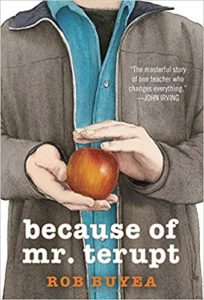 Because of Mr. Terupt:It's the start of fifth grade for seven kids at Snow Hill School. There's . . . Jessica, the new girl, smart and perceptive, who's having a hard time fitting in; Alexia, a bully, your friend one second, your enemy the next; Peter, class prankster and troublemaker; Luke, the brain; Danielle, who never stands up for herself; shy Anna, whose home situation makes her an outcast; and Jeffrey, who hates school. Only Mr. Terupt, their new and energetic teacher, seems to know how to deal with them all. He makes the classroom a fun place, even if he doesn't let them get away with much . . . until the snowy winter day when an accident changes everything—and everyone.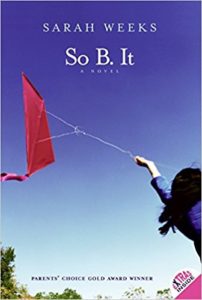 So B. It: From acclaimed author Sarah Weeks comes a touching coming-of-age story about a young girl who goes on a cross-country journey to discover the truth about her parent. She doesn't know when her birthday is or who her father is. In fact, everything about Heidi and her mentally disabled mother's past is a mystery. When a strange word in her mother's vocabulary begins to haunt her, Heidi sets out on a cross-country journey in search of the secrets of her past. Far away from home, pieces of her puzzling history come together. But it isn't until she learns to accept not knowing that Heidi truly arrives.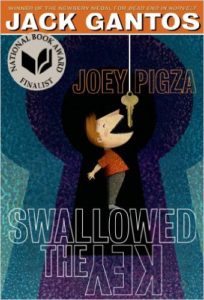 Joey Pigza Swallowed the Key: "They say I'm wired bad, or wired sad, but there's no doubt about it―I'm wired."Joey Pigza's got heart, he's got a mom who loves him, and he's got "dud meds," which is what he calls the Ritalin pills that are supposed to even out his wild mood swings. Sometimes Joey makes bad choices. He learns the hard way that he shouldn't stick his finger in the pencil sharpener, or swallow his house key, or run with scissors. Joey ends up bouncing around a lot – and eventually he bounces himself all the way downtown, into the district special-ed program, which could be the end of the line. As Joey knows, if he keeps making bad choices, he could just fall between the cracks for good. But he is determined not to let that happen. In this antic yet poignant new novel, Jack Gantos has perfect pitch in capturing the humor, the off-the-wall intensity, and the serious challenges that life presents to a kid dealing with hyper-activity and related disorders.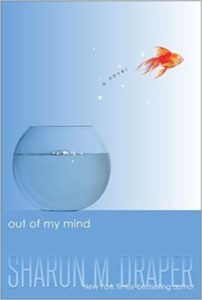 Out of My Mind: Melody is not like most people. She cannot walk or talk, but she has a photographic memory; she can remember every detail of everything she has ever experienced. She is smarter than most of the adults who try to diagnose her and smarter than her classmates in her integrated classroom—the very same classmates who dismiss her as mentally challenged, because she cannot tell them otherwise. But Melody refuses to be defined by cerebral palsy. And she's determined to let everyone know it…somehow.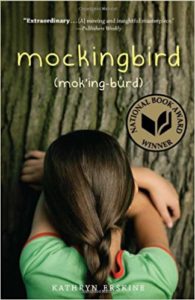 Mockingbird: Caitlin has Asperger's. The world according to her is black and white; anything in between is confusing. Before, when things got confusing, Caitlin went to her older brother, Devon, for help. But Devon was killed in a school shooting, and Caitlin's dad is so distraught that he is just not helpful. Caitlin wants everything to go back to the way things were, but she doesn't know how to do that. Then she comes across the word closure–and she realizes this is what she needs. And in her search for it, Caitlin discovers that the world may not be so black and white after all.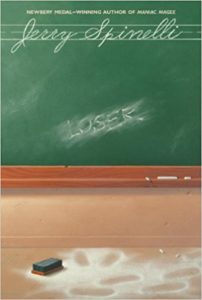 Loser: Just like other kids, Zinkoff rides his bike, hopes for snow days, and wants to be like his dad when he grows up. But Zinkoff also raises his hand with all the wrong answers, trips over his own feet, and falls down with laughter over a word like "Jabip." Other kids have their own word to describe him, but Zinkoff is too busy to hear it. He doesn't know he's not like everyone else. And one winter night, Zinkoff's differences show that any name can someday become "hero."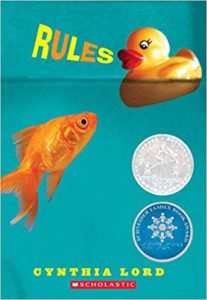 Rules: Twelve-year-old Catherine just wants a normal life. Which is near impossible when you have a brother with autism and a family that revolves around his disability. She's spent years trying to teach David the rules from "a peach is not a funny-looking apple" to "keep your pants on in public"—in order to head off David's embarrassing behaviors. But the summer Catherine meets Jason, a surprising, new sort-of friend, and Kristi, the next-door friend she's always wished for, it's her own shocking behavior that turns everything upside down and forces her to ask: What is normal?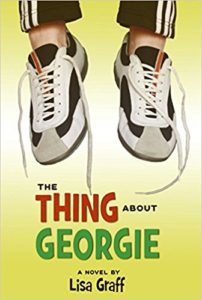 The Thing about Georgie: As far as Georgie is concerned, everyone has a "thing". The thing about poodles is that Georgie Bishop hates to walk them. The thing about Jeanie the Meanie is that she would rather write on her shoe than help Georgie with their Abraham Lincoln project. The thing about Andy's nonna is that she kisses Georgie's cheeks and doesn't speak one word of English. The thing about Georgie's mom is that she's having a baby—a baby who will probably be taller than Georgie very, very soon. The thing about Georgie . . . well, what is the thing about Georgie?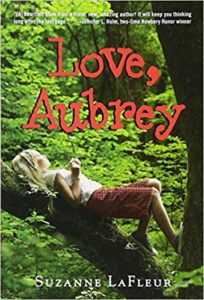 Love Aubrey: A beautifully written and deeply moving middle-grade novel with characters to cherish and a story that deals with tragedy and loss in a fresh way. Aubrey has suffered an unbelievable loss, and goes to live with her grandmother in Vermont in order to heal. There she makes new friends, learns to cope with what has happened, and begins to figure out how to move on. Readers will fall in love with Aubrey from page one, and hold their breath until the very end, when she has to make one of the biggest decisions of her life.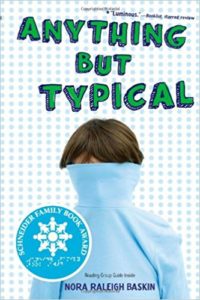 Anything But Typical: Jason Blake is an autistic 12-year-old living in a neurotypical world. Most days it's just a matter of time before something goes wrong. But Jason finds a glimmer of understanding when he comes across PhoenixBird, who posts stories to the same online site as he does. Jason can be himself when he writes and he thinks that PhoneixBird-her name is Rebecca-could be his first real friend. But as desperate as Jason is to met her, he's terrified that if they do meet, Rebecca wil only see his autism and not who Jason really is.  By acclaimed writer Nora Raleigh Baskin, this is the breathtaking depiction of an autistic boy's struggles-and a story for anyone who has ever worried about fitting in.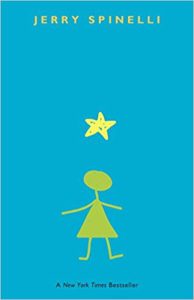 Star Girl:Stargirl. From the day she arrives at quiet Mica High in a burst of color and sound, the hallways hum with the murmur of "Stargirl, Stargirl." She captures Leo Borlock' s heart with just one smile. She sparks a school-spirit revolution with just one cheer. The students of Mica High are enchanted. At first. Then they turn on her. Stargirl is suddenly shunned for everything that makes her different, and Leo, panicked and desperate with love, urges her to become the very thing that can destroy her: normal. In this celebration of nonconformity, Newbery Medalist Jerry Spinelli weaves a tense, emotional tale about the perils of popularity and the thrill and inspiration of first love.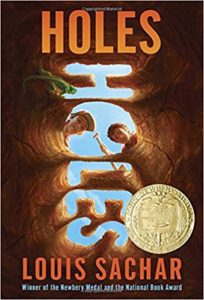 Holes: Stanley Yelnats is under a curse. A curse that began with his no-good-dirty-rotten-pig-stealing-great-great-grandfather and has since followed generations of Yelnatses. Now Stanley has been unjustly sent to a boys' detention center, Camp Green Lake, where the boys build character by spending all day, every day digging holes exactly five feet wide and five feet deep. There is no lake at Camp Green Lake. But there are an awful lot of holes. It doesn't take long for Stanley to realize there's more than character improvement going on at Camp Green Lake. The boys are digging holes because the warden is looking for something. But what could be buried under a dried-up lake? Stanley tries to dig up the truth in this inventive and darkly humorous tale of crime and punishment—and redemption.