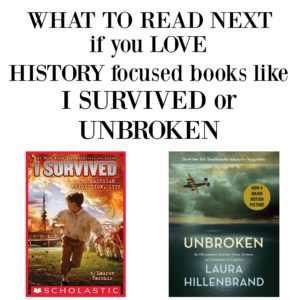 History and historical fiction are a huge hit in our home. Such valuable lessons are learned as kids read gripping tales of people who have gone before them. We have loved the young adult versions of some of the best memoirs and the effort authors have made recently to bring history to our younger audience. These also make great family read alouds! If your kids love reading about history, try these titles! (All titles are linked. Please be sure the books you recommend are appropriate for age and maturity level.)
With the rise of the Berlin Wall, twelve-year-old Gerta finds her family suddenly divided. She, her mother, and her brother Fritz live on the eastern side, controlled by the Soviets. Her father and middle brother, who had gone west in search of work, cannot return home. Gerta knows it is dangerous to watch the wall, to think forbidden thoughts of freedom, yet she can't help herself. She sees the East German soldiers with their guns trained on their own citizens; she, her family, her neighbors and friends are prisoners in their own city.
In December of 1938, a chemist in a German laboratory made a shocking discovery: When placed next to radioactive material, a Uranium atom split in two. That simple discovery launched a scientific race that spanned 3 continents. In Great Britain and the United States, Soviet spies worked their way into the scientific community; in Norway, a commando force slipped behind enemy lines to attack German heavy-water manufacturing; and deep in the desert, one brilliant group of scientists was hidden away at a remote site at Los Alamos. This is the story of the plotting, the risk-taking, the deceit, and genius that created the world's most formidable weapon. This is the story of the atomic bomb.
Will at the Battle of Gettysburg
Twelve-year-old Will wants to be a drummer in the Union army, but he's stuck far from the fighting in his sleepy hometown of Gettysburg, Pennsylvania. Then the Union and Confederate armies meet in Gettysburg, and Will and his family are caught up in the ferocious fighting. From delivering important messages and helping captured slaves escape Confederate soldiers to even saving a young soldier's life, Will takes readers on a journey through one of the Civil War's most significant battles. And when the fighting is finally over, Will witnesses President Lincoln deliver his famous Gettysburg Address, and he knows firsthand the truth behind his words.
Lida thought she was safe. Her neighbors wearing the yellow star were all taken away, but Lida is not Jewish. She will be fine, won't she? But she cannot escape the horrors of World War II. Lida's parents are ripped away from her and she is separated from her beloved sister, Larissa. The Nazis take Lida to a brutal work camp, where she and other Ukrainian children are forced into backbreaking labor. Starving and terrified, Lida bonds with her fellow prisoners, but none of them know if they'll live to see tomorrow.
When Lida and her friends are assigned to make bombs for the German army, Lida cannot stand the thought of helping the enemy. Then she has an idea. What if she sabotaged the bombs… and the Nazis? Can she do so without getting caught? And if she's freed, will she ever find her sister again? This pulse-pounding novel of survival, courage, and hope shows us a lesser-known piece of history — and is sure to keep readers captivated until the last page.
As the German troops begin their campaign to "relocate" all the Jews of Denmark, Annemarie Johansen's family takes in Annemarie's best friend, Ellen Rosen, and conceals her as part of the family.
Through the eyes of ten-year-old Annemarie, we watch as the Danish Resistance smuggles almost the entire Jewish population of Denmark, nearly seven thousand people, across the sea to Sweden. The heroism of an entire nation reminds us that there was pride and human decency in the world even during a time of terror and war.
Anne Frank: The Diary of a Young Girl
In 1942, with the Nazis occupying Holland, a thirteen-year-old Jewish girl and her family fled their home in Amsterdam and went into hiding. For the next two years, until their whereabouts were betrayed to the Gestapo, the Franks and another family lived cloistered in the "Secret Annexe" of an old office building. Cut off from the outside world, they faced hunger, boredom, the constant cruelties of living in confined quarters, and the ever-present threat of discovery and death. In her diary Anne Frank recorded vivid impressions of her experiences during this period. By turns thoughtful, moving, and surprisingly humorous, her account offers a fascinating commentary on human courage and frailty and a compelling self-portrait of a sensitive and spirited young woman whose promise was tragically cut short.
Hannah is tired of holiday gatherings−all her family ever talks about is the past. In fact, it seems to her that's what they do every Jewish holiday. But this year's Passover Seder will be different−Hannah will be mysteriously transported into the past . . . and only she knows the unspeakable horrors that await.
The Boys in the Boat (young adult version)
For readers of Unbroken, out of the depths of the Great Depression comes the astonishing tale of nine working-class boys from the American West who at the 1936 Olympics showed the world what true grit really meant. With rowers who were the sons of loggers, shipyard workers, and farmers, the University of Washington's eight-oar crew was never expected to defeat the elite East Coast teams, yet they did, going on to shock the world by challenging the German boat rowing for Adolf Hitler.
At the center of the tale is Joe Rantz, a teenager without family or prospects, whose personal quest captures the spirit of his generation—the generation that would prove in the coming years that the Nazis could not prevail over American determination and optimism.
The Boys who Challenged Hitler
At the outset of World War II, Denmark did not resist German occupation. Deeply ashamed of his nation's leaders, fifteen-year-old Knud Pedersen resolved with his brother and a handful of schoolmates to take action against the Nazis if the adults would not. Naming their secret club after the fiery British leader, the young patriots in the Churchill Club committed countless acts of sabotage, infuriating the Germans, who eventually had the boys tracked down and arrested. But their efforts were not in vain: the boys' exploits and eventual imprisonment helped spark a full-blown Danish resistance. Interweaving his own narrative with the recollections of Knud himself, The Boys Who Challenged Hitler is National Book Award winner Phillip Hoose's inspiring story of these young war heroes.
Esperanza thought she'd always live with her family on their ranch in Mexico–she'd always have fancy dresses, a beautiful home, and servants. But a sudden tragedy forces Esperanza and Mama to flee to California during the Great Depression, and to settle in a camp for Mexican farm workers. Esperanza isn't ready for the hard labor, financial struggles, or lack of acceptance she now faces. When their new life is threatened, Esperanza must find a way to rise above her difficult circumstances–Mama's life, and her own, depend on it.
As the Revolutionary War begins, thirteen-year-old Isabel wages her own fight…for freedom. Promised freedom upon the death of their owner, she and her sister, Ruth, in a cruel twist of fate become the property of a malicious New York City couple, the Locktons, who have no sympathy for the American Revolution and even less for Ruth and Isabel. When Isabel meets Curzon, a slave with ties to the Patriots, he encourages her to spy on her owners, who know details of British plans for invasion. She is reluctant at first, but when the unthinkable happens to Ruth, Isabel realizes her loyalty is available to the bidder who can provide her with freedom.
After fourteen-year-old Peak Marcello is arrested for scaling a New York City skyscraper, he's left with two choices: wither away in Juvenile Detention or go live with his long-lost father, who runs a climbing company in Thailand. But Peak quickly learns that his father's renewed interest in him has strings attached. Big strings. As owner of Peak Expeditions, he wants his son to be the youngest person to reach the Everest summit–and his motives are selfish at best. Even so, for a climbing addict like Peak, tackling Everest is the challenge of a lifetime. But it's also one that could cost him his life.
Roland Smith has created an action-packed adventure about friendship, sacrifice, family, and the drive to take on Everest, despite the incredible risk.
Describes the battle of the Alamo in 1836 as Mexican soldiers overwhelmed the Texan Alamo defenders, and explains what the battle symbolizes today. The readers choices reveal historical details from the perspective of a Mexican soldier and a Texan rebel.
Today I moved to a twelve-acre rock covered with cement, topped with bird turd and surrounded by water. I'm not the only kid who lives here. There's my sister, Natalie, except she doesn't count. And there are twenty-three other kids who live on the island because their dads work as guards or cook's or doctors or electricians for the prison, like my dad does. Plus, there are a ton of murderers, rapists, hit men, con men, stickup men, embezzlers, connivers, burglars, kidnappers and maybe even an innocent man or two, though I doubt it. The convicts we have are the kind other prisons don't want. I never knew prisons could be picky, but I guess they can. You get to Alcatraz by being the worst of the worst. Unless you're me. I came here because my mother said I had to.
From National Book Award Finalist Eliot Schrefer comes the compelling tale of a girl who must save a group of bonobos — and herself — from a violent coup. Congo is a dangerous place, even for people who are trying to do good.
When Sophie has to visit her mother at her sanctuary for bonobos, she's not thrilled to be there. Then Otto, an infant bonobo, comes into her life, and for the first time she feels responsible for another creature.
But peace does not last long for Sophie and Otto. When an armed revolution breaks out in the country, the sanctuary is attacked, and the two of them must escape unprepared into the jungle. Caught in the crosshairs of a lethal conflict, they must struggle to keep safe, to eat, and to live.
In ENDANGERED, Eliot Schrefer plunges us into a heart-stopping exploration of the things we do to survive, the sacrifices we make to help others, and the tangled geography that ties us all, human and animal, together.
Michael Arroyo has a pitching arm that throws serious heat along with aspirations of leading his team all the way to the Little League World Series. But his firepower is nothing compared to the heat Michael faces in his day-to-day life. Newly orphaned after his father led the family's escape from Cuba, Michael's only family is his seventeen-yearold brother Carlos. If Social Services hears of their situation, they will be separated in the foster-care system—or worse, sent back to Cuba. Together, the boys carry on alone, dodging bills and anyone who asks too many questions. But then someone wonders how a twelve-year-old boy could possibly throw with as much power as Michael Arroyo throws. With no way to prove his age, no birth certificate, and no parent to fight for his cause, Michael's secret world is blown wide open, and he discovers that family can come from the most unexpected sources.
Motivated by her love for the game and inspired by the legendary Jackie Robinson, Mamie Johnson is determined to be a professional baseball pitcher.  But in a sport that's determined by white men, there is no place for a black woman.  Mamie doesn't give up-from the time she insists on trying out for the all-male, all-white Police Athletic League until she realizes her dream and becomes one of three women to play in the Negro Leagues.  Mamie Johnson's life shows that with courage and perseverance one can overcome even the greatest challenges.