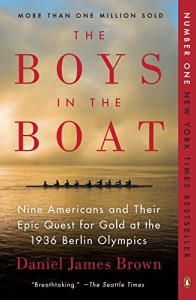 Sometimes, a book I love lingers with me. I will notice the characters popping into my head months after I have finished their story and I find myself wanting to talk about them with friends and family who have never read the book. That is how The Boys in the Boat by Daniel James Brown was for me. The story of their come from behind journey to the Berlin Olympics was exciting, but what really got me were the boys I got to know, especially Joe.
Joe's story was better than fiction could have created…a boy who started with nothing, endured unimaginable hardship, and triumphed in the end. He was strong, loving, kind, and determined. He beat the odds time and time again and I adore him. If you ever need motivation to press on, Joe is your man.
The book is a bit like a good rowing race…steady, measured and beautiful. I have heard some complain that it was too slow, but if you immerse yourself in it, you can enjoy every detail you are learning from the prose on the page. I came away a fan of rowing, of the University of Washington, of America and of every character in the story. I wanted to travel back to the 1930s and watch it all unfold in my backyard.
The epilogue was icing on the cake. I want to thank the author for including that absolute sweetness when we thought the story was over.
If you are looking for a quick beach read, pass this one up, but if you want a well written book to love and learn from, this one is highly recommended for both men and women!
Every now and then a story sticks with you for months and you can't stop thinking about the characters you fell in love with, that is how The Boys in the Boat was for me. The beginning was slow and steady with beautiful writing as it shared the unbelievable story or a remarkable man.