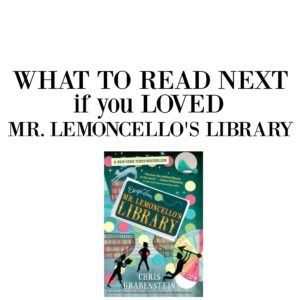 If your kids could not put Mr. Lemoncello's Library down, certainly they are searching for another book with a little mystery, with puzzles and riddles to solve, and with fun and eccentric characters, I have a new list for them! (All books linked. Please do your research to be sure the titles are age and ability appropriate!)
For twelve-year-old Emily, the best thing about moving to San Francisco is that it's the home city of her literary idol: Garrison Griswold, book publisher and creator of the online sensation Book Scavenger (a game where books are hidden in cities all over the country and clues to find them are revealed through puzzles). Upon her arrival, however, Emily learns that Griswold has been attacked and is now in a coma, and no one knows anything about the epic new game he had been poised to launch. Then Emily and her new friend James discover an odd book, which they come to believe is from Griswold himself, and might contain the only copy of his mysterious new game.
Racing against time, Emily and James rush from clue to clue, desperate to figure out the secret at the heart of Griswold's new game―before those who attacked Griswold come after them too.
The paperback edition of Book Scavenger by Jennifer Chambliss Bertman features a gorgeous, brightened cover and an interview with the author. This title has Common Core connections.
What if your favorite characters came to life? Billy's spending the summer in a lakeside cabin that belongs to the mysterious Dr. Libris. But something strange is going on. Besides the security cameras everywhere, there's Dr. Libris's private bookcase. Whenever Billy opens the books inside, he can hear sounds coming from the island in the middle of the lake. The clash of swords. The twang of arrows. Sometimes he can even feel the ground shaking. It's almost as if the stories he's reading are coming to life! But that's impossible . . . isn't it? Look for brand-new BONUS material in the paperback, including a GALLERY of literary characters, a discussion guide, a behind-the-scenes look at Chris's process, and more!
The Mysterious Benedict Society
"Are you a gifted child looking for special opportunities?" Dozens of children respond to this peculiar ad in the newspaper and are then put through a series of mind-bending tests, which readers take along with them. Only four children–two boys and two girls–succeed. Their challenge: to go on a secret mission that only the most intelligent and inventive children could complete. To accomplish it they will have to go undercover at the Learning Institute for the Very Enlightened, where the only rule is that there are no rules. But what they'll find in the hidden underground tunnels of the school is more than your average school supplies. So, if you're gifted, creative, or happen to know Morse Code, they could probably use your help.
He's strapped to a chair. He's covered in blood and bruises. He hurts all over. And a strange voice outside the door just ordered his death. The last thing he can remember, he was a normal high-school kid doing normal things–working on his homework, practicing karate, daydreaming of becoming an air force pilot, writing a pretty girl's number on his hand. How long ago was that? Where is he now? Who is he really?
And more to the point . . . how is he going to get out of this room alive?
Luke, J.J. Will, Lyssa, Charla, and Ian. They did'nt want to be on the boat in the first place. They didn't want to be stuck at sea with a bunch of strangers. But when you're in the middle of the Pacific Ocean, there's no easy way out. And when a terrifying storm hits, there's no way to fully prepare. It's all about survival.
Minutes before she died Grace Cahill changed her will, leaving her decendants an impossible decision: "You have a choice – one million dollars or a clue."
Grace is the last matriarch of the Cahills, the world's most powerful family. Everyone from Napoleon to Houdini is related to the Cahills, yet the source of the family power is lost. 39 Clues hidden around the world will reveal the family's secret, but no one has been able to assemble them. Now the clues race is on, and young Amy and Dan must decide what's important: hunting clues or uncovering what REALLY happened to their parents.
A Series of Unfortunate Events
Are you made fainthearted by death? Does fire unnerve you? Is a villain something that might crop up in future nightmares of yours? Are you thrilled by nefarious plots? Is cold porridge upsetting to you? Vicious threats? Hooks? Uncomfortable clothing?
It is likely that your answers will reveal A Series of Unfortunate Events to be ill-suited for your personal use. A librarian, bookseller, or acquaintance should be able to suggest books more appropriate for your fragile temperament. But to the rarest of readers we say, "Proceed, but cautiously."
Otto Malpense may only be thirteen years old, but so far he has managed to run the orphanage where he lives, and he has come up with a plan clever enough to trick the most powerful man in the country. He is the perfect candidate to become the world's next supervillain.
That is why he ends up at H.I.V.E., handpicked to become a member of the incoming class. The students have been kidnapped and brought to a secluded island inside a seemingly active volcano, where the school has resided for decades. All the kids are elite; they are the most athletic, the most technically advanced, and the smartest in the country. Inside the cavernous marble rooms, floodlit hangars, and steel doors, the students are enrolled in Villainy Studies and Stealth and Evasion 101. But what Otto soon comes to realize is that this is a six-year program, and leaving is not an option.
With the help of his new friends: an athletic martial-arts expert; a world-famous, beautiful diamond thief; and a spunky computer genius — the only other people who seem to want to leave — can Otto achieve what has never been done before and break out of H.I.V.E.?
A bizarre chain of events begins when sixteen unlikely people gather for the reading of Samuel W. Westing's will. And though no one knows why the eccentric, game-loving millionaire has chosen a virtual stranger—and a possible murderer—to inherit his vast fortune, on things for sure: Sam Westing may be dead…but that won't stop him from playing one last game!