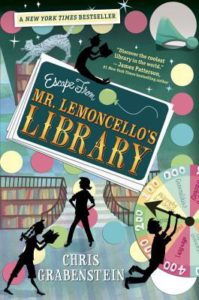 Escape from Mr. Lemoncello's Library
Stats according to Parker:
5 stars
2 books in the series
You will love Escape from Mr. Lemoncello's Library if you like: Hold Fast, Beholding Bee, Under the Egg, Charlie and the Chocolate Factory
Language: no
Nightmares: nope
Violence: nope
Romance: not really
Themes: kids can do anything, reading is amazing, books are magical
Reading ability: grades 3 and up but middle schoolers have loved it too (lexile score: 720)
Why I loved it: Escape from Mr. Lemoncello's Library is so much fun because it is full of mystery, suspense, and adventure. The writing was so amazing and keeps you totally engaged. It is nice because it is a super clean book that is just a lot of fun. It would be really fun to read out loud with your family. There were so many puzzles to solve and it was a total cliffhanger at each chapter. This book was hard to put down.
Goodreads Summary: Kyle Keeley is the class clown, popular with most kids, (if not the teachers), and an ardent fan of all games: board games, word games, and particularly video games. His hero, Luigi Lemoncello, the most notorious and creative gamemaker in the world, just so happens to be the genius behind the building of the new town library.
Lucky Kyle wins a coveted spot to be one of the first 12 kids in the library for an overnight of fun, food, and lots and lots of games. But when morning comes, the doors remain locked. Kyle and the other winners must solve every clue and every secret puzzle to find the hidden escape route. And the stakes are very high.
In this cross between Charlie and the Chocolate Factory and A Night in the Museum, Agatha Award winner Chris Grabenstein uses rib-tickling humor to create the perfect tale for his quirky characters. Old fans and new readers will become enthralled with the crafty twists and turns of this ultimate library experience.
Want more recommendations for boys? Click HERE!