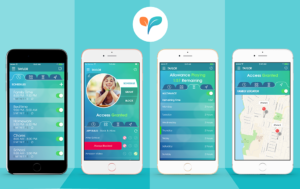 Technology rarely blows me away. In fact, oftentimes it seems to make life more complicated than it was before; However, the relatively new app, Our Pact, has made managing screen time, smart phones, and everything in between so incredibly simple and has given me the peace of mind that is often absent when it comes to technology.
I downloaded the app a few weeks ago, and it was so easy to use and effective I had to let my readers know. This is not sponsored, I just love it that much. It will truly change your family's electronic life and put you back in control, while allowing age appropriate freedom and trust. Here is what it can do for your family:
Create schedules: For each device you own, you can set a usage schedule. For older family members, you may only set a bedtime schedule that blocks the phone from 10pm-6am. For younger family members, you may have not only bedtime, but homework time, family time, play time, etc. We love blocking the phone during school. During these blocked times of day, your child will not be able to access their phone, unless you set the app on "always allowed." As soon as the block is lifted, the phone is back on. This is especially useful if the teen's phone is used as an alarm clock, if they read on a device, or if you have a child who likes to sneak their iPad into bed at night. 
Block Apps: Many parents don't mind their kids having a smart phone but want to block access to certain apps. Our Pact allows you to block apps that you don't approve of at any time. You can also block the App Store, Internet Browsers, and Google Play so that additional apps cannot be downloaded.It allows you to see every app on your child's phone, so there are no hidden apps. This feature is fantastic! If your child uses his or her phone at school, but you don't want them wasting time there, you can block the gaming apps until homework is finished. If you only want your child using social media when you can monitor things, you can block the app until you are together and can supervise. So cool!!
Limit Screen Time: This option is the greatest to help kids learn how to monitor the amount of time they spend on technology. It allows them to prioritize what is most important to them on their phone or tablet, and then spend the rest of their time doing other things. It is especially helpful for parents who can't be as vigilant as they want to or who don't want to fight about screen time anymore. You can set a screen time limit per device each day and when the screen time runs out, the apps that are on "scheduled," are no longer accessible. I love that it sets real boundaries for kids and allows them to manage their own screen time. If they only get two hours each day, they can choose carefully how they will use it and then get creative with the rest of their time. 
Block on the spot: One of the features I love about Our Pact is the chance to block the device any time! We were at a play and I saw my son pull out his phone to check a text. Since that is an inappropriate place to use your phone and he didn't exhibit the control I wanted to see, I blocked his access until we had a conversation about when and where to use a phone. You can do this anytime, as often as you need to, regardless of the schedule you have set. I also love this if you think your teens have spent too much time on their phone in one day…it offers them a forced break. 
Locate Family: In addition to all the other great perks, it can also tell you exactly where your child's device is at all times. Also helpful if misplacing expensive technology is a problem for your family.
Block Adult Content: OurPact allows parents to block adult content on all browsers, which is amazing! Be aware that the adult content can't be blocked inside apps, but this can give you some peace of mind.
Amazing New Features: OurPact has figured out how to be smarter than our kids and now offers TONS more options to regulate the phone and screen time. Options to have certain websites always blocked or always allowed, disable app removal, disable siri or Airdrop, Disable passcode changes, disable factory reset and other great options. I love the improvements that are constantly being made to this app.
Sign a Contract: I love Our Pact because it not only provides controls but gives parents tools to start conversations about healthy screen time, smart online communication, and the appropriate place for technology in our lives. As you go through and set schedules, app rules, and screen limits, you can use the contract they provide to decide together the best way to use technology.
So, now that you know what it can do for you and your family, here are some questions you might want answers to:
Q: Is it hard to install and use?
A: That depends. It is a bit of a pain for iOS devices, but the effort is worth it, I promise. For all other devices it was a piece of cake!
Q: My child is pretty good at getting around things. Can they take it off?
A: It isn't easy, but it is possible; however, if the app is ever removed from a device, the parents are notified immediately. If you need any technical help, you can contact Our Pact for suggestions on using it with very tech savvy kids. They are very responsive. The new update gives you options to disable removing apps and resetting to factory settings, so this should make it even harder to get around!
Q: Does it run through a router? Is it easy for my kids to turn off?
A: No. Other controls run through routers which means they only work when they are on and when your children are inside your home. This is an app that cannot be turned off or worked around.
Q: Can I control their phones and tablets even when I am not with them or when they are out of our home?
A: Yes! You do everything from your phone, so you can be in another country and still be able to block, schedule, and allow for all of your devices.
Q: What are the drawbacks?
A: Your kids will fight you a bit on it for sure, but stay strong! They will thank you in the long run. The other problem we have had is if the phone is not on good wifi, it can be difficult for kids to pause and start their time.
Q: I have multiple children with multiple devices, how many can I control?
A: Depending on the plan, you can control as many as 20 devices from your phone.
Q: Sounds pretty amazing, how much will this cost me?
A: Our Pact offers three different plans:
FREE: This free plan offers you one device and one schedule. It can allow you to, at the very least, set screen free sleep hours, which is good for everyone.
$1.99 per month: This middle plan allows you to control 10 devices. On those devices you can set unlimited schedules, and you have access to unlimited blocks and grants on those devices.
$6.99 per month: This premium plan allows you to control 20 devices. On those devices you can set unlimited schedules, have access to unlimited blocks and grants, block and allow specific apps, set screen time limits, block texts, and make use of the family locator.
I would highly encourage you to give their FREE TRIAL a shot and see how it changes the technology use in your home and after that, the $6.99 per month is absolutely worth every penny.  I couldn't love it more! If you have any questions or concerns, please let me know!
To read more about technology, check out these articles:
US Students Need a Cell Phone Detox
Steps for Changing the Cell Phone Policy in Your School
10 Things I Wish I Would Have Done Before Getting My Child a Smartphone
The Dangerous Game Middle Schoolers Need to Stop
9 Things You Need to Know Before You Sign Your Child Up For Instagram
I Love You Too Much to Get You a Phone
I Left My Phone at Home, The Results Were Priceless