St. George has quickly become one of our favorite destinations close to home. We get a chance to see sunshine and warm up during the crazy Utah winter and spring. Between sports tournaments and three day weekends, we have spent a good of amount of time exploring the red rocks and hidden gems.
My parents' have a home near Snow Canyon, which is a bit out of town, so we usually arrive, go shopping at Costco and spend our mornings hiking, our afternoons swimming, and eat in. There really is nothing better. I am positive that hiking is the best free family activity out there. Everyone can do it, everyone enjoys it (even if they won't admit it), it keeps us active, and it allows us to explore and appreciate the beauty of nature. Here are a few you must try (All hikes, etc. are linked to more specific directions and information):
SNOW CANYON HIKES (Park entrance fee $6)
Butterfly Trail: This one is our very favorite, so if you only have time to do one, choose this. It is daring enough to keep the boys interested and moving (the beginning is a little slick and steep) but it is not scary. The last half is fairly flat and allows time to enjoy the views of the red and white rocks on all sides. When the butterfly trail ends, you can turn to your left and hike up a HUGE rock formation. The hike is a little difficult but doable if you are willing to push. The view from the top is unbeatable and a few guys were throwing a frisbee from the top to the bottom which made for some good entertainment. We loved the climb! If you go to your right, you can hike the Lava Tubes.
Lava Tubes: These are also a must. My boys were in love with exploring the deep caves. The average family can climb down for a minute and poke around, but if you are really daring and have head lamps, you can wind through the lava tubes. This is not for the leisurely hiker or for little ones. If you plan on hiking the lava tubes, wear sturdy shoes and pants and preferably a long sleeve shirt since it's easy to get scraped up. You will also have the chance to climb through small spaces, so if you are claustrophobic, don't push it.
Marble Mountain: This hike starts in Snow Canyon at the "Upper Galut" trail head. It looks like a nice picnic area, but if you keep walking up the mountain, you can find tons of naturally formed marbles out of the red rock. It is pretty amazing! Remember to keep them there for others to enjoy! As a family we enjoyed hiking up the large rocks to the very top. At times it was steep and for a moment we needed to be on all fours but it wasn't hard. It also wasn't crowded at all…a nice bonus!
White Rocks Trail: A little longer hike that allows hikers to also explore the white rock amphitheater. This hike gives views of the white rocks and lava flows with plenty to keep everyone moving and interested.
Sand Dunes: If you have time to stick around and play or if you have little ones that don't plan on hiking, you can spend hours and hours playing in the warm, soft, red sand. Bring some toys for digging, sunscreen, and some snacks and it is an awesome way to spend the afternoon. One warning, just recently there was a death from someone stepping into a sink hole here. It almost never happens, but be sure to stay together.
OTHER HIKES
Gunlock Reservoir: We would love to do this hike when the water is flowing during the spring and there are waterfalls. We have heard amazing things about it at that time of year, but we have never seen it ( from our research, it rarely happens, but if it does you will need your swimsuit). We still enjoyed our hike though…the boys loved blazing their own trail and really exploring. Best for older kids who don't need a trail and who like a little adventure, but our little ones were fine too.
Chuckwalla Trail: This is one of the easiest hikes (walks) in St. George but it is beautiful and my boys love it. It's about 1 mile, but you can turn back whenever you are tired. The path is easy to follow and we even found a tortoise the last time we were there! A perfect beginners hike!
The Glass/Gypsum Mine or Glitter Mountain: This is located just south of St. George (on the Arizona side) and is an abandoned Gypsum mine. It was tough to find, but as we got closer, google maps found it for us when we searched Gypsum Mine. Our kids all loved being there and exploring all the cool rocks. Don't forget a hammer, chisel and some bags to take your loot home in, they will love it! For more info and directions check HERE.
Dixie Rock: There are tons of tunnels and trails at Dixie Rock that can make for a great morning of exploring. This is perfect if you have all ages who like to wander, climb and explore. To date I think it is the second favorite hike because there is so much freedom with it. However, it does get super crowded!
Padre Canyon Trail: This trail starts in Tuachan and ends in Snow Canyon if you go all the way through. A little adventurous but doable.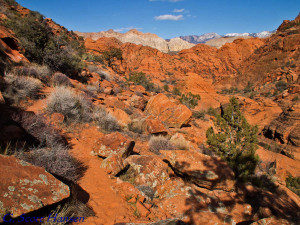 Santa Clara Petroglyphs: I cannot even imagine how excited my boys would be to actually discover real petroglyphs! We will definitely be taking this hike on our next trip.
Red Reef Trail: This is another of our all time favorite hikes. We got to cliff jump, wade through water, climb with a rope, really a little boy heaven and highly recommended. This hike is fun and scenic and takes you to a natural pool. Park at the Red Cliff's Campground and take it from there. (warning, there may be no water depending on the time of year and if there is no water, it will be a total bummer)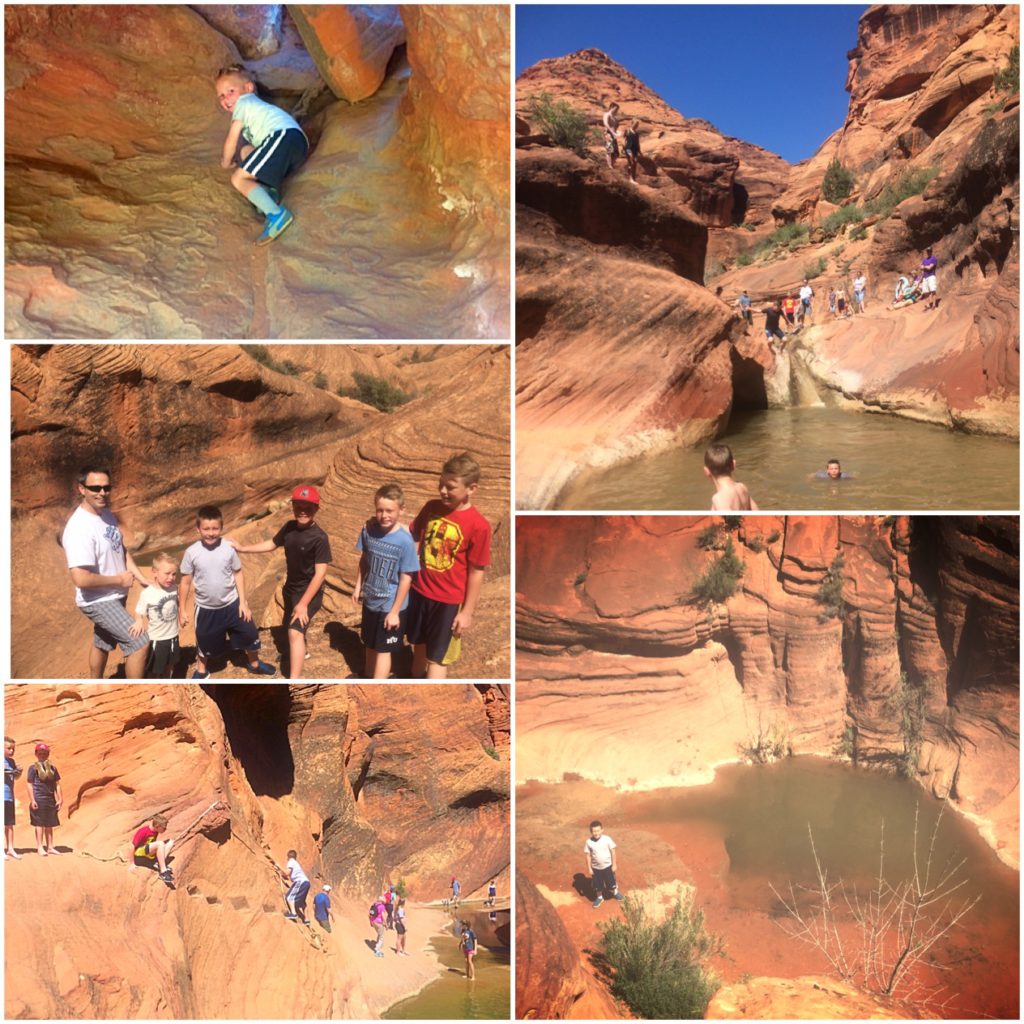 We loved this easy hike that was perfect for kids and adults of all ages. There was a variety of scenery and lots of great spots to stop and enjoy the beauty…don't miss the arch! If you go between March and October, you may need permission from a ranger.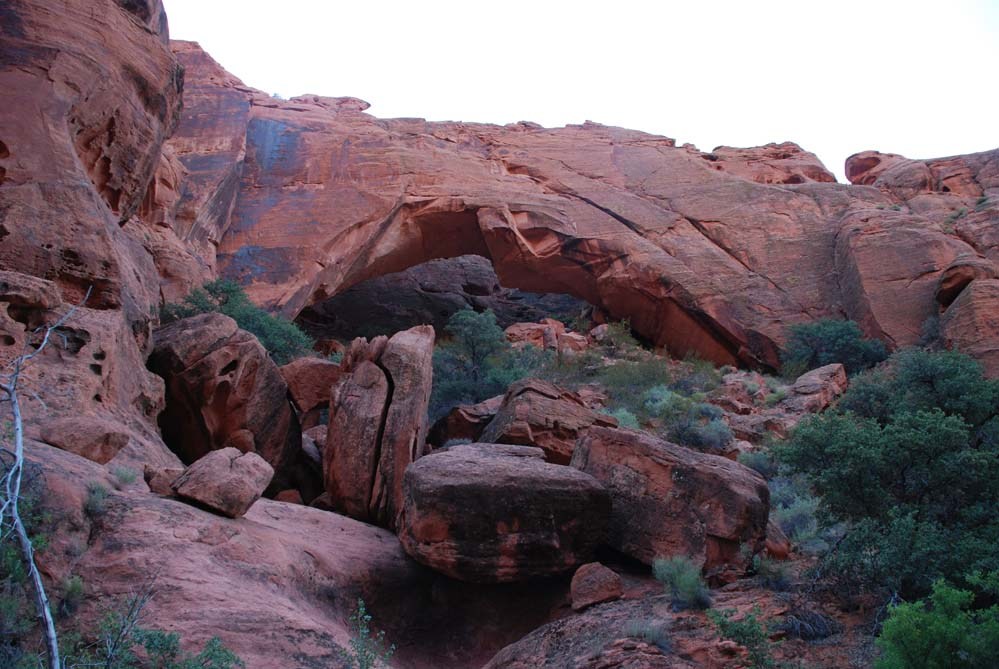 We finally did this hike and it was AWESOME. It is 5 miles and fairly intense for most of the way. My one suggestion is go when it is warm or hot outside because you are walking through ice cold water for a good portion of the hike. You need good hiking shoes that can get wet and a crew that is not afraid of adventure. Bring jackets for sure and a change of clothes or at least shoes and socks for when you are finished. When you are done you will feel very accomplished. We had some 6 year olds with us and they needed to be carried for a good portion of the hike because the water was too cold! In the summer it might not be a problem at all.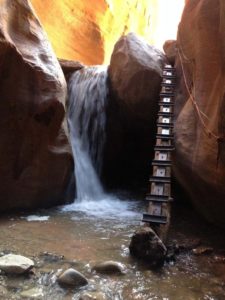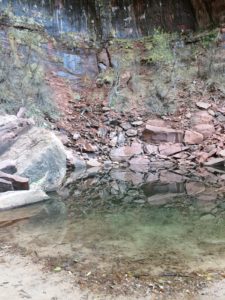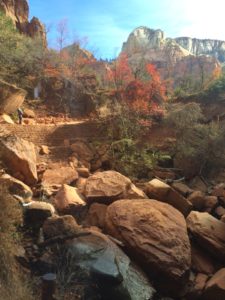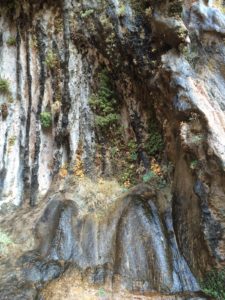 Zion's is only a short 45 minutes away from St. George, and is an absolute must see. There are lots of great hikes for families and even one day gives you a great taste of this beautiful place. We took our plan from Joe's Guide To Zion's National Park and loved his recommendations. In one day we hiked all three Emerald Pools, Weeping Rock, Riverside Walk, and the Canyon Overlook Trail. Fair Warning, we went during a much less crowded time.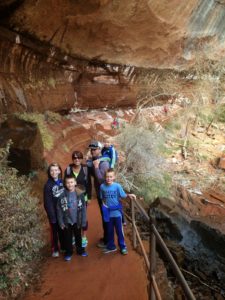 BIG ADVENTURES 
On our last trip to St. George we had the COOLEST adventure experience with Paragon Adventures. We were able to rock climb, rappel, hike and zipline in a little known St. George spot. We spent about 5 hours getting our brave on…we climbed higher than we thought we could, descended lower than we dreamed of and flew freely through the air. The entire time we felt incredibly safe and well taken care of. Our guides were amazing in every way and pushed us to try new things and really enjoy all St. George has to offer but made us feel so safe! While the excursions were a good chunk of change (about $130 for about 5 hours) it was worth every penny to all of us! Such an incredible time.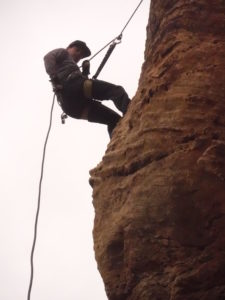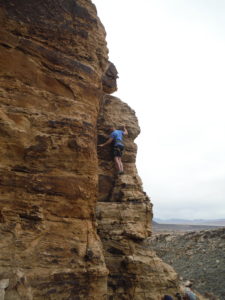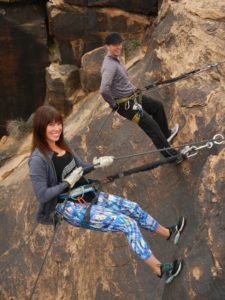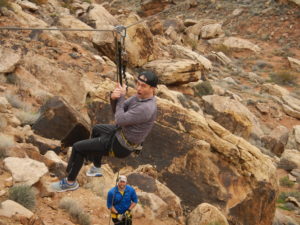 If you are looking for water adventures, St. George has that too! Sand Hollow State park is a great place to kayak, cliff jump, scuba, fish, boat or enjoy a hot day next to the water. They have lots of rentals and plenty of beauty to enjoy.
RESTAURANTS 
Here a a couple of restaurants that we think are an absolute must in St. George.
Cliffside: This restaurant is a bit more upscale and has an incredible view. The food was SO good. The salads were delicious and the salmon and fish tacos were perfect. Everyone was thrilled with their dinner. Cliffside also offers a beautiful private dining area if you have a group of 10-16 getting together. We used it for my husband's 40th birthday dinner and it was quiet, delicious and magical. The staff was fantastic and we could not have asked for a better dining experience. Open for lunch and dinner with prices between $12-$30.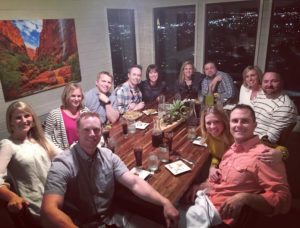 Irmita's: People, go here!! I cannot believe we have been going to St. George all these years without eating at Irmita's. It is a bit of a hole in the wall Mexican spot but we loved it. Now, if you go, you MUST try the Torta. I know, it sounds weird to order a sandwich at a Mexican joint, but trust me on this one. We had the Cuban and it was the best thing on the table. You can also try their more casual, sister restaurant, Angleica's.
Viva Chicken: This fast casual spot makes healthy food taste good! We love all their salads and their rotisserie chicken is delicious. Wraps are great and we couldn't get enough of the french fries and tropical drinks. A great way to mix things up!
Even Stevens: Even Stevens has other Utah locations, and we love every single one. This is a great spot for a family breakfast, lunch or dinner. Their breakfast sandwiches are incredible (add the avocado and tomato) as is the stuffed french toast (bonus: breakfast is served all day!). Every sandwich and salad we have eaten is perfect and flavorful. I especially love Turkey Day. And, we never leave without ordering the queso and a cookie or two…trust me on this one. Add to that a super fun atmosphere with games for the whole family, live music and the fact that they donate a sandwich for every sandwich purchased and you have an awesome eating establishment!
Anasazi Steakhouse: We love our meals at Anasazi! We always start with the cheese fondue and then dig into an amazing steak cooked over a hot rock in front of you. It is pricey but delicious for a special occasion.
Benja's Thai and Sushi: If you have a little more open palate, you will love Benja's. We have had a great dining experience there with yummy entrees and sushi alike. You will not be disappointed!
Mad Pita: I love Greek food, and Mad Pita is healthy, fresh and delicious. A nice change from burgers and sandwiches.
Dutchman's Market: Cookies from a grocery store? Yes, please!! These are some of my favorite cookies ever, so you will have to give them a try. The oatmeal chocolate chip, coconut, and strawberry left me with no control and my hubby was crazy about the peanut butter chocolate. Worth a stop for sure.
Female Foodie did a post about restaurants she loves there. Check it out HERE.
I have also had suggestions from readers and friends and they swear by the places below. I can't wait to try them!
Xetava in Ivins
The Granary (closed)
Tiki Island Grill in Bloomington
Cupcakes at 25 and Main
Judd's (soup and breadsticks)
If you are looking for other spots to enjoy, here are a few more. Want to add one? Let me know!
Bella Maria $
Kneader's $
Cafe Rio $
Five Guys $
25 and Main $
Capaletti $$
Don Pedro's $
The Egg and I $$
Black Bear Diner $$
Habit Burger $
Piccolo Mondo $$
Irmita's $
Wagon Wheel $
Pizza Factory $
Veyo Pies $ (food too!)
Croshaw Pies $ (food too!)
Nielsen Frozen Custard $
The Sugar Cookie $
Swig $
Fractured Prune Doughnuts $
A FEW OTHER THINGS
Church History: There is lots of Mormon Church History to visit here! It is always fascinating to learn about the early settlers in an area. We stopped at the Brigham Young winter home, the Jacob Hamblin House, the St. George Temple, and the St. George Tabernacle. They have tours going on, but if you have a large group, you can schedule your own.
trying fresh grapes at the Brigham Young Summer Home
Tuachan: If you are around May-October, Tuachan is AMAZING…something you will not want to miss.The quality is really impressive and it keeps young and old completely entranced.
Parks: St. George has a million parks and splash pads to choose from. Head downtown, tour the tabernacle, get wet in the splash pad, carousel, and children's museum. You MUST visit the new all abilities park…it is truly the coolest park we have EVER been to!
Thunder Junction All Abilities Park and splash pad
A few other highlights are Cottonwood Cove Park and the Hidden Valley Splash Pad. Also, hit up downtown St. George with fun water features, food trucks, and places to play. A great way to spend an evening.
St. George Children's Museum: If you end up with a rainy or cold day, this is an AWESOME Children's museum. A great addition to all the swimming and outdoor fun too…so cool they won't even miss the pool. (image via Wikipedia)
(this post has be edited and republished from a former post)