Okay, men are by far the HARDEST people to buy for. If they want something small, they grab it, so all that is left is big expensive stuff and most don't really want you to spend that much on them for Christmas! So, you have to get really creative and thoughtful  to find the just right gift.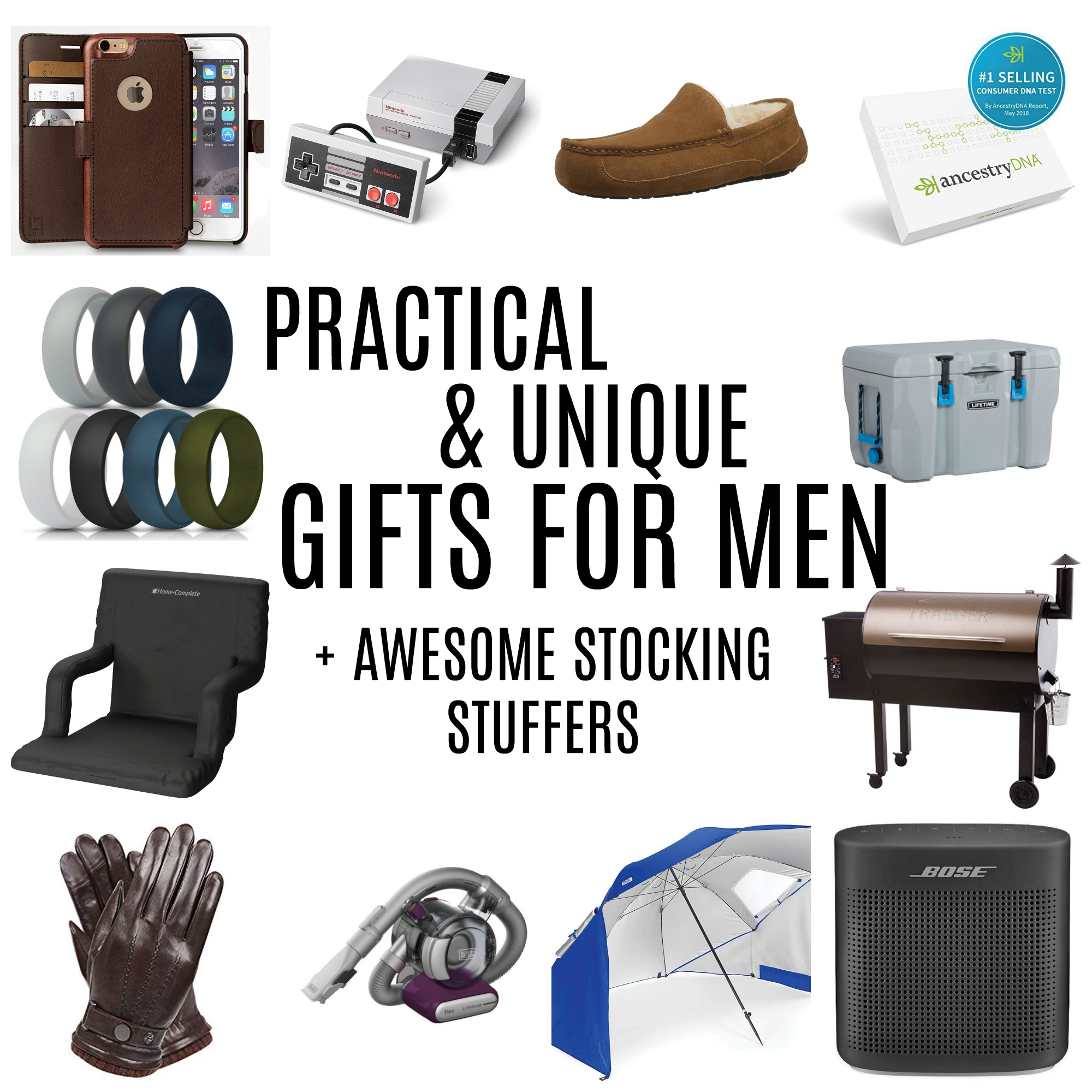 Here is my list of practical items that will be loved and used at all different price points and for a variety of interests. Scroll to the bottom for some awesome stocking stuffer ideas too! And, if you have a golden gift, please share! You know we can all use the help!
Many men love their cars, and especially like to keep them looking nice and clean. This cordless vacuum comes highly recommended and is easy to store for a weekly car clean out or other quick indoor uses. Such a great, useful gift for that little detail oriented man in your life!
Now that phones are pretty much a part of life, storing a couple cards and a little cash right with your phone is a brilliant idea, especially for your minimalist man. I love the Thread Wallets that are super flexible and sleek, they work for about anything. Or if you want a little more security, I love these other two options HERE and HERE. An awesome, inexpensive gift.  ($14-$45)
Last year I did a big time splurge, something I literally NEVER do, but I am happy to report that it is my husband's favorite gift ever, and he has used it so many times it was absolutely worth it. It's fun because it is also a very useful hobby that gets us a really yummy dinner at least once a week. If you are on the fence about going for it, it was a great investment for us. If you already have one, we love the accessories HERE, HERE, and HERE. ($15-$800)
When I splurge, I like doing it on something that will get used over and over again. UGGs are pricey, but worth the money…your feet will never feel more cushioned or warmer, especially during a long winter. Your man will love these. ($120)
The YETI cooler is all the rage, but boy is it expensive! This Lifetime version keeps ice from melting for 7 days, is bear proof and all around fantastic. Ours was fabulous for camping this year! ($110)
If you have a hubby who likes to lift weights, do serious exercise, is an outdoorsman, has gained a little weight, travels often or who just hates wearing an uncomfortable ring, these silicone wedding rings are the perfect low cost option that can be worn anywhere while doing anything! ($15)
If you are a sporting family or just one that loves to be outside, this is one of the most useful items we own. Perfect for just the right amount of shade without being too huge or cumbersome. ($45) we also love the stand that makes it easy to put up and use HERE.
Do you have a husband who spends a lot of time on the bleachers? These seats will be heaven sent for him this year! Order two or you will want to steal his! ($55)
If you have a video game lover or just someone who is a little nostalgic, this Nintendo Classic would be such a fun surprise. It comes loaded with all your favorite classic games and more. ($90)
This is the coolest new backyard game! A little bit of golf, a little big of cornhole and tons of fun for the whole family. If you have a man who can't get enough golf, this is the perfect game for him! $40
It's winter in our neck of the woods, so these driving gloves would be a GREAT purchase. These gloves come fleece or cashmere lined and have the technology to allow you to use them with your smart phone. Perfect!! ($25)
If your man loves music, this BOSE speaker will not disappoint. We love ours and use it any time we need a little pick me up! ($129)
If your husband irons all his own shirts up hates it, this gift is for him! Takes about 30 seconds to get a shirt ready for wear. What is not to love about that? What an awesome, practical gift! ($35) or this version which is bigger and can do more at a time is on sale now HERE.
Do you have a man in your life that loves to video or is an extreme sports addict? The Go Pro Hero has gotten much more affordable than it used to be and is a ton of fun to use! ($164)
I got this cup for my dad for Father's Day and every time I see him he has it in his hand, so you know it was a good gift! It keeps water cold (or hot!) for over 12 hours, fits in your cup holder, doesn't sweat and is 100% dishwasher safe. It is an absolute home run in my book!($16-$40 depending on size and color)
If you are gifting to a man with young kids, a coach or a busy outdoor life, this Sports Wagon is a must. Its heavy duty construction and durable wheels make it your best friend at the park, ball field, parade, or just about anywhere. I love the way it folds up nice and tight so it doesn't take up precious trunk or garage real estate. This is an item every family with young children (or a bunch of junk they need to haul places) will use and use again. ($67)
Even if you aren't into splurging, EVERYONE I know who has these says they are positively worth it. Grab them for your man for an awesome surprise! ($150) If you don't have quite that much to spend, we have loved the $50, less sleek option HERE.
I introduced these super handy tools to you all last year and you went CRAZY for them! We have absolutely loved ours too. They are like retractable exacto knives but even stronger with all kinds of blade sizes. They are amazing for every day use, crafting, cake decorating, fishing, pretty much anything. Also the perfect stocking stuffer for men. ($15 for 3)
These ties are fun, funky and best of all…repel water and stains and are machine washable! That is right, machine washable. We love the crazy designs (but they also have conservative ones) and options for skinny or fat ties. Great stocking stuffer or gift! ($32)
Is there anything quite as exciting as finding out where you come from? This Ancestry DNA kit makes the process super simple and rewarding. A great gift for the woman who has everything or the lady in your life that loves discovering herself! ($50-$100)
If your husband loves to journal or wants to be better at it, you can get him started with JRNL.com which allows him to record pictures and text about what is most important to him each day. It offers prompts if you need them and allows you to print a book at any time. Such a great idea!
Before I move on to stocking stuffers, never under estimate team gear, hobby gifts, golf gift cards, or movie passes for the men in your life. Something they will use is always a win!
You can go classic or crazy, but there is no disputing that everyone loves the way STANCE socks feel. ($10-$15)
If your house is anything like ours, we can NEVER find a flashlight, so grab your hubby a whole new supply.  This one is rechargeable and water resistant. $12 and great for all ages.
This would make an awesome stocking stuffer. Perfect for dark tag, camping, working outside at night or even reading. ($13)
Does your family love to camp? We always need something new! What about a cool mess kit or another item they need? ($10 and up)
A high quality portable charger would be a very welcome stocking stuffer! $15
This  portable, wireless, blue tooth speaker is a great less-expensive version of the BOSE and small enough to slide right into a stocking. $26
If your home is anything like ours, you can never find your ball pump when you need it! This would make a great stocking stuffer for your careful athlete. ($12)
I am convinced you can never have too many charging cords. This one is extra long for those who want to charge, text and sit on the couch. Perfect stocking stuffer!  ($16)
If your husband has a phone that always seems to be dead, this case/battery charger would make the perfect stocking stuffer…no more dead phones! ($40)
A reader brought this one up as an awesome stocking stuffer that will is a bit of a gag gift, but hey…nice gift for everyone 🙂  ($17 for 2)
This is such a fun idea for a stocking stuffer! Sample all kinds of good cologne and choose a favorite. Also awesome for a traveler. ($32)
A reader game me this idea and it is brilliant! Absolutely small enough to fit in a stocking and super useful if a man in your life loves to bike! ($20)
If you have a bike rider in your home, safety is super important. These bike lights would fit nicely in a stocking and be so useful when riding at night or out on a trail. ($16)
We had a tragic auto-pedestrian accident near our home a few months ago, and it reminded me of how important being seen is. So if you have a runner or biker that you love, this vest is a great idea to stuff in his stocking. Plus it will give you peace of mind! ($13)
A reader turned me on to this one too! Such a great stocking stuffer for the skiers or outdoorsmen in your life! ($7 for a pack of 10)
Do you have a driver in your family who likes to keep his car at least smelling clean if not looking clean? This pack of 12 fresheners is a great item to throw in a stocking. ($15)
I have some other gift lists that are AWESOME depending on what you are looking for. Check out:
The All Time Best Screen Free Gifts for Boys
The Best Stocking Stuffers for boys from Todders to Teens 
I am an Amazon affiliate. Thank you so much for your support of my research and writing!