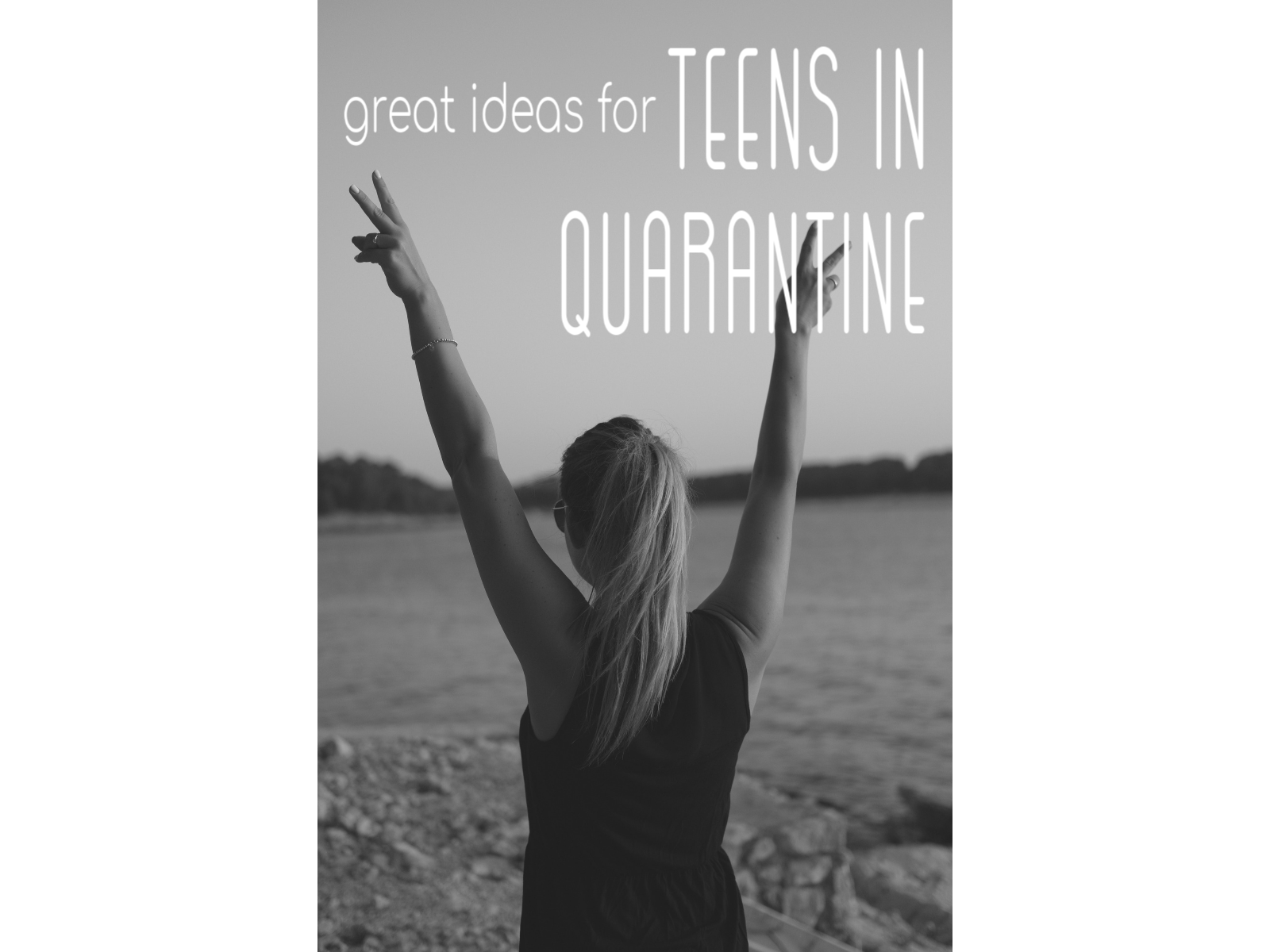 With school closures and very necessary social distancing going on, having kids home all day is a challenge. With younger kids, it was pretty normal. I planned for us to be together most days all day, and they were excited about craft projects and new coloring pages, but now that most of my kids are teens, it takes a lot more work and intention to make these weeks productive and a time when we grow closer together instead of all binge on XBox and Netflix in our own rooms for 3 weeks.
So, I am making a loose plan and crossing my fingers. I think having a routine but allowing for choice will be important. I also want this to be a time we remember because of the good memories we make together, which means there will be some "forced" together time. They will thank me later.
I am hoping to help them understand that this isn't a 3 week "break." They still need to be engaging, learning, and growing in a variety of ways. Our schools will be doing quite a bit of online learning, so we are planning for about 3 hours a day of school time, and we are hoping to tackle a few home projects, so we may have some days dedicated to those, but this is a loose idea of what my ideal will be on days where nothing else is planned. I gave this to my kids and they planned their own day, which seemed to work best for all of us since they like freedom and control. This was just a framework. The variety of schedules will also help us to carefully our 2 computers for 4 people and making the schedules together was helpful because they coordinated times on things they wanted to do together. I forgot the end of the day, but we will do scriptures, prayers and head to bed around 10. Sleep is important to staying healthy through all of this!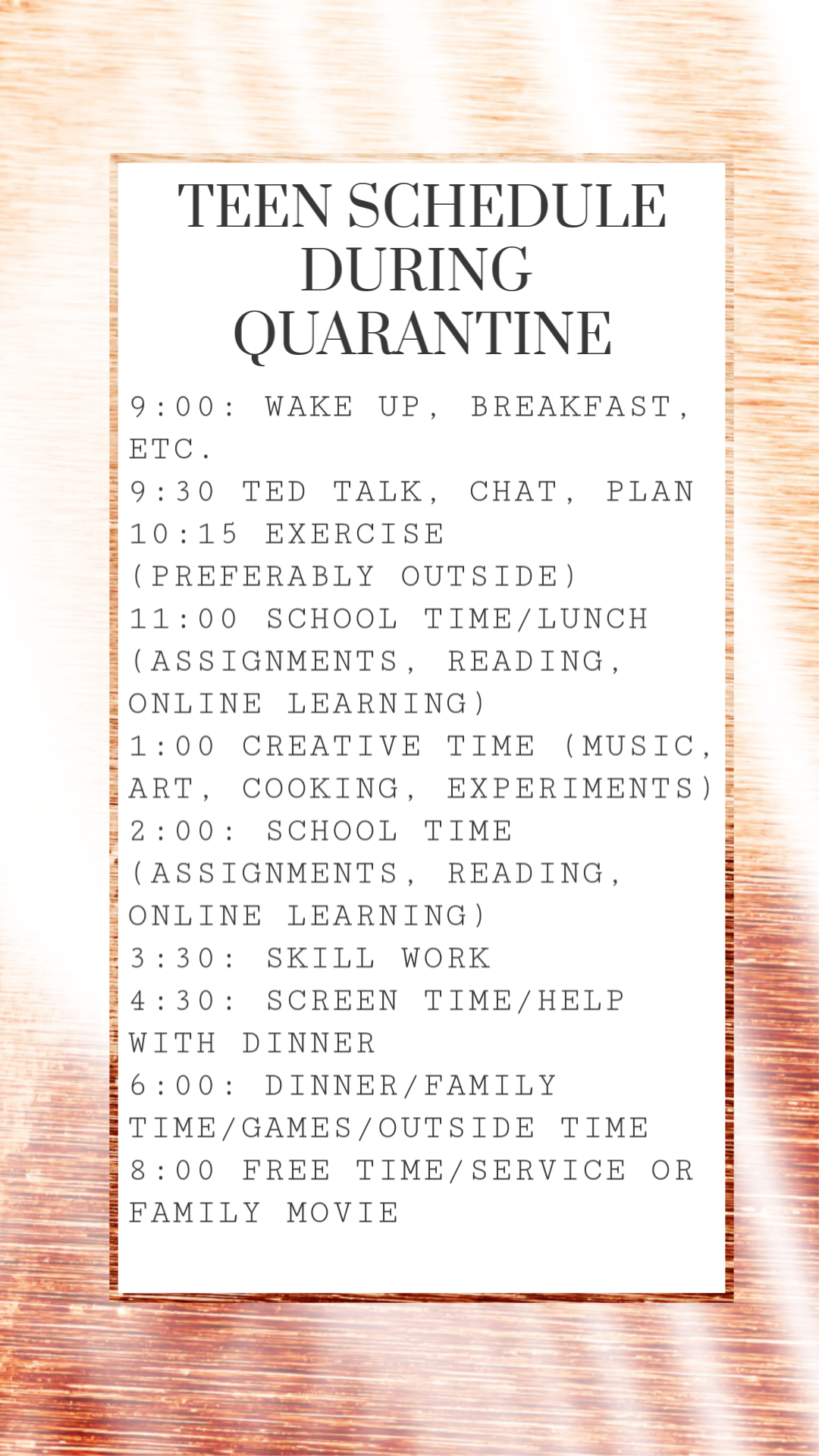 I also want to use this time to make some fun memories together, teach them life skills they need to know, enjoy the outdoors, and tackle some projects that have been sitting on the shelf for too long. This will mean the above schedule is flexible, so homework might have to fit in earlier or later or screen time and creative time might get bumped depending on the day or family time might take place all afternoon instead of in the evening. I am actually really looking forward to a few weeks without the outside world pushing so hard against us. I also have an 8 year old, so his days will be some version of this, but he will also have some added activities, piggy back off his siblings, or share his brothers' free time plans. They may need to pitch in to entertain a bit so my husband and I have time for work and that bonding will be good too :).
Here are some ideas for taking full advantage of extra time at home with your teens!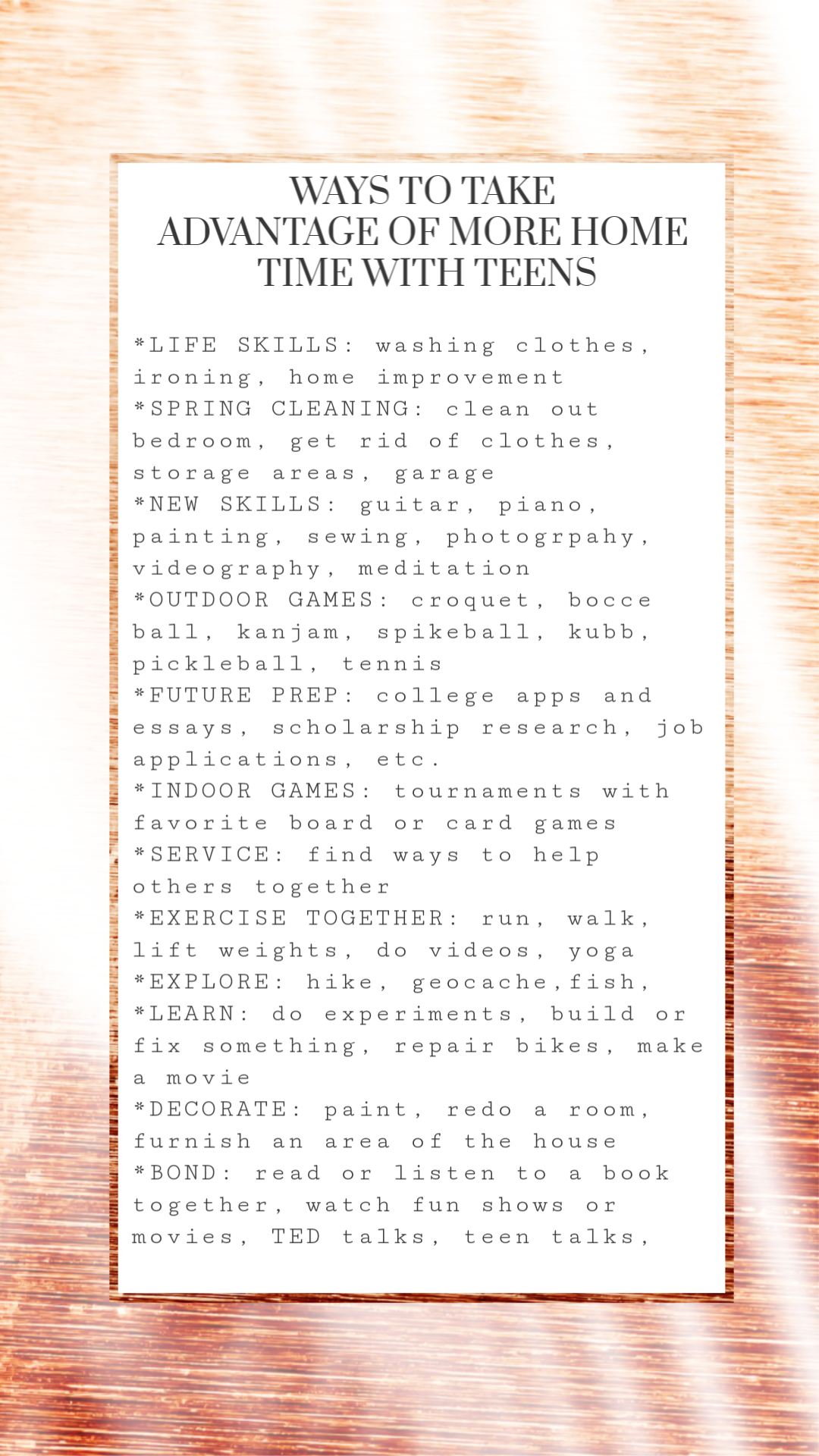 I love this list of Would You Rather Questions for Teens. So fun and a nice break from the more serious conversations. You can download it for $2 HERE.
If you are really struggling with keeping your teens busy and productive or are looking for something that will catch their interest or excite them about doing something creative or productive over the next couple of weeks here are a few of our favorite items to do in the home or for outside. If you have other suggestions, I would love them! Click on the title of each item to learn more.
We have had this board since Christmas and we LOVE it. Someone is always standing on it and we have awesome competitions at night to see who can stay longest. Perfect for way too much home time. ($56)
I love this so much…building + fun. You build your own 2 catapults and shoot against each other for lots of science and rowdy fun. A great, inexpensive way to add fun to your day. ($15)
Another great idea if you need something to pass the time and have a child who likes to be creative! ($30)
If you have been looking for an awesome drone that doesn't break the bank, this is the one for you! This can provide hours of fun.  ($45)
With all the talk about viruses and hand washing, this would be the perfect way to learn more about all of it! ($80)
You guys, we LOVE these so much! If you need to give your child a break from all the video gaming but they still want to use their hands and enjoy electronics, this is such a great learning and fun option. ($40)
This is the greatest way to pass the time indoors and still have a ton of fun. My boys of all ages are still loving this so much and will spend hours doing it! ($30)
Spikeball is the perfect indoor/outdoor game. This portable, easy to play ball game will keep your kids occupied all year long while doing something that is crazy fun for the entire family. Great as a lawn or beach game or played in the basement during cold weather ($60). Best for kids 10 and older.
A bit like ultimate frisbee for four, this fun and portable game is great for the backyard or  beach. This game is easy to play, portable, and keeps the whole family active.  We have LOVED ours! A great idea for a family who loves to be on the go ($40). Best for ages 8 and up.
If you are stuck inside or contained to your yard and home, this is a great way to keep you in shape and training! ($25)
Need something fun for the long days? What about this Hookey Ring toss game? Think darts but way safer! Throw this up in a man cave or basement or even a bedroom for all kinds of fun for kids and adults alike.  Order HERE ($36)
These thumb pianos are so much fun for any kid who likes music. It is amazing what they can do. Such a great alternative to a screen when there is down time. ($40)
If you thought yo-yos were a thing of the past, think again! These toys have reinvented themselves and are challenging and fun for kids of all ages with a myriad of tricks to learn and perfect. Investing in a good one is worth it ($13).
If you need a new yard game that keeps things interesting and is easy and safe for all ages, this one is great! ($55)
This is a great way for your soccer lovers to work on ball skills without a teammate. We have really enjoyed ours. ($13)
If your teen loves crafting but has a hard time finding avenues as he gets older, perhaps this leather set would be a fun surprise to try something new! ($27)
Ukuleles are a great instrument for a budding musician. It is fairly simple to learn online and would be such a fun new skill to learn during a long school break! ($38).
Kanoodle is awesome brain and spacial relations puzzle game that is perfect for car rides, waiting rooms, or quiet play at home. Even your teens will get into this one. ($11)
Has your family given pickleball a try? It is the greatest game for the entire family to get in to…a mix of tennis and ping pong and just good fun all around. Grab the paddles, balls, and net and you can play just about anywhere! We are going to be doing a lot of outdoor activities over the next couple of weeks.
If you are stuck inside, this is a great option. Good for kids and adults alike or for family competitive play ($40).
Bocce ball has been a long time favorite around here because is the perfect outdoor game for little and big ones alike. I love that you don't need superior athletic ability to be a contender in this game. Fun for all ages! ($35) If you prefer using soft Bocce Balls with younger kids, you can find that set HERE.
This is the coolest new art discovery. Instead of color or paint by number, you paint by sticker and create really awesome animals in the process. This would be amazing for church, car rides, airplanes, waiting rooms or any spot where you need a little peace and quiet. Great stocking stuffer too. Works best for someone 5 and up ($10).
If you have a little art lover, this string art is a fun way to mix things up! ($18)
Girls aren't the only ones who like making friendship bracelets and this Loop De Doo makes it really simple to create cool, twisted jewelry with plenty of boy colors! $23-$30
If you have a little sculptor on your hands, Hey Clay is a great way to keep their creative juices flowing! they can make these darling monsters and let them dry and harden or play with the clay over and over again! ($15)
Do you have a budding artist at your house? If so, these books make drawing so much fun! They give simple steps to create crazy monsters and cute animals that keep your boys occupied for hours. Such an inexpensive, great gift for your creative child! ($5)
This book is full of challenges for your little puzzle mind. A great, quiet gift for your studious teen. ($12)
Sometimes awesome products stick around forever and this is one of them. Your boys will love making these simple, crafty bracelets for themselves and all their friends. The price can't be beat for hours and hours of creative fun. ($10)
If you have a bunch of change lying around this is an awesome activity for a younger teen! ($15)
Some links listed are affiliate links. Thank you so much for your support of my research and writing!