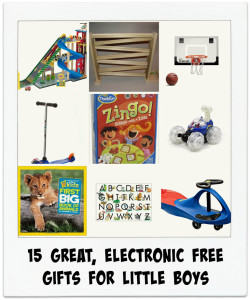 It has been awhile since I have had a little one in the house, but it has been such fun to watch him get excited about new things! I feel like most of the best little boy toys are the classic ones like cars, trains, and balls, but we have discovered a few new favorites that your little guy might love this Christmas! (If you are looking for gifts for older boys, click HERE).
The Strider Bike: Where was this with all my other boys? It is AMAZING. This is probably my favorite item we have ever purchased for my little boy. We bought him one when he was 3, and it took a little time for him to get used to, but once he did, he was cruising around the neighborhood at warp speeds, and it seemed like he never got tired! The best part? After riding the Strider, he jumped right on a two wheeler and with almost no help pedaled away. It was awesome. We also love how small and light it is…we throw it in the trunk just about everywhere we go. It is rather pricey, but I think it is totally worth it. ($119)
KidKraft MegaRamp Racing Set: This racing ramp is #1 in my eyes! Our 3 year old loves cars, but it was difficult to find something sturdy that would work with matchbox cars. Ths KidKraft set is fantastic! It has a winding slide, an elevator, and best of all, two side by side tracks for races. This item gets enjoyed all the time. It is made of wood and incredibly sturdy (though it does take some power tools to put together). Pricey, yes, but significantly better than any Hot Wheels or Fisher Price Item we have had. ($94.31)
Amish Marble Roller Coaster: There are larger and fancier sets for marble racing out there, but this simple, wooden Amish made marble racer is fantastic. Little boys (and girls) can watch the marbles race down over and over again ($80.29) If you want something a little more advanced, you can try the Marbulous Marble Run ($74.95).
ABC Robo AlphaBots: These letters transform into little robots for hours of letter fun. We have loved them for all they ways they allow you to play! ($50)
Magnetic Play Sets: These magnetic play sets are ideal for quiet time, church meetings, or long car rides. We have loved ours for so many reasons! Such a great, inexpensive gift that will get used over and over again ($10)
SKILZ Pro Mini Basketball Hoop:
This SKILZ hoop is far and away better than any other basketball hoop we have purchased. It can be placed on the back of any door or chair if you need varying height, which means it can move rooms with you; or you can attach it to the wall at any height. Your little one will LOVE playing on this sturdy basketball hoop for hours and years. Don't forget the
extra balls
! ($23.89)
Tegu Endeavor Magnetic Block Set: Blocks are fun, but magnetic blocks are the best. These babies have great reviews and will be used in your home for years and years. Plan on hours of independent or group play with this fun, new toy. ($39)
Plasma Car: It is amazing to me how quickly little boys pick up on how to ride this crazy toy! My 3 year old has loved his and can zoom around the neighborhood. His older brothers love jumping on it too! ($49.97)

Mini-Micro Scooter: These 3 wheeled scooters are amazing! Their construction allows even the littlest riders to achieve speed and balance on this awesome toy. A bit pricey but well worth the smooth ride. ($79.99)

HackToys Remote Control Car: We got this car for my 3 year old, and it is the coolest! All my boys loved it, and what we loved about it most was that it seems almost unbreakable. Way cooler and sturdier than the former R/C cars we have purchased, plus it does 360s, goes up on two wheels and dances. The remote is super easy to figure out and control even for very young drivers. Will light up the eyes of any boy on Christmas morning! ($26.99)
Floor Puzzles: My 3 year old is obsessed with puzzles! These floor puzzles are especially fun, and this alphabet one is my favorite because it is how I've taught each of my boys his letters and sounds, see my tips here. Puzzles make great gifts! ($12.99)
National Geographic My First Big Book of Animals: This is the greatest book for animal loving kids! The pictures are gorgeous and the text is easy and fun to read. Our copy now has a broken spine because it has been read so many times. Little boys especially enjoy it, even if you only read a few facts per page. Our favorite! ($9.65)
Zingo!: We love games at our house, but many are a little too hard for younger players. Zingo, on the other hand, is great for all ages and even allows toddler to compete for the win. Such a great family game for those with little ones! ($16.44)
Boogie Board: Technically this is an electronic, but it doesn't plug you in to anything. These cool boogie boards are like a modern chalkboard, perfect for spelling word practice, doodling in church, and artistic mock ups, plus they come clean with the touch of a button! ($24.95)
Kiwi Crates: Kiwi Crates are a fantastic, new way to explore science, art and engineering! Each month, your child receives a crate with all the necessary items to build something like dinosaur egg soap, acorn cap jewels or pinecone wreathes and more! There is a perfect, monthly pick for ages 2-16 and it is a gift that keeps on giving, though you can cancel at any time. ($20 per month). Use the link above to receive $10 off your first crate!
For great gift ideas for older boys, click
HERE.
*I am part of the Amazon Affliliate program. Your purchases from these links help support my writing!