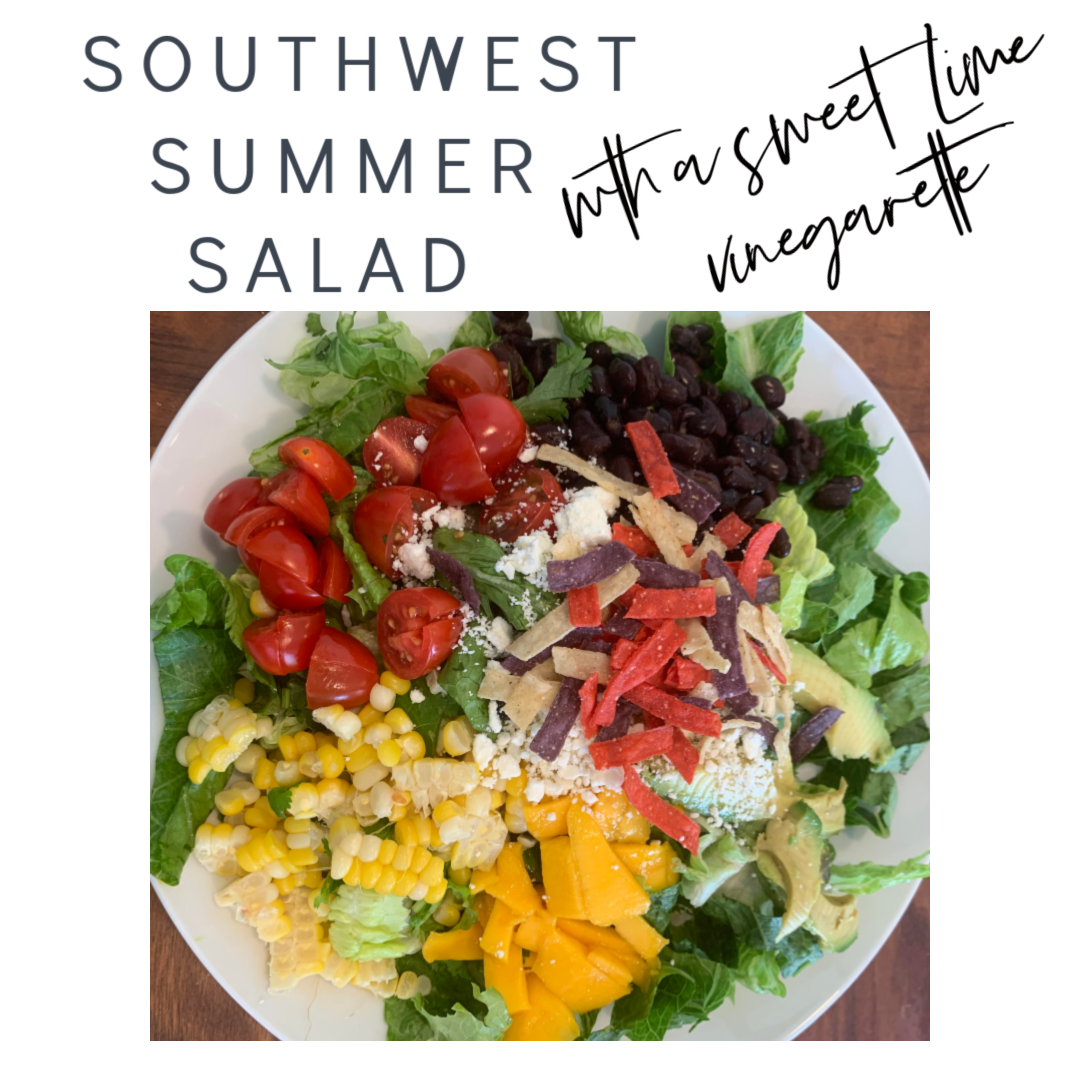 I love a great salad, and this one tops my list for summer…it's full of fresh southwest and citrus flavors and I could eat it every single day. I just made it again for the first time this season, and no one could get enough. Everyone devoured it! It is a great way to use up fresh garden produce if you have it, and the dressing will blow your mind. It is crazy good on just about everything. It makes a great side dish for a BBQ or add some chicken for a hearty main course salad.
This one comes from Aimee Hada from a recipe book from years and years ago, and I have been making and enjoying it ever since with just a couple tweaks…forever grateful she shared this goodness with me. I always at least double the recipe and triple the dressing because I love having it leftover…it makes even every day salad special.
Chopped Salad
1 head of romaine lettuce, thinly shredded (if you use hearts of romaine, use 2)
1 bunch of cilantro leaves, chopped
I bunch of green onions, chopped
1 can of black beans, drained, rinsed and dried
2 cups of fresh corn or frozen corn, thawed and dried
2 avocados, chopped
1 mango, chopped (optional)
3 tomatoes, seeded and chopped or 2-3 cups of grape tomatoes, halved
4 oz. feta cheese, crumbled
1 bag of tortilla strips or 1/2 bag of tortilla chips, broken in pieces
Toss lettuce, cilantro, and green onions, then top with remaining ingredients. Add dressing and toss well.
Lime-Cumin Vinaigrette
3 limes, juiced
1/2 c. vegetable oil (can use olive oil)
1/3 c. brown sugar
3 tsp. spice mix, recipe below
Stir together lime juice, sugar and spice mix; pour in oil to blend. Refrigerate until cold. Shake well before serving.
Spice Mix (double the recipe for this if you are tripling the dressing recipe)
2 tsp. salt
2 tsp. ground chili powder
1 tsp. ground cumin
1 tsp. granulated garlic
Mix all ingredients together well. Keep remaining spice mix in a Ziploc bag and store until next use.
Want to try other yummy recipes? Click here.