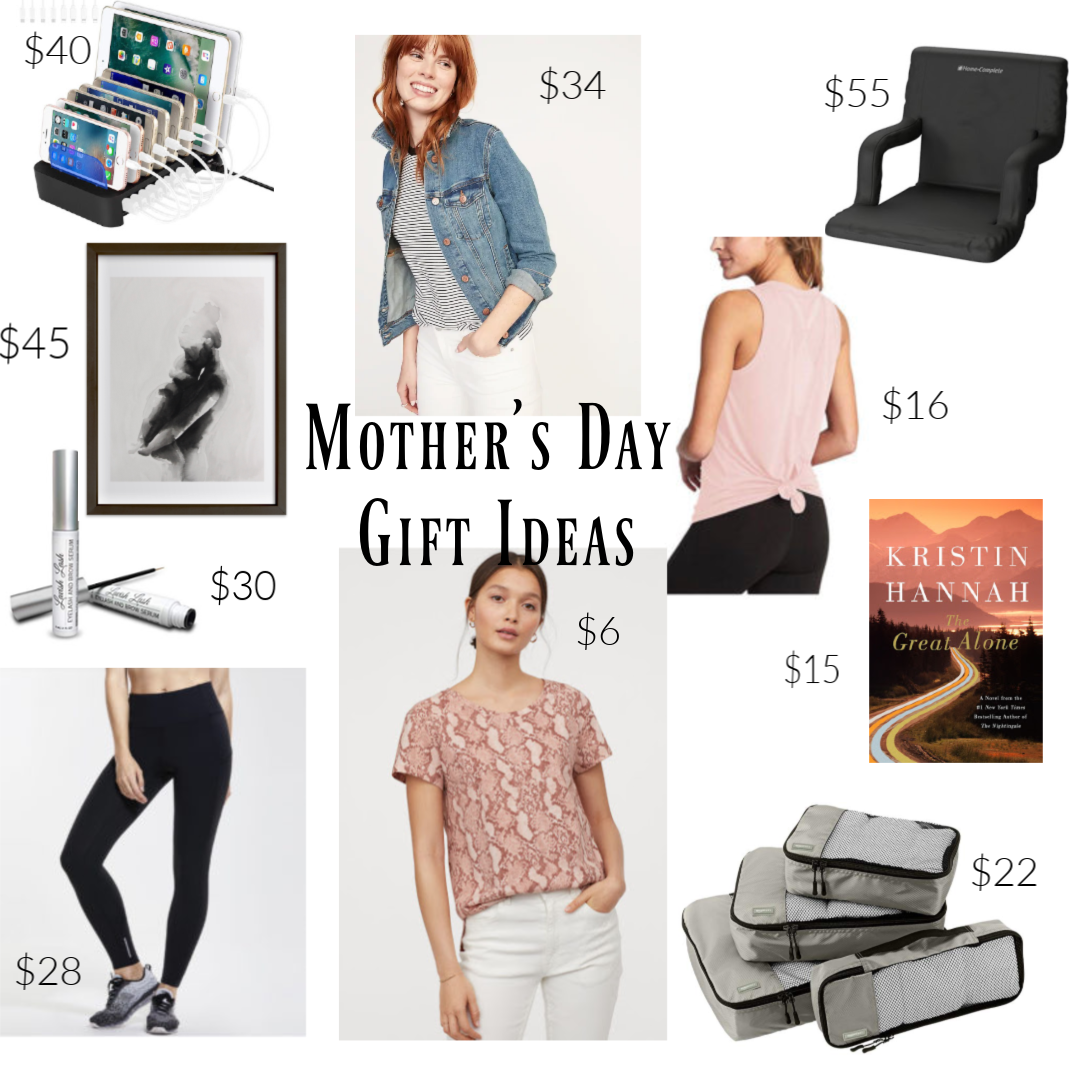 You know I love helping make holidays simple, so I am sharing a few items I think any mama would love this Mother's Day!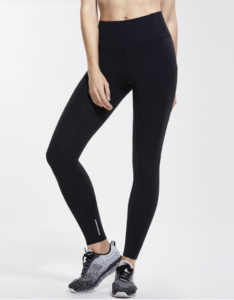 Let's start with THESE workout leggings. My yoga instructor introduced me to them and she only does high end workout apparel, but these are $28 and offer such amazing thickness, support and coverage that even she is converted! They are fabulous, come in lots of colors and styles and will save you all kinds of money, so stock up! They fit true to size. Find them HERE.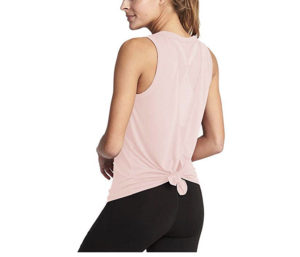 Pair those leggings with this darling tie back tank that is all the rage in the priciest stores. Comes in just about every color and is only $16…a total steal! Everyone who has it loves it! Grab it HERE.
Next is my favorite $6 t-shirt. I LOVE this one. The sleeves aren't too short, the neck isn't too scooped, and it holds its shape wash after wash. It has a roomy fit but is structured enough not to look frumpy. Some of the options they list are a different material so stick with the patterns I show. Linked HERE and HERE. I found a few others in the store, so stop and take a look if you have time! Fits true to size but you could go down if you want a little tighter fit.
I have never been much of a denim jacket girl, but I found this one and it fits great and looks good with everything! It is the perfect addition to my spring wardrobe. It's only $35 and there is almost always a coupon code you can find. I would size down as it runs a touch big. Find it HERE.
My good friend Jamie from Wander and Scout introduced me to these packing cubes and they are magic for maximizing your suitcase!! If the woman in your life loves to travel, these will become a staple and a love forever gift. Grab them HERE $22
I have always had the shortest eyelashes and they started thinning as I got older. I didn't want to go the eyelash extension route, so finding this eyelash serum has been such a gift. It is super gentle and I have experienced no irritation. It takes about 6 weeks to really notice a difference, but it has been amazing! There is a money back guarantee and one bottle lasts about 9 months! $30 Grab it HERE.
This is more of a practical gift, but any mom who is trying to wrangle the technology in the home needs a charging station. This one has room for 8 devices which is super handy! $40 Grab it HERE.
If you are gifting to a grandma who comes to support all the kids' baseball and basketball games, she needs this bleacher seat. It folds flat and can be carried like a backpack so it's super light. It is nice and soft and makes bleacher sitting comfortable. You can also use it on the ground if you are in a bind! $50 and you can grab it HERE.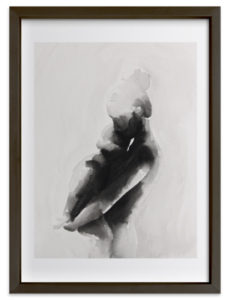 I have this Mother Child print in my home and it is one of my favorite art pieces. It is simple, beautiful and has such meaning for me…so many hours spent in this exact position…moments I wouldn't trade for anything. A 5 x 7 starts at $45 and it goes up from there. A wonderful, meaningful Mother's Day gift. Find it HERE.

I LOVE flower baskets, flower pots, flowers to plant…if it goes in the ground and looks pretty or becomes delicious, I love it. I usually spend Mother's Day weekend planting flowers and I can never have enough. When in doubt, buy a planter. Around us, J & J Nursery is my favorite!
I have posted about this cup before, but I love it too much not to post about it again. It is truly heaven sent. It keeps my water cold for over 12 hours, which keeps me drinking…and that is a great thing (also works for hot drinks)! It fits in my cup holder, doesn't sweat and is 100% dishwasher safe. It is an absolute home run in my book! ($16-$40 depending on size and color). Find it HERE.
It is difficult for me to think of a gift I have loved more than my Kindle Paperwhite, and I just lost mine on my last flight, so this is ALL I want for Mother's Day (someone remind Mike)! I am crazy about it. The screen mimics paper, so it is easy on my eyes and never has glare, it's water proof, plus it is dedicated to books only, so no other distractions while I am reading. Kindle allows you to share an account with up to 8 people, so you can split the cost of books to make it affordable. It holds a ton of books and is ideal for travel, reading in bed or just a day on the go. If you know a reader, she will love this gift! ($129) Grab it HERE. You can also purchase a cover HERE.
I think it is always fun to get someone a book they end up loving and The Great Alone (HERE) and America's First Daughter (HERE) are guaranteed to be favorites if the woman you love is a bookworm (or even if she isn't!)
When it comes to non-fiction or religious books, I have a hard time staying engaged! This journal edition of the Book of Mormon was gifted to me by my cousin and it has made a huge difference in my scripture study…I am actually thinking, pondering, writing and studying, a total game changer! Find it HERE ($13)
Looking for more ideas? Check out my other gift list HERE!
What are you hoping for for Mother's Day?
*These are not sponsored items. I am an Amazon affiliate and get a small commission from the items you purchase, but please know that I only recommend things I love!