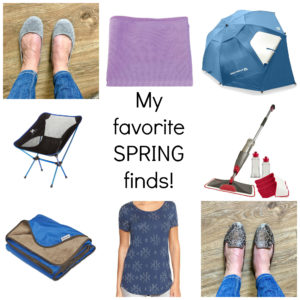 I feel like life is so crazy in this stage of life that long gone are the days of browsing stores or leisurely shopping. I usually don't shop until I absolutely need something, and then I often order it online or run to the mall or Target for a quick 45 minutes to try and find it. I was in dire need of a few spring items and I found a couple good ones, so I thought I would share them with you! (all items linked)
Rubbermaid Reveal Spray Mop: One thing you should know about me is that I hate cleaning. I do it, but I hate it. So, anything that makes my cleaning life easier is a great purchase for me. This mop has been heaven sent and the best $40 I have spent in a long time. It is like a Swiffer wet jet, but you can mix your own solution and refill it, which is AWESOME. This makes it usable on all surfaces and so much less expensive than a Swiffer. In addition to the refillable solution, you can wash the microfiber cleaning pads…it makes mopping so easy and fast that my floors are sticky way less often! A win/win for all of us.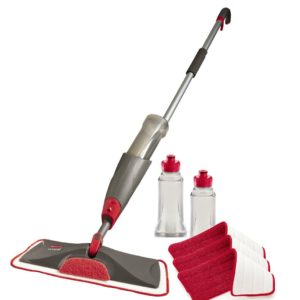 Another spring cleaning item I could not live without…
Norwex Mirror and Window Cleaner: I hate cleaning windows even more than I hate cleaning floors, so this window cleaner has also been a game changer. It is especially amazing when there are sticky hand prints all over the doors leading to outside all season long and all I have to do is wipe it with water and then dry it with my window cloth…it's basically magic for me. It is also awesome for kids, even they can get mirrors and windows streak free. Honestly, I have never used anything like it. Lots of love for this one.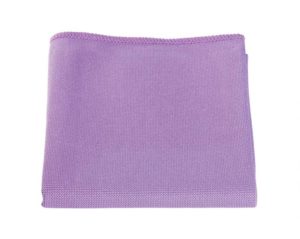 GAP Outlet Ts: I always need a few good t-shirts when the weather warms up and this one from the GAP outlet will pretty much be on repeat. I have it in the blue pattern and in a plain coral. The $12 price tag, not too tight fit, long enough sleeve, slightly scooped neck, and slimming fabric makes me wish I would have purchased every color. In fact, maybe I will. Fits true to size.
Patterned version $11.99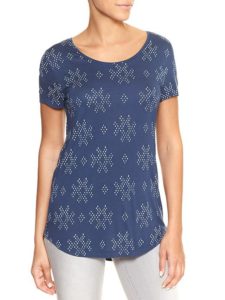 Plain version $13.99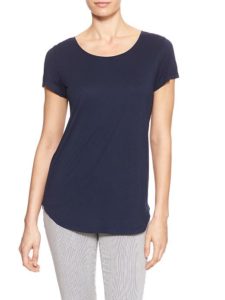 My favorite flat shoes were so worn after 3 good years that it was pretty embarrassing. My husband begged me to please buy a new pair of shoes, but it is hard to find flat shoes that don't give me blisters or hurt my feet. So, I have been on the hunt and found two worth sharing with you! No blisters, cute shape, easy to wear, and cheap enough to buy a couple in your favorite colors.
H & M Animal Print loafers. I LOVE these. They go with everything, dressy or casual and they are so easy to wear. Go down a size as they run pretty big. I cannot find them online, only in store but they said there is a chance they will restock them online at some point. $14.99 (they come in lots of other colors too!)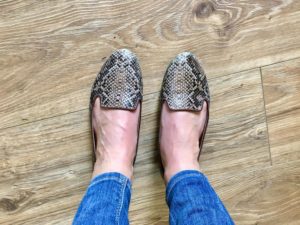 Walmart Essential Ballet Flat: At the beginning of spring one of my friends was wearing a cute pair of grey flats, so I asked her where she got them. Her answer? Walmart for $5. Done! She was right…cute, comfy, and easy to wear. Plus they come in lots of colors and sizes. Apologizing for my veiny feet. It is my children's fault.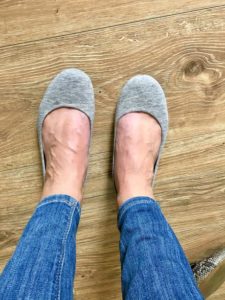 We spend a crazy amount of time at baseball and soccer games during the spring, so we have a few necessary outdoor items that we can't live without.
2 lb. chairs. There is nothing I hate more than hauling chairs to games, especially for an entire family. These camping chairs are only 2 pounds, easy to set up and everyone can carry their own. Hooray!!!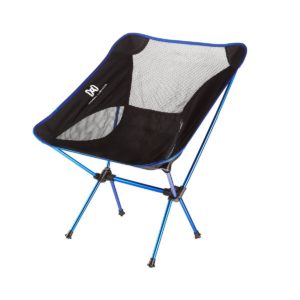 Waterproof Blanket. I wish every game was played in warm sunshine, but unfortunately, that is NOT the case here. A waterproof blanket is a must during spring sports. Put it on the wet ground so your kids can have somewhere to sit, or on top of you during the rain so you can stay dry.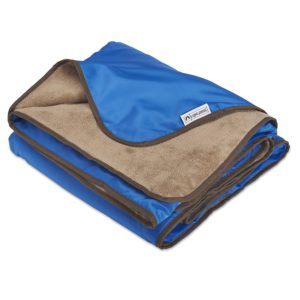 Sportbrella. We NEVER leave home without our Sportbrella. It keeps us shaded, saves us from crazy rain and all the other elements. I don't even know how people watched sports before they were invented. Best purchase ever! On sale right now for $35. We also really, really love our umbrella stand, which makes setting it up and keeping it in place much easier.
What are your spring favorites? I would love to know! HAPPY SPRING!