I have been wanting to create this family theme for years, and it is finally researched, ready, and designed for YOU! To purchase it, click HERE.
I wanted to produce something that wouldn't just be a nice idea that is forgotten after a couple of weeks, but an engaging idea that keeps everyone working and striving to become better in a really united way.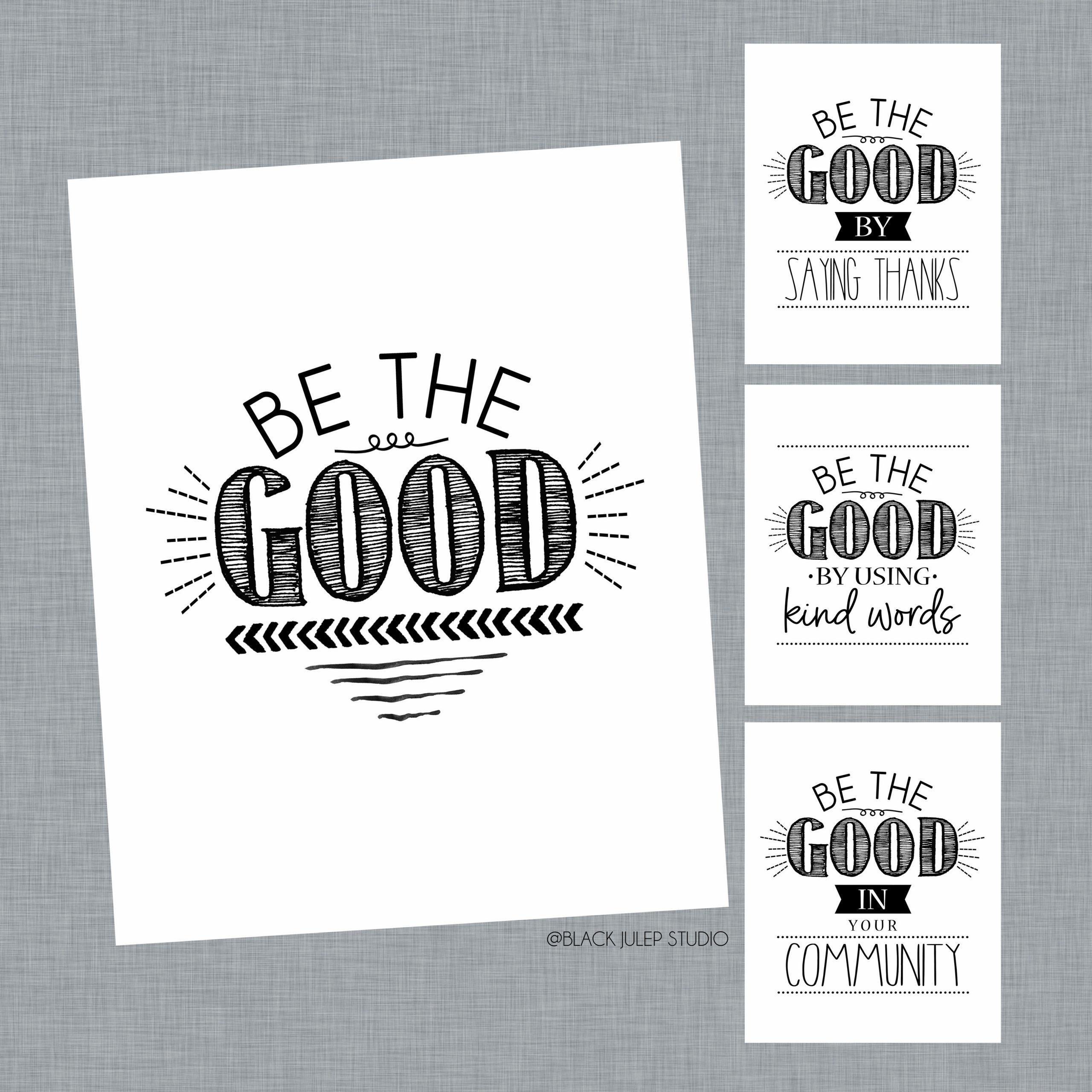 Each month there is a slight variation on the theme that allows your family to focus on 12specific ways to BE THE GOOD! There is a video or two to illustrate the idea (because nothing brings an idea to life better than a video, right?) and a book recommendation you can borrow or purchase to keep the theme front and center all month. There are also suggestions for activities to try so you can really put being the good into action in big or small ways, whatever works for YOUR family!
You can do these themes as individual families, as a extended families, as a school group, or church group. We did ours as an extended family and I love the way the idea united us all in a common cause for good.
Here are a few more details!
The Display: Give each family or family member an 8 x 10 frame or even a hanging clipboard and they can switch out the printable each month, or you can make a printed family calendar and use a different theme as the calendar picture each month, or come up with your own display idea! If you want to keep it all digital, just text or email it to each family member at the beginning of each month.  
The Execution: You can keep it simple and just share the theme and let each person decide how they want to implement it. Or you can use the suggestions and let them choose one, or you can be more structured and place a challenge at the beginning of each week to keep people involved or do them as a whole family. The activities can be short and easy!
It could also be helpful to buy an inexpensive journal for each family member to record what he or she has done if you want to make sure they remember or use a family journal and record together adding photos here and there.  If there is a month where the theme doesn't work for you or you want your own focus, just use the standard theme to display and create your own special idea!    
The Reporting: Each month, gather together and each person can report on one thing they did to be the good that month. If you can't all be together, do it over Facetime or call and talk to one family at a time. If you are doing it with young kids or grandchildren, offer a treat or prize each month for those who participate. You can even report over text or Marco Polo in this digital age! Share what you did with others and the way it made you feel! If you decided to do journals, this makes remembering the good even easier. By the end of the year, your family will certainly be a Force for Good! 
I tried to make it really affordable (only $1 for each month) so everyone has a chance to participate! To purchase click HERE.
Also, huge shout out to Black Julep Studio who made my ideas a reality. She is a fantastic designer if you ever need something created!!