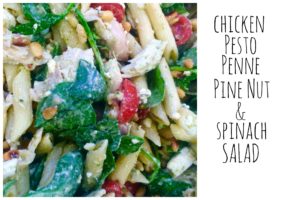 I was just in charge of Teacher Appreciation Week at the Elementary school and it was a lot of fun to honor the men and women who do such a good job with our kids! We fed them a lot of yummy stuff, but one meal was a serious home run, so I thought I would share the recipe with you. It is the most delicious pasta salad with ingredients that will make you swoon. It is pretty simple to prepare, but so savory and fresh no one has to know that you weren't slaving all day in a hot kitchen. This would be perfect for a girls lunch or baby shower…but even the male teachers and staff gobbled it up!
Salad Ingredients
1 rotisserie chicken (you don't have to use chicken, but it was great for a main dish salad)
1 container of grape tomatoes, halved (I would use about 3/4 of the box from Costco)
1 package of penne pasta (cooked al dente)
1-2 cups of toasted pine nuts (cook in a pan over medium heat until they turn brown, then cool)
1 package of crumbled feta (I used about 1/2 a container from Costco. You could also use fresh mozzarella in chunks if Feta is not your thing, or even half and half)
1 container of baby spinach leaves from Costco (comes in the tub)
Dressing Ingredients
1 package of Hidden Valley buttermilk ranch (or 3 tbsp if you get it in the larger jar)
1 cup of mayo
1 cup of buttermilk
1/2 a jar of pesto from Costco (you can use a little more or less depending on how much you like pesto)
Directions
Cook pasta to the al dente instructions. Run under cool water and let dry in a colander.
Whisk together the dressing ingredients, set aside.
Remove the meat from the rotisserie chicken.
Place the pasta and chicken in a large bowl, pour some dressing in and mix it up (you will not use all the dressing now). Refrigerate overnight or for at least a few hours.
Before serving, add the following ingredients to the chicken and pasta: halved tomatoes, toasted pine nuts, Feta and spinach. Toss with more dressing (taste to make sure there is enough) and serve.
So beautiful, easy and delicious!
(If you are gluten free, you could skip the pasta and add more chicken, avocado, or asparagus instead. For my kids who aren't into salad, I warmed the salad up in a pan and added just a little marinara sauce and it turned into a really yummy warm pasta!)