The Young Samurai Series: This is my 4th grader's favorite series ever. He likes it even more than Harry Potter and Percy Jackson (I know, hard to believe). Every time he gets a new book in the series, we don't see him until he is finished. Highly recommended! Great for ages 10 and up. 8 Books in the series.
Summary: Shipwrecked on the shore of Japan, twelve-year-old Jack Fletcher is wounded and alone. His father and the entire crew have been slaughtered by ninja pirates. Jack's last remaining possession is his father's rudder, an invaluable book of maps and notes about the world's uncharted oceans. Masamoto-sama, one of Japan's greatest samurai, rescues Jack, adopts him, and sends him to samurai school, where Jack will be trained in the Way of the Warrior. Will it be enough to help Jack defeat Dragon Eye, the ruthless ninja who is intent on stealing the rudder at any cost?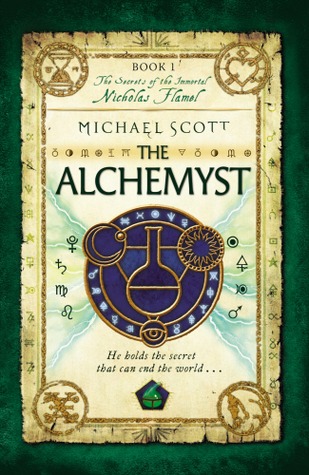 The Alchemyst (Secrets of the Immortal Nicholas Flamel): Another series that has my boys holed up under the covers and finishing every last word. Recommended ages 12 and up. 
Summary: Nicholas Flamel was born in Paris on 28 September 1330. Nearly seven hundred years later, he is acknowledged as the greatest Alchemyst of his day. It is said that he discovered the secret of eternal life. The records show that he died in 1418. But his tomb is empty and Nicholas Flamel lives. The secret of eternal life is hidden within the book he protects – the Book of Abraham the Mage. It's the most powerful book that has ever existed. In the wrong hands, it will destroy the world. And that's exactly what Dr. John Dee plans to do when he steals it. Humankind won't know what's happening until it's too late. And if the prophecy is right, Sophie and Josh Newman are the only ones with the power to save the world as we know it. Sometimes legends are true. And Sophie and Josh Newman are about to find themselves in the middle of the greatest legend of all time.


The One and Only Ivan: This book got serious thumbs up from all my kids, and it would make an excellent read aloud. The story's main characters are animals but the themes and lessons could not be more human. Give this one a shot! Great for ages 8 and up.

Summary: Ivan is an easygoing gorilla. Living at the Exit 8 Big Top Mall and Video Arcade, he has grown accustomed to humans watching him through the glass walls of his domain. He rarely misses his life in the jungle. In fact, he hardly ever thinks about it at all. Instead, Ivan thinks about TV shows he's seen and about his friends Stella, an elderly elephant, and Bob, a stray dog. But mostly Ivan thinks about art and how to capture the taste of a mango or the sound of leaves with color and a well-placed line.
Then he meets Ruby, a baby elephant taken from her family, and she makes Ivan see their home—and his own art—through new eyes. When Ruby arrives, change comes with her, and it's up to Ivan to make it a change for the better. Katherine Applegate blends humor and poignancy to create Ivan's unforgettable first-person narration in a story of friendship, art, and hope.



Rump: The True Story of Rumplestiltskin: This book would also make a great read aloud, a perfect present for a book lover or reluctant reader. Ideal for ages 8 and up, this new yet familiar story will be a real winner in your house! 

Summary: In a magic kingdom where your name is your destiny, 12-year-old Rump is the butt of everyone's joke. But when he finds an old spinning wheel, his luck seems to change. Rump discovers he has a gift for spinning straw into gold. His best friend, Red Riding Hood, warns him that magic is dangerous, and she's right. With each thread he spins, he weaves himself deeper into a curse.
To break the spell, Rump must go on a perilous quest, fighting off pixies, trolls, poison apples, and a wickedly foolish queen. The odds are against him, but with courage and friendship—and a cheeky sense of humor—he just might triumph in the end.
Island: This is an awesome adventure story for the younger crowd, recommended for ages 8-12. It would also make a great read aloud or a good book for a boy who doesn't love reading yet. There are 3 books in the series that are all very engaging.
Summary: 
Six kids. One fate.
They didn't want to be on the boat in the first place. They were sent there as a character-building experience. But now that the adults are gone, the quest for survival has begun. This first book in a suspenseful survival trilogy delivers the gripping drama of people battling the elements to younger readers.
For More Book Recommendations for Boys, click HERE
For Great Family Read Alouds, click HERE