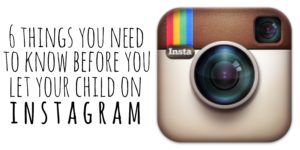 Instagram is booming. It's simple to use and fun to keep up with. At face value, it seems incredibly harmless, and maybe even a safe site for kids. It is easy, private, and full of pictures! But, after a few years as an Instagrammer, I have decided that those feelings are fairly naive. Only you know what your children are mature enough to handle, but before you say yes (or even if you already have), here are a few things you need to think about before letting them set up their own Instagram account:
Direct Messaging: In the top right corner of the home screen, there is a little mailbox that holds all of your Instagram direct messages. This is where kids can send private pictures and messages to each other instead of posting them for the world to see. Why is this important? This is a hot spot for nude picture exchanges and requests. This is also a place where teens can have some pretty unsavory group conversations and where group bullying can happen. How can you stay aware? Many parents falsely think that as long as they are "following" their son or daughter that they see everything that they are posting, but that is not the case. Many teen exchanges happen through direct messages. You should check these regularly by jumping on their phone or logging into their account. You can also link your account to your child's account. Go into the settings tab, and press "add account." By entering the account and password for your child, you can easily switch from your account to his anytime of the day. This makes staying informed much easier. Hopefully there are no surprises.
8. Disappearing Photos: In order to compete with Snapchat, Instagram now has a feature that allows people to send disappearing photos to one another. Once someone sees them, they go away. Be aware and talk with your child about how nothing ever really disappears in the digital age.
9. Linked accounts: Parents, you can add your child's account to your Instagram! In the profile settings, click "add account." This allows you to toggle between your account and theirs, see all their DMs and group messages. It is good for kids to know that someone is always checking up on them and that their social media life isn't private. Make sure you are always following them to see what their posting and how they are commenting.
Being aware, open and honest with your children is incredibly important. There is no magic age for when kids are old enough to use social media, so if you don't think your child is ready to take on the responsibilities or temptations that come with Instagram, honestly tell them why and remind them that you are protecting them until you feel they are ready to deal with these types of adult situations.
You should absolutely have a high level of trust with your son or daughter and open communication before allowing unlimited apps to be an option. If they are dying to try Instagram, and you feel okay about it, start with a trial run on your phone where you are the password holder. These kids have a lifetime to worry about their online presence, giving them an extra year or two of freedom from that pressure is not the worst thing a parent could do. One day, maybe a long ways down the road, they will thank you for holding out until they were ready for this great big social media world.
To read more about technology, check out these articles:
10 Things I Wish I Would Have Done Before Getting My Child a Smartphone
OurPact: The App Every Parent Needs to Know About
The Dangerous Game Middle Schoolers Need to Stop
9 Things You Need to Know Before You Sign Your Child Up For Instagram
I Love You Too Much to Get You a Phone
I Left My Phone at Home, The Results Were Priceless