The Best 4 Day Croatia Itinerary
We have been preparing for the trip of a lifetime for the past year and our 10 days in Greece and Croatia were even better than I hoped they would be. It felt a little overwhelming planning something so far and so unfamiliar but it absolutely exceeded all of our expectations. If you want something worth saving for, I'm sharing our itinerary for one week in Greece and our 4 day Croatia itinerary with ALL the details.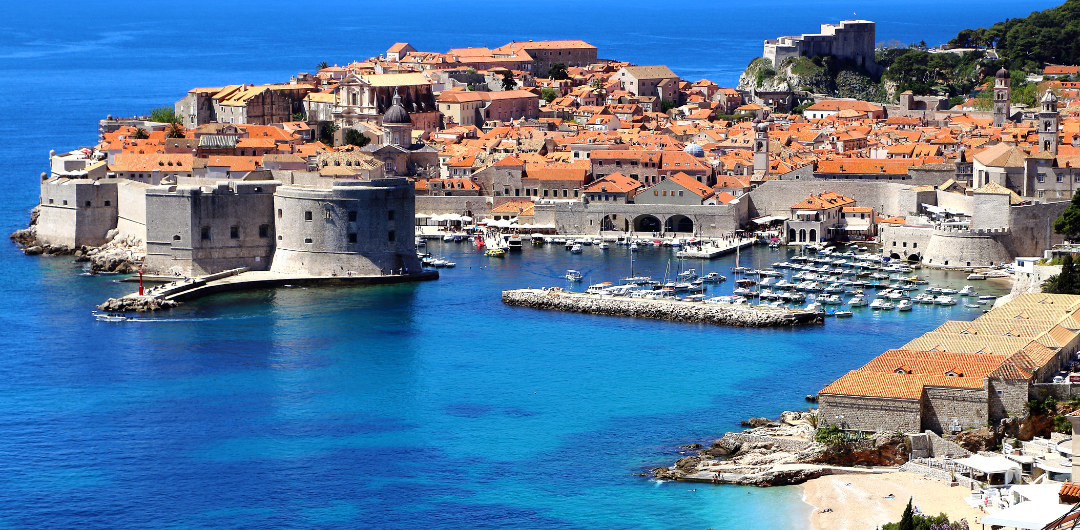 Huge thanks to my friend and travel buddy, Lyric Payne for her extensive research and willingness to share it all with you!
A few things you should know about the way we travel before you decide if this plan works for you:
We GO: We were up by about 8:00 most mornings and didn't return to our hotel until after 10 most nights.
We like to be active and are in pretty good shape. We don't mind a lot of walking, love hiking, and most days were well over 20,000 steps, many of those being stairs. We don't sit for long periods of time very well.
We didn't spend a lot on our accommodations. They were fine and clean with excellent Airbnb hosts, but we were rarely there. We used the money saved for food and tours. If you are looking for luxury hotels and four star resorts, this isn't the plan for you.
We ALL packed in a carry on with a backpack…for 12 days. I thought it was totally worth it. It cut our time in airports way down and we were never worried about lost luggage. I used packing cubes to make it work. I have linked all of the must haves in my post What to Bring to Greece and Croatia.
We took our trip from June 7-18 and I loved that it wasn't too hot or too cold. We did get rain on three of the days, but only one interfered with plans and they said it was abnormal. If you are using this as mostly a beach or water vacation, I would consider going a little later in the summer. Going early in June, there were plenty of crowds, but most of the Europeans were still in school so it wasn't quite as packed or as hot as it gets later in the summer.
Are you ready!? Let's get to it! The best 4 day Croatia itinerary!
Know Before You Go
Dress: It seemed a bit more casual here than it did in Greece. Lots of tourists and lots of walking, so wear something you feel comfortable in and shoes that feel good for most of the day. People did dress up at night, but you wouldn't feel out of place being more casual either. Here is the post with my complete packing list for Greece and Croatia.
Food: We ate at excellent and pricey dinner restaurants in Croatia, but they were worth it. For our other meals, there is food everywhere and everything we tried was delicious. They have bakeries on every corner and we loved everything we purchased there including some heartier items. I truly don't think you can go wrong when it comes to food in Croatia!
Accommodations: We stayed in an Airbnb in the old part of the city and it was a great choice. Everything from there was accessible and walkable. Our view was stunning from the balcony. It had great AC, plenty of space and even a washer which we totally utilized. Nothing fancy but practical with good beds and bathrooms.
Cruises: Dubrovnik is a hot spot for cruise ships and they bring thousands of extra tourists to the small city. You can use this calendar to see who is coming, when they dock, and how many people they will bring and plan your itinerary around the times fewer boats are in port.
Day 1: Arrival and City Walls Tour
We got a good night's rest and caught a 10am flight out of Milos back to Athens and then to Dubrovnik. Travel took most of the day, but we ended up checking into our new spot and admiring the absolutely stunning city. We chose to stay in the old city which was the right choice for sure. Everything was walkable from there. We settled in just in time for our City Walls Sunset walking tour, which we absolutely LOVED. We had the most amazing tour guide who gave us so much information on the history and also how Dubrovnik is today. Highly recommended and you wouldn't want to miss it. If we could have found a private tour, we would have chosen that! I loved doing the tour at the beginning of the trip so we could appreciate the history during the rest of our Croatia itinerary. Be aware that you also need to purchase entrance to the city walls along with the tour purchase. We decided to grab the Dubrovnik Pass which includes the city walls and museums for only a few dollars more.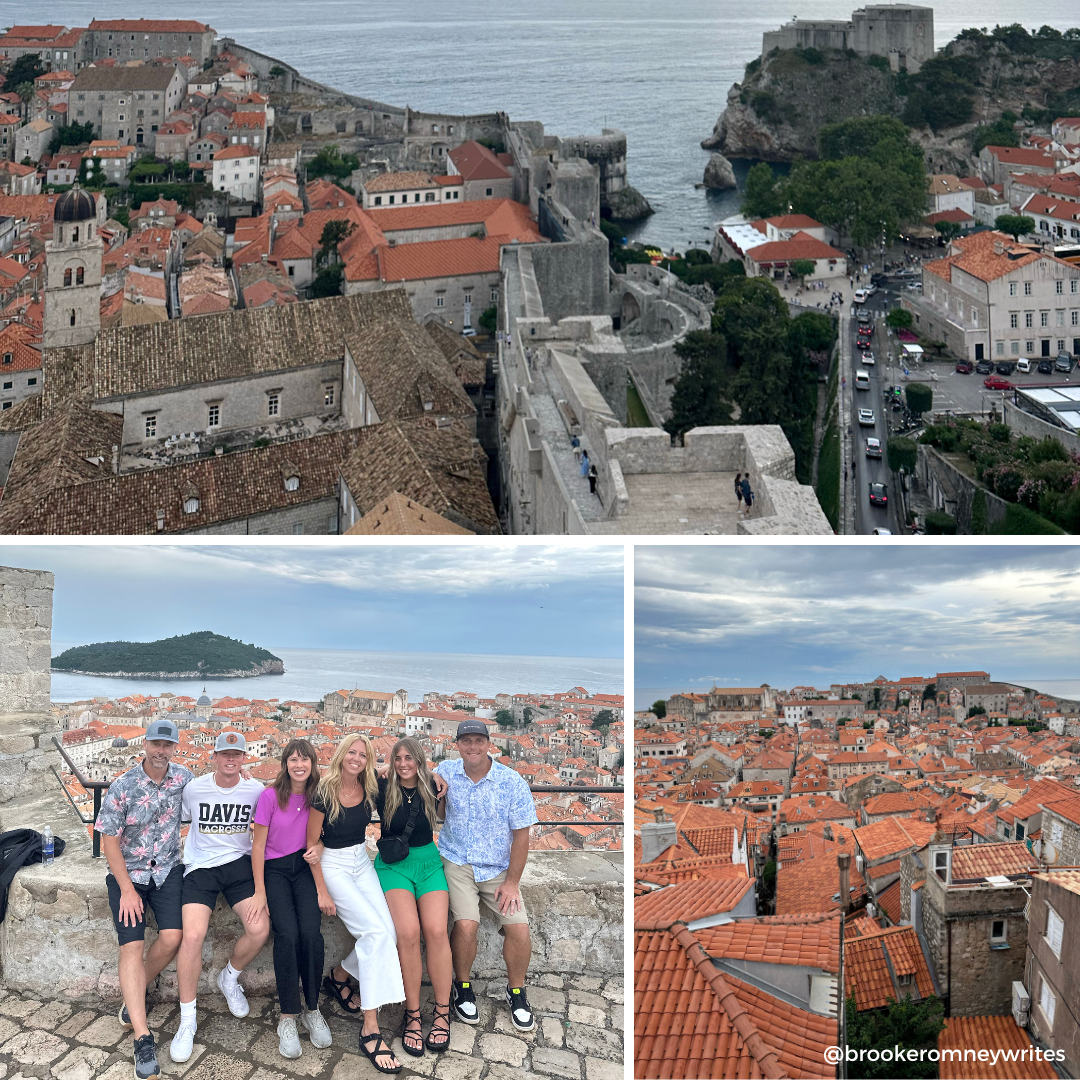 After our tour, we stopped for dinner at our fanciest spot, Posat. The food and service were top tier and we loved the quiet, peaceful atmosphere and beautiful views. We got seafood and lobster that had just been freshly caught and a variety of appetizers and desserts that were incredible. It was so fun having one part of our Croatia itinerary feel extra special. Highly recommended but be prepared for the price.
Day 2: City Tour
This was really our only bummer day. It was POURING rain…like more rain in one day than they have had in 50 years. There were rivers in the streets. Lucky us! We were supposed to take a tour of the city and then spend the rest of the day at the beach or exploring the island right off the coast of Dubrovnik, Lokrum. We ended up still taking the city tour and were drowned rats! It was a little miserable but we were happy to hear the history. If possible, book a private one. It allows you to hear and experience things so much better. After the tour, we grabbed some warm drinks then hit up a few of the museums that worked with our Dubrovnik pass. It was fun to take in a little more of the art and history.
We went back to the Airbnb to dry off and warm up, then went back to shop and explore the city for bit. We could have cut this day out, but if we could have done our original plans, we wouldn't have wanted to miss it!
Dinner that night was at such a fun and authentic Croatian restaurant, Konoba Dubrava. You have to get reservations and let them know what you want to order because the cooking takes about 3 hours. We were big fans of the beef instead of the lamb, but it was all so good! As you build your own Croatia itinerary make sure to check how far in advance reservations are needed. If the weather would have been better, we would have had an Uber take us to the top of the cable car and then walked the mile through the small town to the restaurant. Unfortunately it was still raining. Even with the clouds the view was incredible, so I can't even imagine it on a sunny day!
If we would have had another day, we for sure would have wanted to eat at the restaurant at the top of the Cable Car. The views are unmatched, but you have to get a reservation earlier than we thought of it!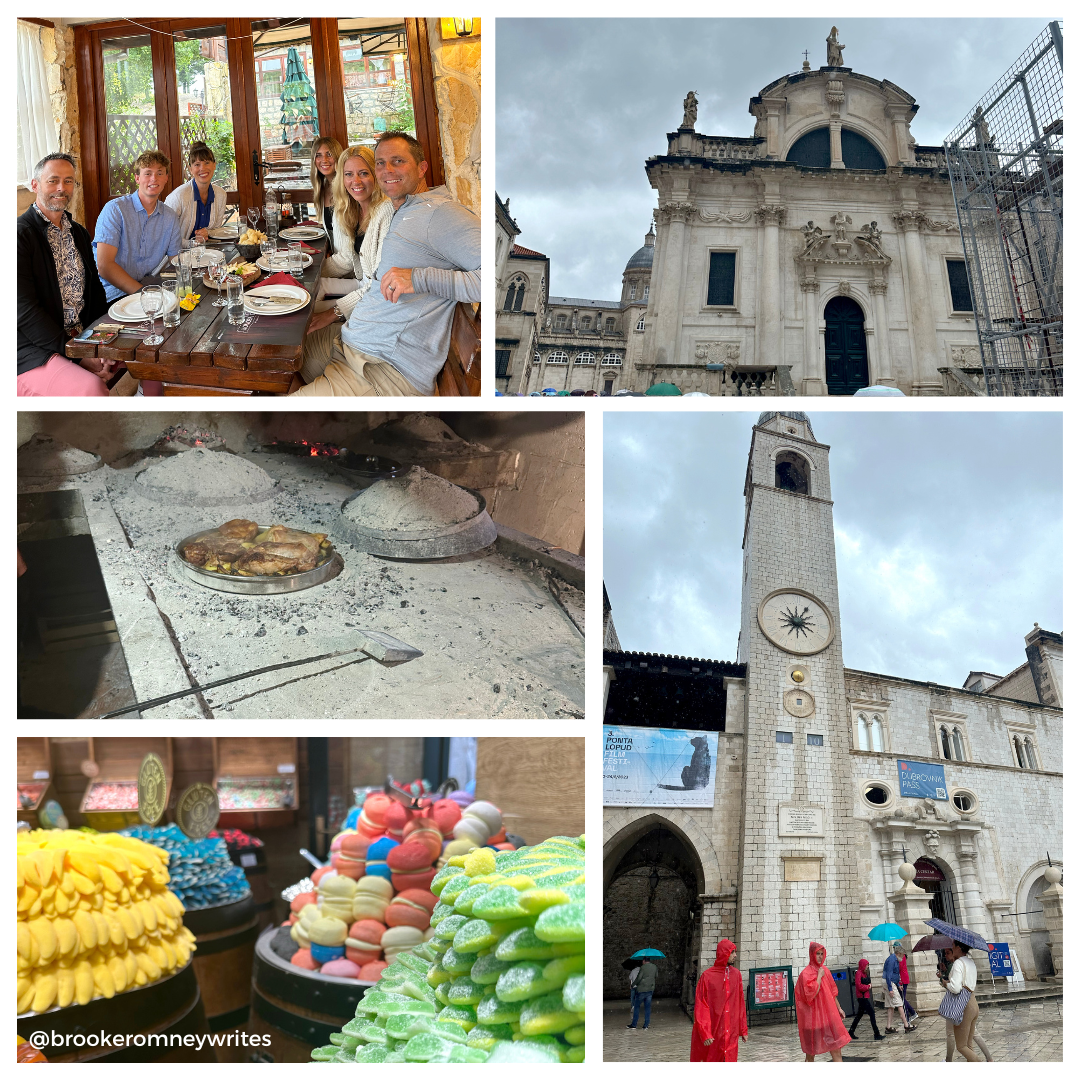 Day 3: Elafiti Islands
This was probably my favorite day of the entire trip! We weren't sure the boat would go out since the sea was still rough and the weather a little sketchy, but since it was a private tour on a speedboat, they were willing to take us if we were willing to go. It was overcast and we had some sprinkles of rain but the air was pretty warm and we had jackets and towels and pants to make sure we weren't too cold. I was so glad we went!!!
The company we used and Skipper Tom exceeded all our expectations and we had the best time!! We booked through Viator, but you can save a ton of money by booking directly through them. You can message Mat on the phone or What's App: 385-91-763-7323 The bonus of the bad weather was that we were some of the only people on the water and visiting the islands that day. We couldn't believe our good luck since we'd heard it is often very crowded.
We saw all kinds of cool places on the sea including caves and water that were so blue, clear, or turquoise you could hardly believe it was real. We stopped at three different islands suggested by Tom.
On the first one, we took a gorgeous 45 minute walk from one side of the island to the other and admired the scenery and the relaxed, uninhabited lifestyle.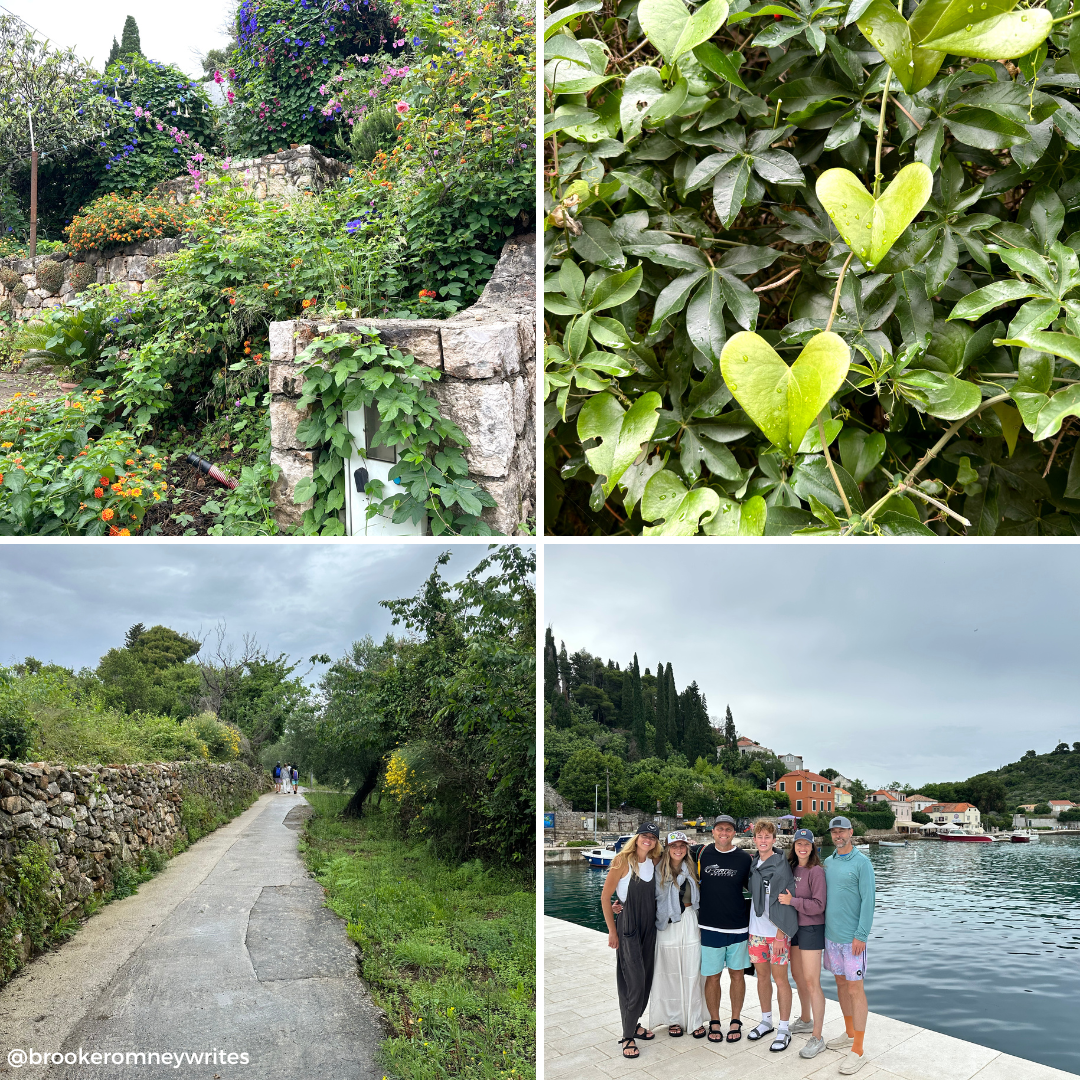 On the second stop, we hiked to the top of the small mountain and explored an old monastery. We bought local orange candies and lavender and strolled through the botanical garden. It was gorgeous.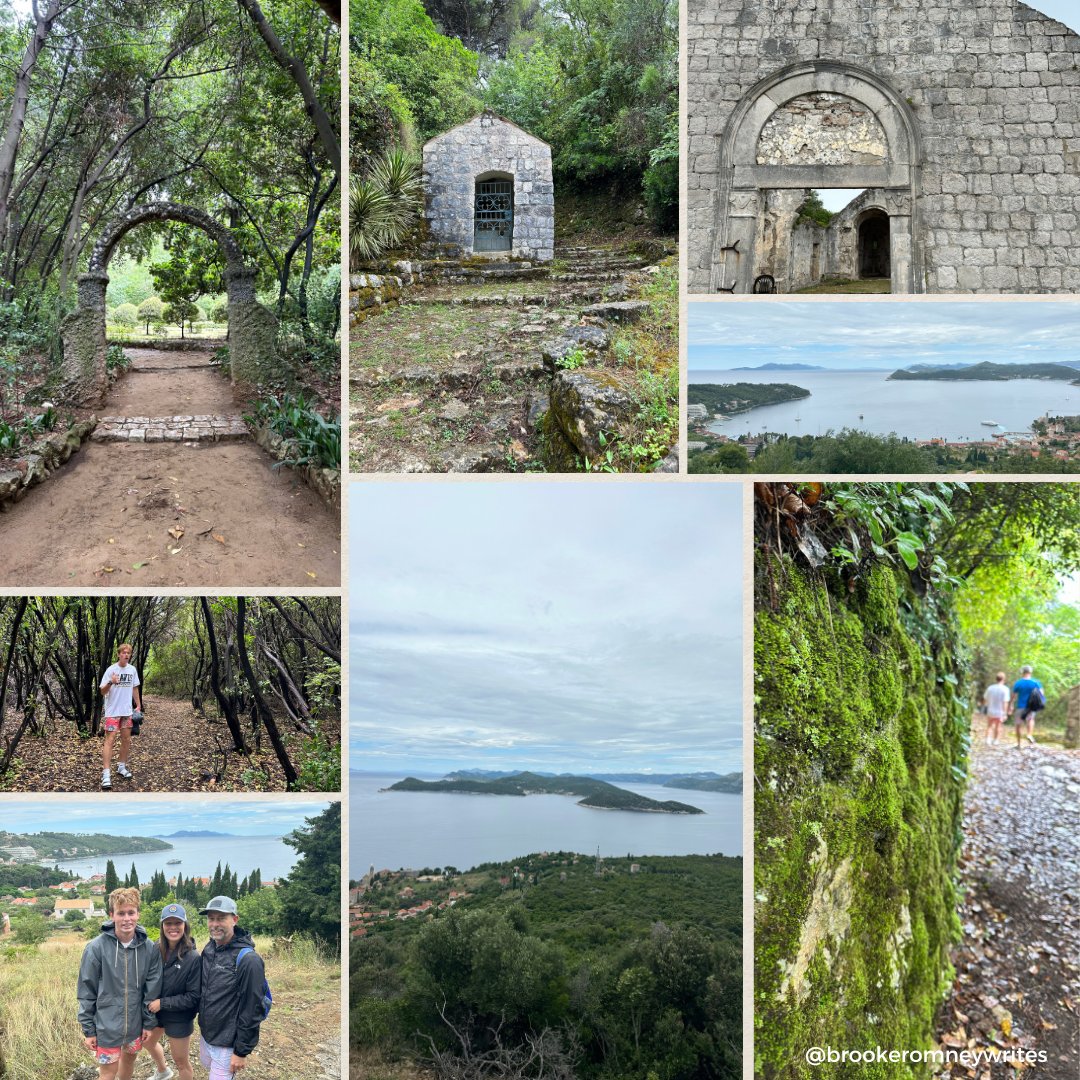 The third island he took us to was a bit off the beaten path and much more remote. It was incredible. This is where we stopped for a late lunch and were treated like royalty by the owners. They served us homemade bread, fresh salads, black risotto, the best calamari I will ever eat, and then we got to choose the fish they would filet and prepare for us. It was an experience I will never forget. You must go!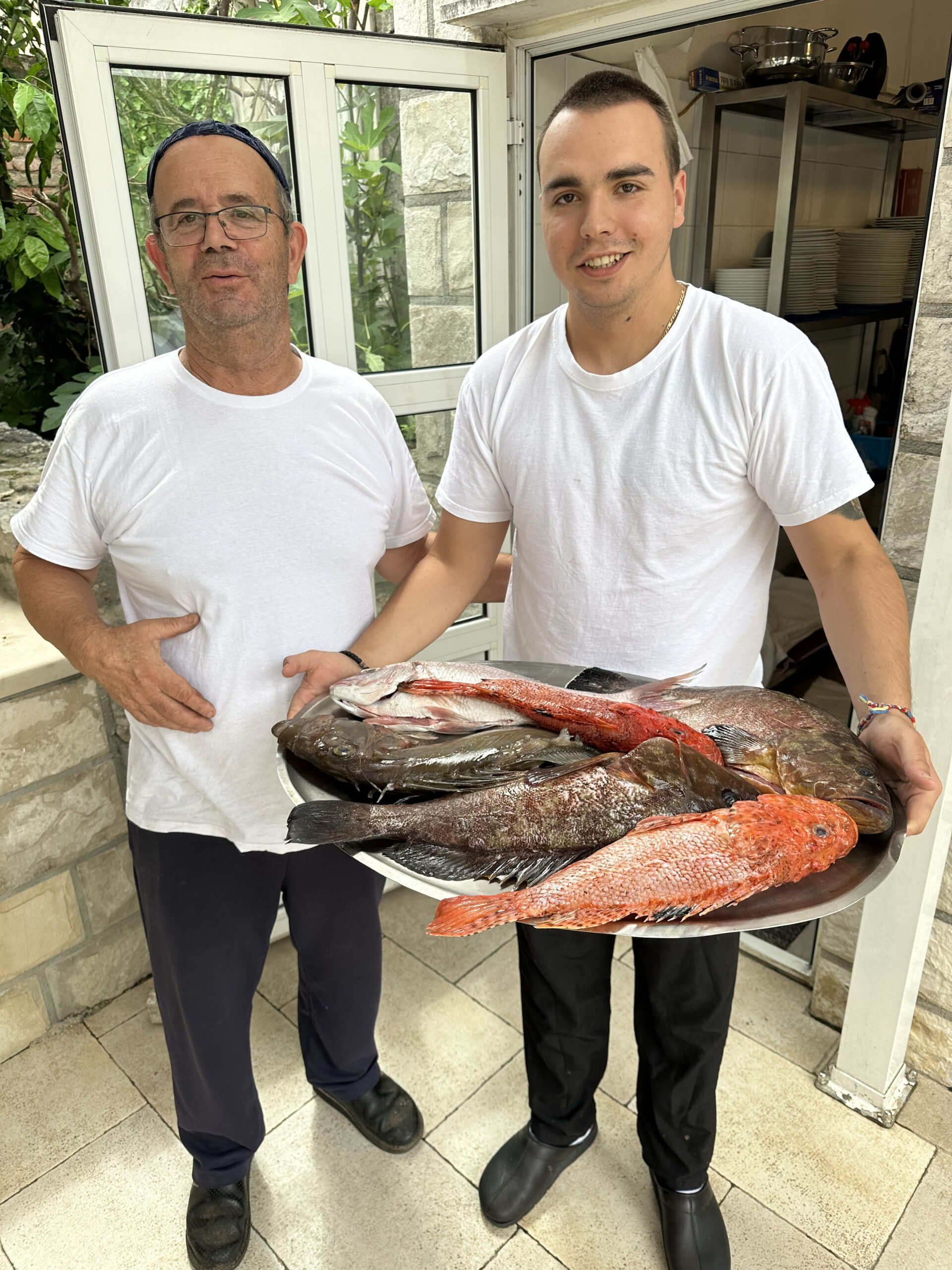 On the way back to Dubrovnik, we were lucky enough to stop at a blue cave we could swim into. It was AMAZING. The cooler weather and clouds had kept other crowds away and it was just our little group of six. I've heard the blue caves can be so busy it's hard to even get inside them with all the people, so I am calling this a huge win.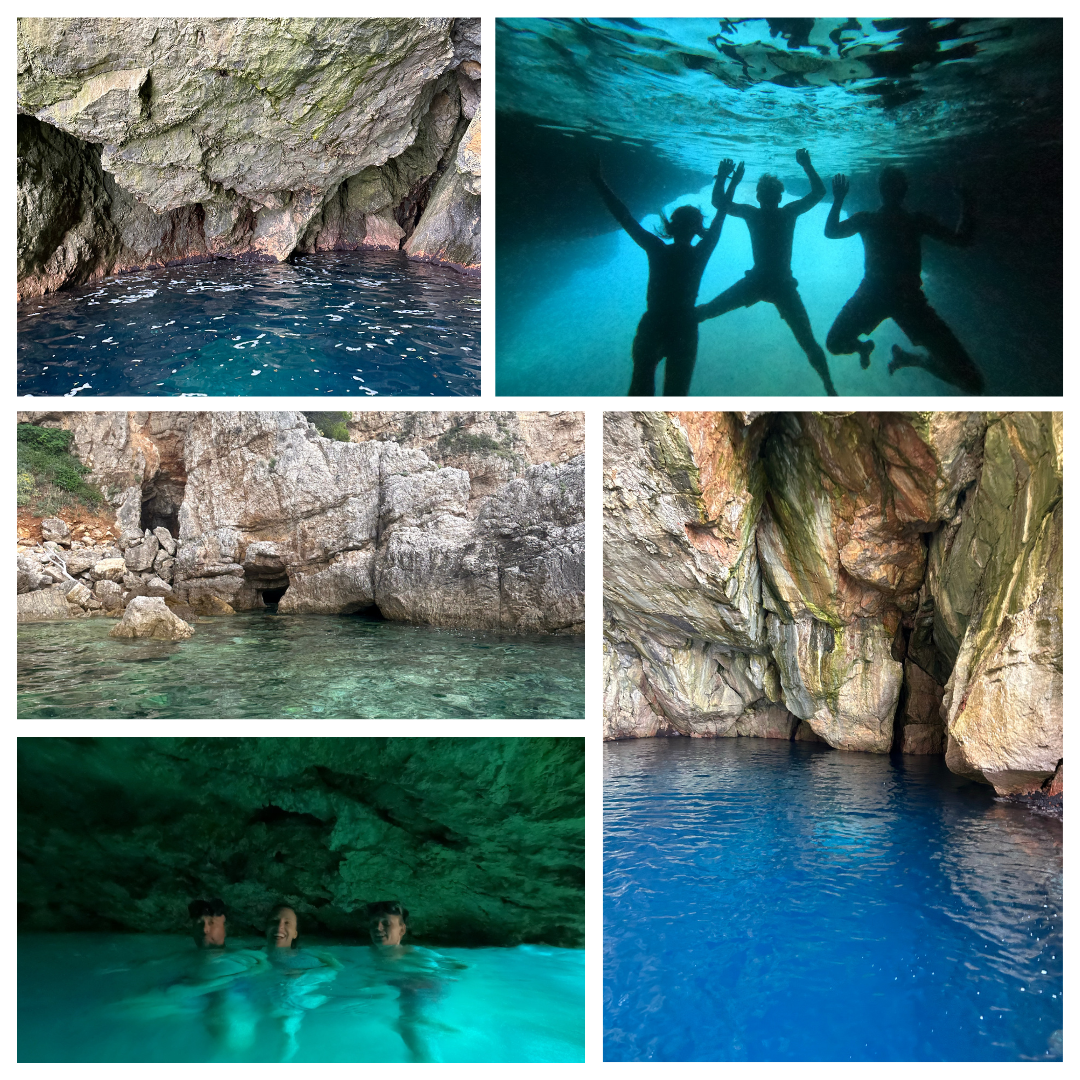 We headed back to our place, got showered and warmed up, then walked around inside the city walls at night which was awesome. We grabbed a little pizza and gelato before heading back!
That day truly felt like a dream. If the weather had been better we would have done a lot more swimming, but we loved the hiking and exploring so much, it turned out perfectly for us.
Day 4: Dubrovnik & Cavtat
This was our last travel day, and our flight left the gorgeous country around 7pm, so we packed up and checked out of our Airbnb, then headed to a Croatian cooking class inside a farmer's home just outside of the city. Our host was incredible with so much historical and political knowledge. He can do just about anything with food…grow it, prep it, and make it taste delicious. If you love being with the local people when you visit somewhere new, this is the perfect option and the food was truly incredible and so fresh. We met his family and got to learn about how most Croatians live. This would be a highlight if you are the kind of traveler who wants to see how "real" people live. It was awesome. The food was similar to what we ate at Konoba Dubrava, so you might want to choose one or the other.
After our lunch, we had a little time to kill, so our driver took us to Cavtat, where we walked around the gorgeous inlet, glanced at some shops, and sat in the sun. It was the perfect slower ending to our non stop fun.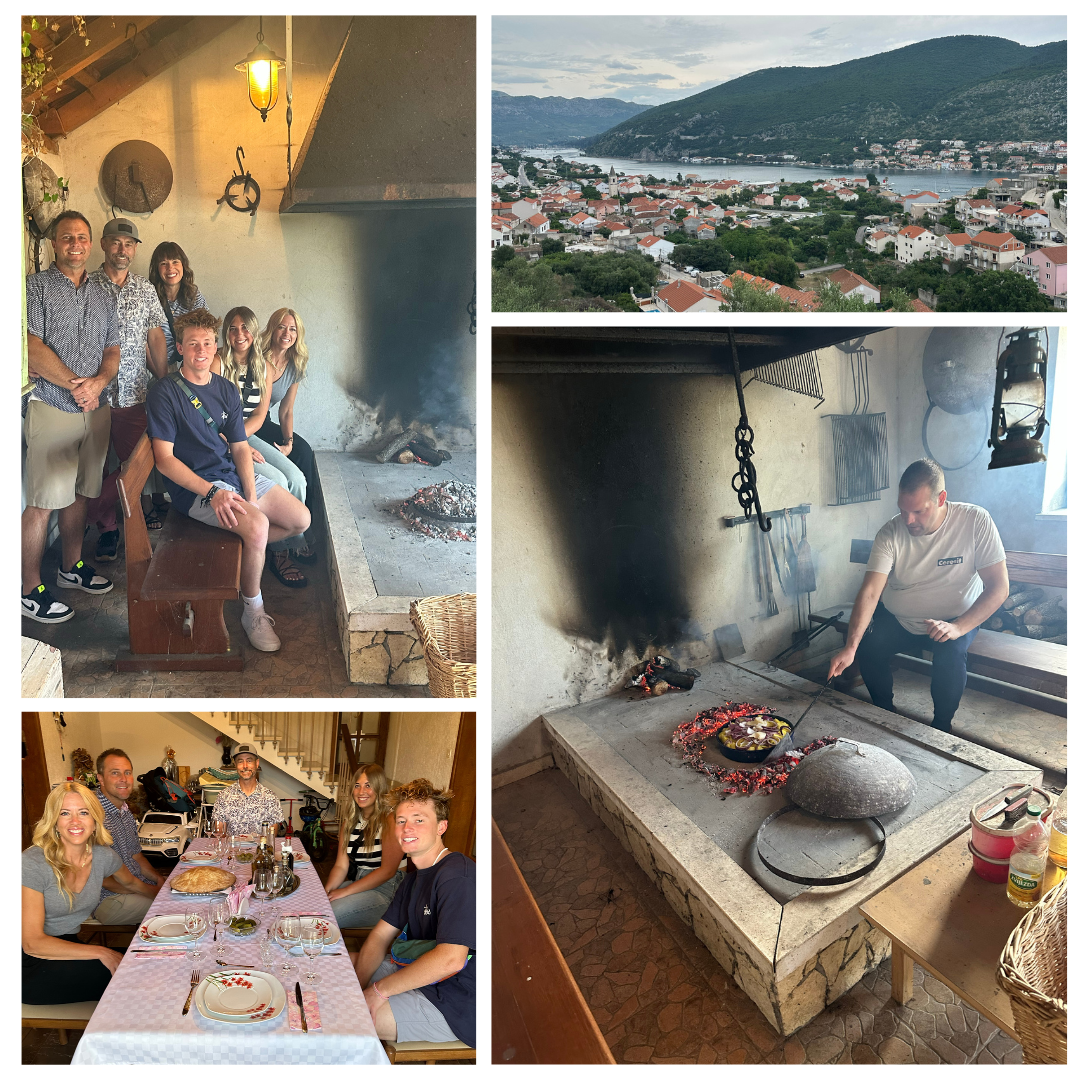 And there you have it, our 4 day Croatia itinerary! Our time in Greece and Croatia are 10 days I will never forget!!
FAQs About our Croatia Itinerary:
Q: We can't travel for quite that long. Is there anything you could cut out of the Croatia itinerary?
A: We used pretty much every second of our trip, but if you had to cut something out, you could take away that last day and save some time and money. I would not cut out the city walls tour in Dubrovnik or the Elafiti Islands, and honestly, there were so many other things we would have loved to experience if we had a few more days and better weather.
Q: Did you have cell service in Croatia?
A: Yes! Again, so happy that a few of us had the international plan. We did have wifi in our Air B & B. One thing I would suggest is downloading What's App. That is how a lot of Croatian tour operators choose to communicate.
Q: How did you find your way around?
A: Google maps was excellent in every city but I would not have felt comfortable driving in Croatia. The roads were very narrow and I didn't have a good handle on the traffic laws. Walking worked great in most cities we visited.
Q: How did you pay for souvenirs, tours, and food?
A: Paying with a credit card was mostly fine but some won't take amex so having more than one option was helpful. We did need cash for a few things….tips, shuttle rides, and the boat tour. You can get euros at the airport which is a safe choice but comes with a hefty fee. You can also exchange money at your local bank before you go.
Q: Did people speak English?
A: Almost everyone in the tourism industry speaks English. They learn English in schools in both Greece and Croatia. We never really struggled with communication. Once when we did with an Uber driver from Albania we just pulled up google translate.
Q: Did you feel safe?
A: Dubrovnik is one of the safest cities in the world with incredibly low crime. We felt super safe at all hours.