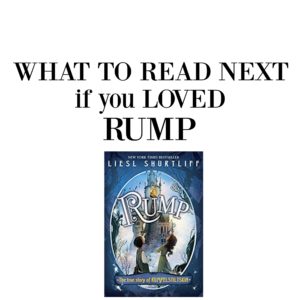 If your kids love a fun twist on fairy tales, then chances are the RUMP is one of their favorites. If you are looking for their next great book, give this magical titles a try! (All books linked, please make sure the recommended books are age and level appropriate for your child).
All his life, Jack has longed for an adventure, so when giants turn up in the neighbor's cabbage patch, he is thrilled! Soon Jack is chasing them to a land beyond the clouds, with his little sister, Annabella, in tow. The kingdom of giants is full of super-sized fun: puddings to swim in, spoons to use as catapults, monster toads to carry off pesky little sisters. . . . But Jack and Annabella are on a mission. The king of the giants has taken something that belongs to them, and they'll do anything—even dive into a smelly tureen of green bean soup—to get it back.
Red is not afraid of the big bad wolf. She's not afraid of anything . . . except magic. But when Red's granny falls ill, it seems that only magic can save her, and fearless Red is forced to confront her one weakness. With the help of a blond, porridge-sampling nuisance called Goldie, Red goes on a quest to cure Granny. Her journey takes her through dwarves' caverns to a haunted well and a beast's castle. All the while, Red and Goldie are followed by a wolf and a huntsman—two mortal enemies who seek the girls' help to defeat each other. And one of them just might have the magical solution Red is looking for.
For centuries mystical creatures of all description were gathered into a hidden refuge called Fablehaven to prevent their extinction. The sanctuary survives today as one of the last strongholds of true magic. Enchanting? Absolutely. Exciting? You bet. Safe? Well, actually, quite the opposite. Kendra and her brother, Seth, have no idea that their grandfather is the current caretaker of Fablehaven. Inside the gated woods, ancient laws keep relative order among greedy trolls, mischievous satyrs, plotting witches, spiteful imps, and jealous fairies. However, when the rules get broken — Seth is a bit too curious and reckless for his own good — powerful forces of evil are unleashed, and Kendra and her brother face the greatest challenge of their lives. To save their family, Fablehaven, and perhaps even the world, Kendra and Seth must find the courage to do what they fear most.
Alex and Conner Bailey's world is about to change, in this fast-paced adventure that uniquely combines our modern day world with the enchanting realm of classic fairy tales. The Land of Stories tells the tale of twins Alex and Conner. Through the mysterious powers of a cherished book of stories, they leave their world behind and find themselves in a foreign land full of wonder and magic where they come face-to-face with the fairy tale characters they grew up reading about. But after a series of encounters with witches, wolves, goblins, and trolls alike, getting back home is going to be harder than they thought.
Anidori-Kiladra Talianna Isilee, Crown Princess of Kildenree, spends the first years of her life listening to her aunt's stories and learning the language of the birds, especially the swans. As she grows up, Ani develops the skills of animal speech, but she never feels quite comfortable speaking with people.
So when Ani's mother sends her away to be married in a foreign land, she finds herself at the mercy of her silver-tongued lady in waiting, who leads a mutiny that leaves her alone, destitute, and fleeing for her life. To survive, Ani takes on work as a royal goose girl, hiding in plain sight while she develops her forbidden talents and works to discover her own true, powerful voice.
In a discontent kingdom, civil war is brewing. To unify the divided people, Conner, a nobleman of the court, devises a cunning plan to find an impersonator of the king's long-lost son and install him as a puppet prince. Four orphans are recruited to compete for the role, including a defiant boy named Sage. Sage knows that Conner's motives are more than questionable, yet his life balances on a sword's point — he must be chosen to play the prince or he will certainly be killed. But Sage's rivals have their own agendas as well.
As Sage moves from a rundown orphanage to Conner's sumptuous palace, layer upon layer of treachery and deceit unfold, until finally, a truth is revealed that, in the end, may very well prove more dangerous than all of the lies taken together.
An extraordinary adventure filled with danger and action, lies and deadly truths that will have readers clinging to the edge of their seats.