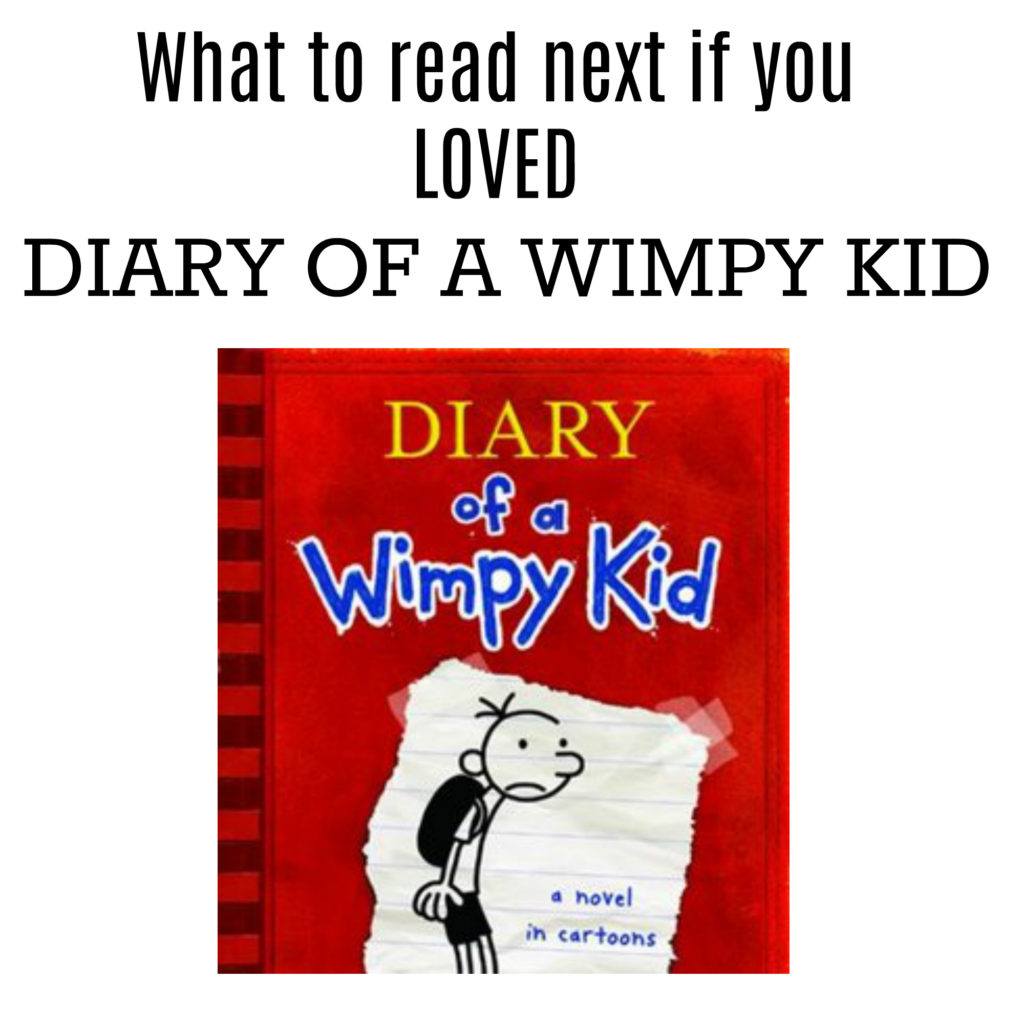 All kids have such different taste in books, and the key to keeping them reading is to find what they love for the moment, give them plenty of it, and then introduce them to other types of books as they feel ready. If your kids are like mine, the love humor and very few books beat the Diary of a Wimpy Kid series. There are lots of laughs, jokes, and enough mild crudeness to keep boys engaged. If this is your kid's thing, here are a few other books he or she might love too. As with my other recommendations, some of these books are appropriate for different ages, so do your research before handing them out!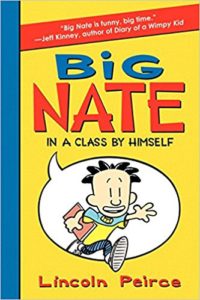 Big Nate: Nate knows he's meant for big things. REALLY big things. But things don't always go your way just because you're awesome. Nate barely survives his dad's toxic oatmeal before rushing off to school—minus his lunch. He body slams the no-nonsense principal. He accidentally insults his least favorite teacher, the horrifying Mrs. Godfrey (aka Godzilla). And school has barely started! Trouble always seems to find him, but Nate keeps his cool. He knows he's destined for greatness. A fortune cookie told him so. Here comes BIG NATE, accidental mischief maker and definitely NOT the teacher's pet.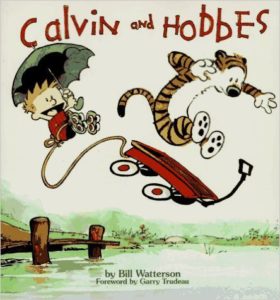 Calvin and Hobbes: This is the first collection of the classic comic strip that features Calvin, a rambunctious 6-year-old boy, and his stuffed tiger, Hobbes, who comes charmingly to life. Filled with a mix of Watterson's standard and full-page Sunday strips, this collection is sure to please fans and newcomers alike.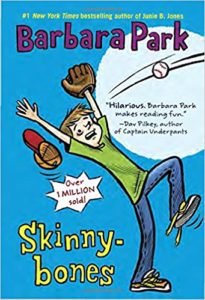 Skinnybones: Play ball??? Alex Frankovitch is the smallest, second-worst kid on his team. But he has a MAJOR-LEAGUE-sized mouth. And it gets him into MAJOR-LEAGUE trouble! Even Alex knows he's gone too far when he brags his way into a pitching contest with T.J. Stoner, the best player—and BIGGEST jerk—in the whole school (and maybe the whole world!). Can Alex talk his way out this mess? Or is he in for the GRAND SLAM of all humiliations? Find out in the award-winning, laugh-out-loud novel from the New York Times bestselling author of Junie B. Jones!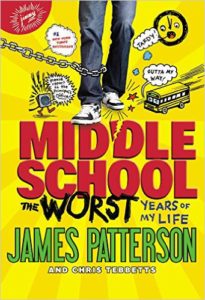 Middle School: The Worst Years of My Life: It's Rafe Khatchadorian's first day at Hills Village Middle School, and it's shaping up to be the worst year ever. He has enough problems at home without throwing his first year of middle school into the mix, but luckily he's got an ace plan for the best year ever–if only he can pull it off. With his best friend Leonardo the Silent awarding him points, Rafe tries to break every rule in his school's oppressive Code of Conduct. Chewing gum in class–5,000 points! Running in the hallway–10,000 points! Pulling the fire alarm–50,000 points! But not everyone thinks Rafe's plan is a good idea, especially not the teachers, parents, and bullies who keep getting in his way. Will Rafe decide that winning is the only thing that matters? Are things about to go from magic to tragic?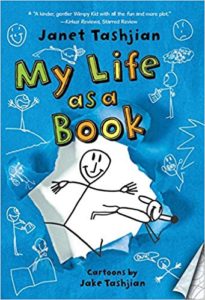 My Life as a Book: Summer's finally here, and Derek Fallon is looking forward to pelting the UPS truck with water balloons, climbing onto the garage roof, and conducting silly investigations. But when his parents decide to send him to Learning Camp, Derek's dreams of fun come to an end. Ever since he's been labeled a "reluctant reader," his mom has pushed him to read "real" books-something other than his beloved Calvin & Hobbes.
As Derek forges unexpected friendships and uncovers a family secret involving himself (in diapers! no less), he realizes that adventures and surprises are around the corner, complete with curve balls.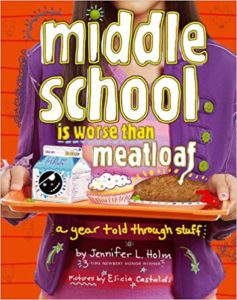 Middle School is Worse than Meatloaf: Ginny has ten items on her big to-do list for seventh grade. None of them, however, include accidentally turning her hair pink. Or getting sent to detention for throwing frogs in class. Or losing the lead role in the ballet recital to her ex-best friend. Or the thousand other things that can go wrong between September and June. But it looks like it's shaping up to be that kind of a year! As readers follow Ginny throughout the story of her year, told entirely through her stuff—notes from classmates, school reports, emails, poems, receipts, and cartoons from her perpetually-in-trouble older brother Harry—a portrait emerges of a funny, loveable, thoughtful girl struggling to be herself…whoever that person turns out to be.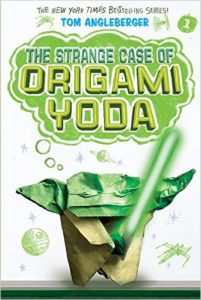 Origami Yoda: In this funny, uncannily wise portrait of the dynamics of a sixth-grade class and of the greatness that sometimes comes in unlikely packages, Dwight, a loser, talks to his classmates via an origami finger puppet of Yoda. If that weren't strange enough, the puppet is uncannily wise and prescient. Origami Yoda predicts the date of a pop quiz, guesses who stole the classroom Shakespeare bust, and saves a classmate from popularity-crushing embarrassment with some well-timed advice. Dwight s classmate Tommy wonders how Yoda can be so smart when Dwight himself is so clueless. With contributions from his puzzled classmates, Tommy assembles this first case file in the blockbuster bestselling Origami Yoda series.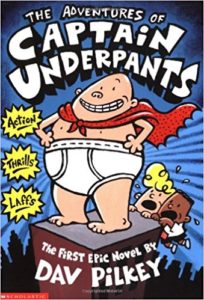 The Adventures of Captain Underpants: George and Harold have created the greatest superhero in the history of their elementary school–and now they're going to bring him to life! Meet Captain Underpants! His true identity is so secret, even HE doesn't know who he is! Acclaimed author and Caldecott Honor illustrator Dav Pilkey provides young readers with the adventure of a lifetime in this outrageously funny, action-packed, easy-to-read chapter book.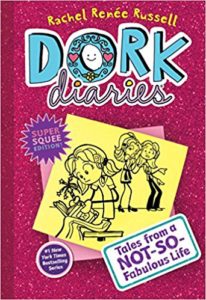 Dork Diaries: Meet Nikki Maxwell! She's starting eighth grade at a new school—and her very first diary packed with hilarious stories and art in this SUPER SQUEE updated edition of Book One of the #1 New York Times bestselling Dork Diaries series! Nikki confesses all in her first diary ever: her epic battle with her mom for an iPhone, meeting her new soon-to-be BFFs Chloe and Zoey, falling for adorably sweet crush Brandon, dealing with her zany little sister Brianna's antics—and the immediate clashes with mean girl Mackenzie, who becomes Nikki's rival in a schoolwide art competition.