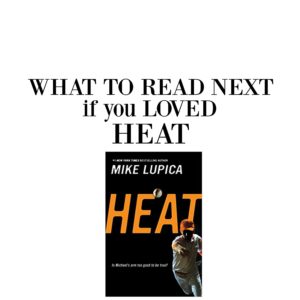 If you have a little sports lover in your home, chances are a book about sports will be the most likely option to get him or her to curl up on a couch and stay still for a bit. Give one of these great sports books a try!
Michael Arroyo has a pitching arm that throws serious heat along with aspirations of leading his team all the way to the Little League World Series. But his firepower is nothing compared to the heat Michael faces in his day-to-day life. Newly orphaned after his father led the family's escape from Cuba, Michael's only family is his seventeen-yearold brother Carlos. If Social Services hears of their situation, they will be separated in the foster-care system—or worse, sent back to Cuba. Together, the boys carry on alone, dodging bills and anyone who asks too many questions. But then someone wonders how a twelve-year-old boy could possibly throw with as much power as Michael Arroyo throws. With no way to prove his age, no birth certificate, and no parent to fight for his cause, Michael's secret world is blown wide open, and he discovers that family can come from the most unexpected sources.
Jimmy Winter is a born star on the baseball field, and Seth Barnam can only dream of being as talented. Still, the two baseball fanatics have the kind of friendship that should last forever. But when Seth experiences an unthinkable loss, he's forced to find his own personal strength–on and off the field.
Motivated by her love for the game and inspired by the legendary Jackie Robinson, Mamie Johnson is determined to be a professional baseball pitcher.  But in a sport that's determined by white men, there is no place for a black woman.  Mamie doesn't give up-from the time she insists on trying out for the all-male, all-white Police Athletic League until she realizes her dream and becomes one of three women to play in the Negro Leagues.  Mamie Johnson's life shows that with courage and perseverance one can overcome even the greatest challenges.
Meet Holling Hoodhood, a seventh-grader at Camillo Junior High, who must spend Wednesday afternoons with his teacher, Mrs. Baker, while the rest of the class has religious instruction. Mrs. Baker doesn't like Holling—he's sure of it. Why else would she make him read the plays of William Shakespeare outside class? But everyone has bigger things to worry about, like Vietnam. His father wants Holling and his sister to be on their best behavior: the success of his business depends on it. But how can Holling stay out of trouble when he has so much to contend with? A bully demanding cream puffs; angry rats; and a baseball hero signing autographs the very same night Holling has to appear in a play in yellow tights! As fate sneaks up on him again and again, Holling finds Motivation—the Big M—in the most unexpected places and musters up the courage to embrace his destiny, in spite of himself.
Playing shortstop is a way of life for Hutch—not only is his hero, Derek Jeter, a shortstop, but so was his father, a former local legend turned pro. Which is why having to play second base feels like demotion to second team. Yet that's where Hutch ends up after Darryl "D-Will" Williams, the best shortstop prospect since A-Rod, joins the team. But Hutch is nothing if not a team player, and he's cool with playing in D-Will's shadow—until, that is, the two shortstops in Hutch's life betray him in a way he never could have imagined. With the league championship on the line, just how far is Hutch willing to bend to be a good teammate?
Top 10 of Everything in Sports
Presented in the format of Top 10 lists, this book is a comprehensive yet fun look at the greatest aspects of Pro Sports. From the top athletes to the most popular teams in the world, SI Kids ranks a variety of topics covering every professional sport. Readers are guaranteed to love the big, exciting action photos from the Sports Illustrated collection and the insider knowledge of SI Kids. Filled with trivia and information, this dynamic book will be the definitive kids sports book.
Big Book of Who: Baseball, Football, Basketball
From the editors of Sports Illustrated Kids comes The Big Book of Who: Football, a 128-page collection of the brightest stars in America's favorite sport, past and present. Profiles, facts and stats will bring the best players in pro football history to life with all of the classic touches that Sports Illustrated Kids is famous for – terrific, age-appropriate writing and exciting sports photography. Gridiron greats such as, from Sammy Baugh to Cam Newton, Jim Brown to Emmitt Smith, Dick Butkus to Ray Lewis will be profiled.
Brian is living every baseball kid's dream: he is a batboy for his hometown Major League team. Brian believes that it's the perfect thing to bring him and his big-leaguer dad closer together. And if that weren't enough, this is the season that Hank Bishop, Brian's baseball hero, returns to the Tigers for the comeback of a lifetime. The summer couldn't get much better! Until Hank Bishop starts to show his true colors, and Brian learns that sometimes life throws you a curveball.