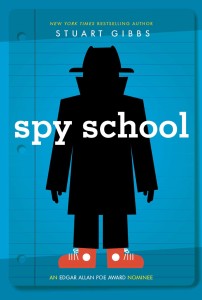 Spy School by Stuart Gibbs ($7)
Stars according to Parker:
5 stars
3 books in the series
You will love Spy School if you like: Bad Apple, Nerd Camp, Treasure Hunters, H.I.V.E.
Language: none that I can remember
Nightmares: nope
Violence: some violence and shooting
Romance: some romance but nothing at all inappropriate
Themes: man v. self, honesty, trust, good v. evil
Reading ability: grades 4 and up but middle schoolers have loved it too (lexile score: 740)
Goodreads Summary: Ben Ripley may only be in middle school, but he's already pegged his dream job: C.I.A. or bust. Unfortunately for him, his personality doesn't exactly scream "secret agent." In fact, Ben is so awkward, he can barely get to school and back without a mishap. Because of his innate math skills, Ben isn't surprised when he is recruited for a magnet school with a focus on science—but he's entirely shocked to discover that the school is actually a front for a junior C.I.A. academy. Could the C.I.A. really want him?
Actually, no. There's been a case of mistaken identity—but that doesn't stop Ben from trying to morph into a supercool undercover agent, the kind that always gets the girl. And through a series of hilarious misadventures, Ben realizes he might actually be a halfway decent spy…if he can survive all the attempts being made on his life!
Spy School is great because it is action packed, full of mystery, fun to relate to, and sparks your imagination. It is cool to watch someone like Ben become a hero.
Want more recommendations for boys? Click HERE!